UFC Fight Night 26: Preliminary Card Predictions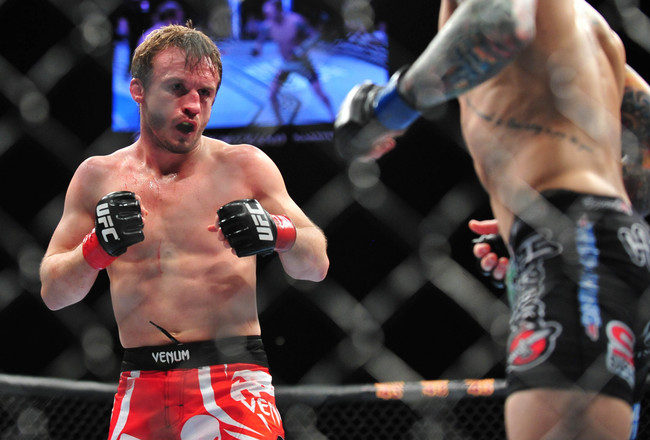 Gary A. Vasquez-USA TODAY Sports
The UFC makes its debut on the newly minted Fox Sports 1 on Saturday, offering a card packed with talent. Headlined by light heavyweights Mauricio Rua and Chael Sonnen, the card boasts top contenders in multiple weight classes throughout.
On the preliminary card, we see a number of fights that are main card quality. Between Brad Pickett-Michael McDonald and Manny Gamburyan-Cole Miller, it's clear to see this card is stacked from top to bottom.
Without further ado, let's take a look at the prelims and make some predictions.
Ramsey Nijem vs. James Vick
Kyle Terada-USA TODAY Sports
The Facebook prelims kick off with a lightweight bout, pitting the runner-up on season 13 of The Ultimate Fighter, Ramsey Nijem, against season 15 vet James Vick.
Nijem has seen mixed results during his tenure in the UFC. At 3-2, he has earned wins over CJ Keith, Danny Downes and Joe Proctor, but fallen via brutal knockout to both Tony Ferguson and Myles Jury.
Nijem is a power wrestler who has worked on his stand-up with John Hackleman and The Pit. However, it is no secret that he will want to put Vick on his back and work ground-and-pound for most of the fight.
This will be Vick's first fight with the UFC since his appearance on TUF. That was in May 2012. Therefore, he may have to fight off the rust in this fight.
Vick's forte is in the boxing department, so he would be wise to use his jab and keep his distance from Nijem. He showed solid takedown defense in his TUF fights against Dakota Cochrane and Daron Cruickshank.
However, the combination of lack of activity and aggressive takedown offense from Nijem will hurt Vick. Expect a decision for the Palestinian-American.
Result: Nijem def. Vick via decision
Ovince St. Preux vs. Cody Donovan
Brad Penner-USA TODAY Sports
Moving on to the light heavyweight division, Strikeforce veteran Ovince St. Preux meets Grudge Training Center member Cody Donovan.
Donovan is a black belt in Brazilian jiu-jitsu under Nate Marquardt, which combines well with his takedown ability. His UFC debut came on short notice, but he was able to win a Fight of the Night against Nick Penner via TKO.
St. Preux, a former collegiate football player, is a gifted athlete with immense power in his hands. He has lost just once since 2010 (against Gegard Mousasi), with most of that time spent under the Strikeforce banner.
His UFC debut came in controversial fashion at UFC 159, when he defeated Gian Villante by technical majority decision. The early decision came as a result of an eye poke, when it looked like OSP was slowing down.
The longer this fight goes, the more it favors Donovan. However, it will be a high-octane first round that ends with OSP earning a referee stoppage.
Prediction: St. Preux def. Donovan via TKO
Cole Miller vs. Manvel Gamburyan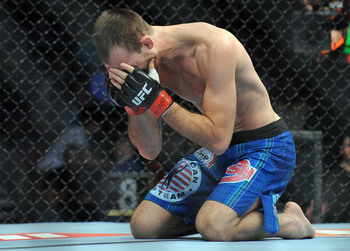 Gary A. Vasquez-USA TODAY Sports
Finishing up the Facebook portion of the card are a pair of featherweights. Former WEC title challenger Manvel Gamburyan meets a long-time staple of the UFC in Cole Miller. Both men are veterans of the fifth season of TUF.
Gamburyan is on a rough streak, despite winning his most recent fight. He beat Michihiro Omigawa in his latest affair, but lost three in a row previous to that against Jose Aldo, Tyson Griffin and Diego Nunes. That means his job may be in jeopardy.
Miller bases most of his game around his extremely effective jiu-jitsu and submission grappling. He is just 1-2 at featherweight, beating Bart Palaszewski while falling to Nam Phan and Steven Siler.
On the ground, this fight is very competitive. Miller is deceivingly good on the ground, but Armenians like Gamburyan are tough on top and have nasty leg locks.
On the feet, Gamburyan has the power edge, while Miller is lankier and can stay on the outside. Expect Miller to use that length to run a decision.
Prediction: Miller def. Gamburyan via decision
Diego Brandao vs. Daniel Pineda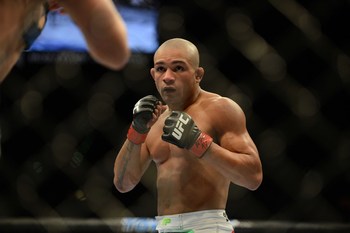 Ron Chenoy-USA TODAY Sports
Kicking off the Fox Sports prelims are the featherweights. Diego Brandao, winner of season 14 of TUF, meets scrappy and tough Daniel Pineda.
Pineda has been somewhat inconsistent in his UFC tenure. He owns losses to Mike Brown and Antonio Carvalho, but possesses three awesome submission wins over Pat Schilling, Mackens Semerzier and Justin Lawrence.
Brandao is a versatile fighter with a Brazilian jiu-jitsu black belt and powerful striking. His only blemish came against Darren Elkins, but he took three wins in his UFC career over Joey Gambino, Dennis Bermudez and Pablo Garza.
Pineda's strength has been his submission game, but he is running into a better submission grappler in Brandao. On the feet, Brandao also holds the advantage, so this should be pretty elementary.
Prediction: Brandao def. Pineda via TKO
Mike Brown vs. Steven Siler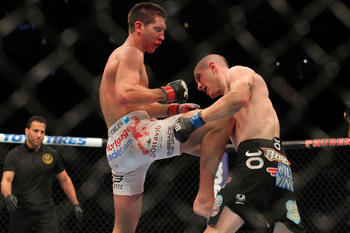 Brad Penner-USA TODAY Sports
Sticking in the featherweight division, former WEC champion Mike Brown meets veteran of season 14 of TUF, Steven Siler, in what is to be an important 145-pound affair.
Brown comes back from a brief retirement and has not fought since May of last year. The wrestling-based fighter is on a two-fight surge and will look to keep that streak going with heavy top control on the ground.
Siler has been a great surprise since entering the UFC. He has kept busy and is 4-1 in the company, beating the likes of Cole Miller, Josh Clopton and Kurt Holobaugh.
This is definitely a battle between a striker and grappler. Brown will look to break past the tough takedown defense of Siler, who will counterstrike the tough former champion. It will be close, but take the more experienced fighter.
Prediction: Brown def. Siler via decision
Conor McGregor vs. Max Holloway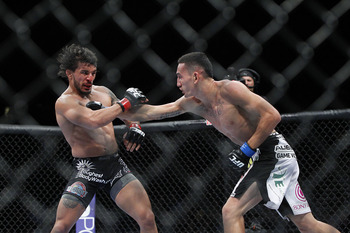 Gary A. Vasquez-USA TODAY Sports
Top prospects at 145 collide when the much-hyped Conor McGregor meets 21-year-old Max Holloway.
McGregor has had just one fight with the UFC, but is already receiving much attention. The larger-than-life personality stormed onto the scene with a quick knockout of Marcus Brimage, which followed up an immensely successful run in the European regional circuit.
Holloway is 3-2 with the company, showing how busy he has been since signing the dotted line. He owned a three-fight winning streak at one point with the UFC, where he knocked off Pat Schilling, Justin Lawrence and Leonard Garcia.
Both men are strikers, so this has the potential to be Fight of the Night. Holloway is longer, but McGregor is more technical with his boxing and power. The Irishman will take the fight, but it will be far from easy.
Prediction: McGregor def. Holloway via decision
Michael McDonald vs. Brad Pickett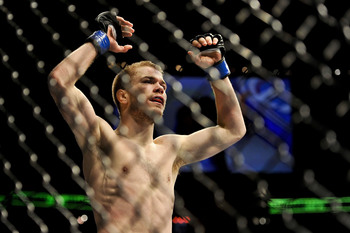 Paul Abell-USA TODAY Sports
The main attraction of the undercard comes at bantamweight, as former title challenger Michael McDonald takes on the man known as "One Punch," Brad Pickett.
McDonald is a very well-rounded fighter and becoming one of the new wave of fighters that comes into the sport skilled in multiple disciplines. He is 4-1 with the UFC, with his only loss coming for the bantamweight title against Renan Barao.
Pickett has been successful in his UFC run as well. Though he does have two losses with the company, they have been against champion Barao and top contender Eddie Wineland. Pickett has underrated submission ability that goes with his fluid boxing skills.
McDonald is definitely the more refined fighter. There will be sticky situations, but he is experienced and cool-headed. This will be a great fight that will get both fighters mad respect.
Prediction: McDonald def. Pickett via decision
Keep Reading