Brazil were unable to overcome a Dani Alves own goal on Wednesday, as Switzerland picked up an impressive 1-0 victory against the Confederations Cup champions in an international friendly.
Expectations were high for the 2014 World Cup hosts after their impressive performance at the 2013 Confederations Cup, but the Selecao were unable to show off the attacking prowess they displayed in June and fell victim to a stronger side.
Selecao Brasileira's Twitter account was clearly not worried about Brazil's World Cup chances despite Wednesday's setback:
FT - Switzerland 1-0 Brazil. Nothing to worry about for the Brazilians, but something to work on. Clearly not the team of Confeds. Friendly.

— Seleção Brasileira (@BrazilStats) August 14, 2013
Sky Sports' Paulo Freitas added a little more analysis with this tweet:
FT Switzerland 1-0 Brazil - Unimpressive Brazil performance,it's Scolari's 2nd defeat, he hasn't won any games in Europe,Shaqiri did v.well.

— Paulo Freitas (@Cynegeticus) August 14, 2013
Playing a scoreless first half, Brazil and Switzerland didn't produce the offensive fireworks that many expected. Brazil, who scored at least two goals in each of their Confederations Cup matches and were on an 11-match unbeaten streak, couldn't make the most of early chances while Switzerland's plan of attack was strong.
Brazil did create several chances in the first half, one of which came from Paulinho.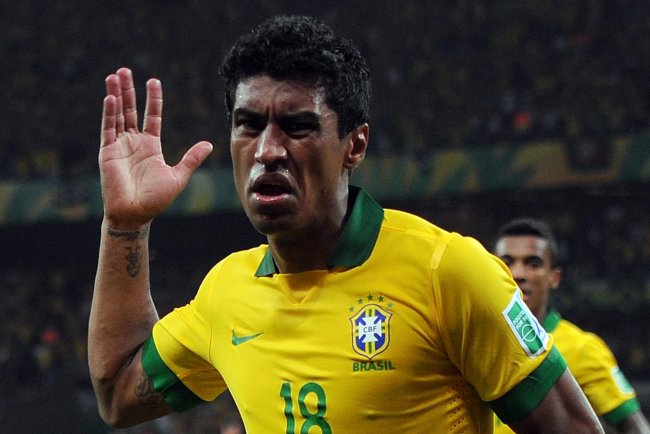 Michael Regan/Getty Images
The midfielder rose above the crowd to head the ball toward the Switzerland net, but hit the top bar in an attempt that would prove to be crucial when looking at the final outcome.
101 Great Goals had a second look at the near-miss on Twitter:
Paulinho hits the bar for Brazil v Switzerland http://t.co/cuHWgGftd5

— 101 Great Goals (@101greatgoals) August 14, 2013
The Selecao created another strong chance to score just before the half, but Oscar wasted a brilliant pass from Hulk and the visitors would have to settle for a draw after 45 minutes.
Selecao Brasileira talked strategy on Twitter and had high praise for Jefferson in the Brazil net as the two sides were regrouping in the locker room:
HT - Switzerland 0-0 Brazil. Tight game as expected, Brazil's counter attacks were dangerous. Jefferson promises to give César competition.

— Seleção Brasileira (@BrazilStats) August 14, 2013
Which statement is more accurate?
With Brazil looking to find their way on offense and Switzerland unable to take advantage of the Selecao's slow start, odds favored the home side to suffer a letdown in the early part of the second half.
That never happened, though, as Alves made a fatal mistake in trying to play a cross off his head back to Jefferson in the net.
It would be the only score that Switzerland required to pull off an impressive upset of the No. 9 team in FIFA's World Rankings.
Freitas had a second look at the gaffe on Twitter:
Daniel Alves' beautiful own goal (Switzerland 1-0 Brazil): https://t.co/GVqdgPxLiF

— Paulo Freitas (@Cynegeticus) August 14, 2013
Swiss Ramble had no problem with the home side taking the lead on Alves' misplay, as noted by this tweet:
Switzerland 1 Brazil 0. Classic headed own goal from Dani Alves.

— Swiss Ramble (@SwissRamble) August 14, 2013
Brazil had more chances to score over the final 45 minutes of action, but the result wound up the same as the first half by match's end. Neymar was largely brilliant for the Selecao, both in creating chances for teammates and himself, but he and Brazil couldn't find an equalizer in Basel.
Bet Victor posted this sly tweet for those who might have lost money on the match:
Who backed Brazil or had them in an accum? Switzerland 1 - 0 Brazil. To be fair, Dani Alves did score the goal :D #IntFriendlies

— BetVictor (@BetVictor) August 14, 2013
It was an unexpected outcome based on the form we've seen from both sides over the past few months, but it could be exactly the wake-up call Brazil need to continue to push for excellence—even in friendlies.
For Switzerland, this match is a huge confidence-builder heading into the final stretches of World Cup qualifying and should serve as a warning for those who want to underestimate La Nati next summer.
Grades
Brazil vs. Switzerland Grades

| | | | |
| --- | --- | --- | --- |
| Brazil Player | Grade | Switzerland Player | Grade |
| Jefferson | A- | Diego Benaglio | B+ |
| Dani Alves | D+ | Stephan Lichtsteiner | B+ |
| Thiago Silva | B+ | Phillippe Senderos | C+ |
| Dante | B | Timm Klose | B |
| Marcelo | C | Ricardo Rodriguez | B |
| Paulinho | B | Blerim Dzemaili | B- |
| Luiz Gustavo | B- | Valon Behrami | B |
| Hulk | B | Xherdan Shaqiri | A- |
| Oscar | C+ | Granit Xhaka | B+ |
| Neymar | B+ | Valentin Stocker | C+ |
| Fred | C | Haris Seferovic | B- |
| Subs | | Subs | |
| Maxwell | B | Fabian Schaer | C+ |
| Fernando | C | Pirmin Schwegler | D+ |
| Lucas | C- | Tranquillo Barnetta | C |
| Hernanes | C+ | Mario Gavranovic | C |
| Jean | C | Admir Mehmedi | C+ |
| Jo | C | Michael Lang | C- |
Neymar, Brazil: B+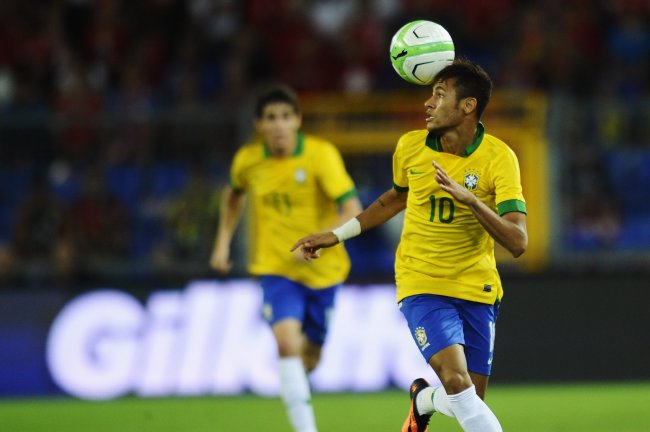 Daniel Kopatsch/Getty Images
Neymar was his usual playmaking self on Wednesday, wowing the crowd with several moves, despite a fierce resistance from the Switzerland faithful to show him anything but boos.
The Barcelona star was unable to provide the spark alongside the rest of his teammates that was prevalent at the Confederations Cup, but overall, he wasn't the reason Brazil failed to match their previous effort against Switzerland.
Xherdan Shaqiri, Switzerland: A-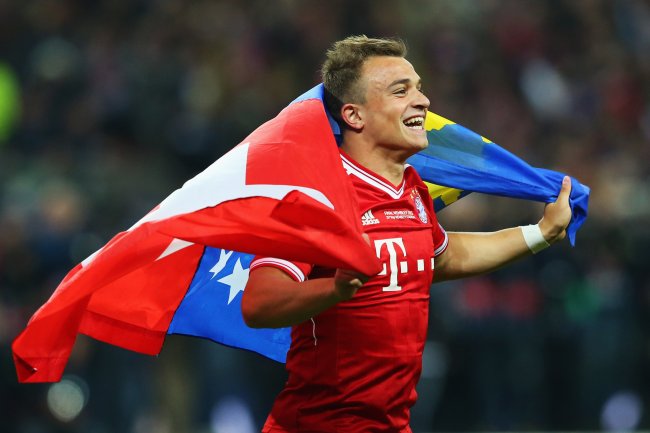 Alex Livesey/Getty Images
The Bayern Munich man made a statement for more time in Pep Guardiola's midfield with a strong performance on Wednesday.
As an attacker and as a creator for his teammates, Shaqiri was strong with the ball and almost gave Switzerland an early lead in the first half. His performance was one of many that helped La Nati pull off the upset.
What's Next?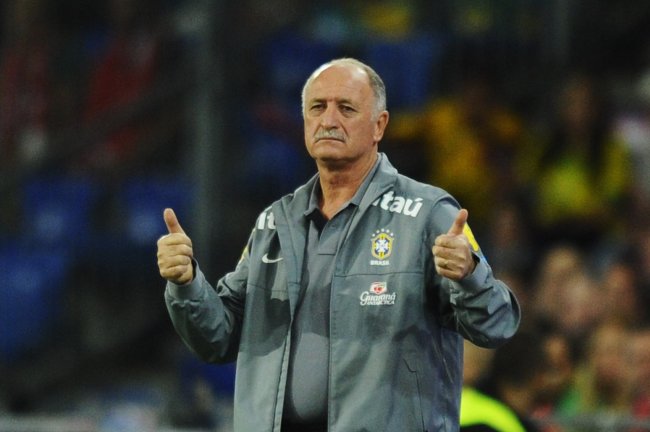 Daniel Kopatsch/Getty Images
With their place in the 2014 World Cup already locked up by way of being the host nation, Brazil will continue to push toward greatness with only friendlies on their upcoming schedule.
The Selecao will next face Australia on Sept. 7 at Mane Garrincha.
Switzerland, who are currently in first place in their FIFA World Cup qualifying table, begin the final four qualifying matches of their campaign on Sept. 6 against Iceland. Norway, Albania and Slovenia also remain on Switzerland's schedule in September and October.
Follow B/R's Ethan Grant (@DowntownEG) on Twitter.