Predicting Liverpool's First-Choice XI for the 2013-14 Premier League Season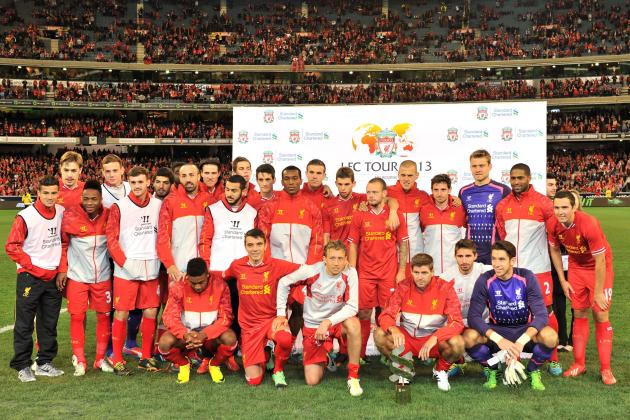 Vince Caligiuri/Getty Images

At the time of publication we are almost 48 hours away from the start of the 2013-14 Premier League season, which will kick off at Anfield when Liverpool host Stoke City.
The Reds are still very much involved in transfer activity, with more players almost certain to both enter and exit the revolving doors at the club's Melwood training ground, but right now what is their strongest lineup?
If Brendan Rodgers could only pick from players currently at the Reds, perhaps he'd find that this would be his strongest XI.
Begin Slideshow

»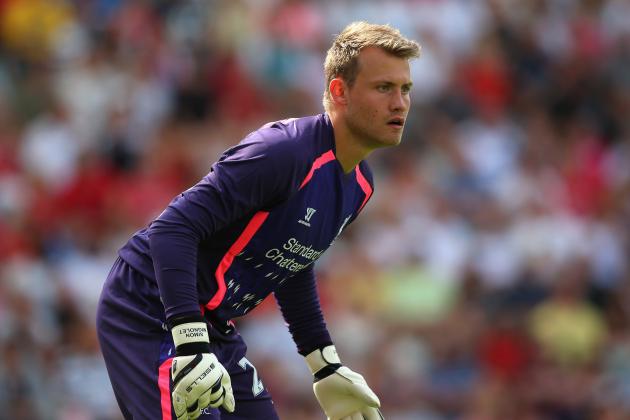 Alex Livesey/Getty Images

For the first time since the 2005-06 season, Liverpool are entering a campaign without Pepe Reina as their No. 1 goalkeeper.
The Belgian international Simon Mignolet has taken on that mantle following his move from Sunderland, and barring injury or suspension he will play every single match of the forthcoming campaign as the Reds' first choice goalkeeper.
Following a comfortable pre-season when he looked solid and only conceded one goal, Mignolet will enter Anfield life full of confidence and without the need to get used to playing in the division.
Everything is set up for him to be a success at Liverpool, now he just needs to grab his chance.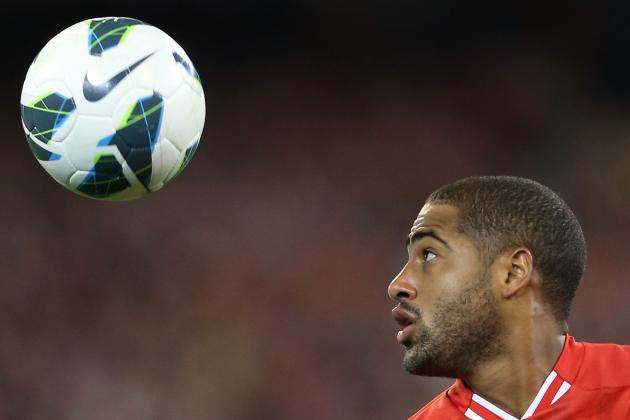 Michael Dodge/Getty Images

Still one of the first names on the Liverpool teamsheet, right-back Glen Johnson will be as important as ever to the collective cause throughout the campaign.
The England man's attacking runs down the flank add an extra edge whenever the Reds attack, and Johnson will assume an added importance whenever he's playing on the flank with one of Liverpool's young players, as his experience will help the likes of Raheem Sterling and Jordon Ibe.
His defending over recent seasons deserves more credit than it gets, too, and he'll be a key man for the Reds in 2013-14.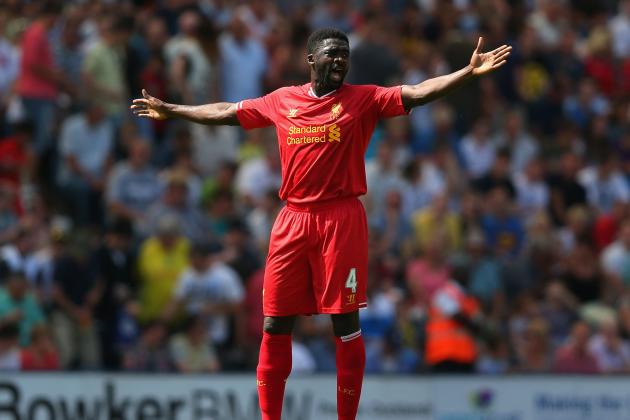 Alex Livesey/Getty Images

When Jamie Carragher retired in the summer, the need for Liverpool to bring in an experienced defender was an obvious one, and Rodgers settled on the free-transfer arrival of Kolo Toure.
Everything that the Ivorian has done since has deservedly placed him ahead of Martin Skrtel and Sebastian Coates in the central-defensive pecking order, and barring a move for an expensive, headline-grabbing defender before the end of the transfer window, Toure will be a regular for the Reds.
A determined character, his leadership and experience could be just what Liverpool need.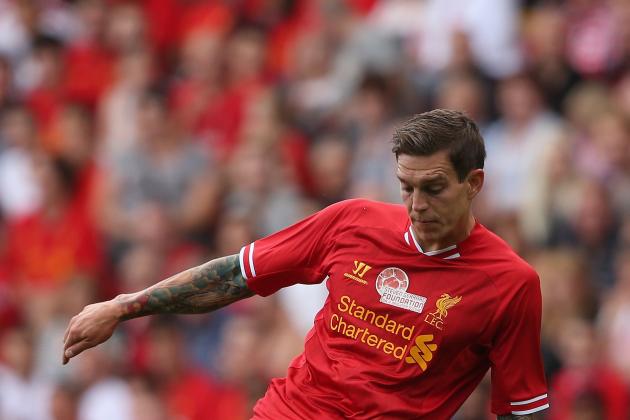 Clive Brunskill/Getty Images

Now finally and mercifully free from injuries, Daniel Agger seems to be generating the kind of recognition that his defensive quality deserves.
News of a bid from Barcelona wasn't welcomed by Liverpool, as reported by The Guardian's Andy Hunter, and with Rodgers having made the 28-year-old Dane his new vice-captain in place of Carragher, the Reds manager clearly sees the centre-back as crucial to his plans in the forthcoming campaign.
Last season Agger managed to stay fit enough to make the most Premier League appearances he's managed to make in a campaign since he joined the club in 2006, and getting him as close as possible to repeating that will be vital for the Reds.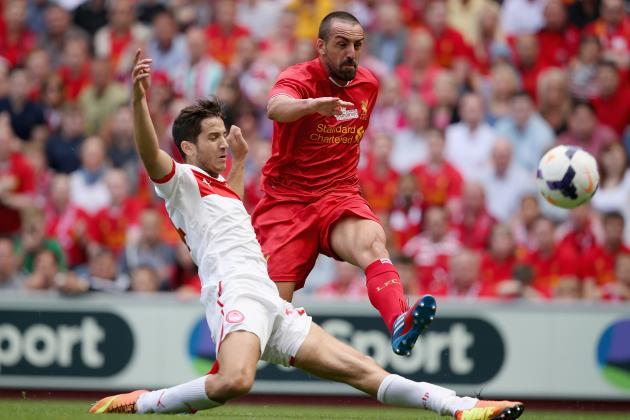 Clive Brunskill/Getty Images

Competition may be just around the corner for Jose Enrique in the form of the Brazilian left-back Guilherme Siqueira, according to David Anderson of the Daily Mirror, but the Spaniard will be determined to hang on to his place.
Experiments with playing Stewart Downing at left-back and pushing Enrique further forward last season were nothing more than just that, and Rodgers quickly decided that the ex-Newcastle man deserved a spot in his team.
He is likely to start on Saturday, too, and while his long-term future in the side will depend on the signing and impact of Siqueira, for now he is certainly the best Liverpool have.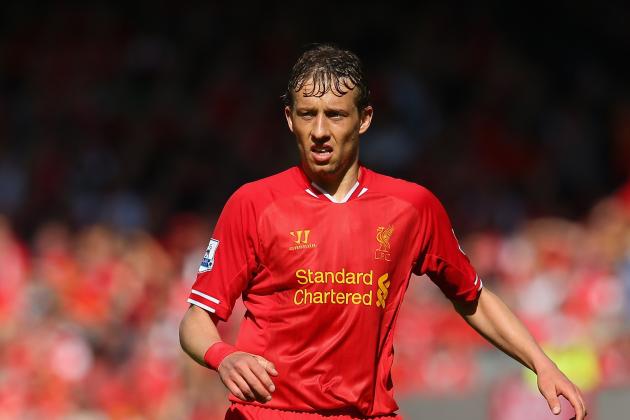 Julian Finney/Getty Images

Injuries are now hopefully a thing of the past for the popular Brazilian Lucas Leiva, who will assume a key role as the fulcrum of the Liverpool midfield once again.
Now a veteran of over 200 games for the Reds, a total that would have been much more but for injury, his sense of positioning and calmness will once again be crucial to a side who will also look to make use of his short, sharp passes.
Perhaps Liverpool would benefit from some competition for him in the holding role, but for now Lucas remains the main man in there.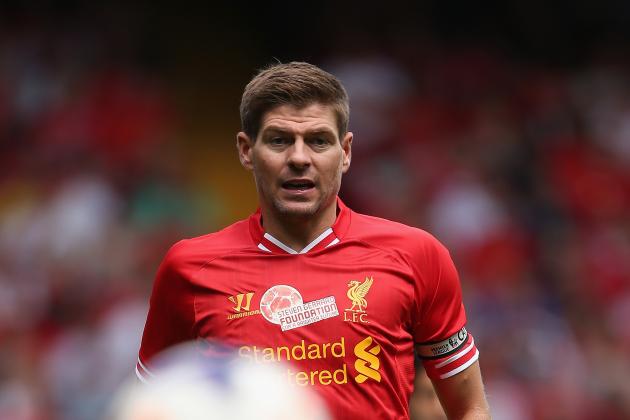 Clive Brunskill/Getty Images

Still the fulcrum, the energy and the heartbeat of this Liverpool side, the widely acclaimed Steven Gerrard deserves all the credit he gets.
The key factors of the addition of Rodgers, a new training regime and taking up a deeper role in the side all led to him enjoying a terrific campaign last season, when he played in every minute of every one of Liverpool's Premier League matches up until late on in the 36th.
He'll be back again this time around, leading from the front and taking his team into battle with as much determination as ever.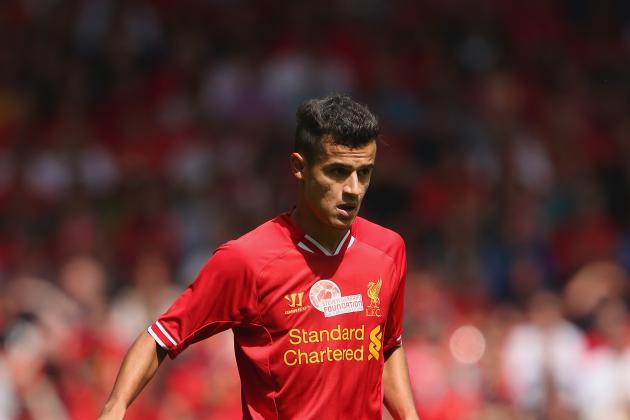 Clive Brunskill/Getty Images

Brazilian Philippe Coutinho sparkled following his arrival from Inter Milan last January, and he has quickly been taken to Liverpool fans' hearts since then.
His trickery, movement and eye for goal all went down well, and Reds fans have also been impressed with him in preseason, where he's bagged three goals.
The 2013-14 campaign could turn into an extremely special one for the 21-year-old if he can keep up this rapid rate of progress, and if he is to do that then he promises to be a special talent to watch throughout the season.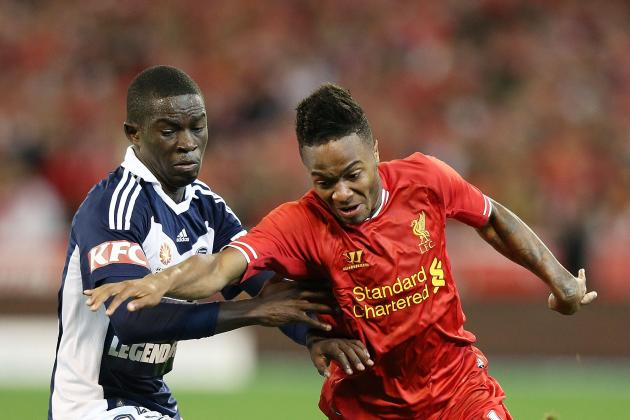 Michael Dodge/Getty Images

This is surely the most difficult position to fill in the side, with any one of Iago Aspas, Luis Alberto, Joe Allen, Jordan Henderson, Jordon Ibe, Fabio Borini and, who knows, even Brazilian midfielder Willian all capable and likely to start matches depending on Liverpool's opposition and formation. According to ESPN, Liverpool have identified the Anzhi Makhachkala midfielder as their next transfer target.
But following his impressive preseason it is Raheem Sterling who gets the nod here.
Nobody would ever have expected the young Englishman to have played so many matches in the last campaign, and following a brief break from the first-team, he looks ready and raring to go again this time around.
He won't start every game, but he can make an impact when called upon.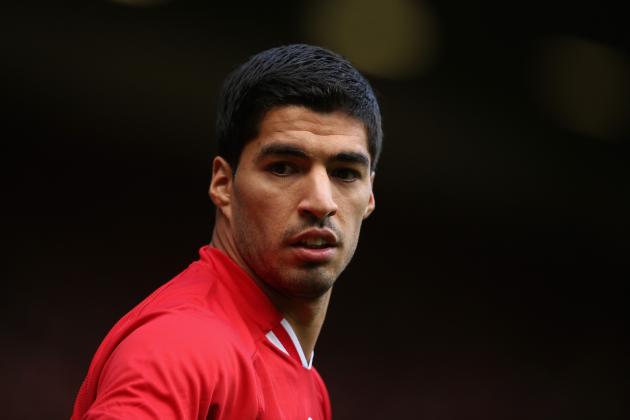 Clive Brunskill/Getty Images

Ah yes, you were probably waiting for him weren't you?
Luis Suarez is still a Liverpool player, and although he is banned for the first six matches of the Reds' campaign (although only five of those are in the league) his manager and doubtless his teammates will want him to return to the fold once his suspension for biting Branislav Ivanovic is over.
With the club making their stance on his potential transfer clear over the summer, as reported by Andy Hunter in The Guardian, Suarez is at the point where he might have to accept that he's going to be a Liverpool player until January at the latest, and so if he's available then why not pick him?
Julian Finney/Getty Images

Forty-five minutes against Celtic in Dublin and then an appearance, and two goals, against Newcastle in a behind-closed-doors friendly has got Daniel Sturridge fit and ready to go for the big kickoff, and this is a season that could be the making of him.
Sturridge scored 11 goals in 16 games following his move from Chelsea last January, and with the question marks over Suarez and the Uruguayan's ban both hanging over Liverpool then the forward has a huge chance to establish himself.
With an eye on being England's premier forward at next summer's World Cup, Sturridge knows that this is his time to shine, and Liverpool could be the main beneficiaries.