Power Ranking the Top 10 Wide Receiver Recruits for 2014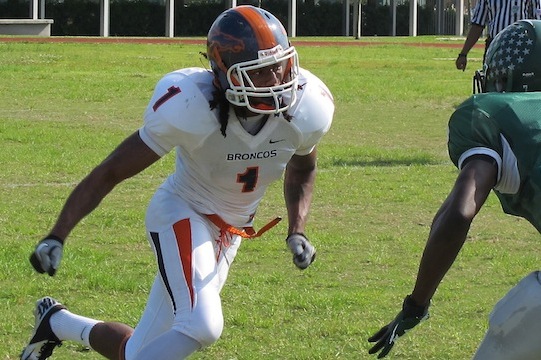 247Sports
The 2014 class lacks a consensus No. 1 wide-receiver prospect. But that does not mean there are no talented players at the position.
Qualify depth exists throughout this class.
A speedster in Louisiana doesn't play receiver every play but has the skills to remind many people of several greats. Another receiver plans to make an instant impact at an elite SEC school, and several tall pass-catchers are also on this list.
Player evaluations are based on review of tape at Scout.com, Rivals, 247Sports and ESPNU.

Begin Slideshow

»
Saeed Blacknall, a 6'3", 210-pound receiver from New Jersey, caught 40 passes for 743 yards and 11 touchdowns as a junior.
Blacknall, who is committed to Rutgers, has outstanding release quickness off the line. He can launch upfield using his size to power through press coverage, and his speed immediately threatens safeties. Blacknall does not have to decelerate when cutting at the top of his routes.
The 4-star recruit can extend and snatch balls in flight, as his big hands are one of his best assets.
A big receiver on the perimeter, Cameron Sims flashes the potential to be a physical nightmare for cornerbacks.
Although he only caught 39 passes in 2012, the 4-star recruit still had 948 receiving yards and eight touchdowns.
Sims, who is nearly 6'4" and 200 pounds, has good build-up speed and awareness. He can recognize coverages, adjust his routes on the fly and settle into a hole between defenders. Sims' mitts are soft, as he can pluck balls away from his frame with his long arms.
He has the ability to gallop upfield after the catch and shows the strength to be a bully with the football. Sims is expected to sign with Alabama or Ole Miss, per 247Sports.
Trevion Thompson, who is 6'2" and 177 pounds, is a lanky receiver with exceptional ability. He displays terrific quickness off the line, gets even with cornerbacks in a flash and separates at junction points in his routes.
Thomspon, who caught 40 passes for 700 yards and scored seven touchdowns in 2011, has a large catch radius. He is an athletic receiver with great body control, as he adjusts well to throws all around his frame.
The 4-star receiver is expected to sign with Clemson, according to many experts at 247Sports.
A Tennessee native, Josh Malone is an impressive receiver on the hoof. He is nearly 6'3" and weighs 200 pounds, while also possessing fantastic growth potential.
Malone, who has scored 18 touchdowns since 2011, can shock a cornerback at the line with a strong punch to release upfield.
Although he needs to run more precise patterns, he reaches top speed in the middle of his vertical routes, can shoot away from coverage out of his breaks and has the ability to shield defenders away from the football.
The 4-star receiver is dangerous after the catch and has a knack for finding the end zone. Clemson, Georgia, Florida State and Vanderbilt are his top schools, according to 247Sports.
Drake Harris is one of the most productive players in the country—he caught 91 passes for 2,015 yards and scored 25 touchdowns as a junior.
Harris, who is 6'4" and 180 pounds, is committed to Michigan, where is expected to become a No. 1 receiver. Harris has solid speed, but his smooth athleticism, length, ball skills and awareness are his best assets.
He has good separation quickness, has a large strike zone and, once his legs get churning in the open field, the 4-star receiver can be tough to catch.
One of the most intriguing recruits in the 2014 class, Malachi Dupre's talent exceeds his production. The 6'2.5", 187-pound receiver only has 39 receptions since 2011. However, 16 have been for touchdowns.
A 4-star receiver, Dupre is from New Orleans and has a polished game. He shows solid footwork in his release, has the ability to add subtle wiggles into his routes to set up defenders and has good hands.
He has the speed to sail by cornerbacks on the perimeter, as well has the run-after-catch ability to make big plays with the ball. He is expected to sign with LSU, according to 247Sports.
Dallis Todd looks like a tight end at first glance, but the 6'5", 210-pounder has the speed of a receiver. Todd is not a build-up runner.
The 4-star receiver is a California native who caught 72 passes for 1,041 yards and 10 touchdowns as a junior. Todd can burst upfield, has the athleticism to avoid traffic at the bottom of his routes and gets out of his breaks in a flash.
He can get on top of the defense due to his great speed. Todd's size, length and leaping ability allow him to dominate catch-in-crowd situations. He is an ideal receiver for back-pylon fade routes in the end zone.
He is committed to Oklahoma.
Ermon Lane is not going to consistently run by defenders with explosive speed. However, he has the quickness to get off the line, above-average speed and is a wonderful athlete.
Lane, who is 6'3" and 193 pounds, is an agile receiver who uses his long arms to pluck the football out of the air in traffic. He can be lazy when running routes. He is imprecise in and out of cuts, but Lane shows a good burst upfield after the catch.
Lane is a 5-star receiver who is committed to Florida.
KD Cannon is coming off a monster junior season—102 receptions for 1,600 yards and 26 touchdowns. The Texas receiver is a 4-star recruit who is committed to Baylor.
At 6'0" and 162 pounds, Cannon has terrific speed. He can skate around the field, dodge defenders during his routes and has great separation quickness. Cannon has good field vision and consistently finds voids in coverages.
His hands and ball skills are perhaps the best of any receiver on this list. Cannon tracks each throw with his eyes, uses great hand positioning and does not have to use his body often to catch balls.
Speedy Noil is listed as an athlete on many lists, but he will be a receiver in college. The 5-star recruit is a terror with the ball in his hands—his speed, quickness, agility and elusiveness consistently allow him to reach the end zone.
Noil, who is 5'10.5" and 176 pounds, has the versatility to be a similar player to Tavon Austin of the St. Louis Rams and Percy Harvin of the Seattle Seahawks. He is a jet on the field who can be used on outside running plays from the offensive backfield.
Noil has to learn how to run crisper routes, but his suddenness and explosive athleticism project him to be able to excel in this area once he receives coaching. He also has the ability to return kicks and punts.
Noil is expected to sign with LSU or Texas A&M, per the experts at 247Sports.
The 2014 Bleacher Report College Football Recruiting Heat Map is a resourceful tool for those interested in learning about the top prospects in college football. See if you can locate and find out more about the top receivers in the country.
Edwin Weathersby is the College Football Recruiting Analyst for Bleacher Report. He has worked in scouting/player personnel departments for three professional football teams, including the New York Giants and Cleveland Browns.