Change is the theme for WWE's NXT this week, including Bo Dallas' shift in persona and Rebecca Quin's new look.
While the WWE faithful focus their energy on SummerSlam on Sunday, subtle changes, an addition to the roster and a goliath of a special guest were the talk of the developmental territory.
Picking apart the news and speculation from NXT, one can find a possible sidekick for Sheamus and a villain WWE surely didn't expect.
Bo Dallas Edging Closer to Possible Heel Turn
Fans seem to hate Bo Dallas with a searing passion. WWE appears to now be recognizing and utilizing this fact.
The current NXT champ has been showing signs of increased arrogance and looks to be in the middle of the slow transformation from hero to jerk. On the NXT show that aired on August 7, Dallas mocked and looked down on Antonio Cesaro and Sami Zayn, referring to them as "kids."
Chris Pilkington of the Mirror, noted the following:
Bo Dallas has slowly but surely amplified the elements of his character that the NXT audience dislike. He's playing up to it, almost slipping into a smarmy bad guy role whilst still keeping his clean cut image.
Pilkington wasn't the only one to notice the character shift. In fact, more folks were talking about Dallas' potential heel turn than his defense of the NXT title against Leo Kruger.
Zack Zimmerman of ProWrestling.net remarked, "The turn is so close." Steven Berkman of InsidePulse.com wrote, "That build to the eventual heel turn is well on its way."
I hate Bo Dallas but this 'heel pretending to be a smarmy face' gimmick is great. Makes you really hate him, and that's the point.

— Steve Dawson (@TopRopeElbow) August 11, 2013
A heel turn is a wise move here. It turns the audience's distaste for Dallas into a positive.
New Diva Debuts
The stacked NXT Divas division is one woman bigger.
New prospect Lexi Kaufman made her NXT debut when she accompanied Scott Dawson to the ring at a NXT event last Thursday. Kaufman is a former bodybuilder and fitness model.
She begins her NXT adventure as Dawson's love interest.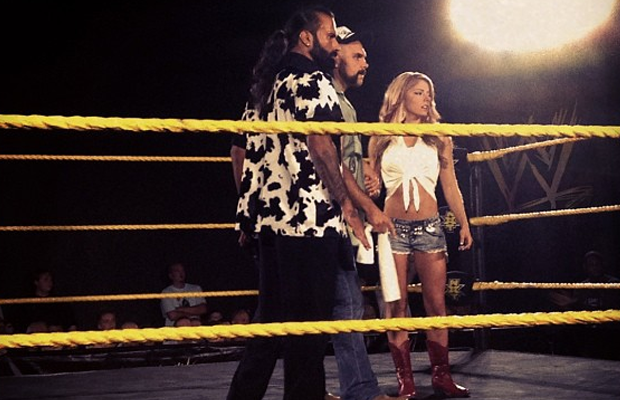 This role should give her time to grow comfortable speaking to and acting in front of the audience before she gets time in the ring. Being blond, thin and attractive has been a successful formula for past Divas, so Kaufman has those things in her favor from the get-go.
Sheamus to Get a Valet?
Right now it's just a dye job, but perhaps Rebecca Quin's transition to being a redhead is a precursor to her joining forces with Sheamus.
Quin showed off her new look via Twitter.
Making #ginger cool #quinger pic.twitter.com/im5sK3Haj4

— Rebecca Quin (@RebeccaMQuin) August 11, 2013
Both Quin and Sheamus are Irish and, as Marc Middleton of WrestlingInc.com writes, Quin's hair looking similar to the Celtic Warrior's "has led to fans speculating that she's coming to the main roster with Sheamus."
Beyond the Irish connection, Sheamus has previously shown his support for the Diva. Sheamus is currently recovering from surgery to repair a torn labrum. Perhaps when he returns, he will have a talented female wrestler at his side.
The Hall of Pain, NXT Style
Somebody in NXT is going to get their wig split.
At the NXT tapings on August 22, Mark Henry and special guests, unannounced for the moment, will appear at Full Sail University. NXT tweeted the news on Tuesday.
BREAKING:@WWENXT will be returning to Full Sail on Thursday August 22 with @WWE Superstar @TheMarkHenry along with surprise guests!

— Full Sail University (@FullSail) August 13, 2013
This means at least one prospect is going to get a shot to prove himself in a battle against The World's Strongest Man. Bray Wyatt looked great against Chris Jericho in NXT before his debut on the main roster. Sami Zayn has wowed against Antonio Cesaro.
Expect one of the powerhouse prospects to clash with Henry with WWE scouts and officials watching carefully.