International friendly or not, Scotland and England won't let semantics get in the way of resuming the world's oldest international football rivalry in style.
Trafalgar Square looked more like a mob scene than a tourist attraction on Wednesday, as thousands of Scottish football fans made their way south to London for the first "Auld Enemy" clash since 1999.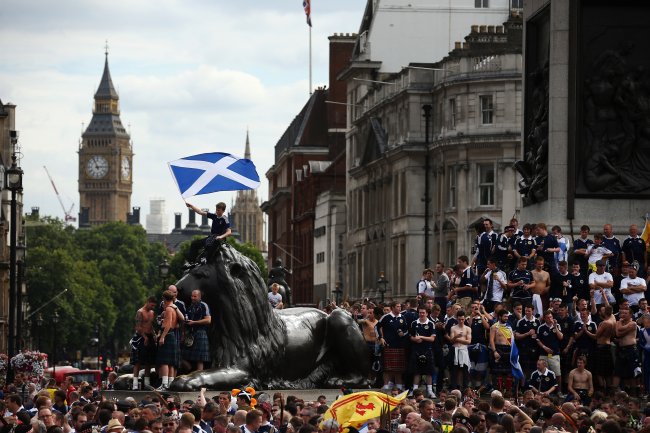 Dan Kitwood/Getty Images
The outlandish antics and support from the Tartan Army a full 12 hours before England and Scotland's match was scheduled to begin was the latest reminder of how exciting and heated things are when the Three Lions and Tartan Terriers grace the same pitch.
Few rivalries even compare.
As reported by Stuart Fraser of Daily Mail, an estimated 25,000-30,000 Scottish fans flocked to Trafalgar Square on Wednesday morning, holding no reservations about getting wild and crazy in support of the Tartan Terriers.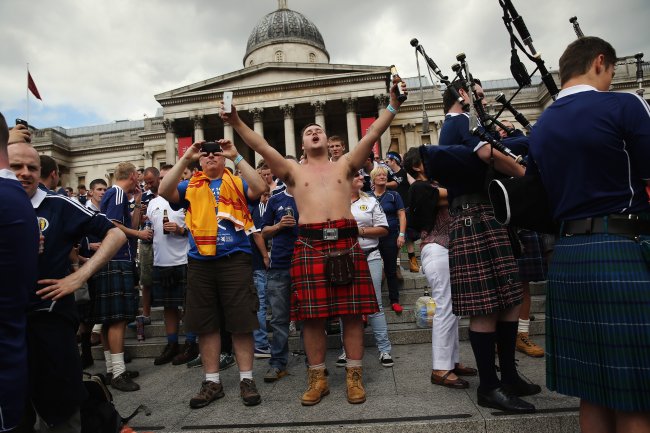 Dan Kitwood/Getty Images
Although police and other officials have been making preparations for the mass gathering for quite some time, no amount of preparation can combat the raw emotion, pure bliss and downright zeal that is attached to a match being hailed as the 150th anniversary of the Football Association.
The Sun's David Woodling posted this tweet as fans were just starting to get comfortable Wednesday morning:
It's 9.30am and the men in kilts have taken over Trafalgar Square. #Scotland #England pic.twitter.com/n54HnoxlLq

— David Wooding (@DavidWooding) August 14, 2013
Pranks, drinking and wide-scale craziness were all part of the package in preparation for the match. Fans even resorted to adding soap to the fountain at Trafalgar to create a bubble bath for the ages.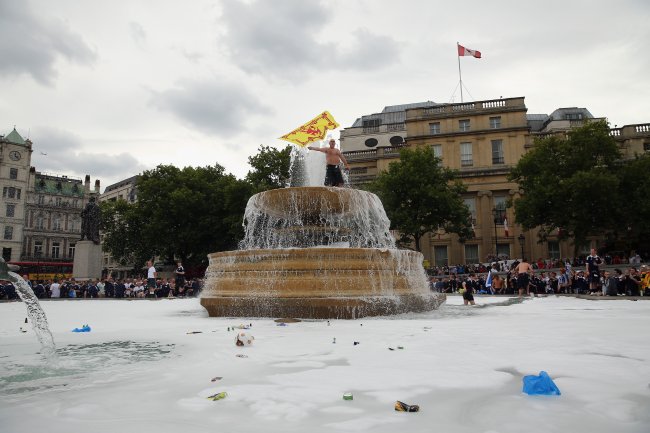 Dan Kitwood/Getty Images
When looking at all the pictures from the events prior to the England-Scotland clash, you almost have to stop and force yourself to remember there's a game to be played in connection to the gathering.
Heading into that game, the Scottish fans currently have bragging rights.
When Scotland beat England 1-0 in the 2000 Euro qualifying playoff, international friendlies weren't the exhibition matches that they've come to be today.
As noted by Samuel Luckhurst of The Huffington Post, there's more than a few reasons to consider the clash nothing more than a chance for the Three Lions to gain momentum prior to next summer's World Cup.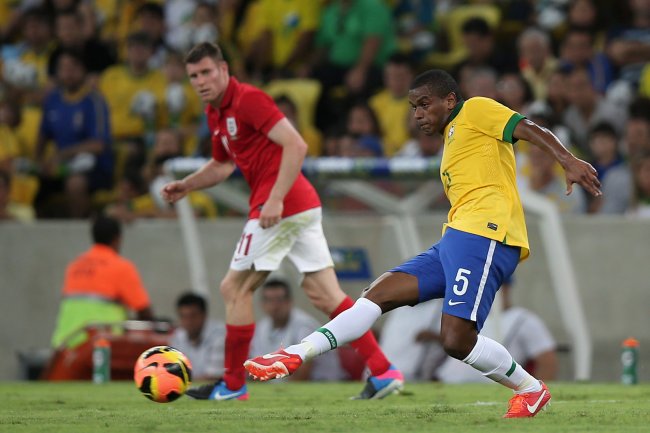 Friedemann Vogel/Getty Images
Scotland won't be making the trip to Brazil next summer, and with both sides primarily consisting of players on the brink of the upcoming Premier League season, the friendly likely won't have the same level of on-pitch urgency we've seen from either country through the years.
Sky Sports reported on Monday that England manager Roy Hodgson promised to "protect" Arsenal star Jack Wilshire by limiting his minutes against Scotland, while Wayne Rooney's off-pitch problems these days are more popular than his talent on it.
England's Michael Carrick withdrew from the match with an eye infection, Scotland is missing a myriad of key contributors (Darren Fletcher, Steven Fletcher, Gary Caldwell) and neither side has shown great form over the past few months with respect to qualifying for the World Cup.
The Three Lions are currently behind Montenegro in their qualifying group, while Scotland has recorded just five points in seven qualifying matches. Needless to say, the expectations for a World Cup-like match didn't exactly resound through media circles in preparation for the tilt.
That being said, there's something romantic about England and Scotland squaring off for regional dominance.
Whether it centers on diplomatic relations, history or current distaste for each other is irrelevant. In the year 2013, the Tartan Army reminded us on Wednesday that not even the bleakness of the "international friendly" label will keep any England-Scotland clash from being important.
The Tartan Army proved that again with their wild display on Wednesday.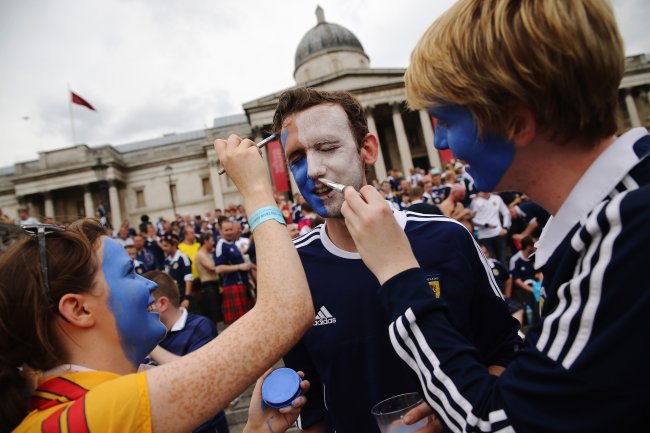 Dan Kitwood/Getty Images
Regardless of the outcome between the two teams at Wembley Stadium, fans from England and Scotland will revel in the fact that the age-old rivalry has been renewed. After 14 long years, bragging rights are finally back on the line for both sides.
Who wins Wednesday's friendly?
Forget the phrase "international friendly." England and Scotland have too much history, animosity and pride on the line to not give fans in attendance the match they deserve.
Great rivalries in sports are few and far between. When they come along—or stay current, in this case—it's always important to stop and recognize the beauty in the hatred.
England and Scotland always do.
Follow B/R's Ethan Grant (@DowntownEG) on Twitter.