Analyzing Top Quarterbacks in 2014 NFL Draft Class
Kevin C. Cox/Getty Images

The 2014 NFL draft features a very intriguing group of quarterbacks. There's talk that this group has more talent than last year's group, but that's still up for debate. This article breaks down the top quarterback prospects in this draft. You'll see that I'm not quite as high on this group as others in the draft community.
Begin Slideshow

»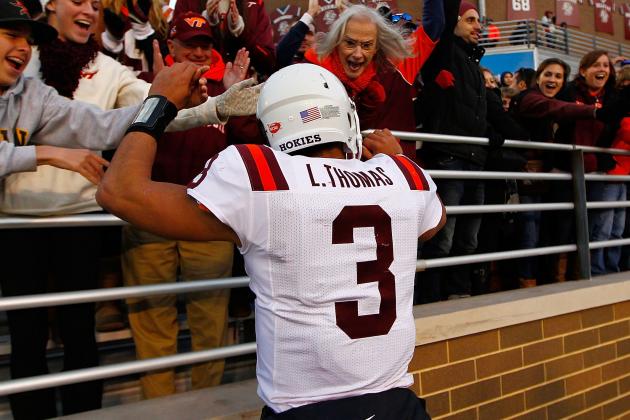 Jared Wickerham/Getty Images

No. 8 Bryn Renner, North Carolina
Projected Round: Late Fourth Round
I'm excited to see what Bryn Renner can do with another year of experience under his belt. This is a talented quarterback with the arm strength and accuracy to quickly move up draft boards. However, he needs to do a better job going through his progressions and locating the open target.
Renner has a tendency to get "happy feet" when his No. 1 option is covered, which results in sacks and forced throws.
No. 9 Logan Thomas, Virginia Tech
Projected Round: Late Fourth Round
Logan Thomas is using a mulligan on last season and hopes to rebuild his once-high draft stock. Thomas still has the excellent athleticism, strong throwing arm and size to develop into a top-notch NFL quarterback. The question is whether or not he has the mental makeup to put it all together.
No. 10 Stephen Morris, Miami
Projected Round: Late Fourth Round
I'm personally a little lower on Morris than most, but I do see his potential. Morris features all the athletic ability needed to succeed at the next level. He has good size, a strong throwing arm and is a fluid mover in the pocket.
The concerns I have with Morris is his lack of anticipation. He's a see-it-throw-it quarterback in that he waits for his target to show himself before he throws. This will be an issue in the NFL because defensive backs are too good at reading routes. Morris needs to throw his receivers open, or turnovers will be an issue for him at the next level.
No. 11 Brett Hundley, UCLA
Projected Round: Fifth Round
Based on athletic ability, Hundley could be seen as an early-round prospect. The issue is that he has yet to show consistent quarterback skills. UCLA asks Hundley to only read one side of the field, where he has a tendency to lock onto his No. 1 target and vacate the pocket when he's covered.
Hundley also holds on to the ball way too long and doesn't decipher post-snap information quick enough. He has plenty of upside but needs to increase his feel for the position and basic quarterback skills.
No. 12 Aaron Murray, Georgia
Projected Round: Late Fifth Round
Murray has plenty of experience and is a fierce competitor. However, he lacks the arm strength to make all the throws needed for a NFL quarterback to succeed. He also struggles dealing with pressure and is too quick to vacate the pocket.
No. 13 Keith Price, Washington
Projected Round: Sixth Round
Price is a good athlete who needs to develop a better feel for the position. Too often he locks onto his first target and becomes uncomfortable when he's covered. Price is on the shorter side and doesn't show the Russell Wilson-type knack for finding throwing lanes.
No. 14 Devin Gardner, Michigan
Projected Round: Seventh Round
Gardner's footwork is a mess and results in a lot of inconsistency in his game. At this point, he's undraftable until he's able to set his feet, square up to his target and show more accuracy. Gardner also struggles reading defenses and quickly locating the open target.
Others to Watch: Jeff Mathews, Cornell and Tyler Russell, Mississippi State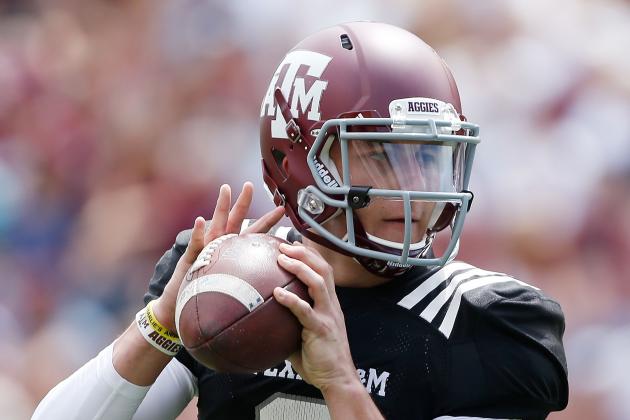 Scott Halleran/Getty Images

Somewhere in the NFL there's an offensive coordinator who believes he can turn Johnny Manziel into an elite NFL quarterback. However, he's such a unique player and personality that only a handful of teams will be willing to touch him.
Don't fool yourself, Manziel is not the same type of prospect Tim Tebow was when he came out of college. Manziel has better arm strength, quicker release and ability to find open targets. He also shows good accuracy and ability to place the ball where only his target has a chance to make a play.
I have him in a separate spot on this list because his off-field issues make it tough to really predict his future. With that being said, it would be worth the risk using a mid-round pick on Manziel just to see if he can turn into something special.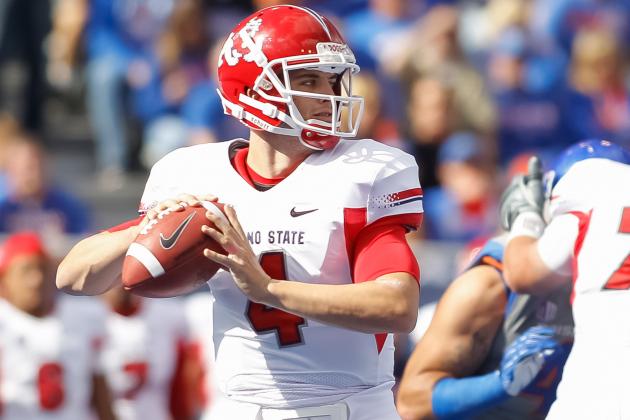 Otto Kitsinger III/Getty Images

Projected Round: Late Third Round
It's tough to get a proper read on Derek Carr because he isn't surrounded by a lot of talent at Fresno State. This is especially true along the offensive line, which results in a lot of pressure in the face of Carr. He rarely has enough time to sit in the pocket, square his body and go through his progressions.
As a result, Carr's footwork is a complete mess and reminds me a lot of what we've seen from Jay Cutler over the past few years. He also takes too many risks with the football.
Despite the obvious holes in his game, Carr has plenty of value as a prospect. He's a tough competitor who will do whatever it takes to help his team win. His ability to make both pre- and post-snap reads helps him make quick decisions once in the pocket.
Carr plays with a lot of savvy by moving defenders with his eyes, displaying an effective pump fake and moving in the pocket to extend the play.
He's the type of prospect who'll come off the board in the middle rounds but has the potential to end his career as the best quarterback in this class.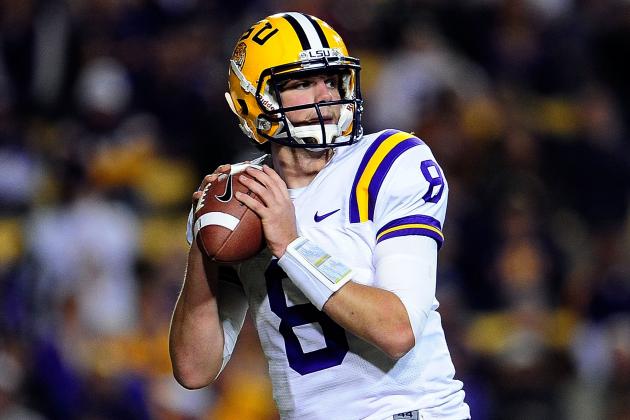 Stacy Revere/Getty Images

Projected Round: Third Round
Zach Mettenberger is still learning the quarterback position, but he features as much potential as any of the other quarterback prospects in this draft. He has the size, arm strength and athleticism evaluators look for in an NFL quarterback.
When evaluating Mettenberger, it's important to remember that last year was his first season as a full-time starter. As a result, his play grew more consistent as the season progressed. The game against Alabama was by far his most impressive performance.
While Mettenberger has a ton of upside, he needs to show consistency and better decision-making in order to rise up draft boards.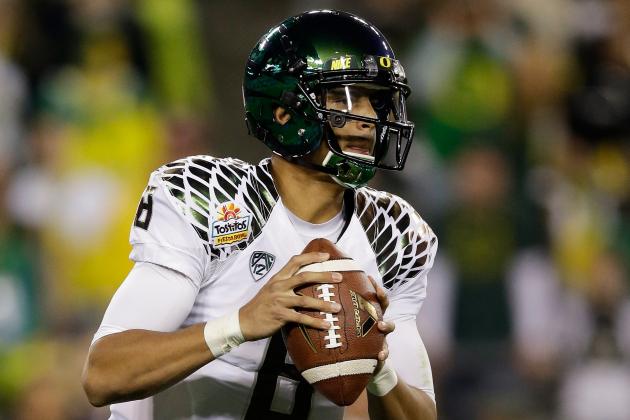 Ezra Shaw/Getty Images

Projected Round: Late Second Round
Despite playing in a unique offense at Oregon, Marcus Mariota has found a way to display traits that make him a solid NFL prospect. That Oregon offense has taught Mariota how to identify holes in a defense and make quick decisions.
He is also capable of remaining poised while running a high-tempo attack. It's not easy to play at such a fast pace and routinely make sound decisions.
A lot of the throws Mariota is asked to make are quick routes and screen-type passes. However, he does a good job remaining balanced and going through is progressions when his first target is covered. Mariota is just very poised and doesn't let anything take him off his game.
The biggest question mark surrounding Mariota is his ability to consistently deliver an accurate deep ball. If he could show improvement in this area, we could be talking about Mariota as a potential first-round prospect.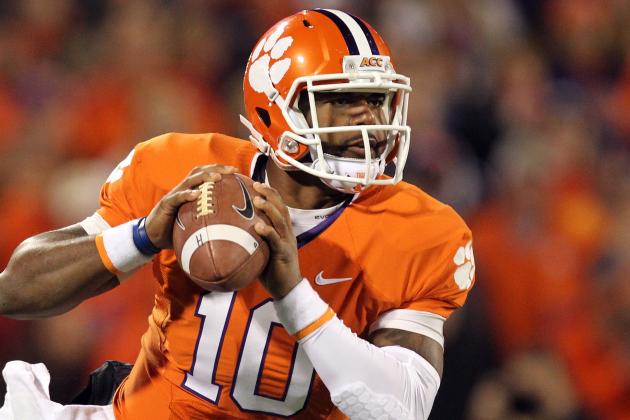 Streeter Lecka/Getty Images

Projected Round: Late Second Round
At this point, Tajh Boyd holds value based on his potential and not on his NFL readiness. Boyd is a good athlete with a strong throwing arm and apparent leadership ability. However, Clemson's offense doesn't ask him to make many NFL-type throws.
Most of Boyd's reads are to one side of the field. If his first read is covered, he's really quick to pull the ball down and vacate the pocket. Sometimes he appears determined to throw the ball, which results in passes forced into coverage.
It's going to take time and coaching for Boyd to become comfortable going through his progressions.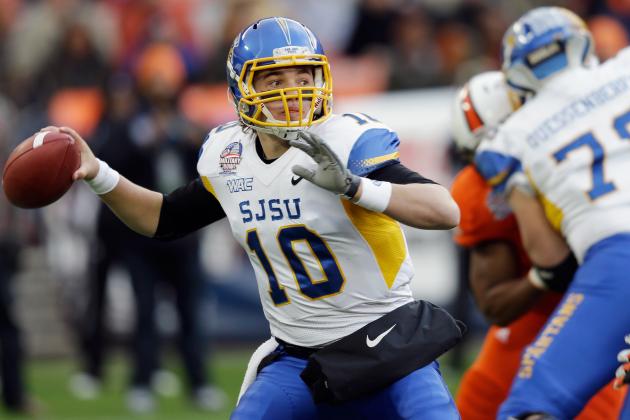 Rob Carr/Getty Images

Projected Round: Late Second Round
The status of David Fales' draft stock is going to be one of the hotter topics throughout the process. Fales is a heady quarterback who consistently makes sound decisions and is committed to using proper technique. He has a knack for quickly reading the defense and getting the ball out on time.
However, Fales' lack of arm strength isn't hard to notice. He struggles generating a ton of zip on intermediate passes, and his deep ball often falls short. It's hard to see a scenario where he doesn't struggle making all the throws needed for an NFL quarterback to succeed.
His only saving grace is his ability to make quick decisions. He anticipates his throws and gets the ball out before his target breaks off his route. This helps him overcome the arm strength issues in the intermediate and underneath passing game. However, it does little to solve his issues with the deep ball.
The success of quarterbacks like Drew Brees, Andy Dalton and Matt Ryan give hope for prospects who are believed to have poor arm strength. I'm keeping Fales in the second-round mix because his feel for the position makes me a believer. However, I wouldn't be surprised if he came off the board somewhere closer to the fifth round.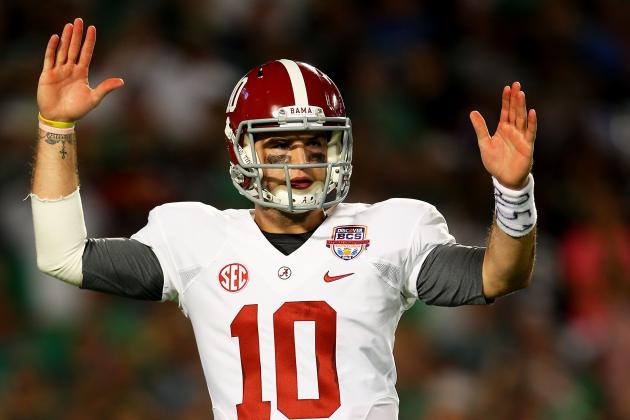 Mike Ehrmann/Getty Images

Projected Round: Early Second Round
Too many people want to write off A.J. McCarron because he's surrounded by elite talent and previous Alabama quarterbacks haven't had a ton of success in the NFL. However, McCarron is a different type of prospect who deserves a closer look.
Playing at Alabama has given him the opportunity to play in many big-game situations. Each week he deals with the pressure of knowing that just one loss could mean the end of his team's national title hopes. The type of poise and experience he has in these types of situations is something that can't be taught.
While McCarron doesn't have elite arm strength, he can generate enough zip to attack all levels of the field. His commitment to stepping into his throws helps him get a little extra when he needs to squeeze the ball into tight spaces.
McCarron is smooth in the pocket and routinely goes across the field with his progressions. Whatever team lands McCarron will be getting an NFL-ready quarterback who still has plenty of upside.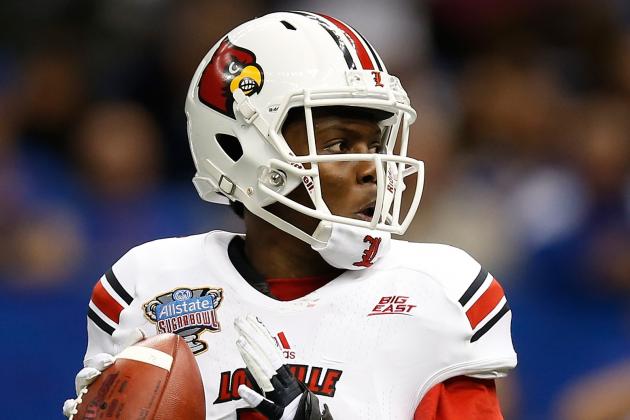 Chris Graythen/Getty Images

Projected Round: First Round
At this stage in the process, most of the NFL draft community is in love with Teddy Bridgewater. He's the one quarterback prospect who features both excellent upside and solid college production. Bridgewater shows a powerful throwing arm with the ability to deliver the ball with zip to all levels of the field.
This is a poised quarterback who does a good job navigating the pocket while keeping his eyes down the field. Bridgewater shows a commitment to keeping his eyes and feet tied together while going through his progressions.
While Bridgewater is a good-looking prospect, he isn't without issues. He has a tendency to hold on to the ball too long rather than trusting his reads. This results in more than a handful of throws that are delivered in tight spaces. He also throws off his back foot from time to time, which impacts his overall accuracy.