Why the Cleveland Browns' QB Competition Is Nothing but a Charade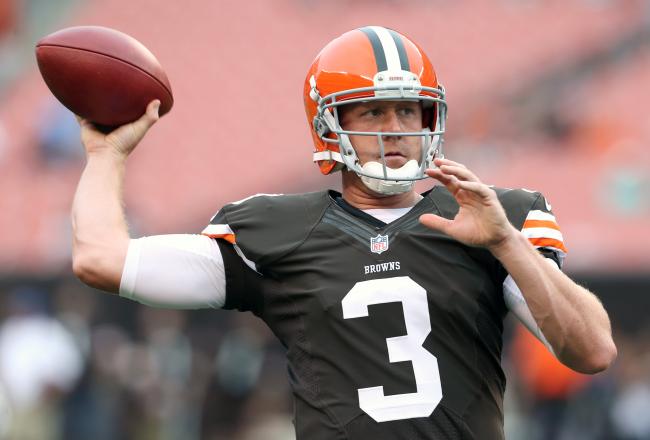 Ron Schwane-USA TODAY Sports
While harboring competition to eliminate the presence of complacency is a noble cause, there is very little question that second-year quarterback Brandon Weeden will be the Cleveland Browns' starter when the team opens the regular season against the Miami Dolphins on Sept. 8.
For now, however, Browns head coach Rob Chudzinski is continuing to give lip service to the idea that Cleveland's quarterback situation is an open competition instead of a one-man race.
According to Mary Kay Cabot of the Cleveland Plain-Dealer, Chudzinksi is not ready to name a starting quarterback, instead calling the position race "close" between Weeden, veteran backup Jason Campbell and journeyman Brian Hoyer.
Cleveland Browns QB competition between Brandon Weeden, Jason Campbell 'still close,' Rob Chudzinski says http://t.co/ulIDN41lCX

— Mary Kay Cabot (@MaryKayCabot) August 14, 2013
"There's a point where I will name a starting quarterback, (but) not yet,'' Chudzinski said. "That plan is to find the right guy. At whatever point is the right time to do that, we'll name a starter."
The whole statement comes off as unnecessary coachspeak.
As Cabot states, Weeden has taken every first-team rep during the offseason program and training camp. In his first preseason game, the 2012 first-round pick looked polished and confident in his new offense.
Calling the quarterback competition close—if there is even a competition at all—seems disingenuous at best and a straight fallacy at worst.
But it's also easy to understand the kind of message Chudzinski is trying to send to his quarterback meeting room. The new Browns management and coaching staff have no direct ties to Weeden, who was drafted by the previous regime. There is no preferential treatment or coddling needed here.
And for a young team attempting to take the step from afterthought to relevant, there's really no reason to stifle competition by naming an outright starter, especially at the quarterback position.
Chudzinski can use the competition narrative to continue fine-tuning and improving Weeden without giving his likely starter the comfort of having the spot all to himself before the second preseason game. Uncertainty can have some value in a situation like this.
But at this point, Weeden must also know that he's head-and-shoulders above both Campbell and Hoyer. Teams don't give one quarterback the entire helping of first-team reps in a new offense without having a pretty good idea who the front-runner is.
If Chudzinski really wanted an open competition at quarterback, he'd have already given Campbell or Hoyer a look in the No. 1 offense during installs and early on in camp. Instead, it's been all Weeden on the first team, with Campbell running the second unit and Hoyer the third.
In the Browns' preseason debut, Weeden used his first-team opportunities to put together one of the better preseason debuts by a quarterback in 2013. He directed a 15-play, 67-yard drive on Cleveland's first offensive series that took over seven minutes off the clock and resulted in a chip-shot field goal.
Among the 15 plays were eight passes, of which Weeden completed five for 52 yards. Strikes to both Josh Gordon (22 yards) and Greg Little (14) fueled the drive.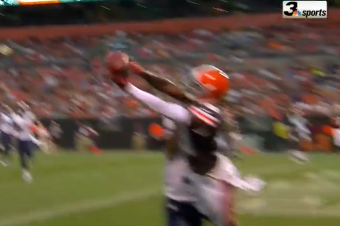 The first series would have ended with seven points had a well-placed throw from Weeden connected with Little in the end zone, but the attempt went off his fingertips and fell incomplete.
After settling for three on the first series, Weeden and the Browns offense found paydirt on the second. The 74-yard scoring march featured nine plays, including five completions over five attempts from Weeden. His passing gobbled up 60 yards of the drive, with his final completion finding Dion Lewis for a two-yard touchdown.
By the time Weeden's preseason debut was finished (after just two series), he had completed 10 of his 13 passes for 112 yards and one touchdown. The Browns were a sparkling 4-of-5 on third downs.
Overall, his Week 1 passer rating of 127.7 was fifth among quarterbacks who are either established starters or competing for a starting job this summer.
Best Passer Ratings, Week 1 of NFL Preseason (Starters only)

| | | | | | | |
| --- | --- | --- | --- | --- | --- | --- |
| QB | Team | Cmp/Att | Yrd | TD | INT | Rating |
| M. Vick | PHI | 4/5 | 94 | 1 | 0 | 158.3 |
| C. Palmer | ARI | 4/6 | 77 | 1 | 0 | 149.3 |
| S. Bradford | STL | 5/8 | 102 | 1 | 0 | 145.8 |
| T.Brady | NE | 7/8 | 65 | 1 | 0 | 140.1 |
| B. Weeden | CLE | 10/13 | 112 | 1 | 0 | 127.7 |
Source: Pro Football Focus
While working with the second team, Campbell completed six out of his seven passes for 37 yards (88.7 passer rating). The Browns scored three points with the veteran at the controls. Later, Hoyer put the finishing touches on a strong debut by tossing a 26-yard touchdown pass in the fourth quarter.
Despite all three quarterbacks playing well, the preseason opener provided the clearest evidence yet that the Browns are giving the right signal-caller the first-teams reps. Weeden looked like a completely different quarterback than he showed in his preseason opener last August, when he completed just three passes with an interception and a lost fumble.
Who will start at quarterback for the Cleveland Browns in Week 1 of the 2013 season?
Yet Chudzinski, in perfect coachspeak, dismissed the idea that Weeden's strong debut put the quarterback competition to rest.
"There's still three preseason games left, so there's still a lot of work to be done, and we've still got plenty of practice time as well,'' Chudzinski told Cabot. "Every day is an evaluation and they've each done well and shown good things along the way.''
The Browns do have three preseason games left, starting Thursday against the Detroit Lions. However, Weeden would have to suffer a calamitous drop-off over those three contests to give Campbell or Hoyer a realistic shot at overtaking him for the starting job.
And to Chudzinski's credit, it's possible such a collapse will be avoided by his attempt to continue providing unwavering competition at quarterback. Weeden certainly understands the dynamic competition can provide.
"You have to continue to push and push and get better because we're all still being watched," Weeden said via Cabot.
For now, complacency doesn't appear to be a problem for Chudzinski's quarterback "competition." But if Weeden continues to play as well as he did in the preseason opener, the Browns staff will have no other choice than to quit the competition charade and officially hand starter duties to Weeden.
One way or another, that process for Weeden and the Browns will happen before the season opener against the Dolphins.
This article is
What is the duplicate article?
Why is this article offensive?
Where is this article plagiarized from?
Why is this article poorly edited?

Cleveland Browns: Like this team?