MLB's 25 Biggest Storylines Heading into 2013's Final Quarter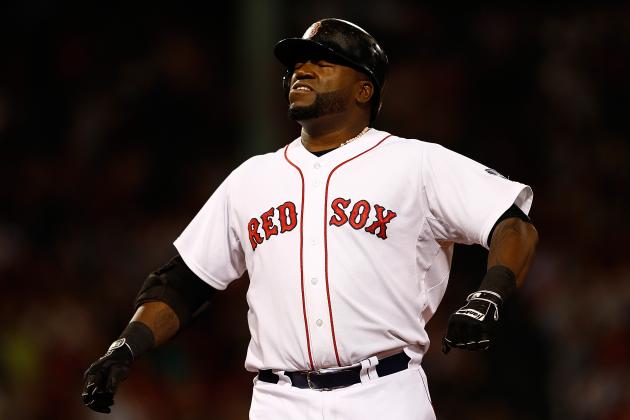 Jim Rogash/Getty Images

As is the case every year, the 2013 MLB season has produced some exciting, surprising and incredibly unexpected performances.
We've seen Chris Davis emerge as a legitimate MVP candidate and be the only thing standing between Miguel Cabrera and a double-triple (two Triple Crowns in two seasons).
There have PED-related suspensions, dramatic walk-off hits and historic major league debuts. Not only might we see a team go from worst-to-first, but another might pull of the equally rare (and far more disappointing) feat of going first-to-worst.
It's why we love the game—and what follows is why the final quarter of the regular season is something that no baseball fan is going to want to miss.
*Unless otherwise noted, all statistics courtesy of Baseball-Reference.com and current through games of August 14.
Begin Slideshow

»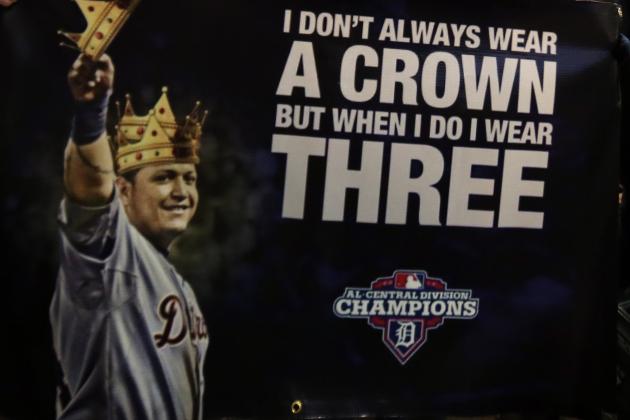 Leon Halip/Getty Images

Is a storyline really a storyline if nobody's talking about it?
After winning the 17th Triple Crown in baseball history last season—the first in 45 years—Miguel Cabrera heads into the final quarter of the 2013 season with a legitimate chance to become the third player to win two Triple Crowns.
But he'd be the first to win them back-to-back.
Take a look at where Cabrera currently stands in the three statistical categories that he'll need to win:
| Cabrera's Numbers | AL Rank | Lead/Deficit |
| --- | --- | --- |
| Batting Average (.360) | 1 | 30 points ahead of Mike Trout (.330) |
| Home Runs (38) | 2 | Six behind Chris Davis (44) |
| RBI (114) | 1 | Two ahead of Chris Davis (112) |
While anything's possible, it would take a meltdown of epic proportions for Cabrera to not win his third consecutive AL batting title.
Chris Davis poses a major threat to Cabrera's chances in the home run and RBI departments, however, and the two sluggers are trading blows like they're involved in a heavyweight boxing match.
Case in point: Cabrera has six home runs and 15 RBI over his last 42 at-bats, while Davis has six home runs and 13 RBI over his last 48.
The battle for dominance between Cabrera and Davis will be an epic one to watch.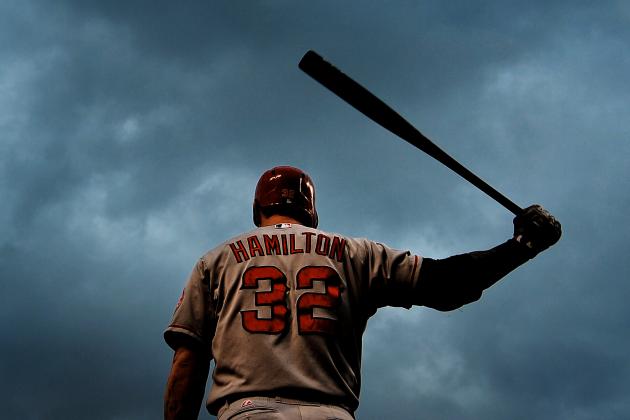 Patrick Smith/Getty Images

After finding out that the Angels had signed Josh Hamilton to a five-year, $125 million contract this past winter, what would your reaction have been if someone made this statement: Josh Hamilton is the second coming of Vernon Wells.
Chances are you would have erupted into uncontrollable laughter, probably had a snide remark or two for the person and then went on your merry way.
So far in 2013, Hamilton has done nothing to prove that statement wrong—and the numbers don't lie.
Take a look at how Wells fared in his first season with the Angels and where Hamilton is projected to wind up:
| | BA | OBP | OPS | XBH (HR) | RBI | R |
| --- | --- | --- | --- | --- | --- | --- |
| Hamilton (2013) | .226 | .281 | .690 | 59 (23) | 78 | 75 |
| Wells (2011) | .218 | .248 | .660 | 44 (25) | 66 | 60 |
Kind of eerie how close those numbers are, isn't it? It certainly doesn't give you a warm, fuzzy feeling inside about the four years and $100 million that remain on Hamilton's deal.
Hamilton has had moments this season where it looked as if he might be turning a corner, but those are few and far between. We're in the midst of one now, actually, as Hamilton is hitting .375 with three doubles, a home run and seven RBI over his last six games.
While the season is lost for the Angels, Hamilton can ease some of that pain by riding this hot streak for a few weeks and getting his numbers back to somewhat respectable levels, giving the team and its fans hope that things will be better in 2014.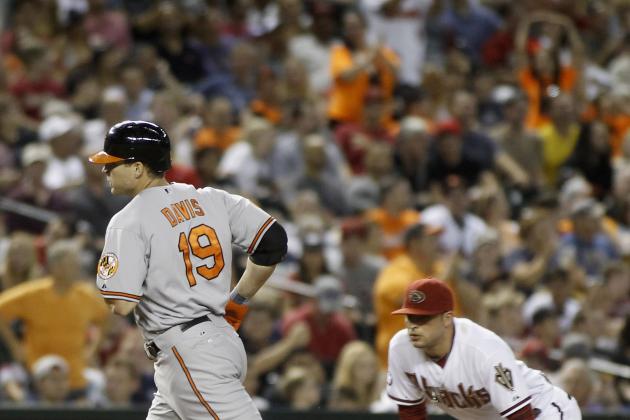 Ralph Freso/Getty Images

There have been a total of eight 60-home run seasons and 15 100-extra-base hit seasons in baseball history. In 2001, Barry Bonds (73 HR, 107 XBH) and Sammy Sosa (64 HR, 103 XBH) became the only players to accomplish both in the same season.
Unlike Bonds and Sosa, who both have a gigantic steroid-fueled cloud of suspicion hanging over their careers, it's clear sailing for Chris Davis, who with 44 home runs and 77 extra-base hits through Baltimore's first 120 games has a chance to become the first "clean" player to hit those marks.
Davis is on pace for 104 extra-base hits, which would rank sixth on the all-time list, just behind Todd Helton's 105 in 2001 and would set a new franchise record in Baltimore, crushing Brady Anderson's 96 extra-base hits in 1996, a season in which Anderson himself put up some questionable numbers.
But at his current pace Davis would fall one home run shy of the mark, finishing the season with 59 bombs. He's going to need to have a few multi-home run games, something he's done only three times this season.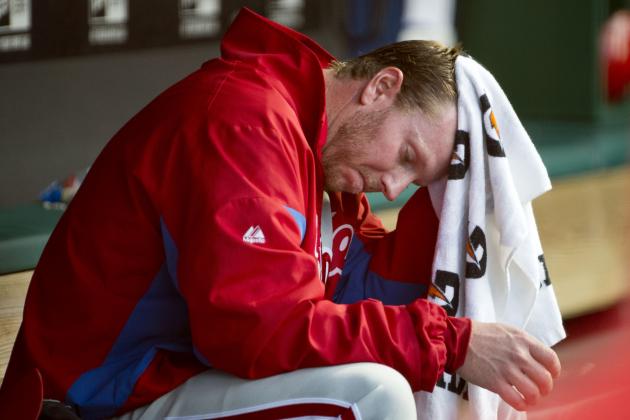 Jason Miller/Getty Images

Out since May due to shoulder surgery, Roy Halladay is beginning to travel the road back to Philadelphia, making his first minor league rehab start on Thursday night for Philadelphia's Gulf Coast League team, the aptly named GCL Phillies.
If all goes well, he'll make another start on Tuesday (likely with another affiliate at a higher level) and, as CSNPhilly's Jim Salisbury notes, Halladay could be back in Philadelphia's rotation before the end of August.
But what can reasonably be expected from a 36-year-old who has gone 13-12 with a 5.24 ERA and 1.26 WHIP with 167 strikeouts in 32 starts since the beginning of 2012?
Certainly, expecting him to be the pitcher that dominated the sport for a decade, going a combined 170-75 with a 2.97 ERA, 1.11 WHIP and a pair of Cy Young Awards from 2001 through 2011, is asking too much.
Can he be a serviceable mid-rotation starter at this point in his career, pitching to an ERA in the high-threes or low-fours?
Or is he doomed to struggle as he did early in his career, when he pitched to a 4.95 ERA and 1.54 WHIP with little command over his stuff, walking four batters per nine innings of work?
With his next contract hanging in the balance, you can be sure that Halladay is going to do everything in his power to prove that he's still a reliable option for a contender.
You have to go back more than a decade, to 2002, to find the last pitcher who struck out more than 300 batters in a single season. That year, both Randy Johnson (334) and Curt Schilling (316) pulled it off as members of the same rotation in Arizona, becoming the first teammates in history to accomplish the feat.
With 207 strikeouts on the season, Yu Darvish has a chance to end the drought and join them in a rather exclusive club.
Darvish, who leads all starters with 12.1 strikeouts per nine innings of work, is averaging nine strikeouts per start. Assuming that Darvish remains on his regular schedule over the last quarter of the season, he'll make eight more starts this season, half of them against contenders.
If he stays true to his averages, he'll finish the year with 279 strikeouts—an impressive total to be sure, but well short of the mark. To get there, he's going to need to crack double digits in a few of his remaining starts.
He's done that nine times this season, finishing with 14 or more strikeouts on five occasions, most recently in his last start against the Houston Astros on Monday night when he fanned 15.
While I personally think Darvish is going to fall just short of the mark, it's going to be a lot of fun watching him try to hit it.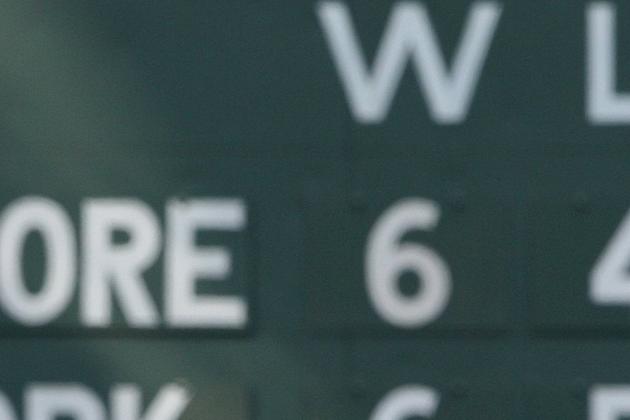 Elsa/Getty Images

Over the past five seasons, only two teams have eclipsed the 100-win plateau: the 2009 New York Yankees (103-59) and the 2011 Philadelphia Phillies (102-60).
Neither one of those clubs is going to come anywhere near 100 victories in 2013.
Will anyone?
Heading into the last quarter of the season, only four teams are within 30 wins of the mark: Atlanta (73-47), Boston (72-49), Detroit (70-49) and Pittsburgh (70-48).
I don't see any of them cracking triple digits in the win column at the end of the season, with Atlanta (98-64) finishing tied with the Los Angeles Dodgers for the best record in baseball in my updated win/loss projections that came out earlier this week.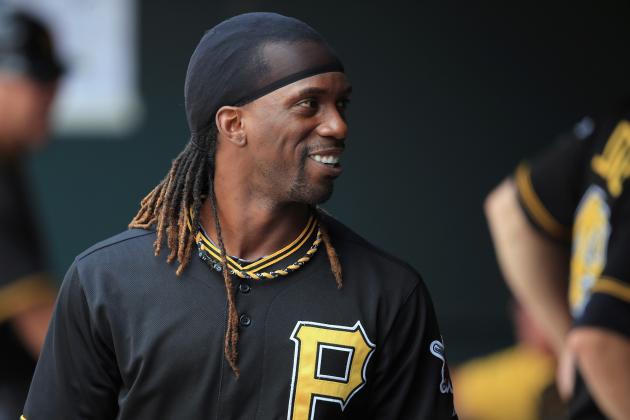 Doug Pensinger/Getty Images

In 2011, Pittsburgh was seven games above .500 (51-44) and sitting atop the NL Central, only to drop 46 of their last 67 games to finish the season 18 games below .500 at 72-90.
Last year bought more of the same, with the Pirates losing 36 of their last 52 games to clinch their 20th consecutive losing season, finishing the year at 79-83.
With 44 games left to play in 2013, Pittsburgh is not yet out of the woods when it comes to avoiding their typical late-season swoon. Despite having a 70-48 record, it's still possible for the Pirates to finish the year under .500.
That has to be a scary thought for the team's beleaguered fanbase, especially with the team just coming off of a four-game losing streak and sitting with a .500 record through 12 games in August.
There's no question that, on paper at least, this year's club has more talent and depth than those that came before it. But the Pirates haven't been able to put any significant distance between themselves and St. Louis or Cincinnati, two teams with more talent and experience than Pittsburgh.
With eight games left to play against the Cardinals and six left against the Reds—including a season-ending series at Great American Ball Park—the Pirates fate may not be decided until the last game of the season.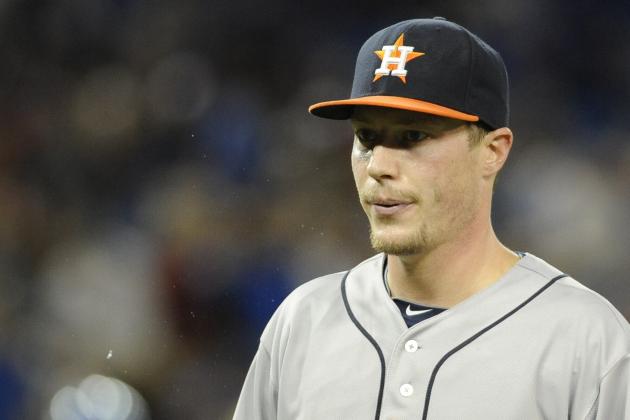 Brad White/Getty Images

It's been 10 years since Mike Maroth went 9-21 for the Detroit Tigers in 2003, marking the last time that a pitcher lost 20 games in a season.
Heading into the final quarter of the season, three pitchers—Philadelphia's Cole Hamels, Houston's Lucas Harrell and Los Angeles' Joe Blanton—all sit with 13 losses and an outside shot at reaching the 20-loss mark.
But it's unlikely to happen.
Blanton and Harrell have been so bad this season that, even with their respective teams desperate for help in the starting rotation, both have been banished to the bullpen and long relief roles, limiting how often they'll not only be used, but how often they'll have a chance to factor into the decision.
Hamels, who got off to a terrible start to the season, has looked like himself since the All-Star break. Despite having a losing record (1-2), Hamels has pitched to a 2.25 ERA and 1.08 WHIP over five second-half starts.
With that kind of performance down the stretch, it's far more likely that Hamels simply doesn't figure into the decision thanks to a mediocre Philadelphia lineup rather than take the loss more often than not.
Don't look now, but here come the Yankees.
Winners of four straight and five of their last six games, the Bronx Bombers have picked up three games on the rest of the AL East and find themselves only five games out of a wild card spot.
Alex Rodriguez and Alfonso Soriano have provided the team with a spark from the right side of the plate since their returns to the Bronx, combining for eight home runs, 25 RBI and 19 runs scored, with Soriano accounting for most of that damage.
Still, with three teams to climb over in the division and four teams to get past in the wild card race, they are going to need plenty of help from other teams—and a substantial run of success that finds the team winning something along the lines of 30 of its next 39 games—to have a real chance at pulling this off.
When was the last time you saw teams lining up to help the Yankees?
It only happens in the wildest dreams of Yankees fans, and that's exactly what the team's playoff chances are this season—nothing more than a dream.
For only the second time in the past 19 years—both on Joe Girardi's watch—the Yankees are going to be spectators in October.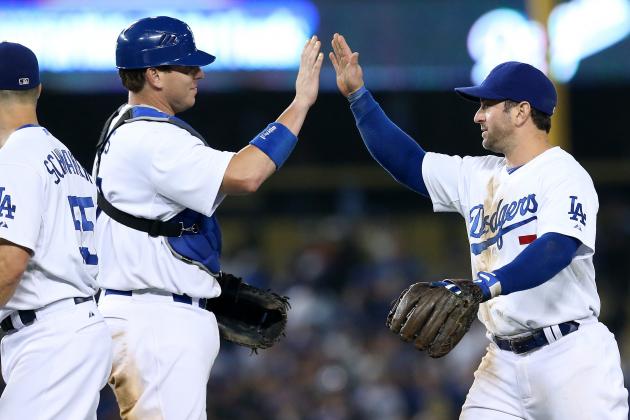 Stephen Dunn/Getty Images

The last time a team went on a tear like the one that the Los Angeles Dodgers are on, Clint Eastwood was 21 years old and both the Dodgers and San Francisco Giants still called New York home.
Over their last 48 games, the Dodgers have gone 40-8. Think about how ridiculous that is.
But the team's unprecedented run of success goes back much further than 48 games.
We can trace it back to a fateful May night in Milwaukee. Manager Don Mattingly was irate after the Dodgers lost to the Brewers by a score of 5-2 on May 21, ripping into management and players in a passionate postgame tirade to reporters.
With the Dodgers sitting eight games below .500 (18-26) and seven games out of first place in the National League West, the Dodgers had every reason to rid themselves of Donnie Baseball.
But cooler heads prevailed, and the team finally began to buy into what Mattingly was selling. Since then, Los Angeles has gone 51-24, by far the best record in baseball over the last 75 games.
Now 20 games over .500 and with a seven-and-a-half game lead over Arizona in the division, the Dodgers are riding high.
With a favorable schedule that sees them facing contenders in only 13 of their last 42 games of the season, it's going to be nearly impossible for anyone to knock them out of the playoff race at this point—and no team in their right mind is going to want anything to do with the Dodgers in the postseason.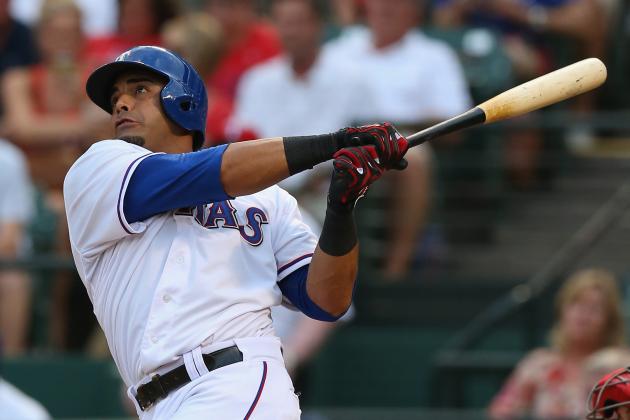 Ronald Martinez/Getty Images

Of the 12 players who were suspended as a result of MLB's investigation into the Biogenesis Anti-Aging clinic in Miami (not including Ryan Braun), only three were regulars for contending teams: Nelson Cruz of the Rangers, Jhonny Peralta of the Tigers and Alex Rodriguez of the Yankees.
While A-Rod has appealed his suspension and will be eligible to play for the rest of the season, both Cruz and Peralta took responsibility for their actions and accepted 50-game bans, pushing them out of action for the rest of the regular season.
But they'll be eligible to rejoin their teams in the playoffs, which begs the question: Do their teams want them back?
Both Texas and Detroit have gone out and acquired replacements for their suspended players, with the Rangers trading for Alex Rios from the White Sox while the Tigers acquired Jose Iglesias as part of a three-way trade with the Red Sox and White Sox.
Texas second baseman Ian Kinsler had the most to say about Cruz's banishment, leaving no doubt that when he's eligible to play, his teammates will welcome him back with open arms (h/t ESPN Dallas):
There's different circumstances for everybody. I'm not one to judge. I'm not perfect, any of us isn't perfect. He made a bad decision, he's paying for it and that's it. When he's done with his jail sentence, he'll be ready to play for us again.
Detroit manager Jim Leyland closed the door on a possible Peralta return, only to leave it open ever-so-slightly a second later (h/t MLive.com):
I've had my last moment with Jhonny Peralta. I spoke with him. I don't know if it's my last moment, but I spoke with him. I had my little private conversation with him that I wanted to have, and that's over with. And I'm not going to talk about Jhonny Peralta.

If you look at the numbers, you ought to be smart enough to figure that out. The Tigers lost a pretty good bat and a very steady shortstop, a very good one. You guys watch every game. I hope you guys are smart enough to know that we just lost a big bat and a very steady guy who was an All-Star twice.
That all sounds good, but talk is cheap—and we saw this unfold last season with Melky Cabrera in San Francisco.
Shortly after being named MVP of the All-Star Game, Cabrera was suspended for 50 games and banished from San Francisco, never again to wear the team's uniform—and missed out on their historic run to a second World Series championship in three years.
Granted, both Cruz and Peralta have far deeper ties to their teams than Cabrera did with the Giants, but there is no question that should either one of them return to their clubs, they'll bring with them a media circus and a distraction that the team simply may not want to deal with.
It's going to be interesting to see how this all plays out.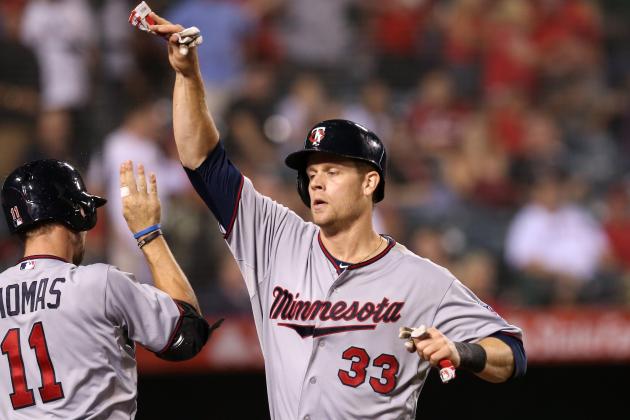 Stephen Dunn/Getty Images

A free agent after the season, Justin Morneau has cleared waivers and is now eligible to be traded to any of the other 29 teams in baseball, as first reported by Mike Berardino of the St. Paul Pioneer Press.
No longer the big-time slugger and perennial MVP candidate that he once was, the 32-year-old Morneau hit only eight home runs over his first 379 at-bats of the season and had minimal trade value on the market.
But he's enjoyed a resurgence in August, hitting .274 with four doubles, six home runs and 14 RBI, looking very much like a left-handed bat that could help a contender down the stretch.
He's been linked to multiple teams over the past few weeks, a list that includes Baltimore, Cleveland, Pittsburgh, Tampa Bay and Toronto, and it's possible that any or all of those teams still have interest in adding his bat to their lineups.
With only a few impact bats that don't have long-term contracts available, interest in Morneau should heat up over the next two weeks as teams look to bolster their rosters for the final playoff push.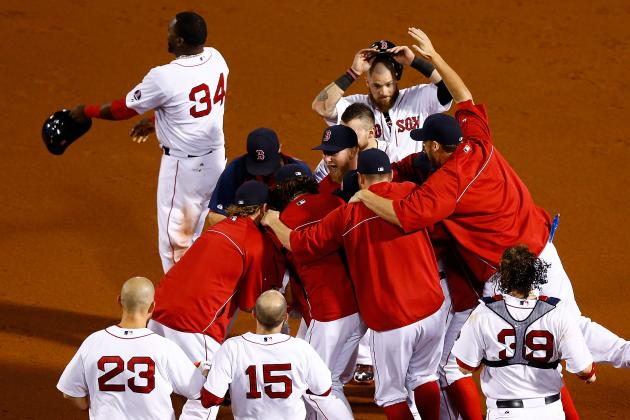 Jared Wickerham/Getty Images

After living through the nightmare that was Bobby Valentine and the 2012 season, not even the most optimistic Red Sox fan would have believed you had you predicted that Boston would go from worst-to-first in 2013.
It's one of the hardest things for any team to do, and realistically, most Red Sox fans would have signed up for a return to respectability and a winning record this season, with their sights set on the playoffs in 2014 and beyond.
Yet as we wake up on August 15, it's Boston that owns the best record in the American League (72-50) and sits atop the AL East with a three-game lead over Tampa Bay.
While the Rays, along with the Orioles and Yankees aren't going away, the Red Sox are in the driver's seat and look destined to return to the postseason for the first time since 2009.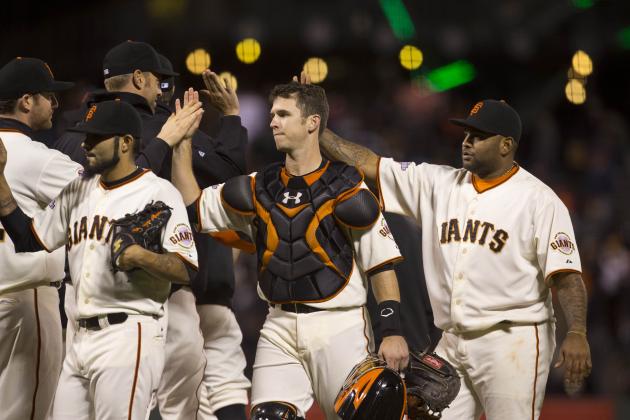 Jason O. Watson/Getty Images

Since 1900, seven teams in baseball have gone from first-to-worst, most recently the 2011 Minnesota Twins, who went 63-99 in 2011 after winning the AL Central with a 94-68 mark the season before.
The way things are going for the defending World Series champions in San Francisco, the Giants may become the eighth team on that short list.
Seemingly nothing has gone right for the Giants this season, who wake up on August 15 in the basement of the NL West, trailing fourth-place San Diego by two in the win column and one-and-a-half games overall.
Only three National League teams have a worse run differential than San Francisco's minus-72, a fact that only amplifies the team's glaring need for another impact bat in the lineup.
While I think the Giants will be able to get ahead of the Padres in the standings before the end of the season—barely—its clear that the rest of the 2013 season will find the team evaluating the long-term futures of everyone on the roster not named Madison Bumgarner or Buster Posey.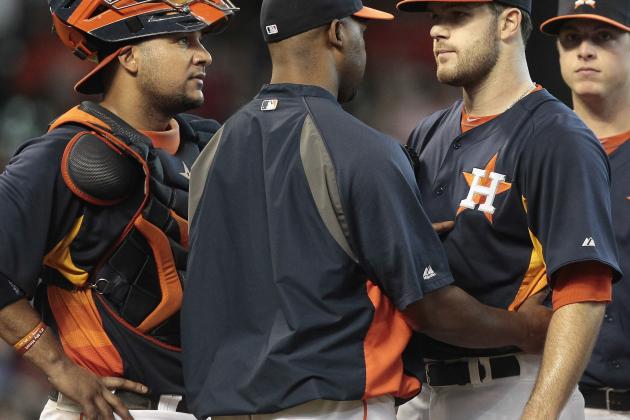 Bob Levey/Getty Images

The last time that the regular season didn't end with at least one team sitting with at least 100 losses on the season was in 2007, when Tampa Bay and Pittsburgh were the most inept teams in the game, losing 96 and 94 games, respectively.,
Since then, we've alternated between one and two teams hitting triple digits in the loss column, with two teams each hitting the mark in 2008, 2010 and 2012, while only one pulled off the feat in 2009 and 2011.
In 2013, it looks like that trend is about to be bucked.
Three teams already have more than 70 losses on the season: the Marlins and White Sox with 73 and the Astros with 80.
I've got all three hitting triple-digit losses, with Miami and Chicago hitting 100 losses on the nose and Houston leading the way with 110.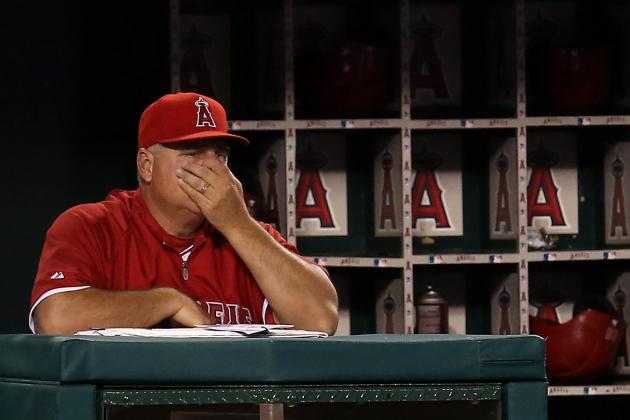 Stephen Dunn/Getty Images

While managing a major league club is a dream job for many, it comes with some of the worst job security around.
When things go right, credit goes to the players. When things go wrong, blame rests on the manager's shoulders—and he usually pays the price with his job.
But despite disappointing results for a number of teams this season and some chatter surrounding the long-term futures of skippers like Los Angeles' Mike Scioscia and Seattle's Eric Wedge, we've yet to see a managerial change take place.
I don't think that we will, either.
It would be the first time since 2006 that at least one manager wasn't relieved of his duties during the regular season,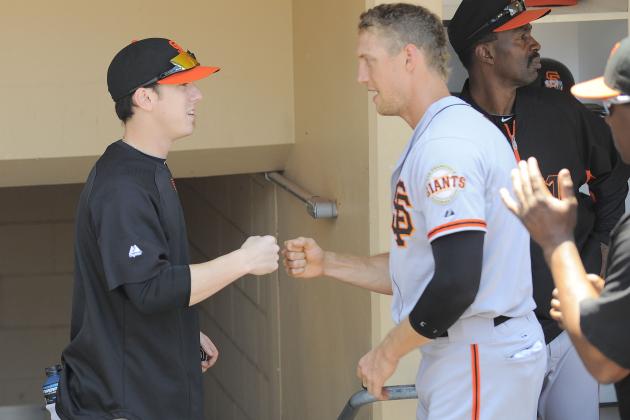 Denis Poroy/Getty Images

While it's true that pulling off a blockbuster trade in August is a difficult thing to do, it's not impossible.
We need only to think back to last August, when the Dodgers and Red Sox pulled off a mega deal that not only seemingly came out of nowhere, but one that has played a major role in improving both teams' fortunes in 2013.
It's unlikely that the amount of salary that was moved can be equaled, but with San Francisco fading fast and two of the team's more high-profile players—Tim Lincecum and Hunter Pence—set to hit free agency at the end of the season, could the Giants be the team that makes a big splash over the next two weeks?
Trade winds have been circling both players since July, and while the team's preference is to keep them around and extend qualifying offers to the pair after the season, it's not impossible to think that a GM who believes his team is a pitcher and bat away from making a deep playoff run wouldn't make San Francisco an offer they couldn't refuse.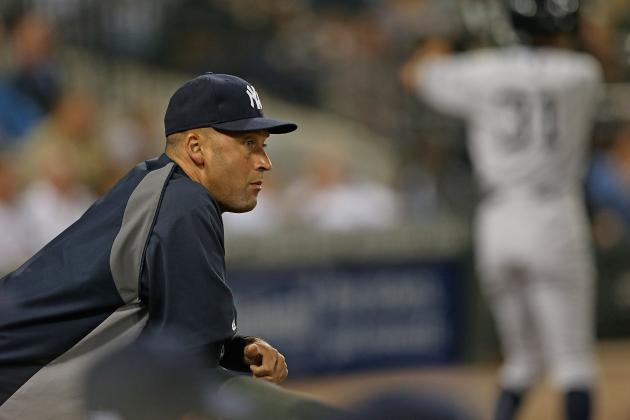 Jonathan Daniel/Getty Images

This wasn't part of the plan.
After missing the first 91 games of the season, Derek Jeter returned to action on July 11 against the Kansas City Royals, going 1-for-4 with a RBI and run scored...and promptly landed back on the disabled list with a strained quad.
He'd return on July 28 against Tampa Bay, homering in his first at-bat and emerging from the game relatively unscathed. After three more games, the 39-year-old Yankees captain landed back on the disabled list again, this time with a strained calf.
Four-and-a-half months into the 2013 season, Jeter has played in a total of five games.
Like I said, this wasn't part of the plan.
While some will point to his age as a reason why he can't stay on the field, Jeter is a finely-tuned athlete. These injuries really shouldn't be occurring—at least not as frequently as they are.
As the Yankees scratch and claw their way back into the playoff picture without him, the question needs to be asked: Can the Yankees count on Derek Jeter helping the team down the stretch?
Die-hard Yankees fans will say yes, die-hard Yankees haters will say no, and the casual fan will say nothing.
It's an impossible question to answer right now, but it's hard to see the Yankees remaining in contention without Jeter contributing down the stretch. But there's a bigger picture to look at.
Jeter holds an $8 million player option on his deal for next season. Should he opt to not exercise that option and look to negotiate a new deal, the team is going to point to his injuries and the fact that they can't count on him to be out there on a daily basis as a reason why he's not worth the money he's asking for.
Things could get testy between the future first-ballot Hall of Fame inductee and the only team he's ever played for, which, in the media capital of the world, would result in a PR nightmare for the club, one that it has no interest in dealing with.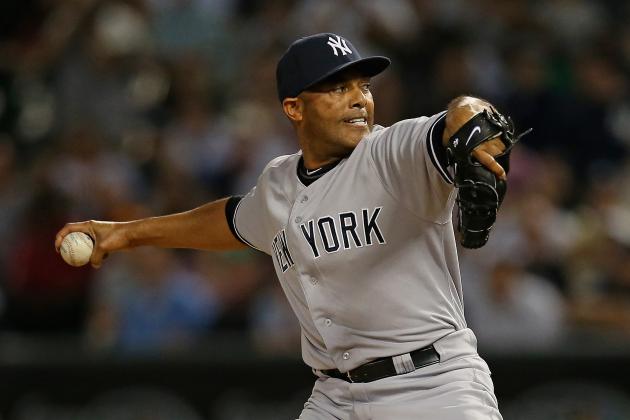 Jonathan Daniel/Getty Images

As Mariano Rivera's legendary career draws to a close, it's worth wondering what other familiar names may follow his lead and retire after the 2013 season.
Rivera's teammate, Andy Pettitte, seems like an obvious choice, as the 40-year-old southpaw looks nothing like the pitcher that he once was and has struggled in 2013, especially since the All-Star break, which has seen him pitch to a 5.47 ERA and 1.79 WHIP over his last five starts.
Chicago's Paul Konerko remains non-committal about his future, as he told ESPN Chicago's Doug Padilla. The 37-year-old has battled back issues this season and struggled to produce at the plate, hitting .240 with a .659 OPS, nine home runs and 40 RBI, some of the worst numbers of his career.
Cleveland's Jason Giambi, who nearly retired after the 2012 season to become the manager of the Colorado Rockies, is clearly on his last legs as well. Should he retire as an active player, the Giambino could find himself as a coach on Terry Francona's staff in 2014.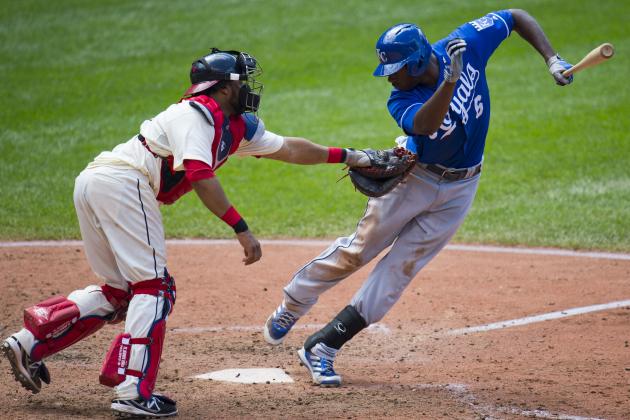 Jason Miller/Getty Images

Few teams made bigger noise this past offseason than Cleveland and Kansas City.
The Indians landed themselves a World Series-winning manager in Terry Francona and traded Shin-Soo Choo to the Cincinnati Reds in a three-way deal that landed them one of the best pitching prospects in baseball, Trevor Bauer.
Then the Indians really shocked the baseball world by convincing owner Larry Dolan to open his checkbook, signing Michael Bourn, Mark Reynolds and Nick Swisher for a combined $110 million.
While Francona has been tremendous and Bourn, after missing some time with injury, has been solid, the rest of the team's acquisitions haven't panned out.
Bauer has been shelled when he steps on the mound, whether it be in the majors or minors, Reynolds was designated for assignment last week and Swisher, while a terrific influence in the clubhouse, has not produced as expected, hitting only .237 with 12 home runs and 37 RBI.
Yet the Indians find themselves in the thick of the playoff hunt, three games out of a wild card spot and six games behind Detroit in the AL Central.
Kansas City is right on their tails, sitting four-and-a-half games out of a wild card spot and seven-and-half games behind Detroit in the division.
While Cleveland mainly played the free agent market, Kansas City spent most of its time on the trade market, rebuilding its starting rotation with two moves. The biggest one, of course, was the team's decision to trade four prospects, including Wil Myers, to Tampa Bay for Wade Davis and James Shields.
That deal has yielded mixed results, as Shields (7-8, 3.33 ERA, 1.28 WHIP) has been terrific while Davis (6-9, 5.28 ERA, 1.72 WHIP), has been dreadful.
Kansas City's best move was one that was generally overlooked, the team's acquisition of Ervin Santana from the Angels for minor league pitcher Brandon Sisk. Like Shields, Santana has been fantastic, pitching to a 3.19 ERA and 1.14 WHIP.
While both teams have positioned themselves to contend, not only in 2013 but in the future as well, failing to make the playoffs would be a disappointing way to end the season for either club.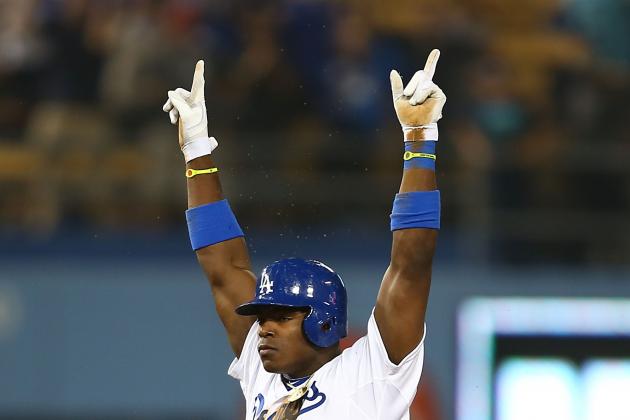 Joe Scarnici/Getty Images

Yes, it's true.
Yasiel Puig has slowed down after his historic first month in the major leagues.
After hitting .438 with seven home runs and 16 RBI in June, the 22-year-old Cuban sensation has only managed to hit .316 with four home runs and 11 RBI over his last 37 games.
He still has an otherworldly .368/.430/.583 slash line and has been one of the key pieces in the resurrection of the Los Angeles Dodgers, a team that as we previously looked at, is making a bit of history themselves.
At this point, and with apologies to Arizona's Patrick Corbin, it's pretty clear that Puig is going to win the NL Rookie of the Year Award.
But does he have a shot at taking home NL MVP honors as well?
Many will point to the fact that Puig missed the first two months of the season as reason enough to not vote for him, but not playing a full 162-game schedule didn't stop people from campaigning for Mike Trout and Bryce Harper last season, did it?
I'm not comparing Puig to Trout or Harper, merely pointing out the hypocrisy in using that argument against him.
But you're fooling yourself if you think that Puig isn't going to garner support for the award—especially if he continues to swing the bat like he has in August, hitting .383 with a 1.096 OPS and nearly as many walks (11) as strikeouts (13).
While I still believe that Arizona's Paul Goldschmidt deserves the honor, it wouldn't be a shock to see Puig finish ahead of his AL West counterpart in the voting when the final results are released.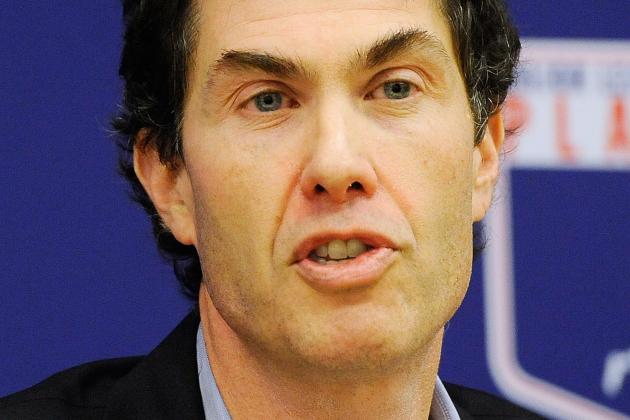 Patrick McDermott/Getty Images

You may not find a tougher SOB on the planet than Michael Weiner, head of the Major League Baseball Player's Association.
Diagnosed with an inoperable brain tumor that is going to eventually claim his life and that has confined him to a wheelchair, Weiner has guided the players association through what could have been a major fiasco with the Biogenesis scandal and kept labor peace with commissioner Bud Selig.
As he told ESPN's Jerry Crasnick last year, he refuses to live his life in fear:
I know this is a serious condition, and I'm not minimizing that. But I'm not afraid of what's happening. I'm going to do what I have to do, but I come at it without fear.

I understand that I could have some new symptom every morning when I wake up that could be a game changer. Or I could not feel well on Wednesday even though I felt well on Tuesday. I don't take any day for granted. Maybe this is a lot to ask, but here's what I look for every day: I look for meaning, I look for joy and I look for beauty, and I welcome any interaction with people that helps to support that. As trite and corny as it sounds, I've got to grab what I can each day.
But sooner or later, Weiner is not going to be able to do the job any longer, and the players association must have a successor waiting in the wings to step in when that day comes.
They reached out to former union head Donald Fehr, now running the NHL Players' Association, who insists that he has no interest in leaving his current post, something he reiterated to reporters earlier this month, as reported by the New York Daily News:
I have a job. I'm happy with it. I'm obviously gonna be willing to give whatever help and advice anybody wants. I've got enormous affection for that organization, for the players and all the rest of it. But they have to be looking for the next 15 to 20 to 25 years, not for the last 15 to 20 to 25 years.

With its former leader no longer an option, the union must turn its attention elsewhere.
They may find a replacement before the end of the season, or this may carry on into the winter. Nobody knows, as there's no timetable on any of this.
But choosing the next union head is as important a story as there is in baseball, for if there's acrimony between the league and the players, there's no game—and that's the last thing that anybody wants.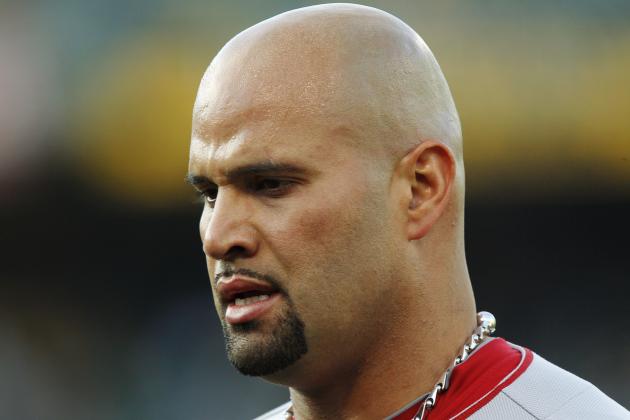 Brian Bahr/Getty Images

Sidelined with a plantar fascia tear in his left foot since late July, Albert Pujols is determined to play for the Angels again before the season ends, as he told Ben Bolch of the Los Angeles Times earlier this month: "Whether it's two games out, 20 games out, if I feel good, ready to play, I'm going to be out there playing."
The Angels, currently sitting 13 games below .500 (53-66) and 16 games behind Texas for the AL West lead, could certainly use a healthy Pujols back in the middle of their lineup.
The latest update was that Pujols was expected to have the walking boot removed from his foot sometime around August 20, which if everything checks out OK and the slugger feels no pain, could lead to a rehab assignment before the end of August, culminating with a September return for the three-time NL MVP.
If he is able to return, what should we expect?
Will Pujols be back to being Pujols, hitting for average and power? Or will he continue to be a shell of his former self as he tries to lift his club's spirits, struggling to make solid contact, only succeeding in making the pain that Angels fans feel this season even worse?
The answer probably lies somewhere in between those two extremes, with Pujols hitting in the .270 range with some power, but it won't be until next season, when the foot is fully healed, that he'll have a chance of recapturing some of his former glory.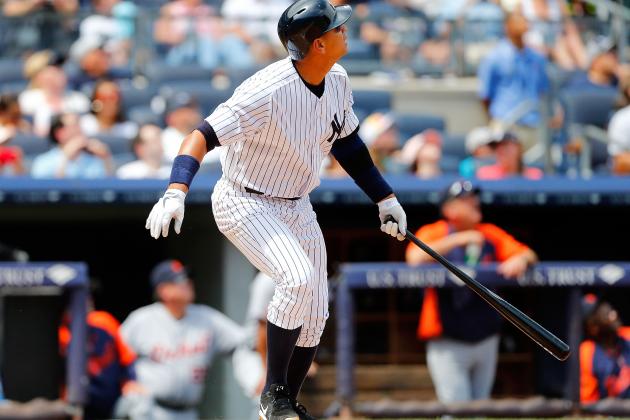 Jim McIsaac/Getty Images

No matter how hard he fights the unprecedented 211-game suspension that MLB imposed on him for his role in the Biogenesis scandal, Alex Rodriguez's career is forever tainted, as are the numbers that he has—and continues—to put up.
If A-Rod thought people around the game had it in for him before, just wait until he gets within single digits of one of the game's all-time greats, Willie Mays, on the career home run list. Eight games into his return from injury, Rodriguez has gone deep only once.
Currently, Rodriguez sits in fifth place on the career leaderboard with 648 home runs, 12 away from tying Mays' 660 career blasts. The Yankees have 43 games remaining on their schedule, and its fair to assume that Rodriguez will be playing in most, if not all of them.
He's going to have plenty of chances to add to his total before the end of the season. Can he hit a dozen home runs in 43 games at the age of 37?
We'll find out soon enough.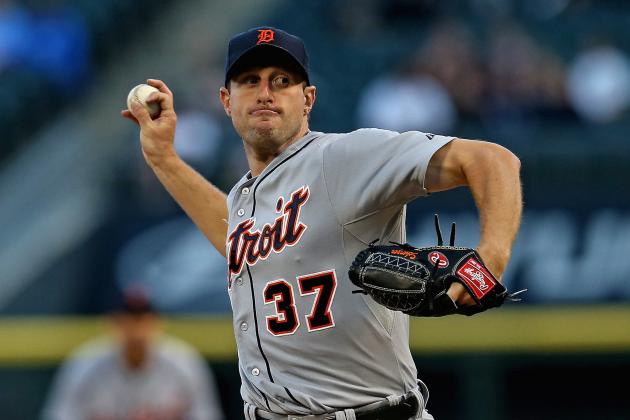 Jonathan Daniel/Getty Images

Since taking his only loss of the season on July 13 against the Texas Rangers, Max Scherzer has raised the level of his game, going 4-0 over his last five starts with a 1.56 ERA, 0.66 WHIP and 29 strikeouts in 34.2 innings of work.
He leads all of baseball with 17 wins, tops the American League with a 0.91 WHIP and trails only Yu Darvish in strikeouts, with 181 on the season.
Scherzer has to be considered one of the front-runners for the AL Cy Young Award, especially if he doesn't lose another game. No pitcher in baseball history has ever made at least 30 starts in a season and finished the year with fewer than three losses, a record set by Kyle Lohse last year in St. Louis.
Assuming Scherzer stays on regular rest, he projects to have eight more starts remaining this season: two against AL Central foes Chicago and Kansas City and meetings with New York (NL), Oakland, Boston and Minnesota.
He's faced each of those teams at least once this season (except the Mets), going 7-0 with a 2.70 ERA, 0.93 WHIP and 62 strikeouts over 60 innings of work.
With one of the game's most potent lineups supporting him, Scherzer has a realistic chance to make baseball history this season.