NHL Stars Facing the Most Pressure in the 2014 Winter Olympics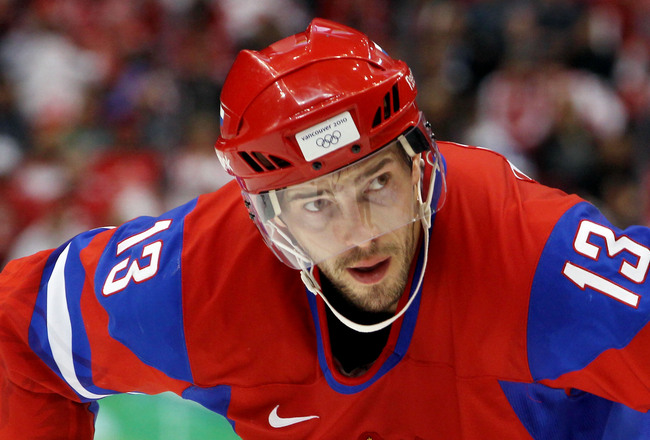 Bruce Bennett/Getty Images
The men's hockey tournament that is set to take place in Sochi for the 2014 Winter Olympics is shaping up to be one of the best ever. After a will they-won't they dance between the NHL and the IIHF, it was finally decided that professional players would be taking part in the Games this winter.
That means the likes of Sidney Crosby, Pavel Datsyuk, Erik Karlsson and David Krejci are set to represent their respective nations for a chance to take home a Gold Medal.
With bragging rights on the line and national pride to play for, there's little doubt that even the most seasoned NHL players feel the pressure of international competition during the Olympics. After all, the games are meant to showcase the best athletes on the face of the planet.
Still, there are a handful of guys who may be heading to Russia feeling like they have a planet on their shoulders due to that extra amount pressure.
With a few of these players, we're taking some light liberties with the word "star." In our book, if you're good enough to go to the Olympics, you're good enough to make this list as one of the best players in the world.
Sidney Crosby, Canada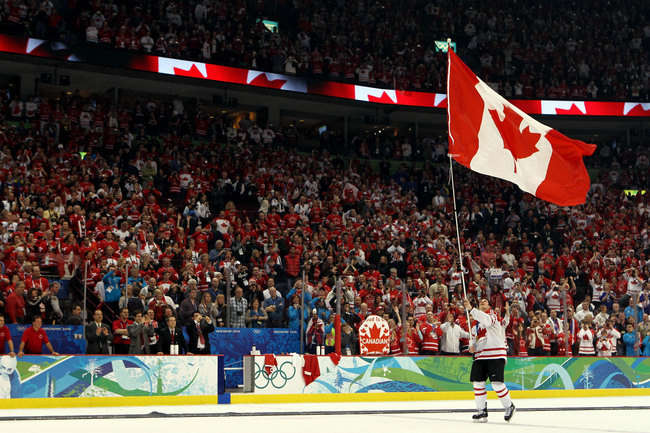 Bruce Bennett/Getty Images
We'll get the most obvious entry on this list out of the way first in Sidney Crosby. The pressure would be high for the best offensive hockey player in the world regardless of history, but taking into consideration what happened last time No. 87 pulled the Maple Leaf over his head, the tension is even higher for Crosby this time around.
In 2010, everyone wanted to know how he'd respond to the stress of playing for the home team Canadians. He answered the bell with the Golden Goal—probably the biggest goal of his stellar career.
Will he be able to turn the trick again in 2014? Now that Crosby has proven that he can handle the heat of the biggest moments during international play, even more will be expected out of him in Russia, but how much is too much when it comes to expectations?
Thomas Vanek, Austria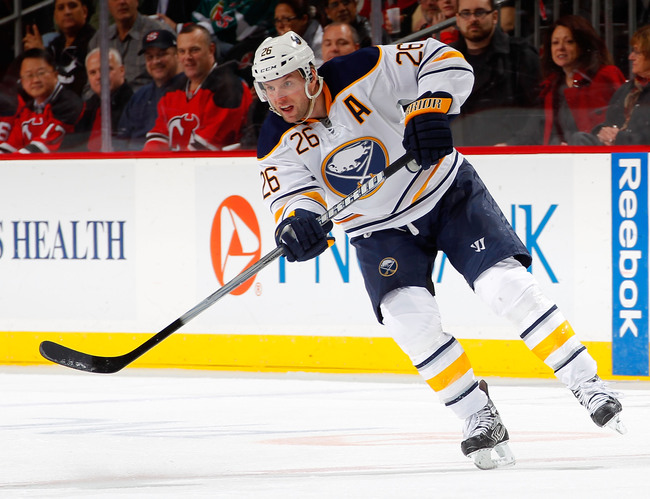 Paul Bereswill/Getty Images
The pressure on Thomas Vanek to perform miracles will be palpable come the Winter Olympics. He's far and away the best player on an Austrian team that is widely considered a "dark horse" in Sochi.
What that translates to is that the squad will have a very hard time competing with the likes of Canada, Sweden and the United States. NHL.com lists Andreas Nodl as one of the squad's other top players, really bringing home the point that Vanek will need to play out of his mind for Austria to have a chance at medaling.
One of the better goal scorers in the NHL on a yearly basis, the talent is certainly there for Vanek to put on a legendary performance, but the pressure is just massive.
Michal Handzus, Slovakia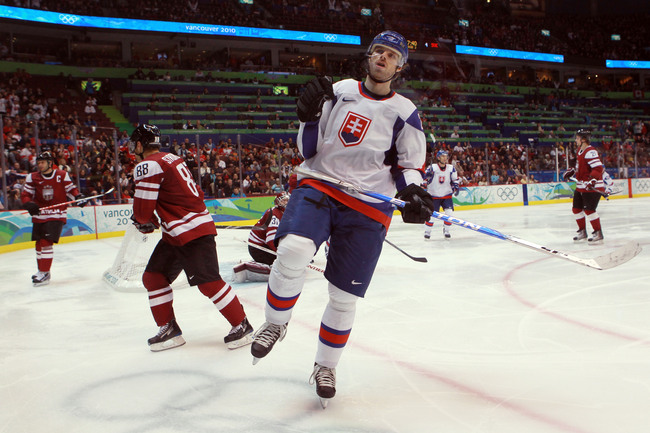 Bruce Bennett/Getty Images
Michal Handzus isn't in quite the same position as Vanek, because he's surrounded by some solid all-world talent, but he is still facing a ton of heat as the top center for a team that is loaded on the wings. Bearing the exact opposite problem as Canada, who is encumbered by having too many outstanding centers, Slovakia will lean heavily on Handzus down the middle.
It's either him or ex-NHLer Miroslav Satan.
Our money is on Handzus centering a top line that also features Marian Hossa and Marian Gaborik. Those two wingers are as good as any in the tourney, and the pressure will be on the slow-footed Handzus to efficiently and effectively dish the puck to these two speedsters.
Canada's Goaltender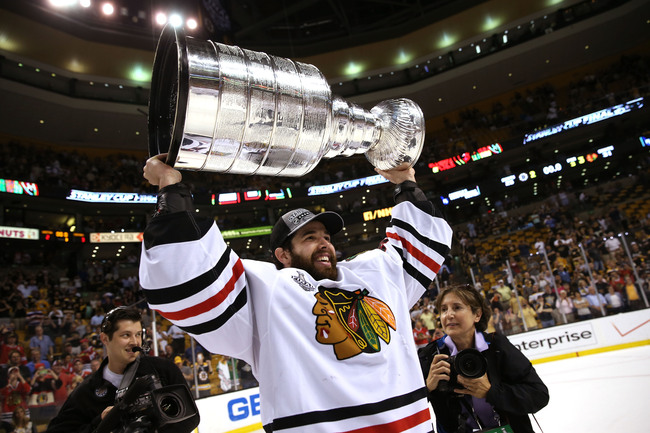 Bruce Bennett/Getty Images
The battle to be Canada's starting netminder in Sochi will be one of the most belabored and talked about storylines heading into the Winter Games. The reason for that is pretty simple: goaltending tends to be pretty darn important during these short, explosive tournaments.
Canada has five goaltenders listed as possibilities heading into the Olympics:
Corey Crawford
Braden Holtby
Roberto Luongo
Carey Price
Mike Smith
A hot start for any of these guys is paramount to their chances to being the starting goaltender for the team that many consider the front runners to win the Gold Medal. Whoever ends up with the nod—whether it's a guy from this list, or a surprise candidate like Martin Brodeur—will face an enormous amount of pressure to defend the Gold.
Especially since whoever the backups are will be every bit as talented as the starter.
Ryan Kesler, United States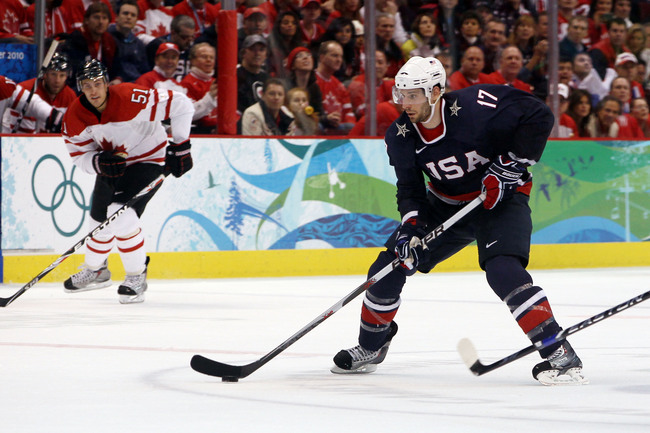 Bruce Bennett/Getty Images
When the United States gave Canada everything it could handle in 2012, it caught some onlookers by surprise. Ryan Miller was heroic in net, and there always seemed to be a forward ready to pounce on a loose puck when the team needed a hero.
They fell one goal short of Gold in one of the most outstanding hockey games that's ever been played, but not for lack of effort.
No one will be sleeping on them this time around, and there may not be a more important player for the U.S. than Ryan Kesler. To hang with the top dogs like Canada and Russia, he'll need to shut down the opposition's top center while still contributing offensively.
No easy task, but if anyone can rise to the occasion, it's Kesler. Now if only he could stay healthy.
Pavel Datsyuk, Russia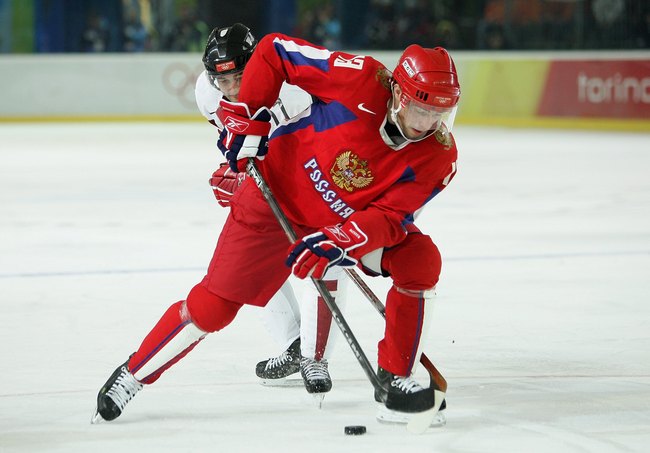 Elsa/Getty Images
Russia is so stacked heading into the Winter Games that it might be able to utilize Pavel Datsyuk in a more defensive role on a second line. They'd be able to let a top line of Evgeni Malkin, Ilya Kovalchuk and Alex Ovechkin off the chain, leaving Datsyuk to shut down Sidney Crosby, Daniel Sedin or Joe Pavelski depending on the night.
That's a tall order for any center, but Datsyuk is arguably the best two-way player in all of hockey. He's a takeaway wizard and is capable of stripping the puck from just about anyone.
If this role falls to the Detroit Red Wings center, it will be a pressure-packed situation for Datsyuk. He's more than used to dealing with that sort of stiff competition, but how will he handle playing in front of a hometown crowd that is expecting a Gold Medal?
Jonas Hiller, Switzerland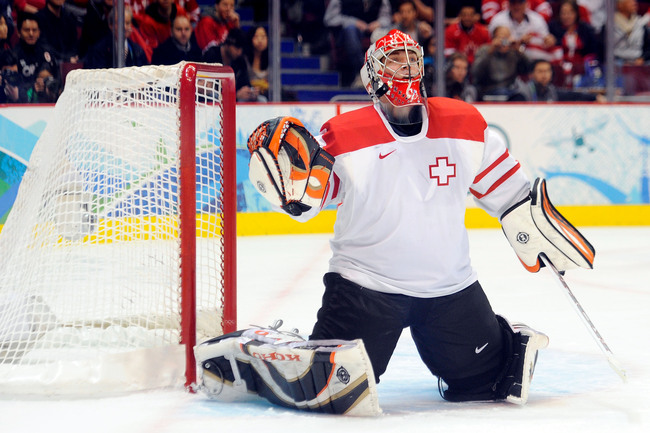 Kevork Djansezian/Getty Images
Anytime an underdog team wants to step up and roll with the big dogs, there won't be a more important player out on the ice than the goaltender. Jonas Hiller will be the man between the pipes for Switzerland barring an unforeseen push from Reto Berra or Martin Gerber.
That's unlikely, and the Swiss will probably look to Hiller to perform the role of Superman in Sochi. This is considered a big year for Switzerland, who could surprise some people with the level of talent that they are bringing to the ice.
While the likes of Sven Baertschi and Damien Brunner will have to play out of their minds, Hiller will be facing the most pressure to do so at the Winter Games. Switzerland's medal chances begin and end with him.
Erik Karlsson, Sweden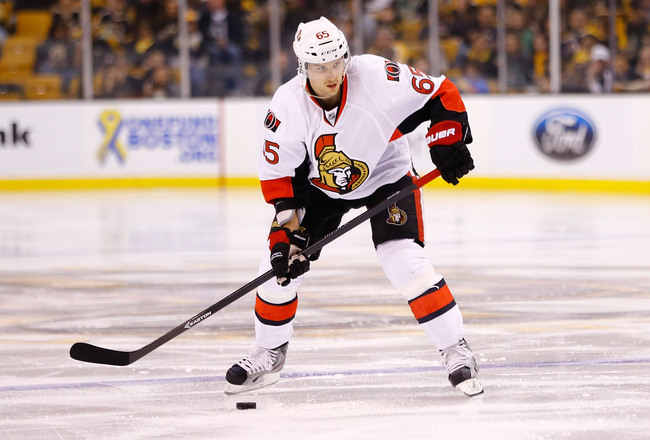 Jared Wickerham/Getty Images
There may not be a better skating defenseman in the NHL than Erik Karlsson. His stride is one of the wonders of the hockey world, and he'll have a few extra feet to work with on the blue line thanks to the international ice surface that will be used in Sochi.
That thought should have the forwards that will be forced to cover him cowering in their locker room stalls. Sweden has a solid group of forwards, featuring mainstays like the Sedin twins, Henrik Zetterberg and Nicklas Backstrom.
While everyone knows what the old guard brings to the table during international competitions, this will be our first chance to see Karlsson in action in an Olympic setting. That's a lot of pressure on anyone, especially on a player who will likely be charged with running the offense from the backend once the action starts to heat up.
Sergei Bobrovsky, Russia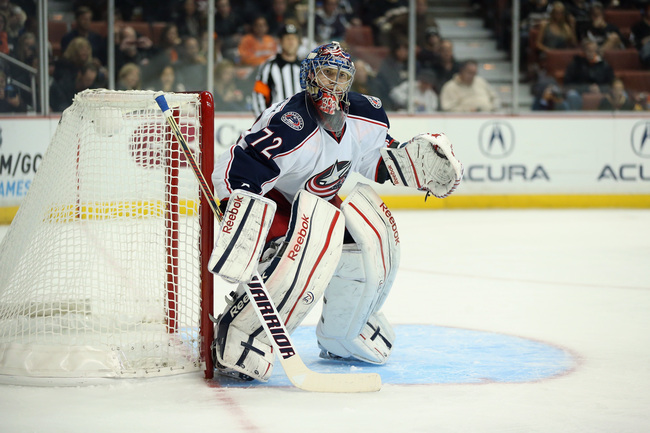 Jeff Gross/Getty Images
2013 was the most memorable year for Sergei Bobrovsky in his young career, but 2014 will likely be the most important. He's on a two-year "prove it" deal with the Columbus Blue Jackets, and another stellar season could see him land among the top paid netminders in the NHL for years to come.
An outstanding performance could also land him in the driver's seat for Russia once the Winter Games roll around. The competition is stiff, and he'll have to outplay Semyon Varlamov and an aging Evgeni Nabokov, but at this juncture, the reigning Vezina winner has to be considered the odds-on favorite to be in net for the host nation.
The 24-year-old goaltender could have one of the best years of his life if everything goes according to plan in 2014. No pressure.
David Krejci, Czech Republic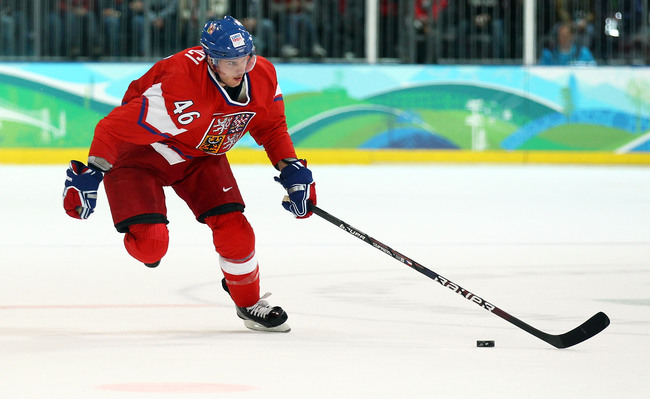 Alex Livesey/Getty Images
Most pundits aren't expecting much from an aging Czech Republic roster that will lean heavily on players such as Jaromir Jagr and Patrik Elias to produce at a high level for two weeks on end. One of the few young forwards that is in the mix to make the team, David Krejci, has proven over the last few years that few players respond better to pressure.
He typically turns into an unstoppable point-producing machine once the playoffs roll around in the NHL, and the Czech national team will need him to crank out points at a similar rate if its going to have a successful go around in Russia.
Valtteri Filppula, Finland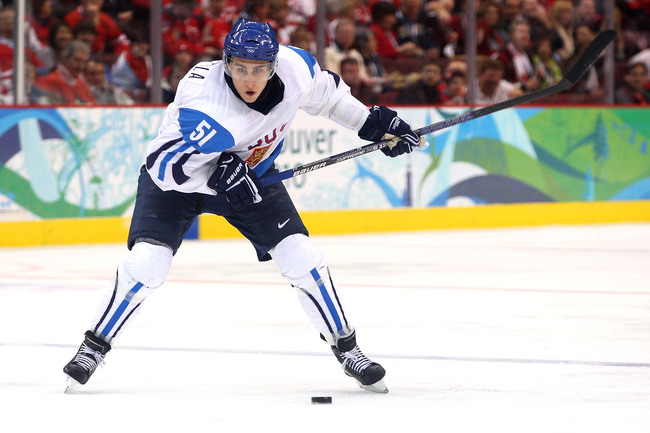 Cameron Spencer/Getty Images
Like David Krejci for the Czech Republic, Valtteri Filppula will be under a lot of pressure to perform well for a Finnish team that has several familiar faces returning (Teemu Selanne, Olli Jokinen) and quite a few youngsters in the mix (Aleksander Barkov, Mikael Granlund).
Bridging the gap between the youth and the aging, Filppula will likely end up skating on Finland's top line at the Olympics. A career "X-factor" player if there ever was one, the new member of the Tampa Bay Lightning will look to bring some creativity and finish to the table for a squad that is going to lean heavily on its ridiculous goaltending depth.
Anze Kopitar, Slovenia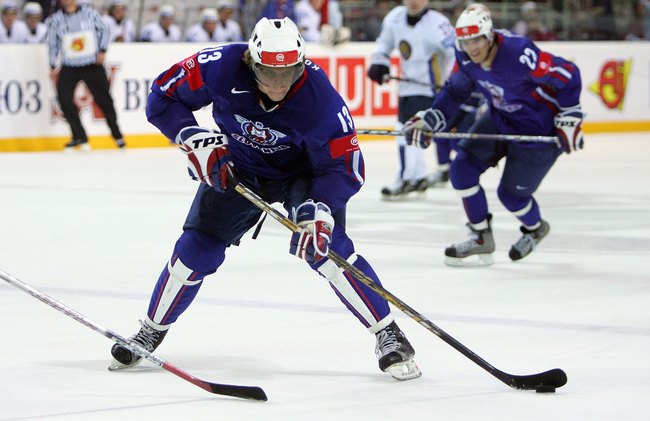 Jeff Gross/Getty Images
Anze Kopitar is no stranger to being the best player on his team when it comes time for international competition. Not only the best offensive producer that Slovenia could put on the ice at any given time in Sochi, Kopitar is probably also the best player that the nation has produced—ever.
All eyes will be on him for fans of Slovenia, who are hoping for a miracle run to the podium in Sochi. All of the defensive pressure will also be on the NHL star, who is capable of making big plays in all three zones.
Even for a seasoned veteran like Kopitar, that's a lot to handle—facing the best defensive pairings in the world on a nightly basis while staring down centers like Pavel Datsyuk and David Krejci, who will be all about shutting him down.
Keep Reading