Jhonatan Romero vs. Kiko Martinez: Preview and Prediction for Title Fight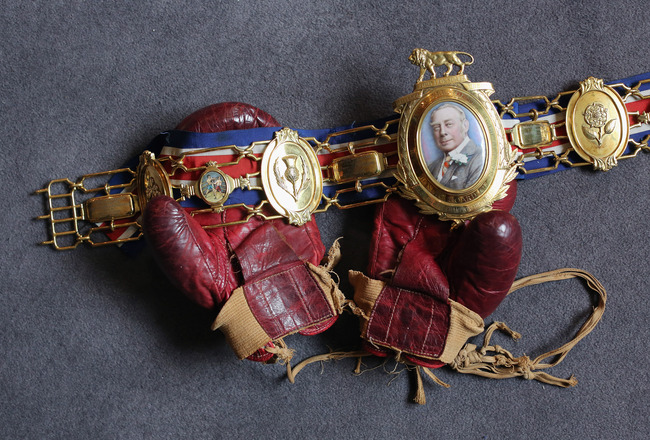 Oli Scarff/Getty Images
On Saturday as part of HBO's Boxing After Dark triple-header, IBF super bantamweight champion Jhonatan Romero will face Kiko Martinez.
The 122-pound division is still the home of Guillermo Rigondeaux and Nonito Donaire, but behind those two stars, things are wide open.
A lot more attention this week has been focused on Daniel Geale vs. Darren Barker at middleweight and Nathan Cleverly vs. Sergey Kovalev at light heavyweight, and for good reason. Both those battles will have an immediate impact at the top of their divisions.
IBF trinket on the line or not, Romero vs. Martinez just doesn't hold the same significance.
Just the same, don't be surprised if the smallest fighters on the card end up putting on the fight of the night.
Tale of the Tape
| | | |
| --- | --- | --- |
| Per Boxrec | Jhonatan Romero | Kiko Martinez |
| Record: | 23-0, 12 KO | 28-4, 20 KO |
| Height: | 5'9" | 5'5" |
| Reach: | 68.5" | 66" |
| Weight: | 122 lbs | 122 lbs |
| Age: | 26 | 27 |
| Stance: | Orthodox | Orthodox |
| Hometown: | Cali, Colombia | Alicante, Spain |
| Rounds: | 119 | 176 |
Jhonatan Romero is a tall and rangy super bantamweight. Kiko Martinez is a compact fighter with a good KO percentage for a lower-weight fighter.
Although just a year separates them in age, Martinez has fought a lot more professional rounds. But Romero's extensive amateur background, including a trip to the 2008 Olympic Games, probably offsets that advantage.
Main Storyline
There's a popular saying in boxing these days: Belts don't make fighters; fighters make belts. The IBF super bantamweight title might best exemplify this adage.
In July 2012, Nonito Donaire won the IBF 122-pound belt from Jeffrey Mathebula. But the IBF forced him to vacate it when he wanted to battle Toshiaki Nishioka, even though virtually every credible boxing media source at the time considered Donaire vs. Nishioka a clash between two of the division's elite fighters.
There's no legitimate reason that the IBF belt shouldn't be sitting around the waist of Guillermo Rigondeaux right now, since he beat Donaire earlier this year. But instead, the IBF decided the belt would be better represented by the winner of Romero and Alejandro Lopez, who fought for it last February.
Romero is a promising prospect, and I'm excited to see him fight this weekend, alphabet-soup silliness to the side. In addition to beating Lopez, he won a close and entertaining bout against Chris Avalos on Showtime in December 2011.
Romero could be a future player at 122 and 126.
Martinez has beaten some respectable journeymen, but he's stumbled almost every time he's fought anybody who would remotely qualify as a prospect. Last February, he lost by a ninth-round TKO to Carl Frampton.
He rebounded in April with a second-round TKO of 18-9-1 Damian David Marchiano. How that adds up to a world title shot is a just one of those mysteries that boxing fans encounter in this era of the alphabet-soup championship belts.
Strengths
Jhonatan Romero is a rangy fighter who uses a lot of movement. He has quick hands and throws a slick right counter over the top of his opponent's jab.
With his reach and speed, he can eat up an opponent who throws wide punches. Romero's strong amateur background is obvious. He controls distance well and picks off punches from long range.
Kiko Martinez is a rugged pressure fighter with good power for a 122-pounder. He changes levels and uses head movement well.
He is an energetic fighter who can take a shot. He's been stopped just once in his career against the surging Carl Frampton, and he has been competitive against everybody else he's faced.
Weaknesses
Jhonatan Romero had trouble handling pressure in his split-decision win over Chris Avalos. Avalos was able to cut him off and bully him to the ropes, where the lanky Romero was out of his comfort zone.
Avalos even forced a knockdown near the end of the first round. Romero has decent whiskers and didn't look particularly rocked by the exchange.
The knockdown was more about Avalos swarming and forcing him to the canvas from pressure than Romero absorbing a heavy shot. But it was a 10-8 round just the same.
Kiko Martinez is a tough pressure fighter but unrefined. He showed virtually no jab against Carl Frampton, instead attempting to force his way into range with head movement and level changes.
Even though Martinez had a length advantage, Frampton was able to use crisp combinations to light him up.
Romero has a significant reach advantage over Martinez and quick hands. Martinez should not desire to wade forward against him.
Jhonatan Romero Will Win If...
Jhonatan Romero will win this fight as long as he keeps moving and traps Martinez at the end of his punches. With his quick hands, he should be able to score with multi-punch combinations before Martinez can even get into range to score back.
Romero needs to make sure he is circling away from the corner and ropes. Once Martinez manages to pressure Romero backward, the fight will become a toss-up. If Martinez can force him to the ropes, he's in trouble.
Romero needs to be patient and pile up rounds in the bank. He should look to score and circle out, forcing Martinez to keep turning before he can get set to attack.
If Romero can keep moving all night behind quick, straight punches, he should be able to win this fight going away.
Kiko Martinez Wil Win If...
One thing that makes this fight intriguing is that both men need to apply an opposite strategy to win. While Romero needs to stay behind his straight punches, Martinez will need to force his way inside and turn things ugly.
I don't see him accomplishing this without mixing in a jab. Martinez has good head movement and can change levels, but he needs to double-up a jab and drive Romero backward before the champ can circle away.
Naturally, Martinez should look to rough up the slender Romero's body, but he needs to be careful about flinging wide punches downstairs. Romero has the length and hand speed to light Martinez up if he throws his punches too wide.
To win, he needs to fight like the pressure fighter he is. But he will need to be a little more intelligent about it than he was against Carl Frampton.
Prediction
This fight has the potential to be exciting. But in the end, I am confident that Romero will emerge with his zero still intact in the loss column.
I'm not sold on Romero as the second coming, but he has established himself as a legitimate prospect at 122. Martinez has traditionally stumbled against fighters of this class.
Romero has quicker hands and superior reach. He has better footwork and controls range more skillfully.
My prediction is Romero by decision, 117-111.
I don't think Romero is ready for Guillermo Rigondeaux or Nonito Donaire. But his championship belt will seem a lot more significant if he can defend it against the likes of a Carl Frampton or a Leo Santa Cruz in his next showing.
Keep Reading