15 Most Marketable Stars in the UFC Today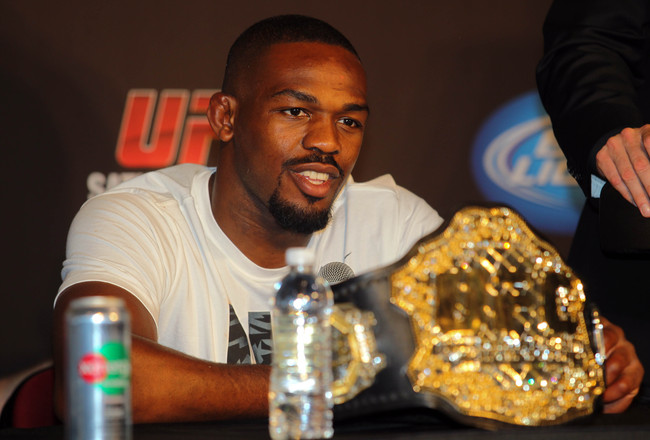 Brad Penner-USA TODAY Sports
A lot goes into making a fighter marketable. And it's not just about talent.
A fighter needs to know how to deal with the media. He needs to relate to fans. He also needs to turn all that into a commodity that earns money for the company.
However, it's not always that straight forward. Some fighters who struggle with media relations are loved by fans. Others who court the public gaze are widely loathed. But, as far as marketability is concerned, the bottom line is all that matters—and that's how much money he can make for the promotion.
Here is a list of 15 of the most marketable fighters in the UFC's current roster.
15. BJ Penn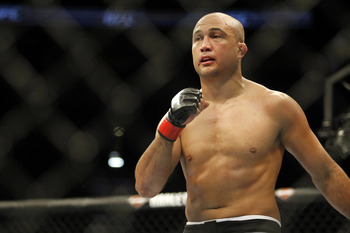 Joe Nicholson-USA TODAY Sports
Semi-retired BJ Penn is one of the most famous men in MMA, and according to Anderson Silva, the greatest mixed martial artist of all time.
He's at the bottom of this list mainly because UFC president Dana White has said that he doesn't want to see Penn back in the Octagon. But White must know that there's plenty of money to be made off this fighter.
One of only two two-division champions in UFC history, Penn has been involved in some of the most epic showdowns in the cage against such luminaries as Matt Hughes, Sean Sherk, Georges St-Pierre, Renzo Gracie, Lyoto Machida, Frankie Edgar and Nick Diaz.
In the course of his career, he has accumulated a wide following and instant recognisability. Retired or not, he's still one of the most bankable names in MMA.
14. Roy Nelson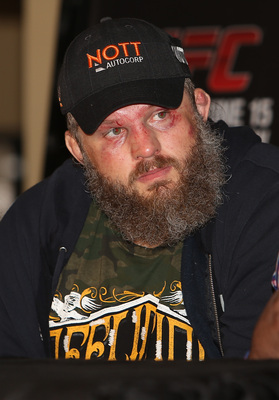 Tom Szczerbowski-USA TODAY Sport
Dana White is wrong—and deep down he knows it. Roy Nelson is among the most marketable stars the company has on its roster.
He has a cult following few on this list can touch. He has an everyman look, with his protruding belly and mullet haircut, which makes him relatable to the masses. What's more, he's a highly accomplished athlete.
One of the best Brazilian jiu-jitsu guys in the heavyweight division and now with boxing skills to match, Nelson can punch as hard as anyone in MMA. Plus, he has a granite chill that gives him the unenviable record of having taken the most punches in the entire promotion.
All this makes him one of the most watchable fighters. Win or lose, he always puts on thrillers. So much so that, despite White's distaste for him, Nelson just signed a new three-year deal with the firm.
13. Frankie Edgar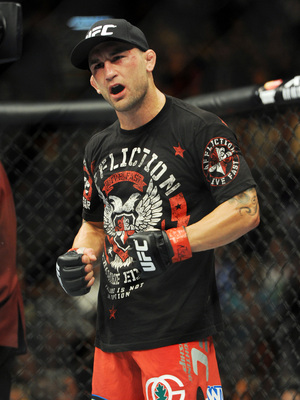 Jayne Kamin-Oncea-USA TODAY Spor
New Jersey's Frankie Edgar is the only UFC fighter routinely called the Rocky Balboa of MMA. Like the movie icon, he represents the underdog, and his come-from-behind victories captivate MMA fans like no other.
He has so much going for him as a UFC fighter that it's hard to articulate in a brief slideshow. His virtues as a likable man, his heart-breaking defeats and his inspiring victories against much bigger opponents are just some of the things that make him so marketable.
He's become a favourite with White, and despite going 2-3 in his last five matches, he is still in the title reckoning of several weight divisions.
12. Rory MacDonald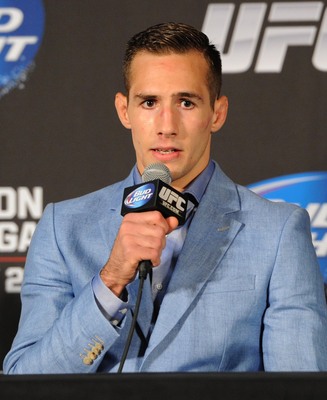 Jayne Kamin-Oncea-USA TODAY Spor
A rising athlete who's already poised to capture his first title and truly become a star, Rory MacDonald has all the hallmarks of marketability.
Youthful good looks, a plethora of talent, a cool media demeanour and a taste for high fashion all lend to his charms. The UFC is already itching for a fight between him and his mentor, MMA megastar Georges St-Pierre, which just goes to show what a hot commodity he is.
11. Nick Diaz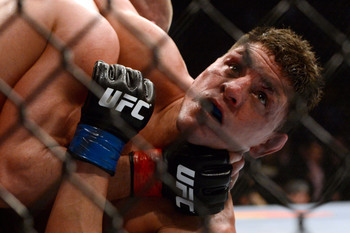 Eric Bolte-USA TODAY Sports
If there was ever a reluctant star in MMA, it's Nick Diaz. Despite shunning the media spotlight and having an irksome attitude to fans, he still represents a lucrative draw as well as a loyal fan following.
Much of that is to do with how "real" he keeps things. Diaz has an almost childish inability to hide his emotions both inside and outside the cage, which is what gives him cult status. Combine that with some elite fight skills, and you have one of the most marketable men in the UFC.
How else to explain his continued fascination for White, who can't bring himself to fire Diaz despite repeatedly missing media calls and refusing to get back in the Octagon?
10. Michael Bisping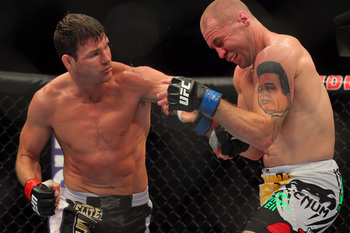 Brad Penner-USA TODAY Sports
He's brash and uncouth and has an uncanny ability to hype all his fights like a personal vendetta, whether he has a willing opponent or not. Michael Bisping's marketability comes from the outspoken friction he creates against the men he's fighting, even if they're otherwise amenable characters like Mark Munoz.
He's also one of the highest ranked British fighters on the UFC's roster, which makes him important for the promotion's plans for the island.
Bisping was also once widely reviled among MMA fans but has since won over a growing—if not entirely loyal—following with his ability to bring it in the cage.
9. Junior Dos Santos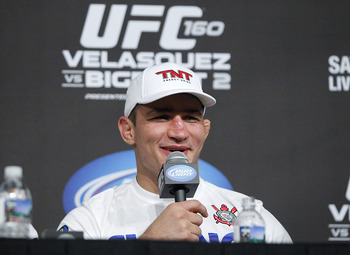 Gary A. Vasquez-USA TODAY Sports
He has fought in three title fights and has devastating knockout powers that send shudders throughout the heavyweight division. Junior dos Santos is one of the promotion's top fighters and has only one blemish in his UFC career. He has knocked out almost everyone he's come across.
One of the few Brazilians who's taken the time to learn English, he has an easy charm with the media that many fighters could learn from. With a humble demeanour despite being terrifying in the cage, Dos Santos has a loyal following inside as well as outside Brazil.
8. Ronda Rousey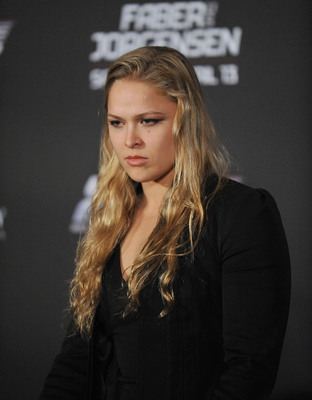 Gary A. Vasquez-USA TODAY Sports
Ronda Rousey's inclusion in this list requires little explanation. It's not just her status as arguably the No. 1 female fighter in the world that makes her so marketable. Her looks and her almost unmatched ability to hype a fight add to her growing value to the promotion.
She has been responsible for many firsts for women in the sport and has already become a star. This month, she appeared on the cover of Maxim magazine and is shooting her first movie.
That probably has the UFC worried that it's about to lose its most bankable female fighter. It has every reason to be concerned because her cross-over marketability is pulling her in every direction.
7. Vitor Belfort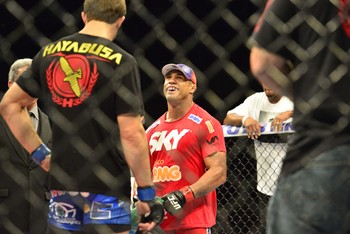 Jason da Silva-USA TODAY Sports
MMA veteran Vitor Belfort has experienced many ups and downs in his career. Once a teenage sensation in the sport, he had been a virtual has-been before reinventing himself as a middleweight in 2008.
Since then, he's torn through the UFC's middleweight division and stands on the verge of another title shot.
But his marketability isn't as widespread as some in this list, and he's only ranked so high here because of his fame in his native Brazil. Married to TV star Joan Prado, he's one of the most well-known mixed martial artists in the country, which is why he's repeatedly asked to headline events there.
6. Rashad Evans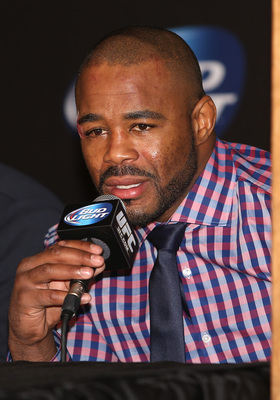 Tom Szczerbowski-USA TODAY Sport
"Sugar" Rashad Evans understands self-promotion almost better than anyone else on this list. Taking his nickname from some of boxing's coolest characters, Evans knows how to walk in the media spotlight.
Love him or hate him, just don't ignore him. It's a shame that his recent performances since that devastating loss to Jon Jones have let him down so badly; otherwise, his star would be among the highest in the entire sport.
5. Chael Sonnen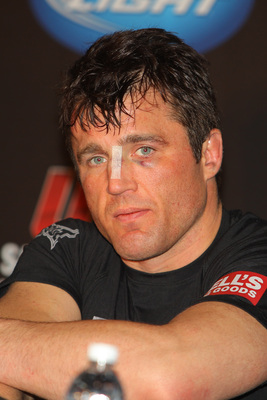 Brad Penner-USA TODAY Sports
He is widely regarded as the best promoter in MMA. Chael Sonnen's mouth has got him further in the sport than almost any other fighter, much to the chagrin of his fellow athletes.
That includes three title shots in three years, not to mention a regular TV commentating job that assures his future as part of the UFC machine for years to come.
He's outspoken and frequently crosses the line, as he did during the build-up to his fights against Anderson Silva. But he also has a charming side that comes out more and more these days.
Much of his media skills are taken from the pages of pro wrestling, which is why he's often cartoonish in demeanour during his media calls. However, that just adds to his marketability.
4. Cain Velasquez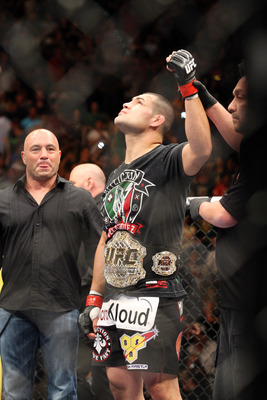 Bruce Fedyck-USA TODAY Sports
Cain Velasquez is one of the few people who makes this list based on talent alone. Softly spoken, he appears shy on the media stage, but inside the Octagon, he's one of the most terrifying men who has ever competed in the sport.
As heavyweight champion, he automatically makes this list since the champions of that division are always the most fascinating men to watch. But it's not just the fact that he holds the belt that makes him such a draw. He's a devastating fighter with just one slip up in his career, and he is likely to establish a long reign at his chosen weight.
3. Jon Jones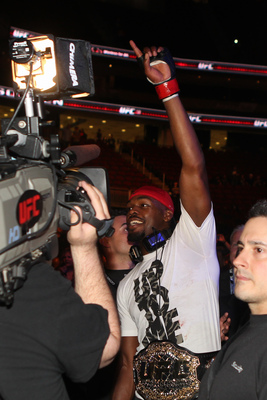 Brad Penner-USA TODAY Sports
The last three in this list are difficult to place, and some would argue that the UFC's light heavyweight champion should be considered the most marketable star in the promotion.
Although many MMA fans love to hate him, Jones has had a meteoric rise to the top of the sport and dismembered the 205-pound division, earning him some of the most lucrative contracts in MMA.
They include a global sponsorship deal with sports giant Nike and regular appearances on talk shows and on the covers of glossy magazines.
Despite some slip ups, he handles his media obligations well and has some great management in Malki Kawa, who has turned him into one of the most marketable stars in MMA.
Much of that marketability has to do with raw talent and the fact that he's reached the pinnacle of the sport at a time when the sport has reached new heights of popularity. But he's also a company man who has learned the hard way what it means to upset your pay masters. Since then, he become a much more amenable personality.
2. Anderson Silva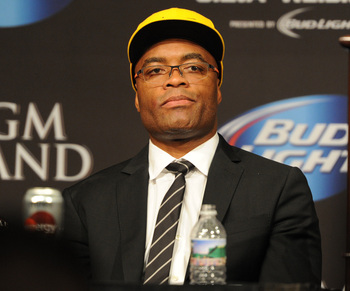 Jayne Kamin-Oncea-USA TODAY Spor
The last two fighters on the list were a toss up.
For a long time, Anderson Silva was considered the greatest pound-for-pound fighter in the world, and many would still give him that commendation.
Having broken almost every record in the UFC—including most wins, title defences and knockouts—Silva is arguably the most successful fighter of all time.
However, his star has somewhat been tarnished after a silly loss to Chris Weidman, which he'll look to rectify later this year.
Still, he's a sensation in his home country of Brazil. Along with Jones, he has a sponsorship deal with Nike as a testament to his marketability. But he is not always cooperative with the media, and he can be difficult for the UFC to deal with.
He routinely turns down fights and complicates contract negotiations. He's also reluctant to talk to the media and has been known to skip press events.
You could argue that he's earned the right to act this way, and that barely diminishes his worth to the promotion.
Georges St-Pierre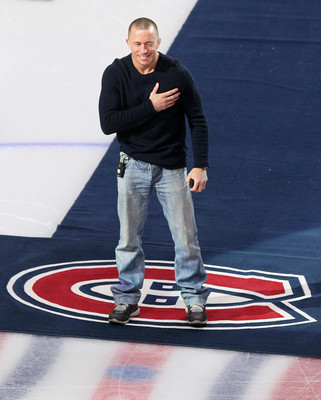 Jean-Yves Ahern-USA TODAY Sports
Right now, Georges St-Pierre is carrying the torch for the longest winning run in the UFC and perhaps in MMA. It's astonishing to think that he only has two losses in a 26-fight career, and White once called him the biggest draw in the UFC.
That's somewhat difficult to ascertain since the promotion rarely reveals its pay-per-view numbers, but it wouldn't be surprising considering his global appeal.
He has a clean-cut image that inspires legions of fans and good looks that have won him admirers the world over. During a 2010 visit to the Philippines, he was mobbed by fans in a way that had never happened to any other Canadian athlete in history.
GSP has also been effective at putting his fame to good use by endorsing a whole range of products—from fitness DVDs to calendars and computer games—which makes him one of the richest fighters in the sport. If that isn't a testament to his marketability, I don't know what is.
Khurram Aziz is a Featured Columnist at Bleacher Report. Follow him on Twitter: Follow @khurramaziz1981

Keep Reading