40 College Football Teams Returning the Most Starters in 2013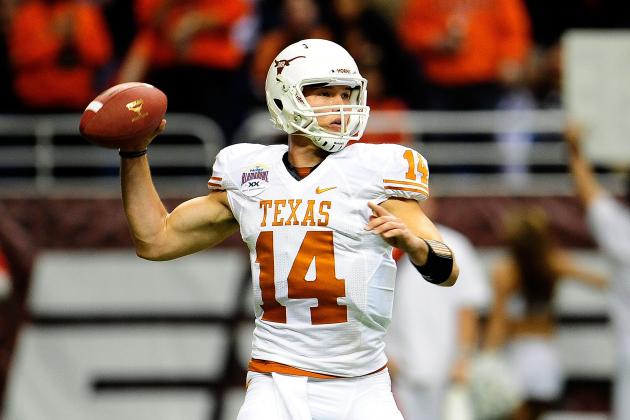 Stacy Revere/Getty Images

College football coaches have just four years—if they're lucky—of college athletes' on-field services . By the time all of the hard work and training return dividends on the field, many college football stars already have their eyes on their upcoming NFL careers.
While talent surely plays a big role in which teams rise to the top, it's experience that can separate the truly great teams from the rest of the big power programs. The 2013 season will likely follow that same pattern.
There are 40 college football teams in the FBS that will field at least 15 returning starters this season, and we've grouped those teams by number of returning starters here.
Note: Phil Steele's College Football Review numbers for the 2013 season are being used here, ignoring suspensions and players whose statuses are currently undetermined.
Begin Slideshow

»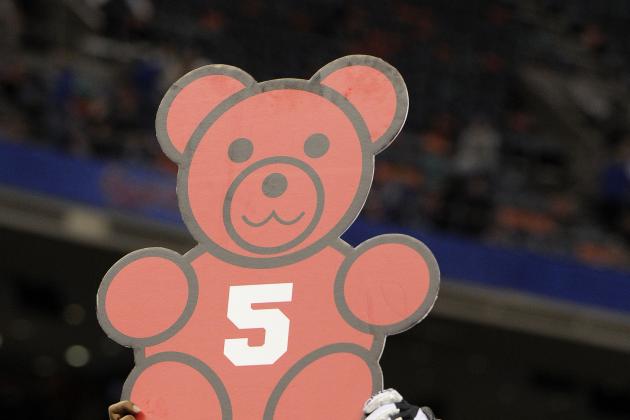 USA TODAY Sports

Auburn, ECU, Louisville, Marshall, Michigan State, North Carolina, Northwestern, Old Dominion, Oregon, Oregon State, Stanford, TCU, Temple, USC, Utah State, Washington State, Wisconsin
There are 17 FBS teams with 15 returning starters for the 2013 season. Although we won't touch on every program here, it's safe to say that the vast majority of these programs should benefit from the added experience on the field this season.
Really, only Louisville and Northwestern beat expectations last season. Louisville upset a heavily favored Florida in the Sugar Bowl, bringing a measure of redemption to the Big East in its last hurrah as a football conference. With Teddy Bridgewater returning at quarterback, the Cards are poised to blow through the inaugural American Athletic Conference season. Add in former Auburn standout Michael Dyer's contribution to a suddenly solid-looking rushing attack, and there's no doubt the Louisville Cardinals have their sights set on a return to the BCS at the conclusion of 2013.
Northwestern won its first bowl game since the Truman administration (no, really) last season, and the Wildcats are a serious dark horse candidate for the Big Ten's Legends Division title this season—especially with their potent wildcat, run-and-shoot offense returning largely intact.
Michigan State and defending Big Ten champs Wisconsin also return 15 starters each. Both teams hope to improve upon disappointing 2012 regular-season records after graduations and departures in 2011 took a toll on both squads.
Old Dominion enters its first FBS season with 15 returning starters, but we're talking about 15 starters who were largely recruited without an FBS future in mind; therefore, we predict a woeful, UMass-esque beginning to the Monarchs' FBS tenure.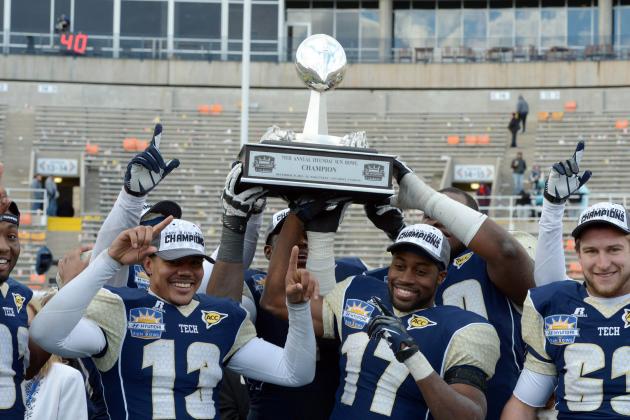 USA TODAY Sports

Buffalo, Colorado State, Georgia Tech, Minnesota, North Texas, San Diego State, Wake Forest
Of the seven FBS programs returning 16 starters for 2013, there's really only one—Georgia Tech—that has much of a chance of making any real noise on the national level.
The defending ACC Coastal Division champions, Georgia Tech finished the 2012 season at 7-7 after knocking off USC in the Sun Bowl. A closer-than-expected ACC Championship Game gave us a glimpse of what's to come from the Yellow Jackets, and a 2013 schedule that doesn't include Florida State or NC State—two of the top three finishers in the Atlantic Division—sets up nicely as a possible stepping stone back into the ranks of ACC powers.
San Diego State also returns 16 starters from last season's squad, but none are more important to the success of the Aztecs than running back Adam Muema. He finished 2012 with 1,458 rushing yards, 16th in the nation. Entering his junior year, he figures to play a major role in the defense of SDSU's 2012 Mountain West co-championship (tied with Boise State and Fresno State).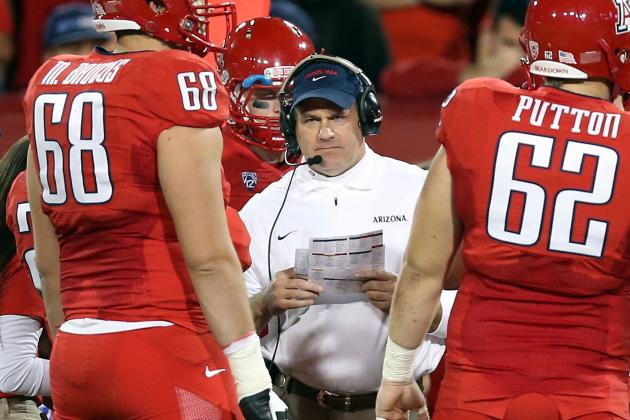 Christian Petersen/Getty Images

Arizona, Army, Colorado, Middle Tennessee State, Rice, South Alabama, Tulane, Louisiana-Monroe, Washington
The nine teams that return 17 starters this season include a pair of dark horses for the Pac-12 title. Both Arizona and Washington have aspirations to return to the top tier of their respective divisions, both having finished fourth last season.
Arizona seems to be thriving under the new leadership of Rich Rodriguez. His trademark high-flying offense seems to be a good fit for the Pac-12 in general and particularly suits the Wildcats. With so many returning starters, the importance of player experience with a new head coach implementing a new offensive system should not be underestimated. As a result expect Arizona to make a strong push in the South Division this season. After a full season of Rodriguez whipping the program into shape, we expect most of the kinks to be ironed out.
Washington wasn't expected to perform as well as in previous seasons, mainly due to the level of talent that had matriculated from the program over the past few seasons. Surprise, surprise, Steve Sarkisian not only reloaded his team with enough young talent to hold serve, the Huskies actually look like a team capable of competing with the top teams in the North. In fact, despite finishing fourth in the North last season, in 2012 Washington beat the first-place and third-place teams, then-No. 7 Oregon State and then-No. 8 Stanford. If the added experience can lead the Huskies to also win games they should win, don't be surprised if we're talking about a ranked Washington team come late 2013.
Army is desperate for a win over arch nemesis Navy. The Black Knights haven't found a way to break the Midshipmen's blockade for 11 straight seasons. Despite coming close on a number of occasions, head coach Rich Ellerson hasn't been able to break his Cadets through. Maybe the experience of 17 returning starters can finally stem the tide against Navy, as both schools rarely field veteran squads like the 2013 Army football team (as neither program redshirts players due to military academy graduation timetables).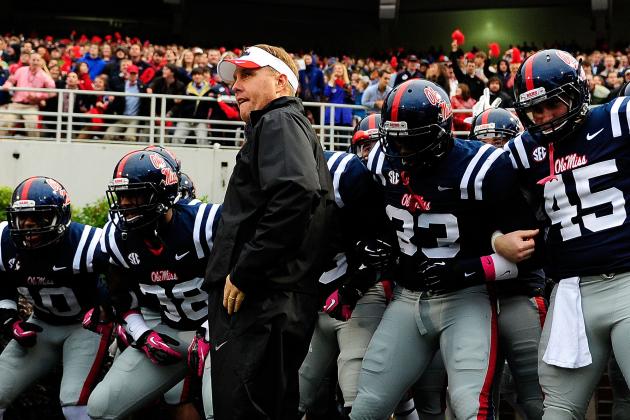 Stacy Revere/Getty Images

Hawai'i, Mississippi, UNLV
Only three teams return 18 starters for 2013, and only one of them has a chance at making any national impact.
Mississippi leads the SEC in returning starters this season, and if ever there was a season that was a bellwether of things to come at Ole Miss, 2013 is going to be it. Hugh Freeze made an immediate impact after taking over the Rebels program in 2012, guiding Ole Miss to its first winning season since 2009. The recruiting trail has also been kind to the Rebels, earning class of 2013's No. 8 national ranking, according to 247sports.com. While it may be a couple of seasons before any major on-field impact is seen from this particular class, it's clear the Rebels' stock is on the rise. With the schedule not including Georgia, South Carolina or Florida this season, an upset against a SEC-West powerhouse like Alabama, Texas A&M or LSU is all that's needed to propel Ole Miss to a magical season.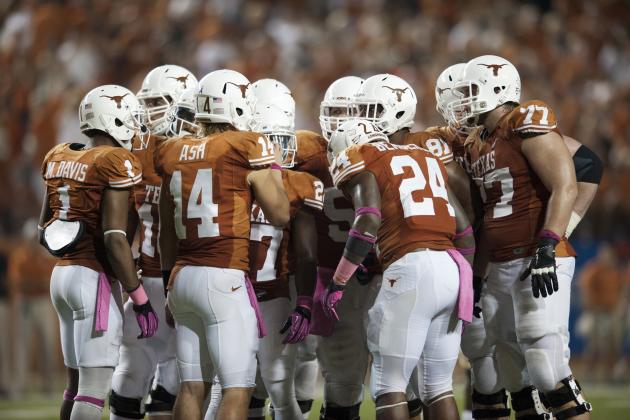 Cooper Neill/Getty Images

Bowling Green State, Indiana, Miami (FL), Texas, UTSA
There are five teams who return more starters—19—than any other programs in the FBS this season, and a couple of these programs can use all of the help available. Miami had the best conference finish last season, ending in a tie for the ACC's Coastal Division title (but due to sanctions, did not participate in the postseason). Texas had the best overall record at 9-4, but was third in the Big 12 behind both Kansas State and Oklahoma (both of which defeated the Longhorns in 2012).
Miami is emerging from the sanctions following the Nevin Shapiro scandal, and the Hurricanes are hoping to at the very least match last season's Coastal Division title performance.
The real strength for the Canes in 2013 will be on offense where nearly every starter from 2012 returns. Despite wideout Devon Johnson, Miami will field the same offense as last season, and the chemistry developed over all of last season—not to mention spring ball and fall camp—should have Miami fans excited.
UTSA was 8-4 last season, it's first season as an FBS program (meaning the Roadrunners weren't bowl-eligible). But before anyone gets too excited about the chances for a repeat performance, it's important to look at what eight teams UTSA defeated last season. Among the eight wins were three FCS programs, a Division II program and two programs also in their first FBS season (South Alabama and Texas State). The other two were Idaho and New Mexico State.
Even with 19 returning starters, UTSA will be hard pressed to win anywhere near that number of contests in 2013. Even with starting quarterback Eric Soza and starting running back David Glasco returning, the Roadrunners are woefully underpowered on offense; UTSA averaged just 390 offensive yards and 29.1 points per game last season, fourth in the lowly WAC, and that was with four non-FBS programs on the schedule.
In 2013, UTSA moves to Conference USA and will face a grand total of zero FCS programs. Instead, the Roadrunners will replace those games with matchups against UTEP, Houston, Arizona and Oklahoma State. Even with the new-found FBS experience on the roster, four wins would be an impressive feat for UTSA in 2013.
Indiana has long been a program seen as a Big Ten doormat. Let's face it: Bloomington is a basketball town. But with head coach Kevin Wilson finally enjoying a little roster stability, a bowl game isn't completely out of the picture for the Hoosiers this season.
The team was 4-8 last season, but took Ball State, Michigan State, Ohio State and Navy to the wire, losing those four games by a combined 10 points. We've already mentioned how much difference experience can make late in games; when that experience comes in the form of the Big Ten's leading returning passer in quarterback Cameron Coffman, defenses will need to bring their A-games to keep the Hoosiers in check this year.
Texas might finally be able to return to form this season with an offense that has thus far struggled to find its footing in Big 12 play. The conference's sixth-best offensive attack returns 10 starters for 2013, including four offensive linemen and at least one starter at every skill position. David Ash is the prohibitive favorite to start under center, but Case McCoy is still hanging around, ready to step in at a moment's notice. The only real question mark for Texas's offense is at tight end; we'll probably see more of the same at the position—which means more blocking than catching the football.
The defense is also in pretty good shape, at least for a Big 12 program. The defensive line will be unchanged, while the secondary returns three starters. The much maligned linebacking corps from 2012 doesn't return a single starter, but depending on how many Longhorns fans you talk to, that might not be such a bad thing.
If everything works out as planned for Mack Brown, the Longhorns should see their season boil down to a few critical dates: October 12 (Oklahoma), October 26 (at TCU) and November 9 (at West Virginia). Avenging any two of those three conference losses from 2012 will put Texas in the middle of a conference title and BCS hunt.