15 MMA Fighters Who Took the Most Damage in Their Careers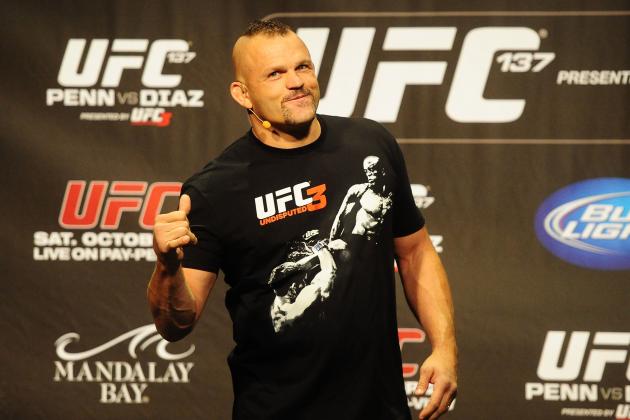 Mark J. Rebilas-USA TODAY Sports

If there is one tangible byproduct of a fighter's career that will last far beyond glory, it is that of damage.
As fans, we grimace in empathy as our favorite fighters get caught with that blow that puts them on wobbly legs. It's the cost of living vicariously through men and women who engage in bloody combat.
Let's make no mistake about it; professional prize fighting is nothing more than legalized assault. In that kind of situation, someone is going to get hurt, more often than not. Dana White may refer to a new fighter as "kid," but there is no kidding around in MMA. This is a hurt sport, just like boxing.
Sometimes, given the impressive safety record of MMA, we forget that. We point our finger to the fatalities that occurred through the years in boxing, as if no MMA fighter will ever suffer the same fate.
Yet they already have. Granted, not on a big stage, but there have been eight deaths in MMA since the late 1990s. Obviously, these were at small shows, some of which were unsanctioned, but it's there, like a wine stain on the table cloth.
But stain or no stain, people still gather around that table to eat, for lack of a better term, and sometimes they get hurt. Sometimes a certain few get hurt more than others for any number of reasons.
As we learn more and more about head/brain trauma in the combative sports, for every answer we seem to discover two more questions. One danger that seems to be finally getting the attention it deserves is that of SIS, or Second Impact Syndrome; a frightening situation that rarely passes without some tragic sign of its visit.
And yet, for every cautionary tale, a fighter like Wanderlei Silva—who by all accounts has taken enough damage for any 10 men—makes a kind of late career comeback that get's people to thinking that maybe, just maybe, it's a bunch of Poindexters with medical degrees trying to make tornadoes in a tea cup.
But it's really not. We owe it to these incredible fighters to take some time to acknowledge what they endure for our pleasure and their own love of the sport.
Begin Slideshow

»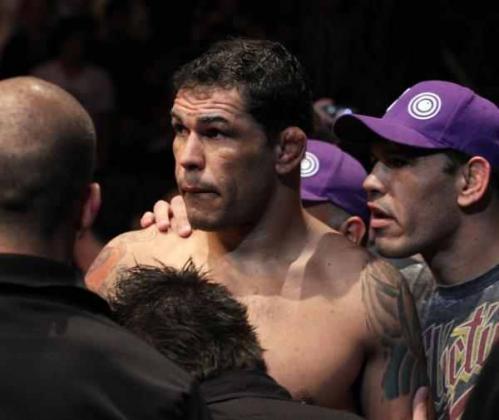 sherdog.com
Losses by KO/TKO: 2
Losses by submission: 2
Last Fight: lost via submission to Fabricio Werdum, June 8, 2013
Sometimes how much damage a fighter has taken cannot be tallied just by the KO/TKO losses on his record, and such is the case of Antonio Rodrigo Nogueira.
He took a serious beating at the hands of Fedor Emelianenko in their first bout (a decision loss), which saw his head bounced off the canvas with brutal shots in the first round.
Then, outside of the damage that comes from heavy strikes, he had his arm completely broken by Frank Mir.
But he's also taken some serious punishment in his victories as well. He was slammed on his head by Bob Sapp, blasted by Mirko Cro-Cop Filipovic for nearly their entire fight and he was dropped with a head kick by Heath Herring in their rubber match.
It seems that a good portion of his career has been built around taking damage; a noble feat in the fight game, but punishing nonetheless.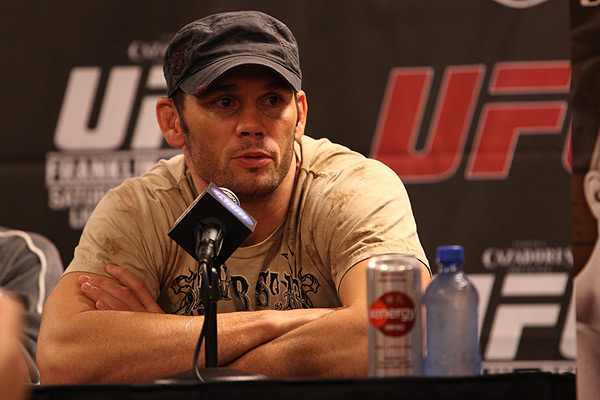 sherdog.com
Losses by KO/TKO: 6 (including 1 KO loss as an amateur)
Losses by submission: 2
Last Fight: KO loss to Cung Le, November 10, 2012
As one of the true good guys in the sport, defining the word "Gentleman" as best as anyone could hope for in a sport like this, for a long time I never though Rich Franklin would take much damage.
He was (and still is) a thinking man's fighter, but the cage is only so big and on a long enough timeline everyone falls.
It's not just his losses via KO/TKO; the man has taken some serious damage in his victories: a broken arm in the Chuck Liddell fight and no small amount of damage in both his victories over Wanderlei Silva.
In fact, Franklin admits that in the last fight with "The Axe Murderer" at UFC 147, after being floored by a punch in round 2, he did not remember the rest of that round, or rounds 3 or 4.
That fight was followed by his fight with Cung Le; a bout that saw him knocked cold by a single blow in the first round.
It was a heartbreaking sight to see him sprawled out on the floor like that. No one has the right to declare that a fighter as excellent as Franklin is "done," but I hope to never see him hurt that bad again.
When Franklin leaves the sport, I will miss him greatly, but I hope that he can do so with the clear understanding of what he has accomplished.
There is really nothing more to prove, Mr. Franklin.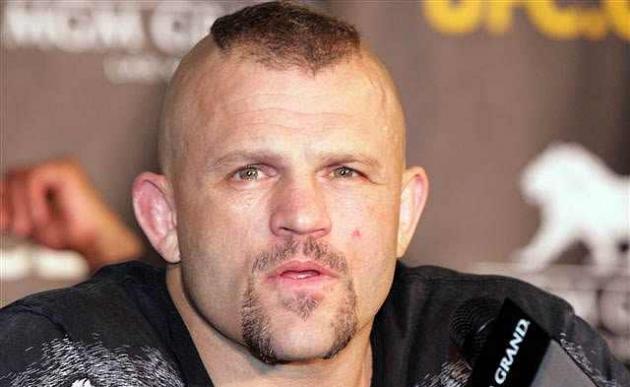 sherdog.com
Losses by KO/TKO: 6
Losses by submission: 1
Last Fight: KO loss to Rich Franklin, June 12, 2010
Nearly everyone knows about the career of Chuck Liddell.
One of the purest fighters to ever compete in MMA, "The Ice Man" always came to throw down. He was one of the few fighters totally comfortable with living by the sword that would one day fell him.
When the end came, it was a string of hard KO losses that prompted him to heed the urging of Dana White, and no one deserved the promotion into a cozy life with the promotion any more than Liddell.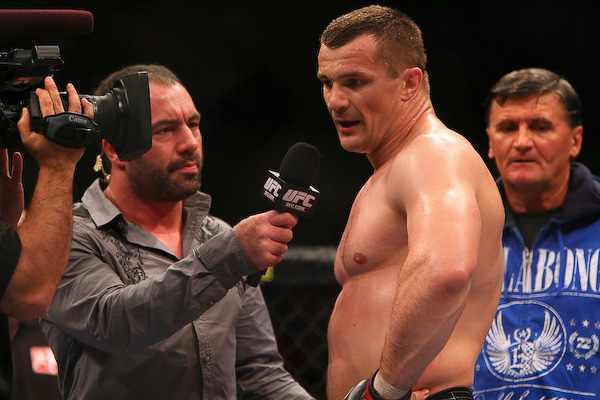 sherdog.com
Losses by KO/TKO: 5
Losses by submission: 2
Last Fight: submission victory over Shinichi Suzukawa, December 31, 2012
Although he's currently on a winning streak for 2013 in K-1 competition, Mirko "Cro-Cop" Filipovic has taken some horrendous damage in MMA competition.
Few people will ever forget the head kick KO that Gabriel Gonzaga landed. His last three fights in the UFC saw him stopped each time via KO/TKO against men who wouldn't have lasted two rounds with him in 2004.
If Filipovic decides to finish out his fighting career in K-1, no one would blame him.
sherdog.com
Losses by KO/TKO: 7
Losses by submission: 2
Last Fight: KO loss to Antonio "Big Foot" Silva, February 2, 2013
Although his most recent loss came after a long string of victories (11 wins and one no contest), Alistair Overeem has taken some serious lumps in his career.
It seems that whenever Overeem loses via KO/TKO, he's getting seriously clobbered. His last fight saw him take unrelenting damage against the cage before he finally fell to the floor.
He was seriously hammered by Chuck Liddell and Mauricio "Shogun" Rua, not to mention the thumping he took from Sergei Kharitonov.
He's also suffered three defeats via the dreaded KO/TKO in his kickboxing career.
We'll find out don't how well he bounces back when he fights Travis Browne, but we do know that a fighter only has so many times he can have his card punched before he begins to see his ability to compete diminished.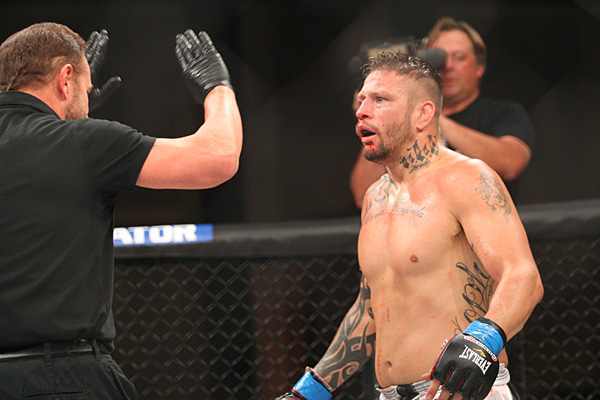 sherdog.com
Losses by KO/TKO: 7
Losses by submission: 1
Last Fight: TKO loss to Jacob Noe, June 19, 2013
Perhaps a person many would expect to be on a list like this, Renato "Babalu" Sobral has seen more than a few brutal KO/TKO moments lain upon his table.
Sobral has lost four of his last six bouts, all losses coming via KO/TKO, something that speaks to the notion of the damage that is accumulating in this later stage in his career.
As he's been fighting for 16 years, one can only imagine the damage he, and the others on this list, have taken during training.
At the age of 37, Sobral is a fighter's fighter, but one hopes that sooner rather than later he will either find a way to adjust his style and protect himself, or retire.
Very few fighters can say they defeated Trevor Prangley, Mauricio "Shogun" Rua and Jeremy Horn all in one night, but Sobral can. That kind of accomplishment should allow him to sleep soundly if he decides to retire anytime in the near future.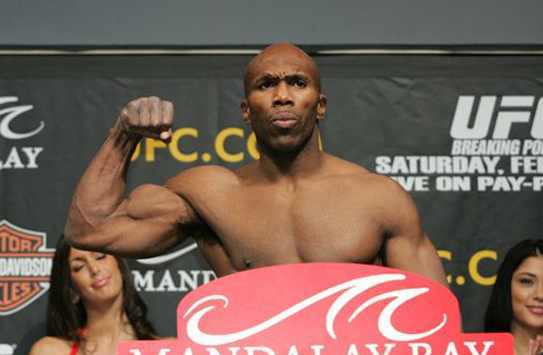 sherdog.com
Losses by KO/TKO: 7
Losses by submission: 2
Last Fight: decision victory over Dmitry Zabolotny, April 27, 2012
Sometimes it's about the quantity, other times it's about the quality. In the case of Marvin Eastman, it's both.
He's perhaps one of the most widely recognized journeymen in the sport. He's racked up wins over Quinton Jackson, Vernon White, Alan Belcher and others, but he's also spent time as the nail.
Of course, many people remember him for the awful cut above his eye after being clubbed by Vitor Belfort at UFC 43. This goes well beyond that.
The man has also been stopped via KO/TKO four times in kick boxing, the most recent of which was on May 13 of this year.
I have often thought that journeymen like Eastman, Jeremy Horn, Travis Fulton and countless others deserve a million dollars and a kind of forced retirement as a thank you for all the blood, sweat and pain they endured for the sport.
I still think that today.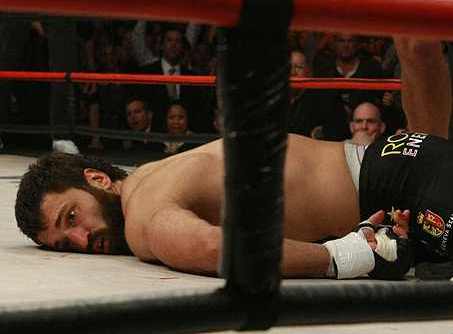 sherdog.com
Losses by KO/TKO: 7
Losses by submission: 3
Last Fight: decision loss to Anthony Johnson, March 23, 2013
Some fighters seem cursed with what can charitably be described as a weak chin, but in the case of Andrei Arlovski, it may actually be a blessing.
When Arlovski get's hit flush on the chin, he tends to go to sleep. Who can forget the sight of Arlovski laying face down, arms limp by his sides, after walking into a Hail Mary punch from Fedor Emelianenko?
While it may be bad for his record, it may be good that he doesn't end up taking excessive beatings.
Still, with seven losses coming via KO/TKO, it can't be all that good.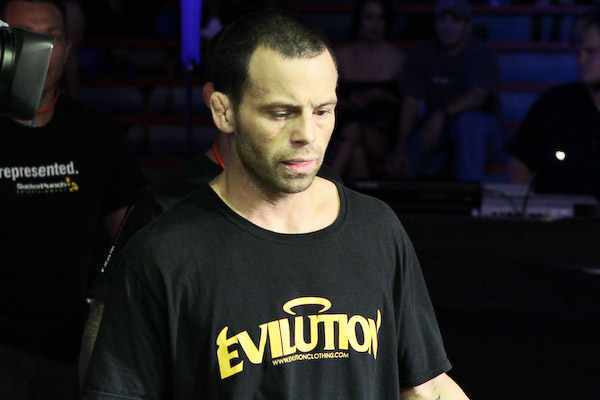 sherdog.com
Losses by KO/TKO: 8
Losses by submission: 9
Last Fight: submission loss to Masakatsu Ueda, April 5, 2013
Sometimes having a big heart can be a detriment to a fighter in the later stages of his career, and that seems to be the case for Jens Pulver.
I have always loved watching Pulver fight. He is always so open and bare to the bone; when he is in the cage or ring, you are seeing someone who is honestly committed.
A big heart, easy smile, friendly demeanor and an honest-to-God good guy, Jens Pulver has eight KO/TKO losses on his record.
I wouldn't care if he had 50; he'd still be one of my favorite fighters of all time. I just hope it never gets even close to that point.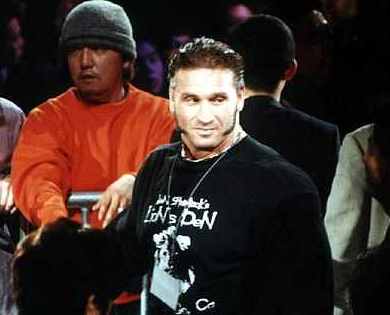 sherdog.com
Losses by KO/TKO: 9
Losses by submission: 4
Last Fight: TKO loss (leg injury) to Mike Bourke, November 25, 2010
Whenever a fighter has been competing for 17 years, injuries are bound to accumulate; it's just going to happen.
Sadly for Ken Shamrock, he spent a good deal of time taking punishment during a period of his career that was beyond the twilight and into the dark.
Perhaps some of that was because of the money he owed Zuffa after losing a court case to them when they released him from his final contract. It may be his own doing, but getting angry with a fighter for being proud seems like getting angry at a dog for having teeth. If they weren't proud, would we want to watch them?
From 2005 to 2008, Shamrock lost five bouts in a row, all via KO/TKO. It would tend to reason that any kind of injury suffered by an older fighter is more damaging than if suffered by the young.
Either way, one of the pioneers of the sport has been stopped via KO/TKO nine times, and that is a sad tale.
He probably should have retired when he had to stop his fight with Kazuyuki Fujita because of what seemed to be a problem with his heart. But again, proud fighters almost always fight well past their expiration date.
Thankfully, Shamrock hasn't fought since 2010. As much flack as he's gotten from many fans that came into the sport during the Tito Ortiz era, Shamrock was a terribly important figure in the history of the sport.
And the sport was lucky to have him.
sherdog.com
Losses by KO/TKO: 6
Losses by submission: 0
Last Fight: KO win over Brian Stann, March 3, 2013
It is no mystery why a fighter like Wanderlei Silva is on this list. The man refuses to fight with any true commitment to defense, willing to die be the same sword he has been swinging his entire career.
When looking at his defeats via KO/TKO, some have just been downright brutal. He was creamed by Dan Henderson, Mirko "Cro-Cop" Filipovic, Chris Leben and Quinton Jackson.
Outside of actually being stopped, he's taken punishment from Chuck Liddell and Rich Franklin en route to defeat via decision.
And that doesn't account for the damage he takes when he wins. In both his victories over Brian Stann and Cung Le he took some pretty good licks as well.
At 37 years old, we don't know how much time Silva has left in the sport. But he's won more than he's lost in his past five fights, so the show will continue.
And so will the damage.
Losses by KO/TKO: 11
Losses by submission: 2
Last Fight: decision victory over Bobby Lashley, May 6, 2012
The case of James Thompson may be a little surprising to the casual bystander, but it is hardly unique.
Many large, heavily muscled men have fallen hard in the world of combative sports. It's almost as if Mother Nature has decided that for so many genetic gifts, one needs a weakness; perhaps that of a suspect chin.
The same was true for Shannon Briggs for a while. He looked like a holy terror until he got hurt and then he unraveled.
Thompson has some respectable victories on his ledger, but notches on a belt mean nothing if you can't remember where you put your pants. Suffering 11 KO's or TKO's—enough is enough.
We need to start remembering that concussions are actual brain injuries, and KOs/TKOs are linked to that.
The man got into the ring and let it all hang out. He should be happy with that and so should we.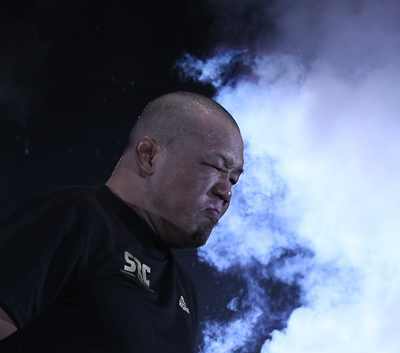 sherdog.com
Losses by KO/TKO: 16
Losses by submission: 7
Last Fight: KO victory over Kenichi Yamamoto, March 9, 2013
Some fighters hit a bad skid and take a concentrated amount of damage during a short period of their career and find they cannot recover that winning form.
Others have been fighting for so long that they have simply put their body on the line far more times than should be allowed. That is not to say that I do not appreciate the fights Yoshiki Takahashi has given us, because I do.
I have been following the sport since UFC 3, and I remember getting very excited about Takahashi's entrance into the UFC 12 tournament. His fight with Wallid Ismail, while odd on one hand, was still a treat to watch.
But, the man has been rendered unconscious (or teetering on the brink) or badly hurt to the body no less than 16 times in his career; a career that started on September 21, 1993, continues to this day.
Honestly, I am still puzzled as to why he is allowed to fight. At one point in his career—from the middle of 2007 to the middle of 2010—he was defeated by KO/TKO five times in a row.
Much like Kazushi Sakuraba, I suspect much of this is due to Nationalistic pride. Unlike many other nationalities who talk about dying in the ring, a Japanese fighter really would.
Someone should step in before Mr. Takahashi proves the suspicion positive.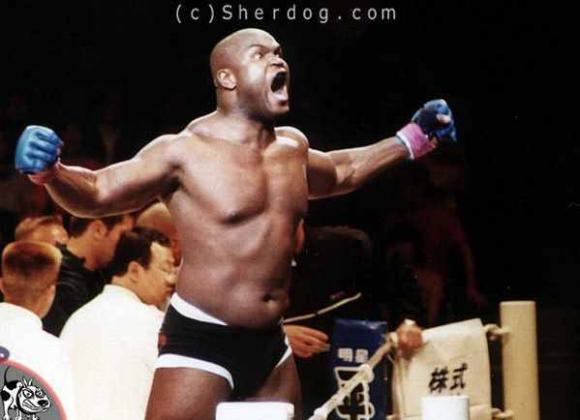 sherdog.com
Losses by KO/TKO: 11
Losses by submission: 8
Last Fight: TKO loss to Lyubomir Simeonov, December 17, 2010
Ever since Gary Goodridge made his MMA debut at UFC 8, you could just tell he was a man who didn't do anything the easy way.
Now, 11 KO/TKOs later, Goodridge suffers from CTE/Pugilistic Dementia, which he attributes mainly to his K-1 career, where he suffered 14 losses via KO/TKO.
"Ninety-percent of my injuries came from K-1, where there's nothing but head trauma, head injuries over and over again," said Goodridge in an interview with MMAweekly.com in 2012.
It's shocking to think of a man suffering 25 losses via some kind of knock out. But much like former boxer (and now trainer) Freddy Roach, Goodridge simply accepts it as part of the life he led as a fighter.
Talk about a rare breed.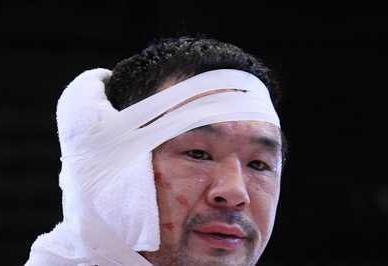 sherdog.com
Losses by KO/TKO: 9
Losses by submission: 3
Last Fight: submission loss to Yan Cabral, September 24, 2011
Save for Gary Goodridge, I cannot think of any single fighter who has suffered more damage in their career that Kazushi Sakuraba.
He was annihilated by Wanderlei Silva in their first fight, suffered a dislocated shoulder in their second bout and was knocked out cold in their third and final fight.
And that is just the tip of the iceberg.
Who can forget how badly swollen and bloody his face was after eating multiple knees to the head in his fight with the much larger Ricardo Arona?
Perhaps the final sign of the damage he has absorbed was seen in his loss to Marius Zaromskis. A little over two minutes into the opening round, Sakuraba's ear was actually falling off.
Fighting is no doubt a passion for the men in the women who step into the ring or cage; it must be, or else why do it at all? But when you actually start to fall apart, there can be no doubt that the time to exit the stage has officially arrived.