Scouting Report, Video Highlights and Predictions for 5-Star DT Thomas Holley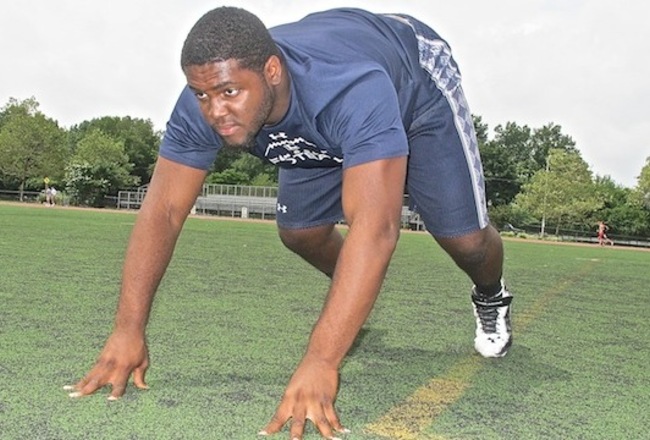 247Sports

Thomas Holley may not have much experience, but the defensive tackle is a wanted man on the recruiting trail. He has a world of potential, and if he gets with the right coach, he could be in the NFL in a few seasons.
Holley has the recruiting world buzzing, as the big man can do an array of things on the field. He has a bright future ahead of him, but still has unfinished business as a high school player.
Holley's size, skills and potential warrant a more in-depth look.
Player evaluations are based on review of tape at Scout.com, Rivals, 247Sports and ESPNU.

Who Is Thomas Holley?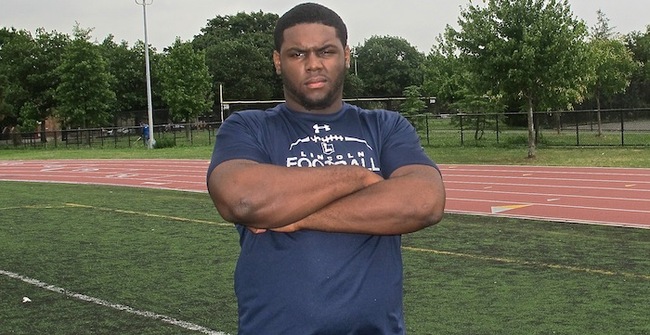 247Sports

Holley is a defensive tackle who plays for Abraham Lincoln High School in Brooklyn. Last season was his first year of organized football, as Holley's athletic background has been in basketball.
He was a forward/center at Christ the King in New York on the hardwood, but realized his future is on the football field, thus the transfer to Lincoln. Although Holley plays fullback on offense, he will be a permanent defensive tackle in college.
Holley, who has been selected to play in the 2014 Under Armour All-American game, is 64th in the 247Sports composite rankings, 84th in the Rivals 250 , 86th in the ESPNU 150 and 136th in the Scout 300.
He is expected to sign with Notre Dame or Ohio State, according to 247Sports.
Thomas Holley's Scouting Report: Strengths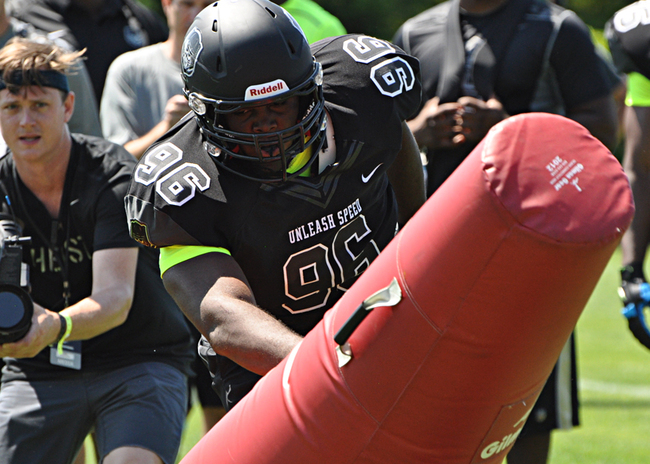 247Sports

Holley is a 6'4", 285-pound defensive tackle with a high ceiling. He has explosive quickness at the snap, as his basketball background shows through his athleticism in the trenches.
Holley flashes the ability to play with leverage at the point of attack, where he can be downright dominant. He has excellent strength, powerfully punches blockers and gets under their pads to walk them into the backfield.
He flashes heavy but quick hands and has good quickness when pursuing the ball. The New Yorker can quickly jump on top of guards when rushing the passer, and can convert speed to power to bully his way to the quarterback.
He hustles around the field and plays with a great motor. Holley's untapped potential makes him one of the most exciting and intriguing prospects in the 2014 class.
Thomas Holley's Scouting Report: Weaknesses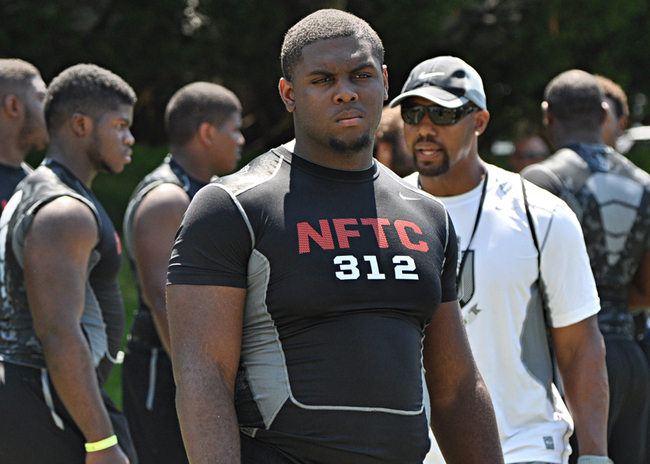 247Sports

Holley's main weakness is that he is raw, which shows in several different areas on tape.
Although he is explosive at the snap, he plays too high and must continue to work on lowering his pad-level.
Holley flashes good hand usage, but he is still raw with his technique. He gets by in high school by being stronger and quicker than his opponents, but he will need much work in college to improve his ability to use his mitts.
Holley also has a lot of mental learning and growing to do as a player. He must get better at reading stances of offensive linemen, recognizing offensive backfield alignments and formations and playing with better awareness and instincts.
Thomas Holley's Full Ride Highlights
Here is a highlight reel put together by Bleacher Report's Full Ride video team. On the second play, watch how Holley jumps on top of the guard and uses his brute strength to bully his way to the passer.
At 0:22, look at how Holley's strength allow him to continue to fight to pressure the quarter, which results in a positive play.
His raw talent is on full display throughout this clip.
Thomas Holley's Junior Season Highlights
At 1:09 on this clip is a microcosm of Holley as a player: He gets off the ball quickly, but his lack of hand usage is obvious. However, his size, athleticism and power still allow him to get in the backfield.
The play at 1:59 shows why Holley is one of the top prospects in the country. He shoots off the ball, stacks up the block with force and makes a mess in the middle of the field.
Holley's lack of experience also shows at 2:18, as his pad-level is too high. However, throughout this clip, the big man displays a wonderful motor.
Thomas Holley's NIKE Football Training Camp Highlights
Holley participated in the New York/New Jersey Nike Football Training Camp in April. This was a good experience for him, as it allowed him to receive more coaching on how to use his hands better.
This clip shows Holley going through drills during the day, and it ended on a high note with him winning the defensive lineman MVP award, according to Brian Dohn of Scout.com (subscription required).
Predictions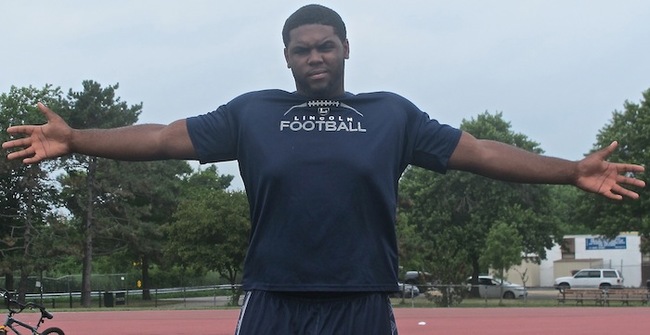 247Spoorts

Holley is going weigh between 310-320 pounds before he leaves college.
He has the ability to play the 3-technique defensive tackle position in a 4-3 scheme, but he could be better as a 5-technique defensive end in a 30-front alignment.
Notre Dame could have the inside track, but if Ohio State has a great season, Holley will sign with the Buckeyes.
He will realize his potential in college, improve his hand usage and instincts and be a multi-year starter.
2014 Bleacher Report College Football Recruiting Heat Map
Holley is on the 2014 Bleacher Report College Football Recruiting Heat Map. The uncommitted New York defensive tackle is the top player in his state. Check it out!
Edwin Weathersby is the College Football Recruiting Analyst for Bleacher Report. He has worked in scouting/player personnel departments for three professional football teams, including the New York Giants and Cleveland Browns.
Keep Reading