Young NBA Studs on Cusp of Having Full-Fledged Breakout Season Next Year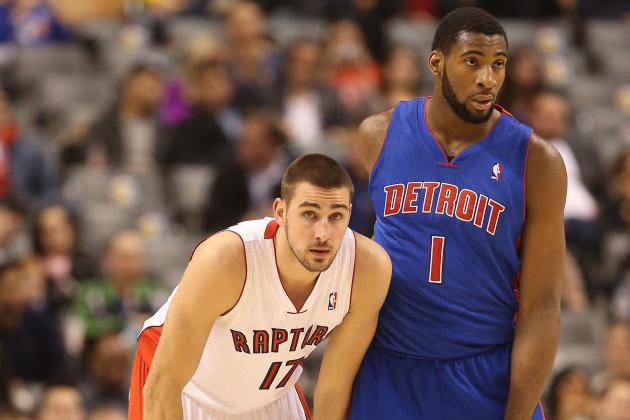 Tom Szczerbowski-USA TODAY Sports

As NBA draft hauls are dissected, words like "fit," "opportunity" and "system" tend to dominate the discussions.
The simple idea here is that talent needs certain ingredients to translate into production.
Some players will exceed expectations because their new team employs different schemes that maximize their efficiency better than their previous club. Others will fight to shake an often undeserved "bust" label as the opportunity to succeed simply doesn't exist in their situation.
But sometimes fans forget to keep these criteria in mind as players move further away from their NBA debut. Despite the annual summer shakeups that can revamp rotations and change a franchise's philosophy, starstruck casual fans overlook the fact that not all of basketball's hidden gems are discovered on draft night.
Some of these players have flashed enough potential for their coaches to comfortably increase their workload next season. Others have found new hoops homes that are far more conducive to spurring their development.
No matter how their stars were aligned, all of these players are primed for a full-fledged breakout campaign in the 2013-14 season.
*Unless specified otherwise, all statistics used courtesy of Basketball-Reference.
Begin Slideshow

»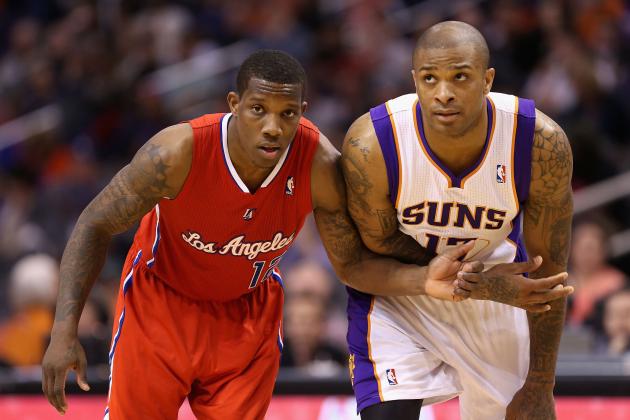 Christian Petersen/Getty Images

Despite spending the past three seasons in the shadows of players like Chris Paul, Chauncey Billups, Baron Davis and Mo Williams, Eric Bledsoe found enough floor time to hint at his massive potential.
His move from the Los Angeles Clippers to the Phoenix Suns takes him out of the shadows straight to the spotlight of center stage. And he looks more than ready to take on the job.
While his minutes fluctuated wildly in L.A., the signs of his development held steady. He sliced more than eight percentage points off his turnover rate from his rookie season (17.9 down from 26.3) and set career highs in 2012-13 with a .445/.397/.791 shooting slash.
A freakish athlete even by NBA standards, he has game-changing ability at both ends of the floor.
He's swiped at least 2.4 steals per 36 minutes in each of the last two seasons, and his 17.6 player efficiency rating ranked 15th among all floor generals last year, via ESPN.com.
He's strong enough to defend either guard position, so the fact that he shares the same natural spot with the Suns' incumbent best player (Goran Dragic) won't hinder his production.
Phoenix will enter 2013-14 with tempered expectations, so the team can afford to wait for Bledsoe's development. Judging by his track record, though, it won't have to.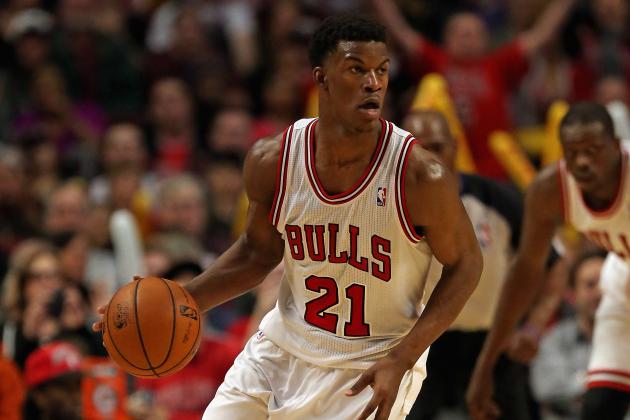 Jonathan Daniel/Getty Images

Derrick Rose won't be the only superstar addition for the Chicago Bulls in 2013-14. Third-year wing Jimmy Butler is poised to make an assault on the league's All-Star ranks.
A chiseled 6'7" and 220 pounds, the Houston native will look to build on his stellar postseason performance. Leading an injury-depleted Bulls team, Butler posted 13.3 points and 5.2 rebounds while playing over 40 minutes a night in 12 playoff games.
Truth be told, his rise to prominence started long before the second season got underway. In 20 regular-season starts, he tallied 14.5 points and 7.1 rebounds while shooting 45.7 percent from the field and 45.8 percent from downtown, via NBA.com.
When the iron man was taken off the floor, he carried a 5.2-point swing with him. Chicago had a 105.9 offensive rating and a 102.8 defensive rating when Butler was part of the action and only 101.5 and 103.6 ratings, respectively, when he wasn't.
Assuming Rose gets back to his MVP form, the game should get easier for his teammates. That means Butler's dramatic shooting improvements (.467/.381/.803 last season) still hold the potential for growth.
Butler should enter the season as an early favorite for the Most Improved Player award. The good news for Chicago fans is that his ceiling leaves clearance for something even greater.
USA TODAY Sports

It's hard to tell which moved the needle more for Detroit Pistons sophomore Andre Drummond: his stellar rookie season stats (13.8 points, 13.2 rebounds and 2.8 blocks per 36 minutes) or his video-game production at the Orlando Summer League (15.5 points, 14.8 boards, 2.5 steals and 2.0 blocks, via NBA.com).
Here's the real fun part, though—he's only 20 years old and still incredibly raw.
With the Pistons having made their win-now intentions apparent (see the $78 million spent on Brandon Jennings and Josh Smith), Drummond should have already ditched the leash that limited him to 20.7 minutes per game as a rookie. He's simply too good to sit for prolonged stretches, and we still don't know just how good he can be.
Usually you could go to the history books for some sort of player comparison, but history hasn't seen many 6'10", 270-pounders with this kind of leaping ability. He's not one of these lumbering big men that look like they have to think before moving their massive frames; he's fluid enough to put the ball on the floor or strip it from opposing bigs.
Drummond doesn't have to develop his game to have a breakout campaign; a minutes increase will take care of that. But if he lives in the gym this summer and builds an offensive post game, it will be impossible to cap his upward mobility.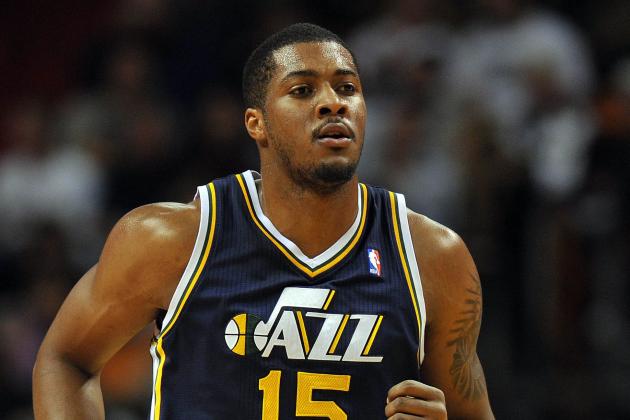 USA TODAY Sports

Derrick Favors has been waiting for this moment for three long seasons. The wait has been similarly taxing for the Utah Jazz.
Favors was the prized piece the Jazz got back for All-Star point guard Deron Williams midway through the 2010-11 season. Since then he's been in a constant struggle for playing time trapped behind a front line of Al Jefferson and Paul Millsap.
Jefferson and Millsap are no longer in Utah, and Favors is a major reason why they're not. The 22-year-old has forced his way up the franchise's pecking order and now sits primed to be the main character in its next chapter.
He's relied heavily on his athleticism to create his offensive chances so far, but with Utah only returning one double-digit scorer from last season's group (Gordon Hayward), the Jazz will need Favors to provide a steadier offensive hand.
That's why they've employed Karl Malone, No. 2 on the league's all-time scoring list, to help Favors find some scoring moves in the post. Considering he's already a formidable defensive force (7.1 rebounds and 1.7 blocks in 23.2 minutes per game last season), these offensive additions could hasten Utah's rebuild and push Favors into the upper echelon of NBA bigs.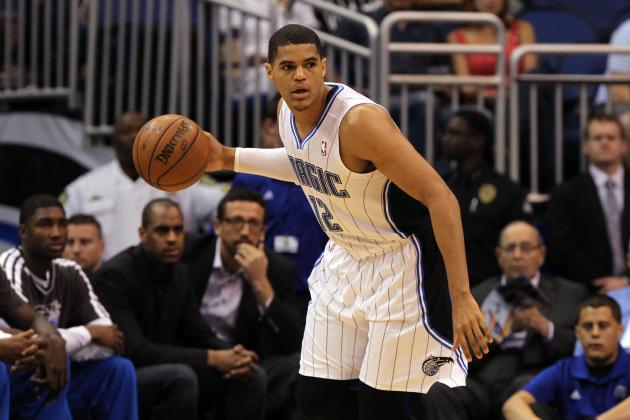 Kim Klement-USA TODAY Sports

At the midway point of his sophomore season, Tobias Harris seemed more likely to make an appearance on the waiver wire than a list like this. After spending 27 games with the Orlando Magic, though, Harris nearly played his way out of consideration.
In those games, he averaged 17.3 points and 8.5 rebounds while forging a new identity as a wildly productive stretch forward. He's undersized by traditional power-forward standards (6'8", 221 pounds) but his 6'11" wingspan gives him more than enough length to harass the smaller, quicker forwards in today's game.
Some might dismiss his Orlando numbers as the results of stuffing stat sheets on a bad team. In reality, though, his per-36-minute production fell close in line with what he'd amassed in his rookie season with the Milwaukee Bucks (15.6 points and 7.6 rebounds).
The skills were already in place to spark a meteoric rise for Harris. But the fit wasn't right and the opportunity was never there for him in Milwaukee.
Playing time won't be an issue, and now he'll have a full offseason to develop in Jacque Vaughn's system. Considering he essentially cost Orlando nothing more than a half-season rental of J.J. Redick, a breakout season would leave Harris as the leading man in one of the league's greatest trade heists in recent history.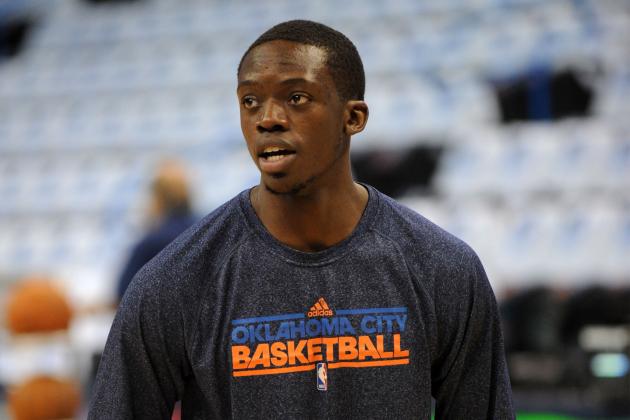 Mark D. Smith-USA TODAY Sports

Here's the bad news for Oklahoma City Thunder reserve guard Reggie Jackson: for the third straight season he'll be backing up All-Star Russell Westbrook.
The good news? The last two players to fill Jackson's anticipated role as Oklahoma City's sixth man (Kevin Martin and James Harden) are set to rake in more than $20 million combined in salary next season.
Jackson's potential payday is still a few years away, but he'll have every chance to raise his price tag in 2013-14.
After Westbrook went down with a torn meniscus just two games into Oklahoma City's playoff run, Jackson got the nod as Scott Brooks' starting point guard. In those nine starts he averaged 15.3 points, 5.3 rebounds and 3.7 assists. And remember, all of those numbers came without the comfort of having a solidified role on the team.
His career averages are still underwhelming (4.5 points and 1.7 assists), but a lack of consistent minutes can be blamed for that. If the reins are finally loosened on this supercharged scorer, then the 24th pick of the 2011 draft will just be the latest evidence of general manager Sam Presti's keen eye for talent.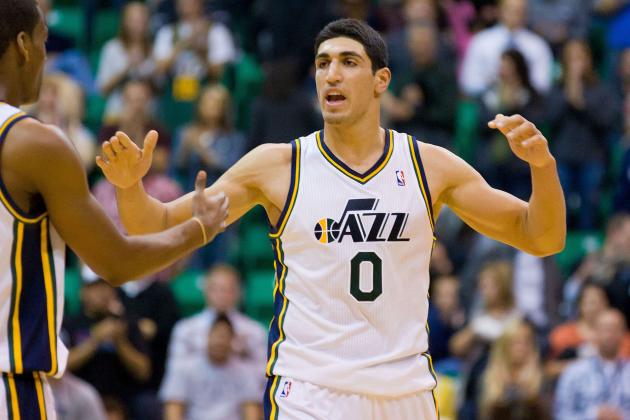 Russ Isabella-USA TODAY Sports

While frontcourt mate Derrick Favors tantalizes with sheer athleticism, Enes Kanter entices with polish and intelligence.
There's a reason his name was called as the third overall selection of the 2011 draft despite being ruled ineligible by the NCAA for the entire 2010-11 season over amateurism issues. The reason was simply his raw ability to play the sport, which he quickly showed was anything but raw.
He's yet to average more than 16 minutes through two seasons in the league and has already flashed one of the more well-rounded scoring arsenals among today's big men.
He uses physicality and finesse to create highly efficient scoring chances for his team. Whether that means setting a solid screen, creating offense on the low block or drifting out beyond 10 feet from the basket (where he shot 43.7 percent last season), Kanter has an innate feel for the game that goes well beyond his 21 years of age.
Wrap all of that up in a 6'11", 267-pound package and you might be looking at the league's next dominant big man.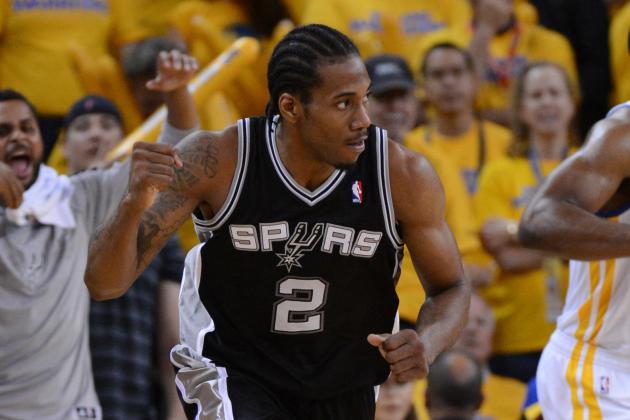 Kyle Terada-USA TODAY Sports

Kawhi Leonard is a hustler with a superstar skill set. That's why he still has breakout potential even after emerging as the new third member of San Antonio's Big Three.
He shined in his sophomore season (11.9 points and 6.0 rebounds per game) then upped the ante in the postseason (13.5 and 9.0).
He's a supremely talented defender and rebounder, but his offensive output has been just as impressive. Shooting was supposed to be a weakness, but you couldn't tell by his career slash line of .494/.375/.804.
He knows his limitations on the hardwood and never tries to be something that he's not. Of course, those limitations are decreasing by the day. As Leonard's college coach Steve Fisher told Jeff McDonald of the San Antonio Express-News, Leonard is a "gym rat's gym rat."
His ceiling is raised after each rigorous workout. It's incredible to imagine what the results of this summer of sweat will be.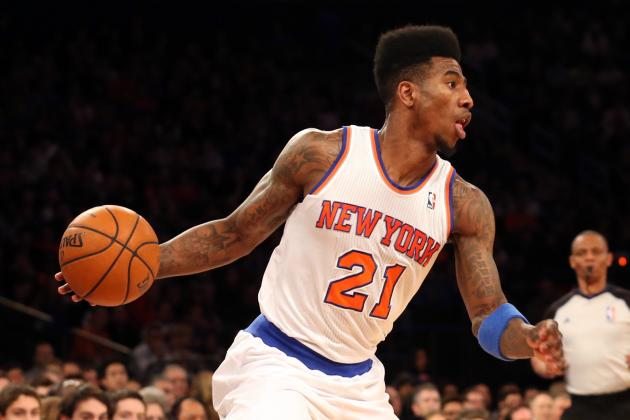 Anthony Gruppuso-USA TODAY Sport

As Iman Shumpert puts the torn ACL he suffered late in the 2011-12 season further behind him, he'll shorten the gap between himself and the game's brightest stars.
He might have rushed his recovery last season—he made his debut on Jan. 17—and his body needed time to catch up. He looked like he was running underwater early on, but by playoff time he was cleared for liftoff.
With his athleticism back in full form and the three-point stroke he added last season (40.2 percent), he could be the secondary scorer Carmelo Anthony feels the New York Knicks will need to contend for a title.
He may not have as many offensive tricks as J.R. Smith, but he shouldn't have Smith's ebb and flow either. He fights for efficient looks at the basket—nearly 72 percent of his field-goal attempts in 2012-13 came either at the rim or beyond the arc. He's also a willing passer when the scoring chances just aren't there (career 2.3 assists in 26.0 minutes per game).
If his offensive game catches up to his already suffocating defensive effort, the sky's the limit for New York's flat-topped assassin.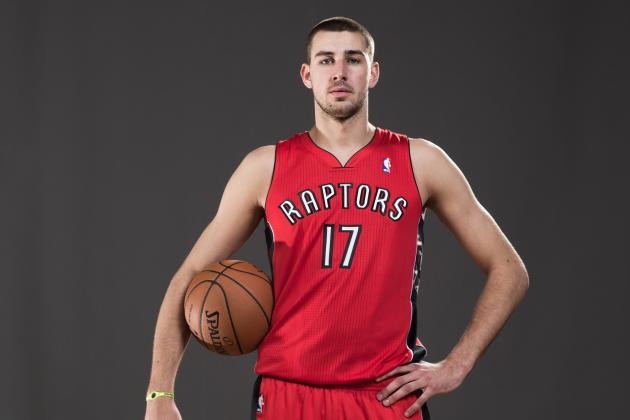 Nick Laham/Getty Images

Jonas Valanciunas made his highly anticipated debut last season for the Toronto Raptors and brought with him an NBA-ready arsenal of effective post moves.
The 21-year-old's oozing potential starts with his ability to blend basketball's old and new. He can punish defenders with a traditional back-to-the-basket game and has the athleticism and mobility of the league's new-age big men.
His stock was already skyrocketing before he earned MVP honors at the Las Vegas Summer League with 18.8 points (on 56.1 percent shooting) and 10.0 rebounds per game. When he wasn't physically overwhelming opponents last season, he flashed a deft shooting form from mid-range (45.4 percent from 3-16 feet away from the basket).
Raptors coach Dwane Casey hasn't overlooked his star center's well-rounded game. Casey told the Toronto Sun's Ryan Wolstat that Valanciunas is "going to get his portion of the offense run through him, around him, not only just to score out of the low post, but to quarterback."
It's a tall order for any 21-year-old to take on, but it's nothing that this 6'11", 231-pound bruiser can't accomplish.
Size still matters in today's game. But combining that size with strength, athleticism and a soft shooting touch is how All-Stars are born.