New York Jets' Most Intriguing Preseason Stats so Far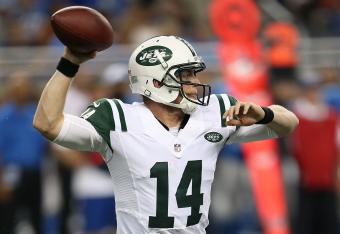 Greg McElroy produced 10 of the Jets' 17 points against Detroit.
Leon Halip/Getty Images
Even after one preseason game, the New York Jets' stats have raised intriguing prospects for the team. There are hiccups to be sure, but there is also cause for optimism.
It all depends on the perspective you apply to the numbers. Play with a box score or play-by-play log long enough and you're bound to find new interpretations of old facts.
You've probably heard about issues with penalties, turnovers and the balance between runs and passes. I've heard about them too. They're part of this piece.
The difference is that I hope to minimize repeating what you've already heard a thousand times. Instead, I'll attempt to play with the Detroit game's statistics and paint them in a fresh perspective.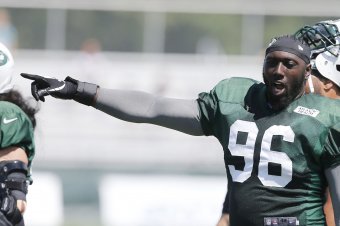 The Star-Ledger-USA TODAY Sports
Intriguing Stat No. 8: Sacks
Both the Jets and the Lions recorded two sacks. The Lions lost more yards to sacks than the Jets lost. However, the interesting part is the sacks' relative consequences. The Lions' third-quarter sack of Greg McElroy resulted in his fumble. That turnover resulted in a field goal.
The Jets' two sacks stalled Detroit drives. However, they did not affect the scoreboard. The best result the Jets got from sacks was a first down at their own 35-yard line. That didn't result from a turnover. Detroit had to punt.
The interesting thing to watch moving forward is if the Jets develop the ability to rise to the occasion defensively.
Getting sacks is a good thing. Getting sacks at game-changing moments is the sign of a big-play defense.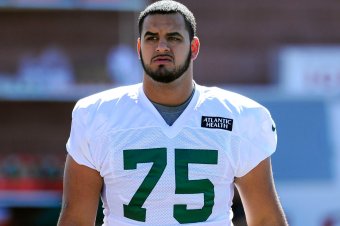 Rich Barnes-USA TODAY Sports
Intriguing Stat No. 7: Penalties
The worst thing about the Jets' penalties was that they didn't respect the depth chart. Most of Detroit's penalties occurred in the latter parts of the game, when the first-string and second-string players were wearing baseball caps. The Jets were not so fortunate.
Antwan Barnes, a vital cog in the Jets' pass rush plans, drew two penalties; one for a neutral zone infraction, the other for offsides. Both starting guards drew flags. In fact, a holding call on Willie Colon ejected the Jets from the red zone during their first touchdown drive.
Colon's and Peterman's penalty issues made me wish for a healthier Brian Winters. It would have been interesting to see if he could play more cleanly. The ability to avoid penalties might have won him a starting job. Without Winters to compete, Peterman and Colon will most likely start at guard even if they continue their preseason penalty woes.
Then there's the plight of Oday Aboushi. The Jets' fifth-round pick is not a projected starter. After leading the Jets in penalties against Detroit, his very presence on the team may be at risk
Aboushi drew the following flags against Detroit: false start, illegal use of hands and holding. Practically speaking, if he doesn't clean up his act in the Jacksonville game, he might not get another game opportunity before the first cut-down date of August 27.
That's because the third preseason game is usually the dress rehearsal for the regular-season opener. Rookies with penalty issues don't figure to see much playing time.
It's not fair, but it may be Aboushi's fate.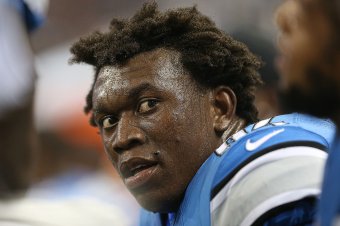 Leon Halip/Getty Images
Intriguing Stat No. 6: Points from Turnovers
Mark Sanchez's interception and Greg McElroy's fumble resulted in 10 Detroit points. That was one point more than the Lions' margin of victory.
However, I'm not going to harp on quarterback play here.
Instead, I want to point out the Jets' failure to generate points from turnovers themselves. In fact, the Lions did not have any turnovers. The closest they came was a fumble by Rodney Austin at the Jets' 38-yard line. It cost the Lions three yards as QB Kellen Moore recovered on the Jets' 41-yard line. The Lions advanced eight more yards on that drive and kicked their final field goal.
Rex Ryan is supposedly building a more aggressive defense reminiscent of 2009's league-leading unit. To regain that stature, the defense must do a better job at forcing turnovers that provide short fields for the offense.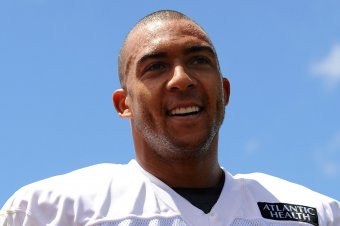 Rich Barnes-USA TODAY Sports
Intriguing Stat No. 5: Plays over 20 Yards
The good news in the Detroit game was that the Jets could stretch the field vertically. The bad news was that they let Detroit stretch the field against them.
Each Jets scoring drive included at least one play that gained 20 yards or more.
Sanchez's touchdown drive included three such plays totaling 74 yards. McElroy's touchdown drive included two such plays for 44 yards. The final field-goal drive included a 23-yard play.
The best thing about these plays is that they didn't always rely on the quarterback's arm. For example, Sanchez's first such play was a catch-and-run toss to Kellen Winslow Jr. On the other hand, his 26-yard touchdown pass hit Jeff Cumberland deep in the Lions' secondary, exploiting a blown coverage.
That was the good news. The bad news: The Jets' defense showed some big-play vulnerability.
It started on the Lions' first field-goal drive, when Matthew Stafford hit Calvin Johnson for two plays totaling 50 yards.
Granted, the Jets are not the only defense Stafford and Johnson have victimized. Plus, the ultimate result wasn't a touchdown.
However, the Lions' other two scoring drives, led by different quarterbacks, each featured one such play. Shaun Hill's 27-yard pass to Matt Willis during the Lions' touchdown drive gave them a first down at the Jets' 23-yard line. During their final field-goal drive, Kellen Moore's 28-yard pass to Kris Durham advanced the Lions to a first down near midfield.
In other words, it's great that the Jets can stretch the field vertically. The less frequently opponents return the favor, the better.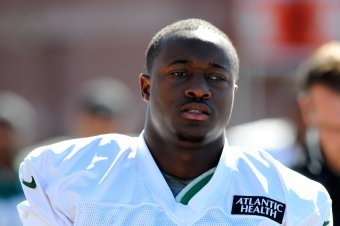 Rich Barnes-USA TODAY Sports
Intriguing Stat No. 4: Rushing
The Jets ran 16 times against Detroit and gained 37 yards. That's an average of 2.3 yards per carry. The low number of carries and poor yards-per-carry average may be causes for concern.
However, these numbers reveal other things about the place that running the football might have in the Jets' 2013 offensive scheme.
Of the Jets' 37 rushing yards, 30 came on four plays: Bilal Powell's 11-yard run in the first half, John Griffin's nine-yard run in the third quarter and five-yard runs in the third quarter by Chad Spann and Mossis Madu.
Except for Griffin's run, these runs occurred during Jets scoring drives. Powell's run followed a 24-yard pass to Kellen Winslow during Sanchez's touchdown drive. Mossis Madu's run followed his nine-yard reception during McElroy's touchdown drive.
Spann's run was the fourth play of a field-goal drive in which the Jets had already gained 41 yards through passes of 18 and 23 yards.
Even Griffin's run followed a pass. However, the pass only gained five yards.
In other words, when the Jets ran well, they had first stretched the field through the pass. Will this be the model for 2013? Maybe, but Chris Ivory's return to the lineup may affect how the Jets use the running game as well.
Defensively, the Jets only allowed the Lions an average of 3.0 yards per carry. That's encouraging news for a defense that allowed 4.3 yards per carry in 2012.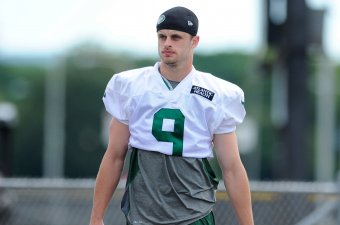 Rich Barnes-USA TODAY Sports
Intriguing Stat No. 3: Red-Zone Efficiency
In his past, converting red-zone opportunities into touchdowns has been the Achilles' heel of Marty Mornhinweg's offense. That the Jets converted both red-zone opportunities into touchdowns against Detroit was encouraging.
Those conversions, however, occurred from the outer half of the zone. In fact, the first touchdown pass came from the 26-yard line because of a holding penalty. The second conversion was an 11-yard pass.
Mornhinweg has yet to face a 1st-and-goal situation as the Jets' offensive coordinator. Hopefully, he's as good at pounding the ball across the goal line on the ground as he is in the air.
Defensively, the Jets surrendered a touchdown and field goal when Detroit was in the red zone. That's not the cause for celebration one might think.
The Lions' second red-zone opportunity came when they had a first down at the Jets' 17-yard line with no timeouts and less than a minute to go before halftime. The need to conserve time limited Detroit's play calls to three pass attempts to the end zone. That left them enough time to attempt a field goal, which made the defense's job easier.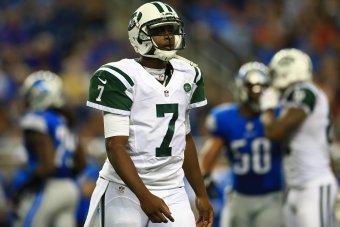 Andrew Weber-USA TODAY Sports
Intriguing Stat No. 2: Quarterback Turnovers
Both Mark Sanchez and Greg McElroy committed turnovers that led to Detroit scores. Yet McElroy doesn't get anywhere near the criticism Sanchez receives. Granted, McElroy is not competing for the starting quarterback job.
However, there may be another reason.
McElroy led drives that produced 10 points. His turnover led to a Detroit field goal. Sanchez led a drive that produced seven points. His turnover scored seven for Detroit.
In other words, the net result of Sanchez's pick-six and subsequent touchdown drive was a wash. McElroy countered Detroit's field-goal drive from his turnover with a field-goal drive of his own. He led a touchdown drive as well. Give him a positive seven points.
Turnovers happen. Even Tom Brady has given up a pick-six to a defensive lineman, Buffalo's Sam Adams. Brady's salvation is the victories, points and yardage he's produced.
Sanchez can't regain the hearts and minds of Jets fans by merely eliminating turnovers. He must produce enough victories, points and yardage to relegate turnovers to the status of collateral damage. Had he produced a second touchdown drive against Detroit, for example, his opening pick-six would have been more forgivable.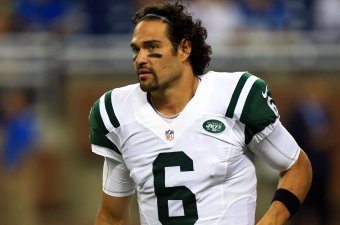 Andrew Weber-USA TODAY Sports
Intriguing Stat No. 1: Mark Sanchez's Passing Yardage
The furor over Sanchez's pick-six against Detroit obscured that his 125 passing yards in the first quarter project to a 500-yard game. I hope that's a sign of good things to come.
That's what has intrigued me about the Jets after one preseason game. I wonder how different this would be had I waited another week. Even more, I wonder what stats intrigued you the most and why.
Plus, if you're reading this after the Jacksonville game, have the positive trends continued? Have the negative trends reversed?
SOURCES
Follow Philip Schawillie on Twitter: @digitaltechguid
This article is
What is the duplicate article?
Why is this article offensive?
Where is this article plagiarized from?
Why is this article poorly edited?

New York Jets: Like this team?