5 Biggest Takeaways from Baltimore Ravens' Preseason Opener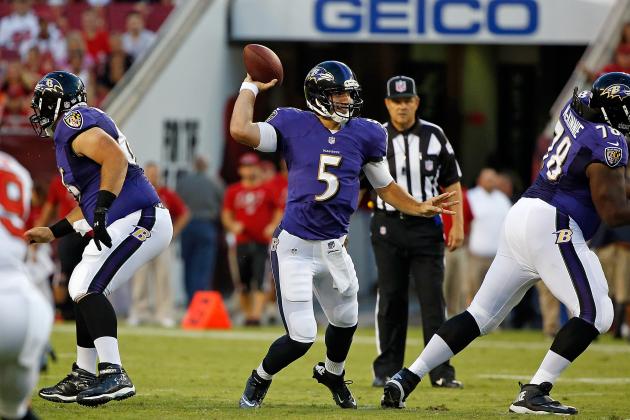 J. Meric/Getty Images

The Baltimore Ravens opened up the preseason with a 44-16 victory over the Tampa Bay Buccaneers. For the most part, there were many positive takeaways for the defending Super Bowl Champions. Joe Flacco looked like himself after being named Super Bowl MVP and signing a mega-contract. Meanwhile the first team defense looked bigger, faster and stronger compared to a year ago.
However, with the good comes the bad. The Ravens' wide receivers looked young and inexperienced, with the exception of Torrey Smith. And while the Ravens were able to avoid any serious injuries, WR Deonte Thompson and RB Bernard Pierce were both banged up.
The Ravens will look to build off last week's win, as the Atlanta Falcons come to M&T Bank Stadium Thursday night. But first, lets take a look back at the five biggest takeaways from the Ravens' preseason opener.
Begin Slideshow

»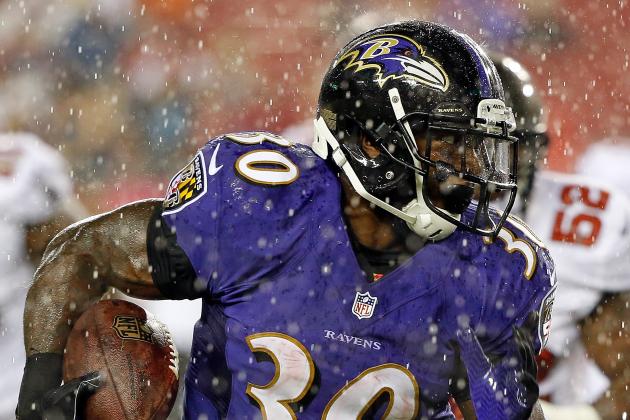 J. Meric/Getty Images

The Ravens were able to walk out of Tampa Bay with no serious injuries. As with every NFL team in the preseason, that is a plus. However, RB Bernard Pierce suffered a sprained knee on a 20-yard touchdown run during the second quarter. The MRI showed no structural damage and Pierce returned to practice Monday and should play against the Falcons Thursday.
Another, relatively more substantial injury, happened to WR Deonte Thompson. Thompson injured his lower left leg and is being held out of the Falcons game. He is expected to be fine by next week, but since this is the preseason, the Ravens are being extra cautious. Both Thompson and Pierce are primed for breakout seasons, and the Ravens will be careful moving forward so they are both 100 percent come Week 1.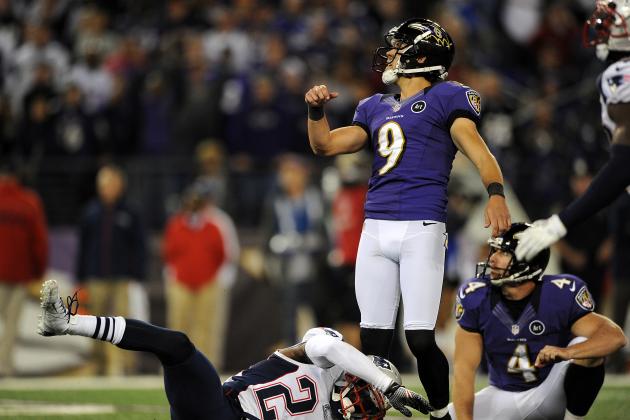 Patrick Smith/Getty Images

The Ravens special teams were responsible for more than half the team's points against the Bucs. Second-year kicker Justin Tucker connected from 43, 29 and 57 yards, hitting on all three of his attempts. He also did not allow a single kick return, booting every kickoff out of the end zone.
WR LaQuan Williams recovered a muffed punt that led to Pierce's touchdown run, and he also recovered a blocked punt in the end zone for a touchdown. Williams has become a fixture on the Ravens special teams, while also competing for the third wide receiver spot. The Ravens have one of the best special teams in the NFL and, if they can generate big plays consistently, watch out.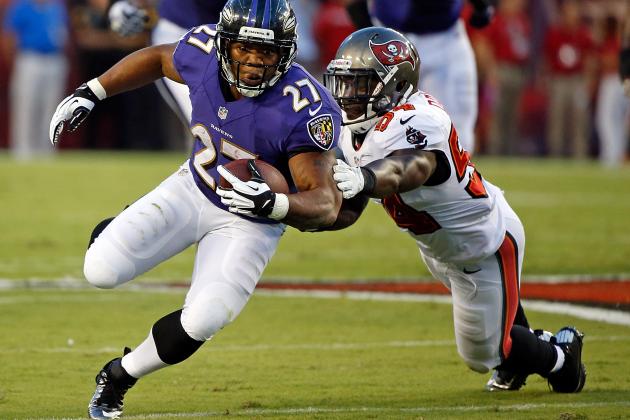 J. Meric/Getty Images

Ray Rice only had three rushes in the first quarter Thursday, but there is little doubt that he is the lifeblood of the Ravens offense. Rice is arguably the most versatile RB in the NFL, and he is always a viable option for Flacco out of the backfield. With the emergence of Pierce, Ravens offensive coordinator Jim Caldwell has implemented packages where both players are on the field together. During training camp, Rice has lined up as a slot receiver.
Rice is as established as it comes in the Ravens locker room, so don't expect to see too much of him during the preseason. He will be responsible for nearly 50 percent of the Ravens offense this year (fantasy owners take note) and the Ravens want him as fresh as possible come the regular season.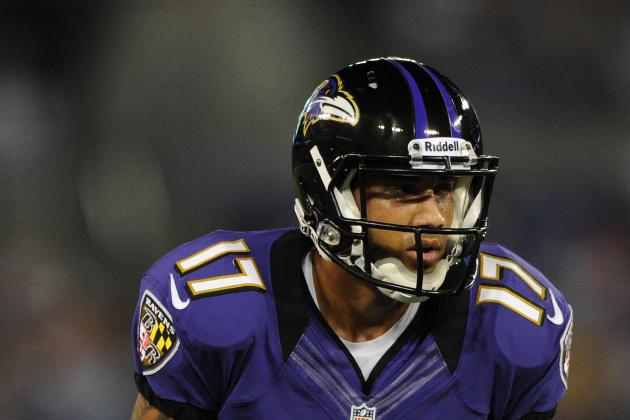 Patrick Smith/Getty Images

After trading Anquan Boldin to the San Francisco 49ers this offseason, the Ravens are relying on one of the youngest crop of wide receivers in the NFL. WR's Tandon Doss and Deonte Thompson are both fighting for the third receiver spot, however both were disappointments Thursday night. Doss did not record a single catch, and Thompson caught one pass for five yards, before injuring his leg. Both receivers need to gain the trust of Flacco if they want to play this season.
I am not the only one who was unimpressed with the wide receiver performance Thursday. On Saturday, General Manager Ozzie Newsome signed veteran slot receiver Brandon Stokley to a one-year deal, and the next day signed veteran TE Dallas Clark. Both players played under Jim Caldwell in Indianapolis, and they are looking to provide veteran leadership, and relief, to this young group of wide receivers.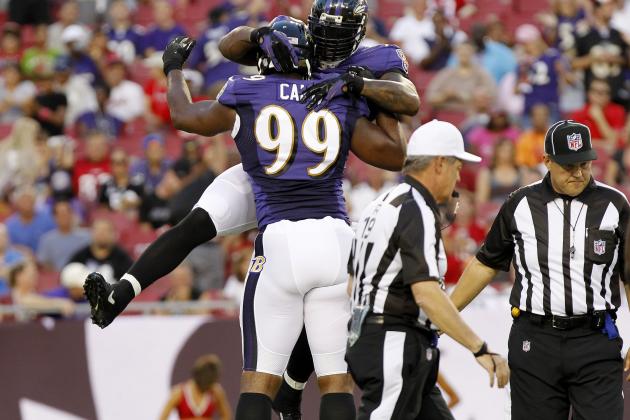 Kim Klement-USA TODAY Sports

The defensive front seven put on a show against the Bucs. The Ravens completely revamped their starting rotation from a year ago. The acquisitions of Elvis Dumervil, Chris Canty, and Daryl Smith thus far have proved to be yet another example of Newsome's excellence. Smith led the team with five tackles, and afterwards was praised by Head Coach John Harbaugh. Canty also recorded a sack on the first series of the game.
The Ravens have as much depth as any team upfront. Pro Bowlers Terrell Suggs and Haloti Ngata are slated to start along with Courtney Upshaw, Arthur Jones, and Canty. This leaves Dumervil primed for a big year as a pass rush specialist. At linebacker, Smith has been a pleasant surprise as Jameel McClain is still recovering from spinal cord surgery, and while rookie Arthur Brown is still getting up to speed.
Don't be surprised come January when the Ravens' defense finishes top-5 in almost every category.