The Auburn Tigers are bound for a long season no matter if it's Nick Marshall or Jeremy Johnson running the offense in the upcoming year.
It was a nightmare of a season for Auburn in 2012, as the team only won three games. The Tigers defeated Louisiana-Monroe in overtime and New Mexico State and Alabama A&M in blowouts. That was it for the program, as it finished the season without an SEC victory and with its fewest wins since 1998 (3-8).
Auburn only averaged 18.7 points per game on offense, throwing for an average of 156.6 yards per game and running for an average for 148.4 yards per game. The Tigers weren't in the top 100 in the FBS in any of those three categories.
They did allow 28.3 points per game, though, which was the 66th most.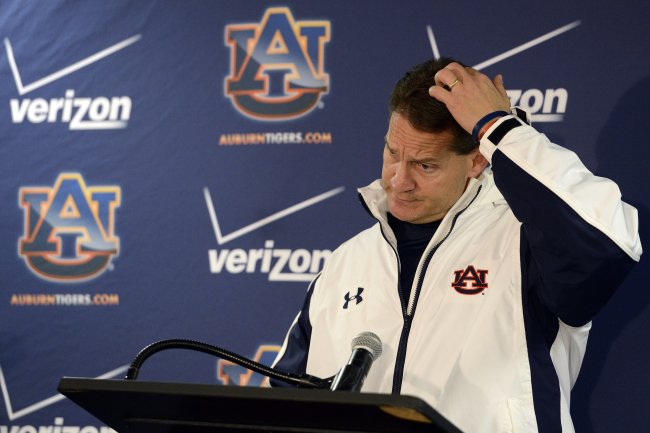 John David Mercer-USA TODAY Sports
But the good part about sports is that you start fresh each year. The Tigers get a clean slate for 2013, and there will be a new quarterback under center. Kiehl Frazier, Jonathan Wallace and Clint Moseley each saw time in 2012, but none of them had much success—none throwing for more than four touchdowns.
Bleacher Report's Barrett Sallee recently broke down the quarterback battle for the upcoming season and came to the conclusion that Marshall should be the one to take the field with the starters in Week 1, when Auburn hosts Washington State. He thinks Johnson could be the starter in 2014 or 2015.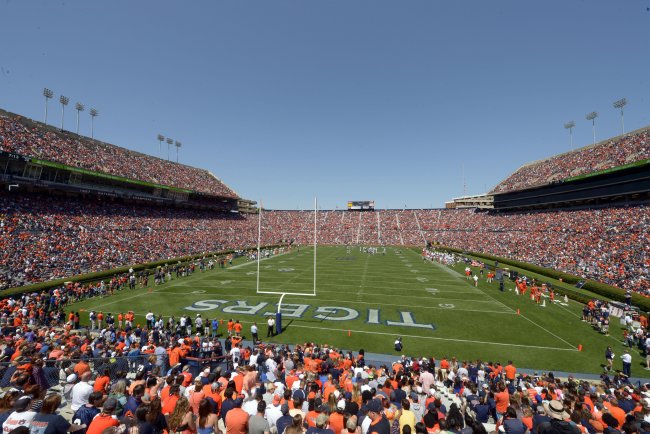 John David Mercer-USA TODAY Spor
It will be hard for Auburn to be worse than it was a year ago in 2013, but the immediate future still doesn't look so bright. The Tigers currently have 150-1 odds of winning the BCS National Championship this season, which are the 29th best in college football, as of 8:15 p.m. ET on August 13, according to Bovada.
Those odds aren't horrible, but the Tigers haven't taken the field yet. Once they do, those odds will likely drop considerably. The schedule for Auburn is just impossible to come out alive from. The program will take on so many top teams in 2013 that it doesn't have a shot at the postseason this year.
Here's a look at Auburn's schedule for this season:
Auburn Tigers 2013 Schedule

| | | |
| --- | --- | --- |
| Date | Opponent | Time (ET) |
| Saturday, August 31 | vs. Washington State | 7 p.m. |
| Saturday, September 7 | vs. Arkansas State | 7:30 p.m. |
| Saturday, September 14 | vs. Mississippi State | 7 p.m. |
| Saturday, September 21 | at LSU | TBD |
| Saturday, October 5 | vs. Ole Miss | TBD |
| Saturday, October 12 | vs. Western Carolina | TBD |
| Saturday, October 19 | at Texas A&M | TBD |
| Saturday, October 26 | vs. Florida Atlantic | TBD |
| Saturday, November 2 | at Arkansas | TBD |
| Saturday, November 9 | at Tennessee | TBD |
| Saturday, November 16 | vs. Georgia | TBD |
| Saturday, November 30 | vs. Alabama | TBD |
Schedule courtesy of ESPN
The latest USA Today college football coaches poll gives us a glimpse of some of the tougher tests for Auburn in the upcoming season. Based on those rankings, the Tigers will take on three of the top six teams—including Texas A&M on the road—LSU on the road and three teams that received votes in the poll.
How many games with the Tigers win this season?
Auburn does have a few potential easy wins on its schedule, but for the most part, the Tigers have one of the hardest tasks of any team in the country. The Tigers should use this season as a stepping stone for the future and can't have very high hopes. The best-case scenario is that the program wins six games in 2013.
Six wins may even be a stretch for the Tigers. Most of the games will either be blowouts in their opponents' favors or close games that could go either way. The team is bound to top its win total from a year ago, but not by a ton. Neither Marshall nor Johnson will be able to get the Tigers to a bowl game this season.
Auburn should be focusing on developing its young players and preparing for the 2014 season, in which the program may have a chance at postseason contention.
The Tigers were terrible in 2012 and are bound to struggle again in 2013. The starting quarterback won't make much of a difference in the team's year-end win total.
All statistics in this article were obtained via ESPN unless otherwise noted.