1 Recruit Each Top 25 College Football Team Must Land This Fall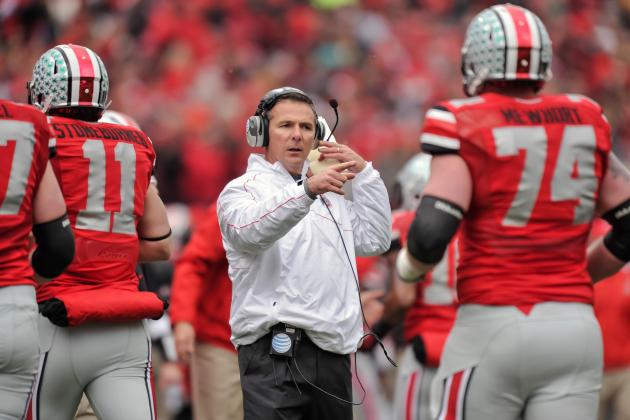 Jamie Sabau/Getty Images

Each Top 25 program in the recently released USA Today Coaches Poll has at least one recruit that it must land this fall.
Whether the recruit is a local prospect, has a close tie to the program or fills a desperate position of need, each of these teams has one prospect circled and highlighted on its recruiting board.
OF THOSE TEAMS, the defending national champions will be looking to win another title, but a left tackle prospect will also be a priority. A Big Ten program has high hopes to land a defensive end, and a Pac-12 program is rolling out the red carpet for several local prospects.
Player evaluations are based on a review of tape at Scout.com, Rivals, 247Sports and ESPNU.

Begin Slideshow

»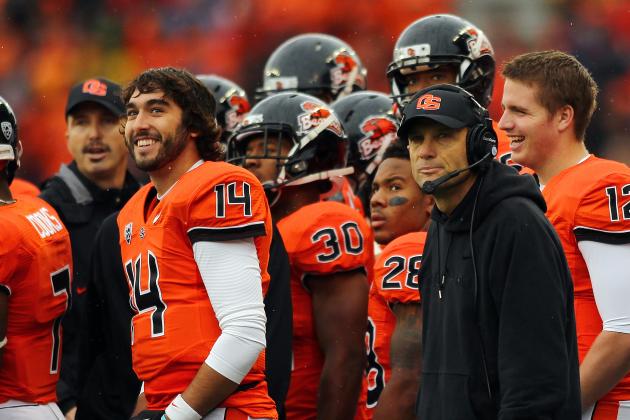 Jonathan Ferrey/Getty Images

Must-Get Recruit: Jalen Brown, WR
Brown is a 6'2", 187-pound receiver with smooth athleticism and great ball skills. He has deceptive quickness and can run away from a defender or two, but Brown beats defenses by running solid routes and catching everything thrown his way.
The Arizona native is the Beavers' top recruiting target, and he does have interest in playing in Corvallis, per 247Sports.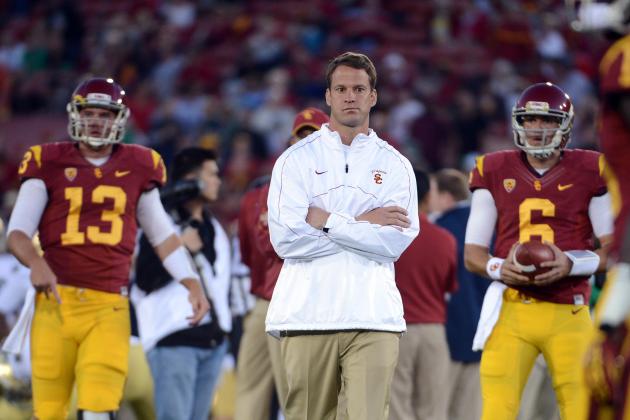 Harry How/Getty Images

Must-Get Recruit: Adoree' Jackson, CB
Although he could play receiver in college, Jackson is one of the nation's best cornerbacks. He needs to refine his technique, but the 5'9", 182-pounder is a world-class athlete.
Jackson has explosive speed, rare recovery quickness and has excellent strength for a smaller player. He is a fierce competitor who could be an Olympic long jumper in a few years.
The Trojans need better play out of their cornerbacks, and with Jackson being a local prospect at a position of need, he gets the nod.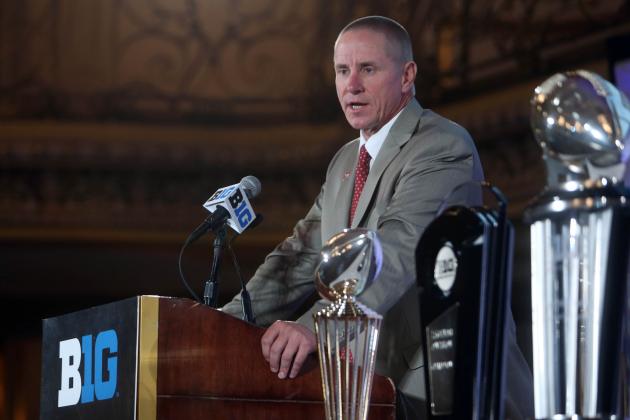 Jerry Lai-USA TODAY Sports

Must-Get Recruit: Jalen Brown, WR
Oregon State will have competition for Brown, as he is also being recruited by Wisconsin, says 247Sports. The Badgers are not known for throwing the football, but signing Brown would change things at Camp Randall.
Brown would have a chance to play early for Wisconsin, as his 6'2", 187-pound frame and dependable hands will be welcomed by the Badgers' offensive coaching staff.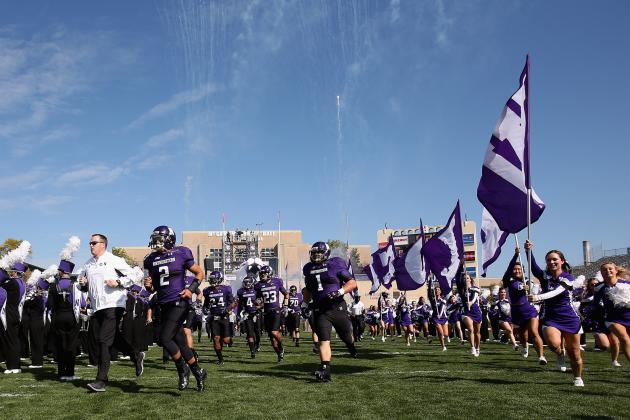 Jonathan Daniel/Getty Images

Must-Get Recruit: Parrker Westphal, CB
Westphal, who is 6'0" and 186 pounds, is from Illinois and is the Wildcats' top recruiting target. He is a cornerback who plays with great awareness, instincts and field vision.
Westphal excels in zone coverage, which allows him to sit back, read a route and use his solid transition quickness to jump passing lanes. He is the kind of recruit head coach Pat Fitzgerald must start landing more consistently if Northwestern wants to move up the Big Ten pecking order.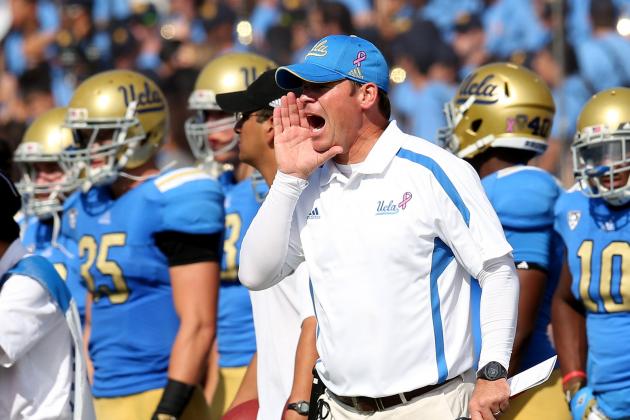 Stephen Dunn/Getty Images

Must-Get Recruit: Bryce Dixon, TE
The Bruins are in the mix for several elite prospects, but Dixon is one of their more realistic possibilities. It is hard to imagine the tight end leaving Southern California, so UCLA's main competition for Dixon is its heated rival USC.
Dixon, who is 6'4" and 220 pounds, has excellent speed. He can blow by linebackers, shoot away from them at junction points in his routes and has outstanding hands.
He would be a great weapon in the Bruins' spread offense.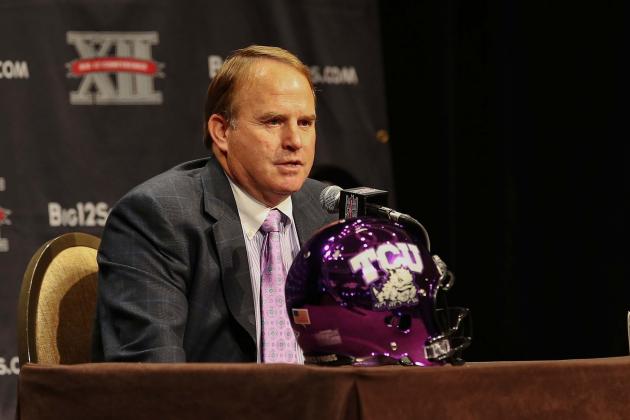 Kevin Jairaj-USA TODAY Sports

Must-Get Recruit: Braden Smith, OL
The Horned Frogs absolutely must seal the deal with Smith, as his sister throws the shot put for TCU's track and field team, per ESPNU (subscription required).
TCU plays in the Big 12 now, so it must begin to sign better talent than it has in the past. Smith, who is 6'6" and 290 pounds, is one of the nation's best offensive linemen.
He has great strength, flashes good quickness at the snap and plays powerfully at the point of attack. Smith could make an instant impact for the Horned Frogs.
Troy Babbitt-USA TODAY Sports

Must-Get Recruit: Kalen Ballage, ATH
The Broncos are not going to sign a class full of superstar prospects, nor will they receive much attention in recruiting coverage. However, they will sign another group of players who will help them contend for another prominent bowl berth.
Ballage, who is 6'2" and 215 pounds, is an interesting prospect for Boise State, as the Colorado native can play running back, linebacker, receiver, H-Back and safety. He has great straight-line speed, and his versatility would be a great asset for the Broncos.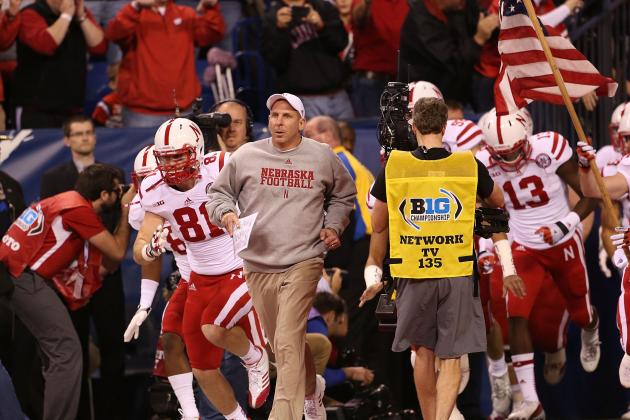 Leon Halip/Getty Images

Must-Get Recruit: Peyton Newell, DT
The Cornhuskers know how important it is to control the line of scrimmage on offense and defense, so that is why Newell is their top recruiting target.
Newell, who is 6'2" and 282 pounds, has a great motor in the trenches. He is a relentless player who has good strength, heavy hands and flashes good short-area quickness.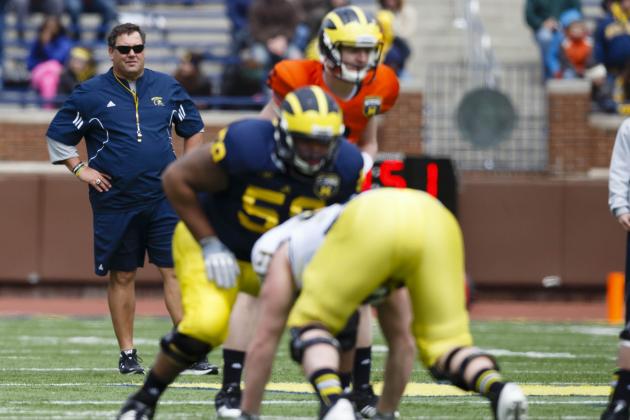 Rick Osentoski-USA TODAY Sports

Must-Get Recruit: Da'Shawn Hand, DE
With athlete Jabrill Peppers committed, Michigan's top target is Hand, a talented defensive end from Virginia. Hand will make his college decision on November 14th, according to Michael Clark of Scout.com.
The 6'4", 254-pounder displays solid quickness off the ball and is powerful at the point of attack. Hand uses his hands well, can be a violent player and has the power to set the edge versus running plays.
He can menace a pocket, pressure the passer and has a solid burst to finish plays. It would be a surprise if Hand did not end up in Ann Arbor.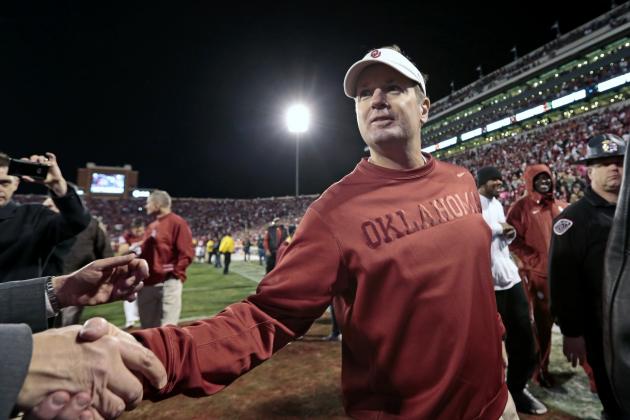 Brett Deering/Getty Images

Must-Get Recruit: Nathan Starks, RB
Starks is a 5'11", 200-pound running back who is dangerous in a straight line. He can challenge linebackers in alleys with strength, has the power to break tackles and shows good speed in the open field.
He is also capable of playing strong safety, as he has good instincts on defense. Starks could complement the offense in Norman as a running back, or play defense and be the next good Oklahoma strong safety/outside linebacker.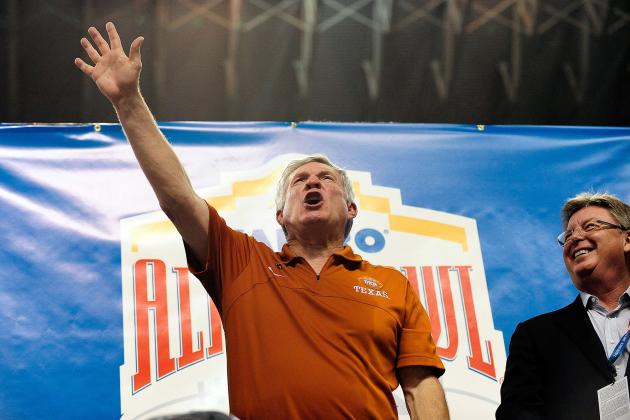 Stacy Revere/Getty Images

Must-Get Recruit: Jamal Adams, S
An excellent safety, Adams could be an All-Big 12 selection as a sophomore if he signs with Texas. He has outstanding speed, is explosive off the hashes and can play strong or free safety.
Adams, who is 6'0" and 199 pounds, is one of the best players in Texas. He can be an extra defender in the box on running downs, as well as patrol deep thirds and halves in coverage versus passing plays.
Texas has to figure out a way to land him.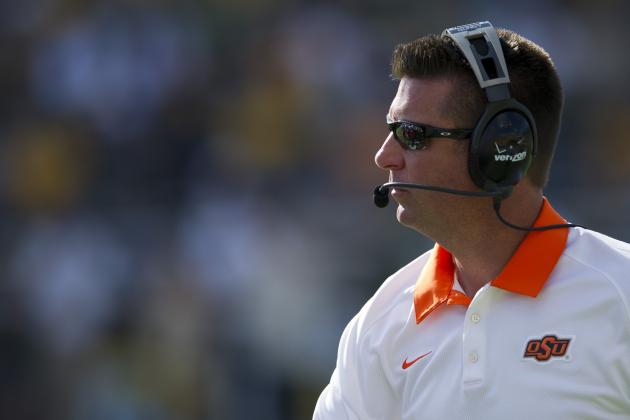 Cooper Neill/Getty Images

Must-Get Recruit: Cameron Sims, WR
Although Sims likely will sign with an SEC team, the Pokes must put the press on him, as he would give them a different dimension on offense.
Sims, who is 6'4" and 200 pounds, is a powerful receiver who would complement Oklahoma State's speed-based spread offense. Big 12 cornerbacks would have a tough time jamming him at the line of scrimmage. The Cowboys would get him the football often, and he would be a monster in the red zone.
It may be a long shot, but Oklahoma State would be wise to get all hands on deck to land Sims.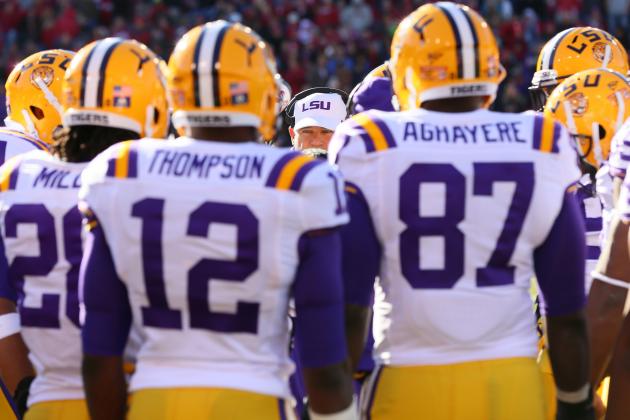 Nelson Chenault-USA TODAY Sports

Must-Get Recruit: Leonard Fournette, RB
This was perhaps the easiest decision on this list, as it is no secret how badly LSU wants Fournette. The Tigers did not sign a true running back prospect in 2013, so Fournette will receive immediate playing time in Baton Rouge.
At 6'1" and 226 pounds, Fournette is an elite prospect. The running back has great speed, explosiveness, power, instincts and also catches the ball like a receiver. He would be ready to be the lead back for LSU the minute he sets foot on campus.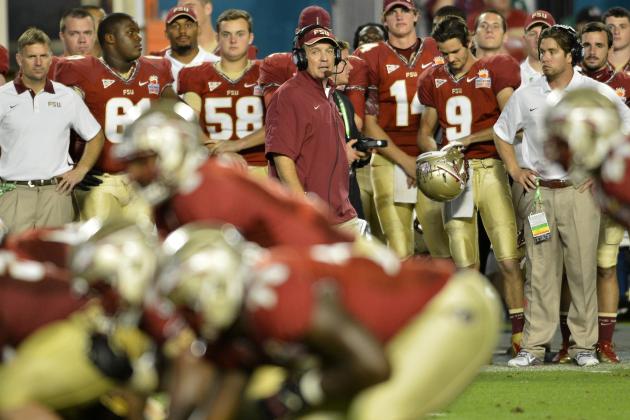 Ron Chenoy-USA TODAY Sports

Must-Get Recruit: Damian Prince, OT
Florida State has a deserved reputation for producing outstanding offensive tackles, as players such as Walter Jones, Alex Barron and Menelik Watson, among others, have blocked for the Seminoles.
The 'Noles must find another great tackle, and Prince has the potential to be that guy. He is 6'6" and 300 pounds and has outstanding athleticism, quickness and agility for a big man. Prince has left tackle talent. He would start early in his career for FSU.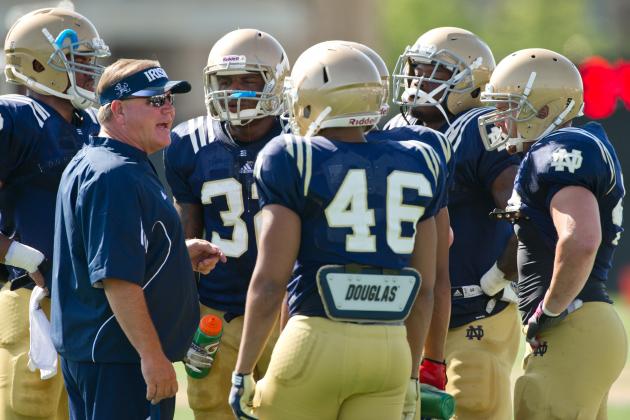 Matt Cashore-USA TODAY Sports

Must-Get Recruit: Thomas Holley, DT
Holley is still a bit raw, but he has a high ceiling. The Brooklyn native has explosive ability at the snap, as he flies off the ball and dominates at the point of attack.
Holley has great strength, can toss blockers aside and also shows the ability to anchor versus running plays. He can create a big push in the middle of the pocket, which forces quarterbacks off their launch points and creates more sacks for edge-rushers.
Holley would be a tremendous fit in Notre Dame's 3-4 defense.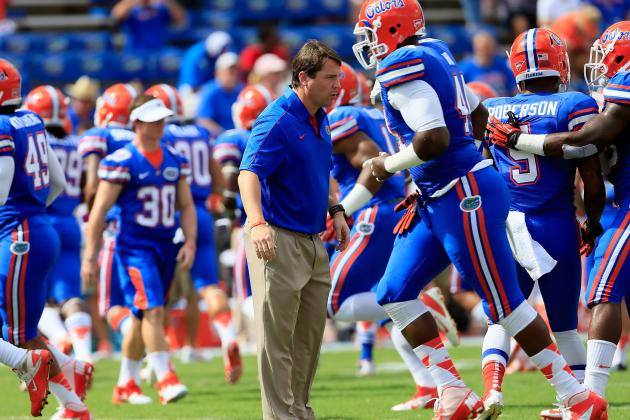 Sam Greenwood/Getty Images

Must-Get Recruit: Jalen Tabor, CB
Freshman cornerback Vernon Hargreaves III will be Florida's No. 1 cornerback as early as 2014, and teams will not test him as he establishes himself in the SEC.
So, Florida has to make sure the cornerback opposite Hargreaves is also a great talent. Tabor is a 6'1", 182-pound cornerback with long arms and outstanding ability in press coverage. He is also great in run support, has good instincts and can play safety.
A tandem of Hargreaves and Tabor would be the cornerstone of a great Florida defense.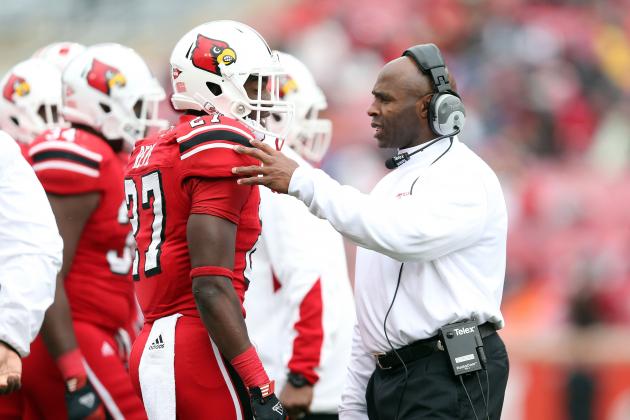 Andy Lyons/Getty Images

Must-Get Recruit: Matt Elam, DT
Elam is one of the largest prospects in recent memory, as he is 6'6" and 350 pounds. He is a rock in the trenches since it takes a double-team to move the huge defensive tackle off his spot.
He has brute strength, can clog holes and eats blockers for lunch. Elam is from Kentucky, which means he's an in-state prospect for the Cardinals. Head coach Charlie Strong must get the big man signed, sealed and delivered.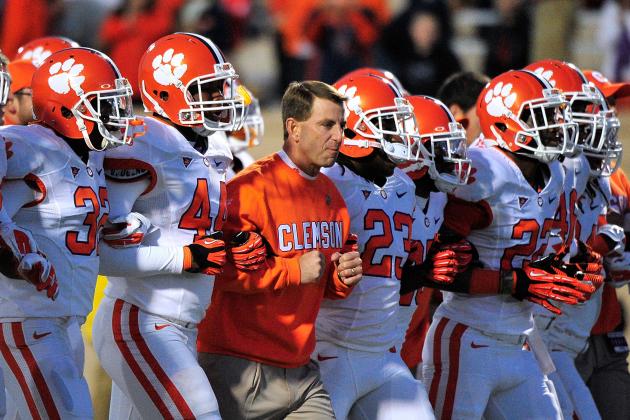 Grant Halverson/Getty Images

Must-Get Recruit: Trevion Thompson, WR
The Tigers have a commitment from quarterback Deshaun Watson, who will be the cornerstone of the program perhaps as early as 2014.
So, Clemson must make sure the young passer has weapons. Thompson signing with Clemson would be a step in the right direction, as the 6'2", 177-pound receiver is a sharp-cutting player with good ball skills.
Thompson has good speed, separates from cornerbacks with quickness and can make big plays. He is a recruit Clemson absolutely can't let slip away.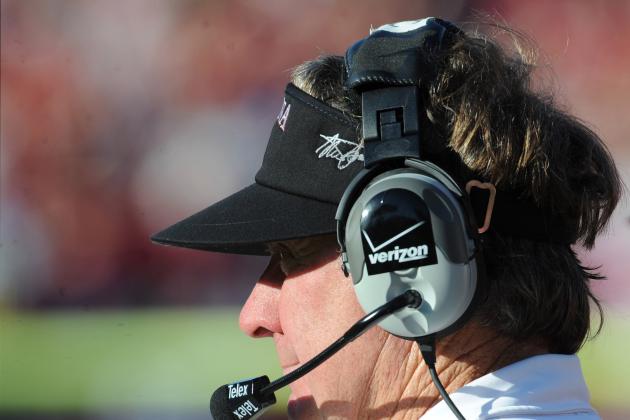 Al Messerschmidt/Getty Images

Must-Get Recruit: Donell Stanley, OG
The Gamecocks have become a team that relies on a strong running game under Steve Spurrier, who is the author of the Fun 'N' Gun passing offense.
To continue his role reversal, Spurrier must continue to stock great talent in the offensive line. Stanley is not a prospect a program signs just have on its depth chart, as the 6'4", 327-pounder is a road-grading guard who can clear holes.
He is also a Palmetto State native, which only makes him more of a must-get recruit for Spurrier.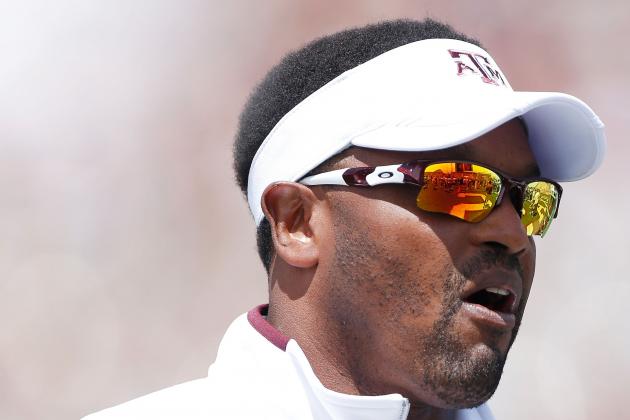 Scott Halleran/Getty Images

Must-Get Recruit: Myles Garrett, DE
The Aggies are building another great recruiting class and would love for Garrett to be a part of it. The Texas native, who is 6'4" and 240 pounds, has the body of a Greek god and plays with fantastic athleticism.
Garrett fires off the ball, can bend around the pocket and has an explosive burst to finish on the quarterback. He shows good strength, will challenge running plays to his side and doesn't back down at the point of attack.
He would be an excellent hybrid defensive end/outside linebacker for Texas A&M.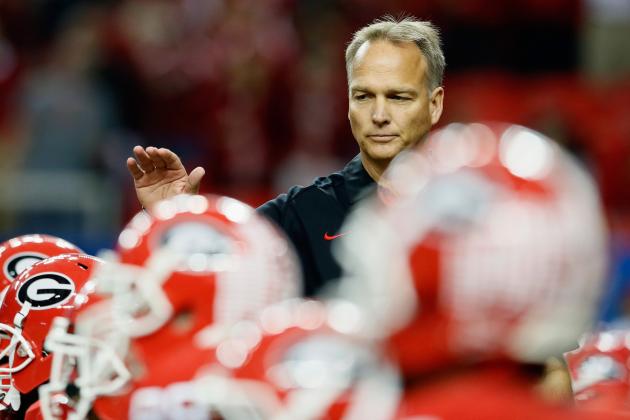 Kevin C. Cox/Getty Images

Must-Get Recruit: Elisha Shaw, DT
Shaw is a Peach State native who would be a seamless fit in Georgia's 3-4 defense. He is nearly 6'5", weighs 295 pounds and can play the 5-technique or nose tackle.
Shaw has overwhelming power at the point of attack, as he can stack a block with a forceful punch and walk an offensive lineman deep well past the line of scrimmage to make a play.
He has solid quickness at the snap, will explode in a short area while pursuing the football and can force a fumble with a big hit.
Georgia needs this dominant defensive tackle.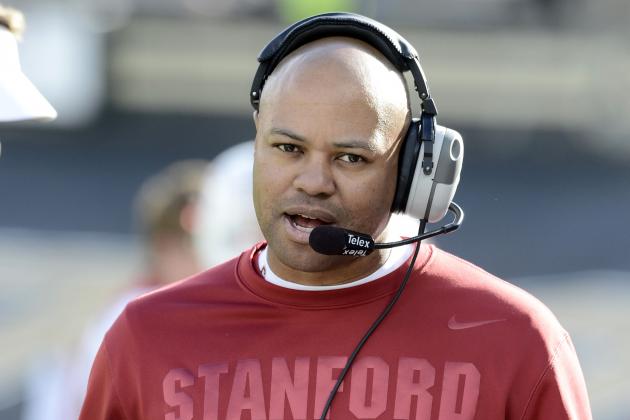 Ron Chenoy-USA TODAY Sports

Must-Get Recruit: Dalton Schultz, TE
When looking at Schultz on the hoof, one can mistake him for a big possession receiver, as he is 6'5" and 215 pounds. However, when watching him play, he is revealed to be an entirely different player.
Schultz is an outstanding in-line run-blocker, as he can latch on to a defensive end or linebacker, use strength to steer them away from the running back and sustain his block through the whistle.
He is also a weapon in the passing game, as Schultz displays solid speed, soft hands and the ability to catch in a crowd. He can be flexed out to the perimeter to run fade routes and be a nightmare for defenses in the red zone.
Stanford loves using tight ends in its offense, so Schultz must be a priority.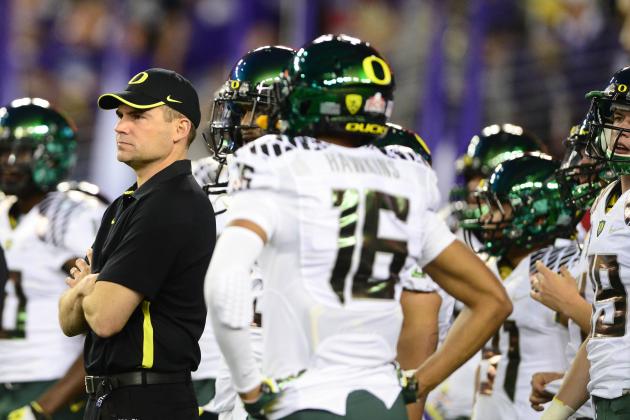 Mark J. Rebilas-USA TODAY Sports

Must-Get Recruit: Budda Baker, ATH
Oregon is a program known for its team speed, and although Chip Kelly is coaching the Philadelphia Eagles, that won't change much under new coach Mark Helfrich.
De'Anthony Thomas may bolt for the NFL after this season, so the Ducks must begin to make arrangements for having a replacement for the multi-purpose offensive player. Baker has similar size to Thomas, as the 2014 prospect is 5'9" and 174 pounds.
Baker is also exceptionally fast and sudden, explosive and elusive with the football. Oregon must land him, since has similar skills to Thomas.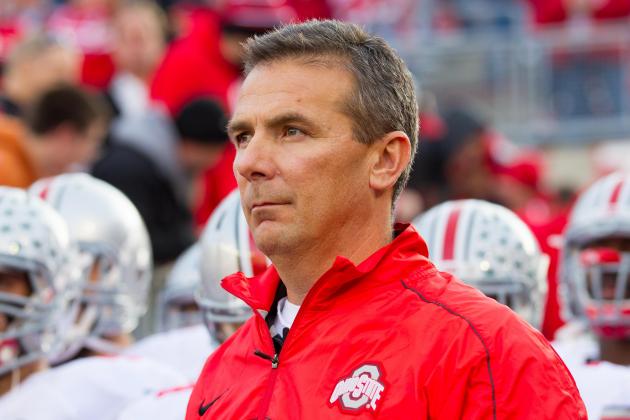 Jeff Hanisch-USA TODAY Sports

Must-Get Recruit: Raekwon McMillan, LB
The Buckeyes are adding more speed and athleticism to their roster, but can't sacrifice too much size as they are still members of the physical Big Ten conference.
That is why McMillan is a perfect fit for Ohio State, as the 6'2", 242-pound linebacker has great size but also has great speed. McMillan can shed blockers and make thumping tackles versus running plays.
He needs to develop his coverage ability, but he would be able to make an impact as a run defender immediately in Columbus.
Stacy Revere/Getty Images

Must-Get Recruit: Cameron Robinson, OT
It would be wise for Alabama to go after another offensive tackle or two in this recruiting cycle. With the Tide being the premier program in the country, they make a habit of pursuing the nation's premier prospects.
The premier offensive tackle in the 2014 class is Robinson, who is 6'5" and 330 pounds. He is a future stud left tackle who plays with great flexibility, agility, quickness and strength.
Robinson could be ready to replace Cyrus Kouandjio if the left tackle decides to enter the 2014 NFL draft.
The 2014 Bleacher Report College Football Recruiting Heat map is mobile-ready!
See if you can locate each must-get recruit for the Top 25 teams in the country.
Edwin Weathersby is the College Football Recruiting Analyst for Bleacher Report. He has worked in scouting/player personnel departments for three professional football teams, including the New York Giants and Cleveland Browns.