Daniel Geale vs. Darren Barker: Preview and Prediction for Title Fight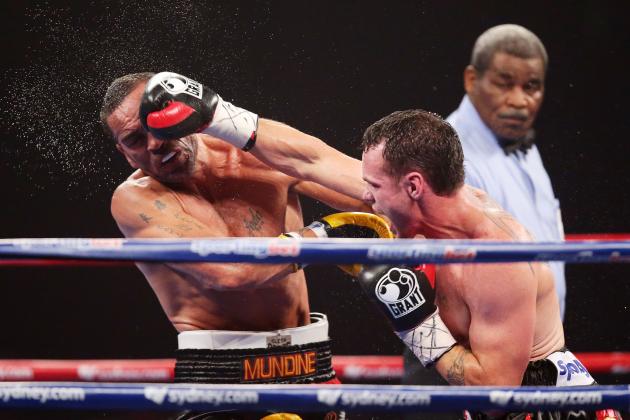 Matt King/Getty Images

This Saturday at the Revel Resort in Atlantic City, IBF middleweight champion Daniel Geale of Australia defends his belt against Englishman Darren Barker. This is a major bout at 160 pounds.
With longtime middleweight kingpin Sergio Martinez out for the rest of the year and beginning to show signs of age, the division is wide open and ready for a new boss to step up.
Both these fighters have classy amateur pedigrees and world-class experience in the pro game. Each man is in his prime and poised to move up to the next level with a big win in front of a North American audience.
Begin Slideshow

»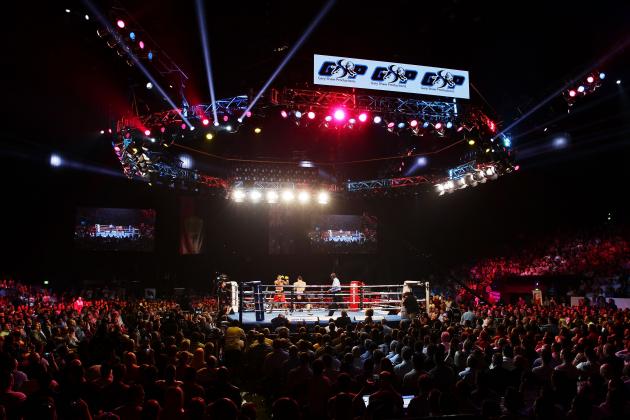 Matt King/Getty Images

| | | |
| --- | --- | --- |
| Per BoxRec.com | Daniel Geale | Darren Barker |
| Record: | 29-1, 15 KOs | 25-1, 16 KOs |
| Height: | 5'10" | 6'0.5" |
| Reach: | 71" | unlisted |
| Weight: | 160 lbs | 160 lbs |
| Age: | 32 | 31 |
| Stance: | Orthodox | Orthodox |
| Hometown: | Mt. Annan, Australia | London, England |
| Rounds: | 219 | 160 |
These two are separated by just over a year in age and have similar-looking records on paper, with Geale holding a slight edge in experience and overall quality of opposition.
But they've been knocking around the same scene for a long time. In their fight blogs, made available to the media by HBO, both men mentioned remembering the other from the Commonwealth Games and world championships during their amateur careers.
Both men rely more on outboxing opponents than on taking them out with the big punch.
Barker's reach is unlisted, but from watching the two fight, I am sure he has an advantage over Geale in that department.
Scott Heavey/Getty Images

Daniel Geale is the IBF middleweight champion, a belt he won off Sebastian Sylvester by split decision in May 2011. He added the WBA "super" world title in September 2012 when he beat Felix Sturm by split decision.
Anybody familiar with the sport knows that winning split decisions against German world champions in Germany is a tough row to hoe. That Geale has done it twice says a lot about him as a fighter.
Geale vacated the WBA belt rather than face WBA "regular" champ Gennady Golovkin in a unification fight. GGG is one of the most avoided fighters of the past few years, but Geale had good business reasons to opt out.
Instead of facing Golovkin, he went back home to Australia and avenged his only career loss by a comfortable margin over Anthony Mundine. He'll need to fight Golovkin at a later date if he truly wants to be the man at 160.
And he'll need to get by Darren Barker on Saturday, which will certainly be no easy night's work.
Barker has fought his way to nearly the top of the British domestic scene at middleweight, and the U.K. is a nation full of talented 160-pound boxers. Barker has already had one world title shot, coming up short against Sergio Martinez in October 2011.
Barker handled himself very well at times during that fight, though he was ultimately overmatched athletically and got knocked out in Round 11.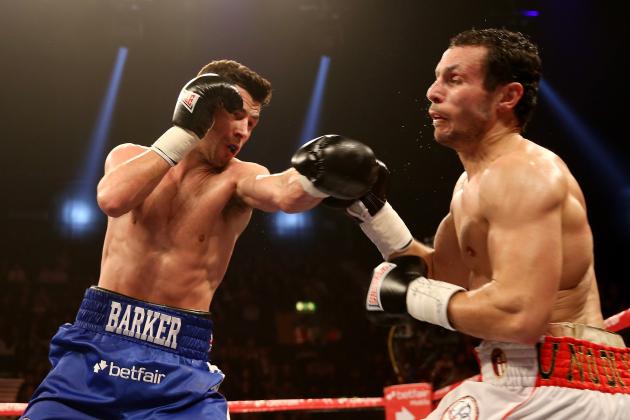 Scott Heavey/Getty Images

Daniel Geale is an energetic fighter with a high work rate, but he engages in an intelligent manner. He sets up his punches well, strings them together fluidly and has decent pop in his right hand.
Geale is a come-forward fighter, but his defense is solid. He does a very nice job of parrying the jab and countering off from it. He doesn't make dangerous mistakes in the boxing ring.
Geale has been a world champion for two years and has long since grown comfortable fighting big-time international fights.
Darren Barker has very solid boxing skills. He is a rangy fighter and gets good extension on his straight punches.
Barker has very good footwork and vision. He reacts well to his opponent's offense, either blocking or sliding out of harm's way. He is very dangerous when it comes to picking up openings for the counter.
Barker sniffed the big time in 2011 and came up short, but he's rebounded well since with two consecutive wins by stoppage. He should bring full mental focus to his second crack at a world title.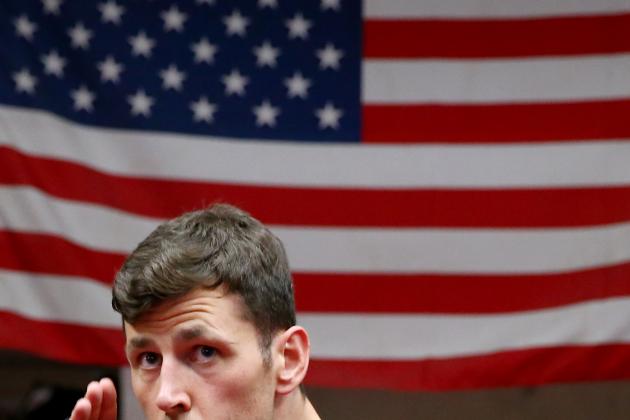 Elsa/Getty Images

Daniel Geale is a pretty solid fighter in most departments, but I have questions about his balance. He's susceptible to being driven backward when he is effectively countered.
In his loss to Mundine he was legitimately knocked down in Round 2, but the issue was balance as much as any shot thrown by Mundine. Mundine caught him back on his heels and sent him to the canvas on the seat of his pants.
Similarly, in his split-decision win over Sturm, the German had his best moments when driving Geale backward.
Darren Barker waits a little too much on his opponents to dictate the pace. Against a busy fighter like Geale, in a very close fight, he risks losing simply by getting outworked.
Barker doesn't always sit down on his punches as much as he needs to. He has a tendency to throw quick punches on the move, an effective scoring strategy for the amateur game but not particularly effective against a world-class professional fighter.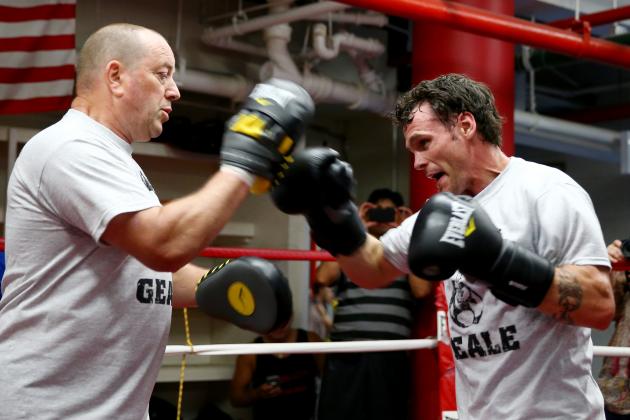 Elsa/Getty Images

To win this fight Daniel Geale needs to force the fight into the pocket and keep Barker in front of him at medium range. Barker has a long torso for a middleweight, and Geale should look to rough it up before shifting his attention upstairs.
Geale's got to avoid letting himself be driven backward out to the end of Barker's punches. Geale has decent head movement, and he should use it to slip inside on Barker's jab whenever he finds himself back at long range.
I think Barker is a more accurate counterpuncher at close range, so if the fight moves into the trenches, Geale should look to clinch or move quickly back into his comfort zone.
Geale is a busy puncher and should be able to outscore Barker solely based on work rate if he can keep the fight at medium range.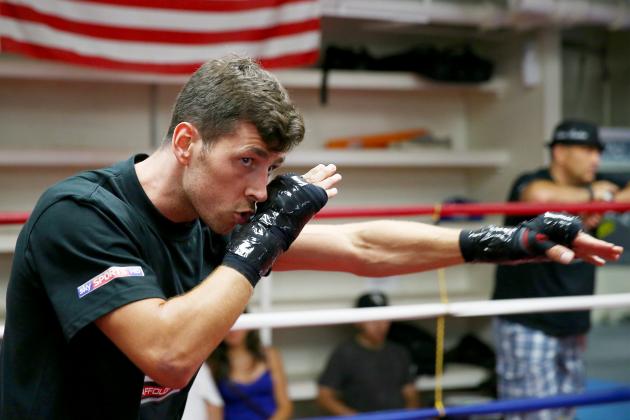 Elsa/Getty Images

The first thing Darren Barker needs to try to do is get good extension on his punches. He needs to discourage Geale from coming forward, and to do this, he will need to sit down on his punches enough to make them sting.
But above all else, Barker needs to match Geale's work rate or at least land with enough accuracy to make a good impression on the judges.
I think Barker is the more accurate puncher and has slightly better defense. But if he spends too much time waiting on Geale to give him the opening to counter, he might find himself getting swarmed more often than not.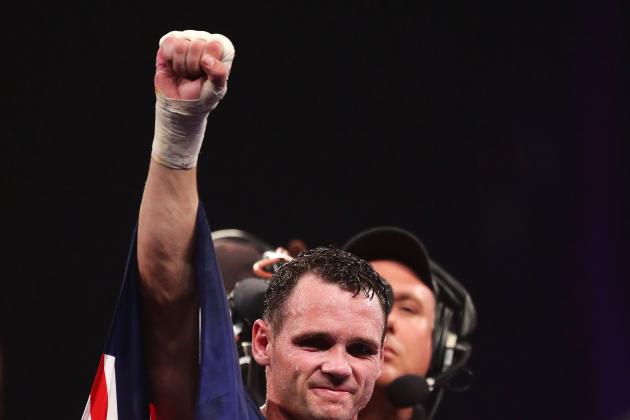 Matt King/Getty Images

This fight should be extremely competitive. It's a true 50-50, toss-up affair.
Geale and Barker are both smart fighters with tons of heart. They are both durable, and neither would seem to have enough power to stop the other early.
Each man knows what a win will do for his career and what a loss will do to set his career back. They both come into this battle determined to be the one who wants it more.
In an extremely competitive fight, I have to give an edge to the fighter with more world championship experience. Geale also has a lot more experience fighting 12 rounds.
I don't expect Barker to be overawed by the situation. He's fought in the A.C. before—and against a bigger star than Geale.
But Geale is the busier fighter, and I don't think Barker has the power to slow him down. Instead, Barker will have to match his punch output.
That should give Geale the openings to pound Barker's body and sap his strength as the fight wears on. I expect a very even fight until the last third of the bout, when Geale will pull away.
Geale by decision, 116-112.
But no matter who wins this fight, he needs to fight either Peter Quillin or Gennady Golovkin next. It's time to start consolidating the middleweight crown.