7 Most Impressive Green Bay Packers Rookies in Training Camp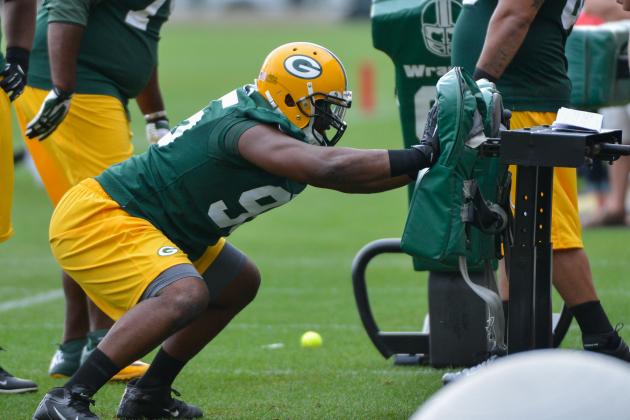 Benny Sieu-USA TODAY Sports

Training camp for the Green Bay Packers is three weeks old and the team has only played one preseason game, but a number of rookies have stood out at camp.
I saw most of them at camp on Wednesday, when only one of those rookies was missing due to an injury. The others all looked good in the reps they took part in.
Following are seven rookies who have had good camps for the Packers up to this point. While some are virtual locks to make the team, a couple of others are making statements as to why they should be as well.
Begin Slideshow

»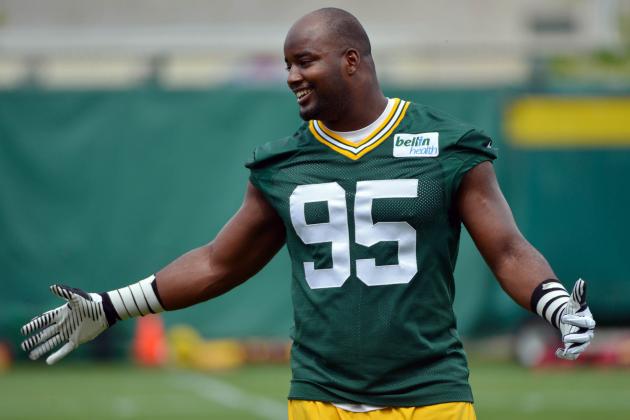 Benny Sieu-USA TODAY Sports

When a rookie is a first-round NFL draft pick like defensive end Datone Jones was this year, a lot is expected.
Jones was having a very good camp until he sprained an ankle in the Packers' first preseason game against the Arizona Cardinals.
The Packers are counting on Jones to be a difference-maker, both in stopping the run and rushing the passer like he did at UCLA last season when he had 62 tackles (including a whopping 19 tackles for a loss), 6.5 sacks and one forced fumble.
Before his ankle injury, Jones certainly looked the part with his play in both the running and passing games in practices.
On Monday, head coach Mike McCarthy commented about Jones' injury to Jones via Packers.com.:
Datone Jones, he'll miss a couple of days this week. I don't have a good handle if he'll be available for St. Louis.
I wouldn't expect to see Jones play Saturday night against the St. Louis Rams because he hasn't practiced all week. Jones is too important to the overall defensive scheme of the Packers to rush back from an injury, especially an ankle sprain, which can linger if not treated properly.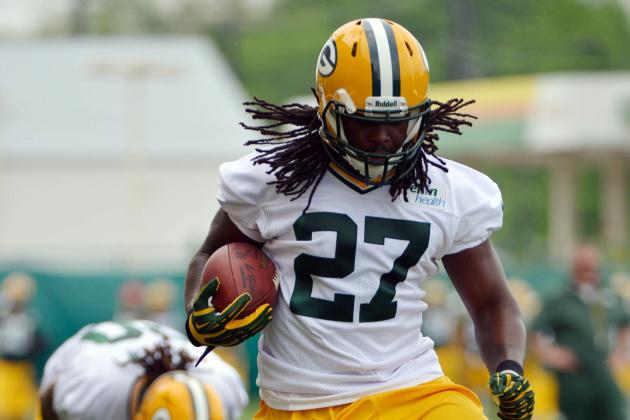 Benny Sieu-USA TODAY Sports

Running back Eddie Lacy was at practice on Wednesday and once again stood out when he had an opportunity to shine.
Lacy missed the first preseason game with a hamstring strain after the first week of camp, but had looked good up until that point.
At the Packers' Family Night scrimmage in the first week of camp, Lacy had 65 yards rushing on just eight carries. When he returned to the team on Wednesday, Lacy broke a long run on his very first carry and was given a limited amount of snaps.
Lacy also did well in blitz-pickup drills, where the backs take on rushing linebackers.
Lacy is expected to play Saturday night against the St. Louis Rams, and that will be a big test for Lacy. Based on what I have seen thus far at camp, and remembering what he did at Alabama in 2012 (1,322 yards, 17 touchdowns), I expect Lacy to pass his next test with flying colors.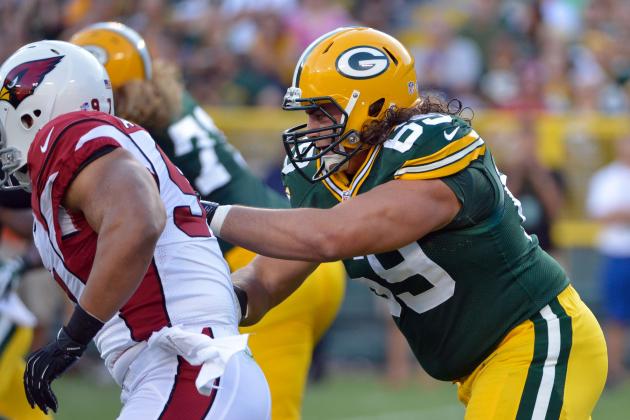 Benny Sieu-USA TODAY Sports

When training camp first started for the Packers, rookie David Bakhtiari was competing to be the starter at right tackle.
His main competition was Marshall Newhouse, who had been the starter at left tackle the previous two seasons before the Packers decided to make a switch by moving both tackle Bryan Bulaga and guard Josh Sitton to the left side of the line.
Bakhtiari was winning that battle, when Bulaga suffered an ACL tear in the Family Night scrimmage. Based on what they had seen of Bakhtiari in camp, the Packers didn't hesitate to put the former Colorado Buffalo on the left side at tackle to protect the blind side of Aaron Rodgers.
Bakhtiari had played both right and left tackle at Colorado.
So far, Bakhtiari hasn't done anything to disappoint at left tackle either. He played solid there against the Cardinals and has more than held his own when going up against defenders like Clay Matthews at practice.
Bakhtiari isn't the only rookie offensive lineman who has played well in camp thus far. Undrafted rookies Lane Taylor and Patrick Lewis have also been solid this summer.
Benny Sieu-USA TODAY Sports

When you watch Micah Hyde at practice, you notice right away that he has a nose for the football.
He may not be a turnover-machine like Charles Woodson was in Green Bay, but Hyde is a very solid tackler who makes up for his lack of great speed with good awareness.
In the first preseason game against Arizona, Hyde was beaten on a fade route for a touchdown, but played well overall. On Wednesday, Hyde showed his athletic ability with an interception. Hyde picked off another pass at Thursday's practice.
Hyde is also a special teams demon, which should help him make the roster this year.
Bottom line, Hyde is playing like he played in college, where he was the 2012 Big Ten Defensive Back of the Year for Iowa.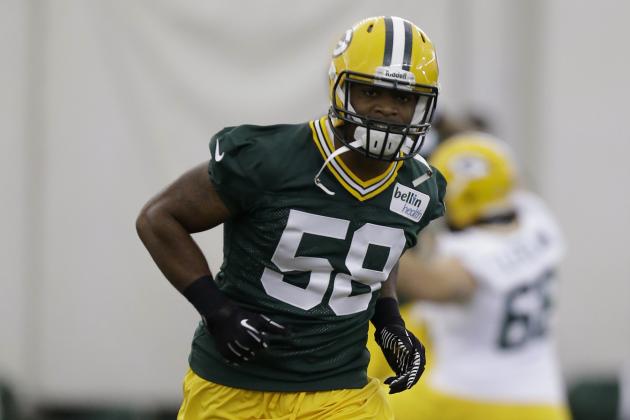 Mike McGinnis/Getty Images

A lot of people were expecting players like Terrell Manning and Jamari Lattimore to push both A.J. Hawk and Brad Jones for playing time at inside linebacker for the Packers.
But both Manning and Lattimore have been outplayed by rookie seventh-round draft choice Sam Barrington.
Barrington showed his nose for the football once again on Wednesday with an innate ability to knife through the hole to get to the ball-carrier at practice.
Barrington showed those same skills in college at South Florida, where he had 258 tackles, 21.5 tackles for a loss, 6.5 sacks and five forced fumbles in his career for the Bulls.
Barrington has a real chance to make the final 53-man roster based on what I have seen.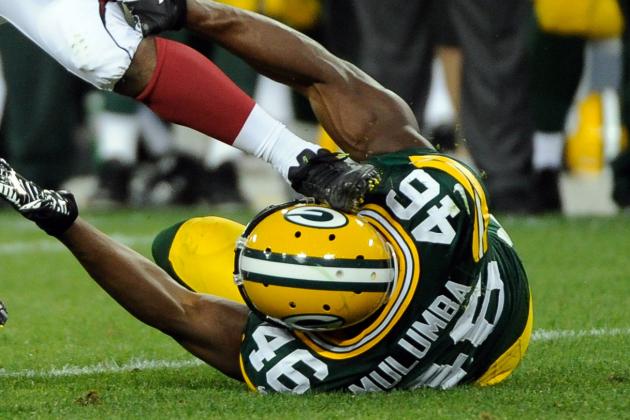 Benny Sieu-USA TODAY Sports

Andy Mulumba is facing the same odds in this training camp that Dezman Moses faced in 2012.
Like Moses, Mulumba is an undrafted rookie who has turned heads in camp with his solid play. Mulumba is also playing outside linebacker in the pros like Moses after being a defensive end in college.
At Eastern Michigan, Mulumba had 143 tackles, 4.5 sacks, four forced fumbles and one fumble recovery.
There is a lot of competition at outside linebacker, but Mulumba has outplayed Moses so far, as well as fellow rookie Nate Palmer, who also was a defensive end in college before he was drafted in the sixth round of the 2013 NFL draft by the Packers.
There is a lot of camp still to go, but Mulumba is doing everything he can to make the roster.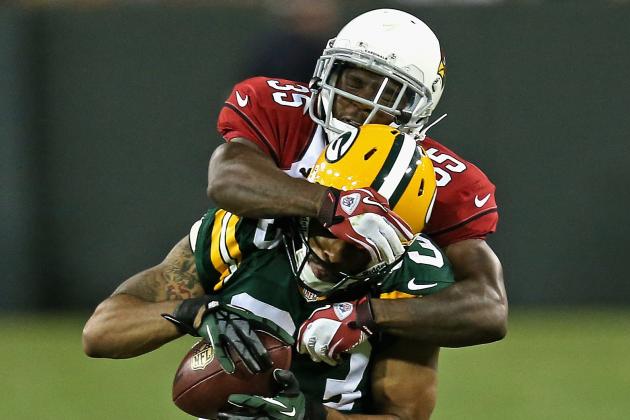 Jonathan Daniel/Getty Images

A number of Packers wide receivers are getting some excellent reps to prove themselves to the coaching staff because of all the injuries at the position.
The Packers lost veteran Jordy Nelson for the entire training camp after he underwent a procedure on his knee. Nelson is expected back for the first game of the regular season.
Randall Cobb also has been nursing a biceps injury and is not practicing. In addition, both seventh-round draft picks, Charles Johnson (knee) and Kevin Dorsey (hamstring), are still out.
That situation has led to a lot of reps for veterans Jarrett Boykin and Jeremy Ross. The undrafted rookies have also had their opportunities as well. The rookie who has had the biggest camp thus far is Tyrone Walker, who was playing with the second-string offense on Wednesday. Walker had a big game against Arizona in the first preseason game when he had five receptions for 41 yards.
In addition to Walker, both Myles White and Alex Gillett, have had their moments in camp.
Of the three, Walker has the best chance of making the final roster, but that will probably only happen if the team keeps six wide receivers.