Winners and Losers Through Week 2 of Denver Broncos Training Camp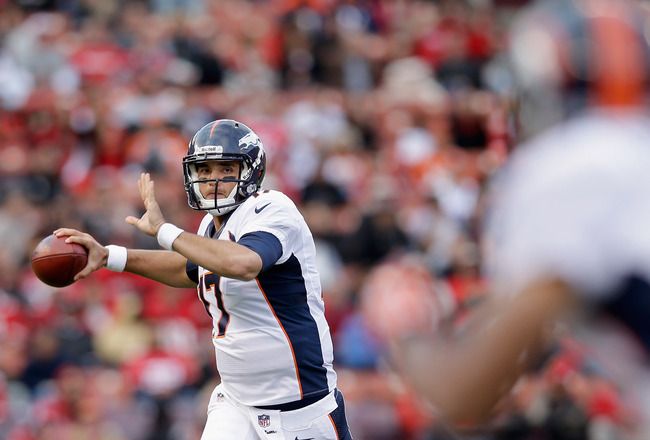 Ezra Shaw/Getty Images
The Denver Broncos are beginning to sort things out within their lineup.
The team came into the offseason with questions at running back, middle linebacker and safety. Though it seems the running back position will be a collective effort between several players, other guys have stepped up at linebacker and safety as well as some other positions.
The Broncos opened the preseason with a 10-6 victory over the San Francisco 49ers in a game that lacked highlights since both teams rested their key players.
Still, there are guys that have shown great progression throughout camp and it carried over into that game. Because they have stepped up, other players are sliding down the depth chart.
Injuries are hindering some players as well, and that could affect some players' standing within the organization.
Here is a look at players who have had great training camps along with a look at some players who are starting to fade and could be relegated to a backup role...or worse.
Winner: Tavarres King, Wide Receiver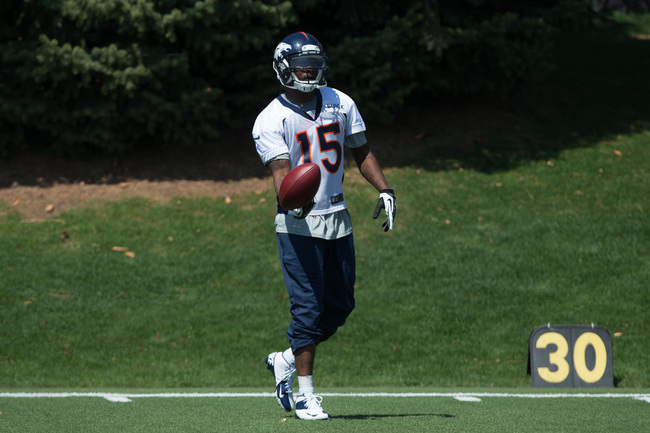 Justin Edmonds/Getty Images
When the Broncos selected Tavarres King in the fifth round of April's draft, nothing, including a roster spot, was guaranteed.
At Georgia, King never had more than 47 receptions in one season, but he did catch 17 touchdowns between his junior and senior years. He has had a good training camp, according to the Denver Post.
The Broncos have one of the best trios of wide receivers in the NFL. But, you can never have enough targets for Peyton Manning to throw the ball to.
King could easily have been lost in the shuffle of reserve wide receivers on the roster, but he is showing that he can contribute to this team in his rookie year.
Loser: Gerell Robinson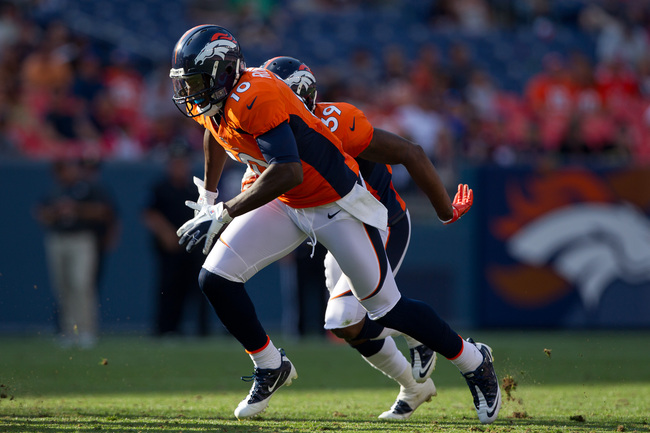 Justin Edmonds/Getty Images
Gerell Robinson has the physical tools to be a quality NFL wide receiver. So far, he hasn't been able to apply them on the football field.
After being released in the last wave of cuts in 2012, the Broncos re-signed Robinson following the 2012 season.
Since the start of camp, Robinson has watched Tavarres King emerge at the wide receiver position, and once the team released their first depth chart, Robinson was buried on it.
With a chance for live game action against the 49ers, Robinson made just two catches for two yards. He also had a drop on a 2nd-and-8 play from the San Francisco 14-yard line in the third quarter. The ball was right in his hands and would have given the team a first down.
Robinson has his work cut out for him if he is going to make the team.
Winner: Duke Ihenacho, Safety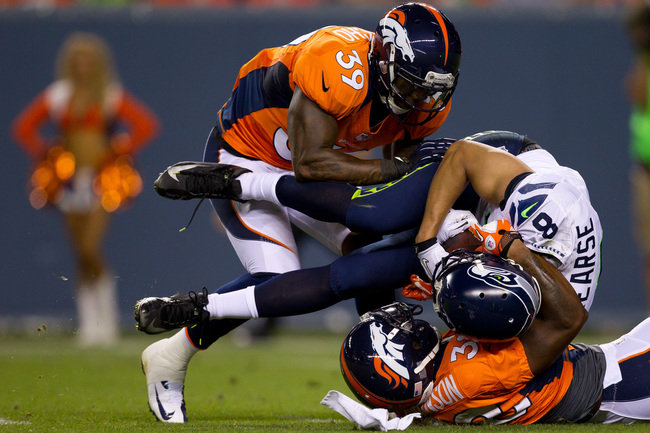 Justin Edmonds/Getty Images
Duke Ihenacho may be the biggest winner of camp to this point.
Prior to the preseason opener, Yahoo! Sports reported that Ihenacho could be one of the team's starting safeties. He did nothing to change that notion against the 49ers.
Ihenacho showed that he could defend both the run and the pass, and he was all over the field. The energy he brings seems like it could lift the entire defensive unit.
Ihenacho is a player to keep an eye on, but it's hard to imagine him not being on the roster.
Loser: Quinton Carter, Safety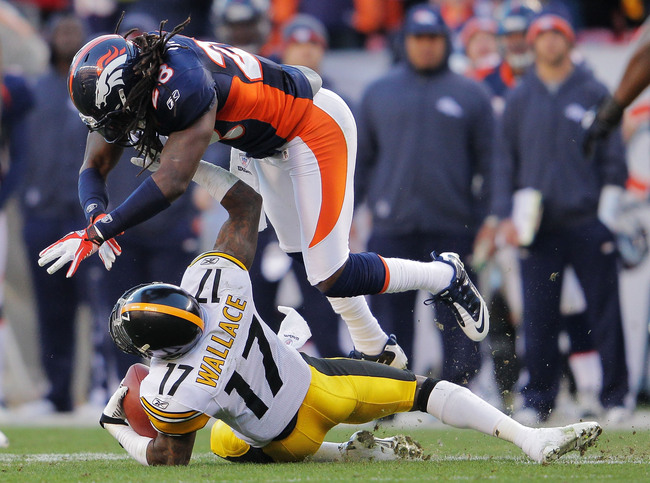 Doug Pensinger/Getty Images
It seems like the last time Quinton Carter played any meaningful football, it was in the 2011 Wild Card playoffs against Pittsburgh.
Carter had a great game that day and the future looked very bright for him in Denver. After missing most of the 2012 season with a knee injury, Carter has been hobbled by the same thing in camp.
Carter could be losing ground to Ihenacho and he could lose playing time to him as well.
Winner: Nate Irving, Linebacker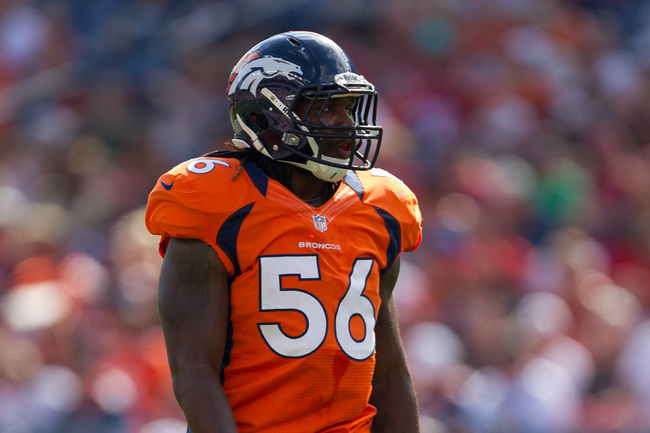 Justin Edmonds/Getty Images
The middle linebacker position seemed to be the weak area of the defense during the offseason, especially when the team didn't address it in the draft.
Nate Irving, Steven Johnson and Stewart Bradley were all considered options to be the starter, but it now seems that the position is Irving's to lose.
Despite having a total of just 17 tackles through his first two years in the league, Irving looked great against the 49ers, collecting five tackles and a quarterback sack.
He was also responsible for the biggest play of the game, bursting through the middle to hit San Francisco running back D.J. Harper in the backfield for a loss of yardage. Harper fumbled the ball and Denver linebacker Shaun Phillips scooped it up, taking it in nine yards for a touchdown.
Loser: Steven Johnson, Linebacker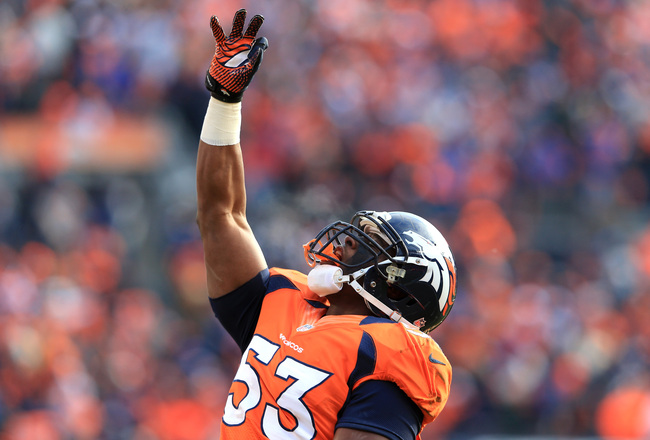 Doug Pensinger/Getty Images
Steven Johnson was a solid contributor on special teams in 2012 after making the team as an undrafted rookie out of Kansas. This season, he was expected to make a run at the starting middle linebacker job.
Johnson has clearly fallen behind Nate Irving in that competition and he is probably behind veteran Stewart Bradley as well.
Johnson will have to impress over the course of the next three preseason games or he may be relegated to mainly special teams again.
Against San Francisco, Johnson made just one tackle.
Winner: Julius Thomas, Tight End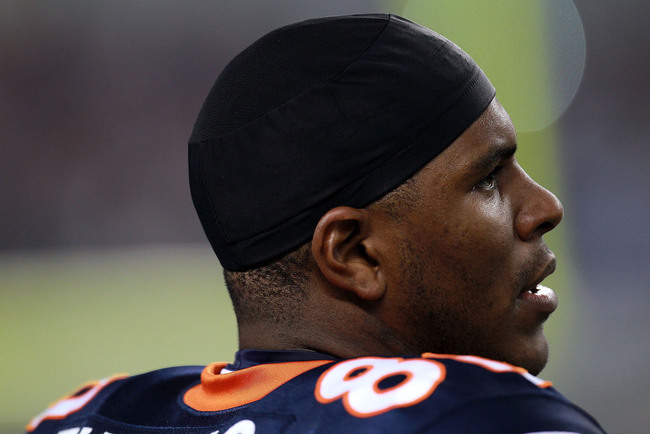 Ronald Martinez/Getty Images
Could this be the year that the Broncos finally get what they've been longing for out of their athletic tight end Julius Thomas?
Possessing a basketball background that could make him a player similar to Jimmy Graham or Antonio Gates, Thomas has done next to nothing in his first two years in the league.
Thomas has taken advantage of the fact that both Joel Dreessen and Jacob Tamme have been nursing injuries, but that may be just what he needs to convince the coaching staff that the time is now to insert him into the starting lineup.
Thomas led the team in the preseason opener with four catches totaling 35 yards. If he could be the player the team envisioned when they selected him in the fourth round of the 2011 NFL draft, the Broncos may have too many offensive weapons for defenses to handle.
Loser: Chris Kuper, Guard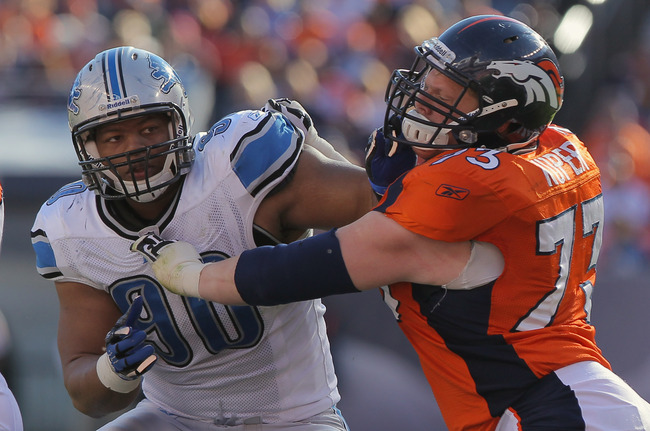 Doug Pensinger/Getty Images
There was a time when Chris Kuper was considered one of the best young guards in the NFL. But in the 2011 regular season finale, he suffered an ankle injury which he seemingly hasn't been able to recover from.
When Kuper was able to start just five games in 2012, the Broncos went looking for a replacement and they found one in Louis Vasquez, who they signed as a free agent.
According to The Denver Post, Kuper agreed to a restructured deal with the team on Tuesday, but he will have to show that his ankle is 100 percent or he may be looking for work elsewhere.
Fortunately for Kuper, the offensive line could use some more depth and the team shouldn't rule him out as a possibility at the center position.
Winner: Brock Osweiler, Quarterback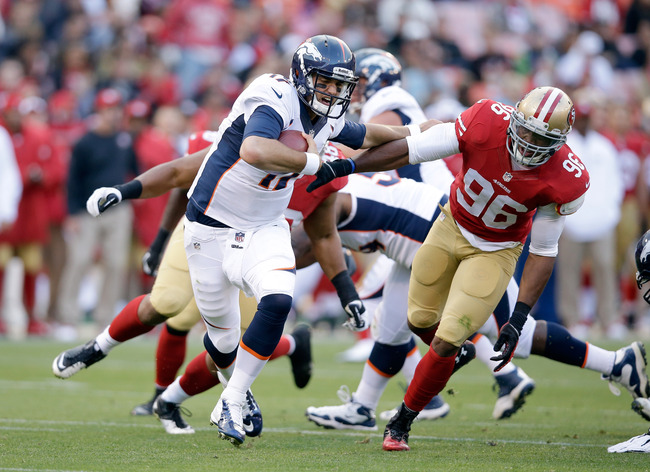 Ezra Shaw/Getty Images
Just a few days into training camp, Mike Klis of The Denver Post reported that Brock Osweiler was making great strides in his second year in the league.
In the preseason opener, Osweiler was given extended work after Peyton Manning came out early and he finished the game by going 13-of-18 for 105 yards.
Osweiler showed a good handle of the offense and his development as an NFL quarterback seems to be coming along nicely.
Osweiler will be nothing more than a backup while Manning is in Denver, but once the day comes for him to take the reigns, the team appears to be in capable hands.
Keep Reading

Denver Broncos: Like this team?