Rafael Nadal is one of the best tennis players in the world, but if he fails to make a deep run at the U.S. Open, his legacy is bound to take hit.
Nadal is currently the No. 3 player in the world—behind Novak Djokovic and Andy Murray—after winning at the Rogers Cup this past weekend, according to the official website of the ATP World Tour. In Canada, Nadal defeated Djokovic in the semifinals and Milos Raonic in the final to claim the tournament crown.
It's been a remarkable season for Nadal, as he's been victorious at several tournaments throughout the year. As Sports Illustrated's Courtney Nguyen points out, the Spaniard has entered 11 tournaments, made the final in all but one of them and has won eight titles, which includes his victory at the French Open.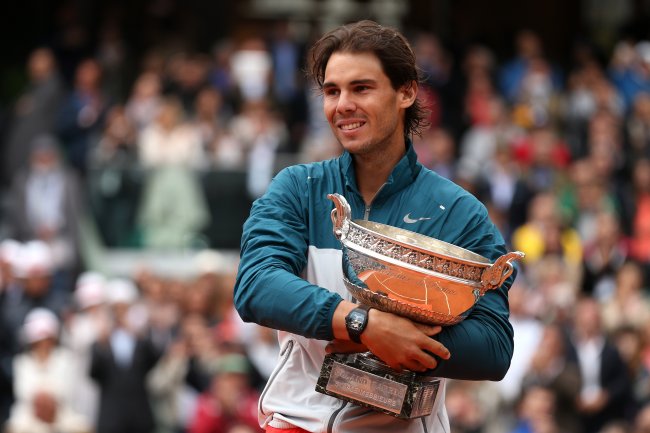 Matthew Stockman/Getty Images
The success Nadal has had in 2013 is somewhat surprising considering he missed more than half a year with knee issues. He didn't play at the U.S. Open last year or at the Australian Open earlier this season due to the ailment.
If he was healthy, we might be talking about how he could win his 15th Grand Slam instead of his 13th in New York.
I recently wrote how Nadal's win in Canada shows that he's ready to take on the field at the U.S. Open, which commences in less than two weeks. While that's true, there's one point that needs to be restated, and it involves how rare it is for Nadal to play poorly at back-to-back Grand Slam championships.
The last time Nadal didn't make it to the quarterfinals in back-to-back Grand Slams was in 2005—falling in the second and third rounds at Wimbledon and the U.S. Open. Nadal may enter New York with a ton of confidence, but there's a chance that he doesn't advance very far and damages his legacy in the process.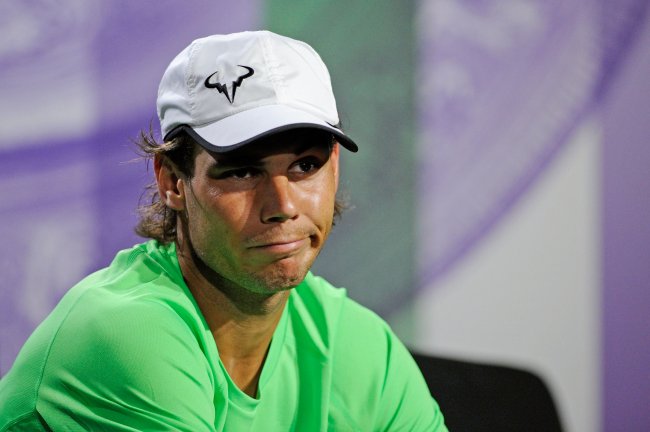 Pool/Getty Images
Wimbledon this year was a nightmare for Nadal. Steve Darcis, who was ranked 135th on the ATP World Tour at the time, according to ESPN, upset Nadal in the first round of the tournament, as Nadal failed to even win a set. It's easily been the biggest disappoint of the year, especially since he was coming off a win at the French Open.
The U.S. Open is going to be packed with players looking to take out Nadal early in the tournament. Look how much attention Darcis got at Wimbledon. A win over one of the top players in the world puts you in the spotlight.
Which little-known player doesn't want that? Nadal should be on high alert, too.
Over the course of his career, the U.S. Open has been his worst of the four Grand Slams in terms of winning percentage. Take a look at the table below:
Rafael Nadal Grand Slam Statistics

| | | | | |
| --- | --- | --- | --- | --- |
| Grand Slam | Titles | Wins | Losses | Win Pct. |
| Australian Open | 1 | 35 | 7 | 83% |
| French Open | 8 | 59 | 1 | 98% |
| Wimbledon | 2 | 36 | 7 | 84% |
| U.S. Open | 1 | 34 | 8 | 81% |
ATP World Tour
An early exit at the U.S. Open is definitely possible for Nadal. He needs to be at the top of his game to ensure that he doesn't go home before the tournament really gets going—meaning at least the quarterfinals. He hasn't gone home before the quarterfinals at the tournament since 2007, when he lost in the fourth round.
How will Nadal do at the U.S. Open?
Nadal's legacy is a strong one.
He has been dominant throughout nearly his entire career—especially when it comes to the French Open. But an early exit in New York won't bode well for the No. 3 player in the world. It will show that he cannot succeed at Grand Slams any longer unless they're on clay.
Nadal needs a deep run at the U.S. Open to avoid talk of a downhill trend forming when it comes to Grand Slam championships. Sure, he can win all of the Masters Series tournaments he wants, but if he fails to play well at Grand Slams, his reputation as one of the sport's best may start to decline.
Nadal may have 12 career Grand Slam titles, but he has to hope that his victory at the French Open earlier in the year isn't his last. The U.S. Open is a prime opportunity to avenge his first-round loss at Wimbledon.
Will he make a strong comeback, or will it be another disappointment when the U.S. Open commences?
All statistics and information in this article was obtained via ATPWorldTour.com unless otherwise noted.