The ICC Ranking System's Top 10 Bowlers in Test Cricket History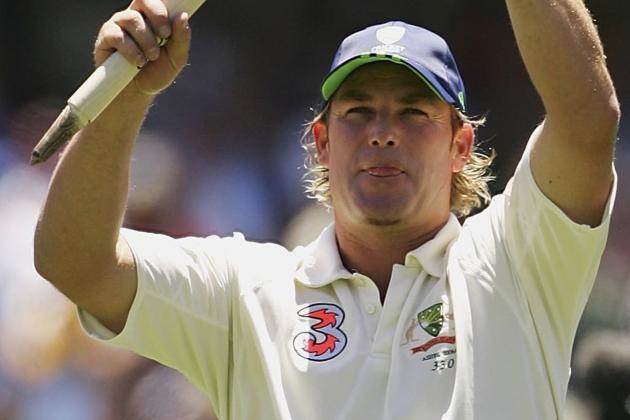 Cameron Spencer/Getty Images

Much like we have done with ranking the Top 10 Batsmen, we've now gone and done the same with the bowlers.
We compiled the list from the "career best rating", as determined by the ICC's ranking system.
That system judges players by their all-time peak score—the highest ranking achieved at the height of their best form. Again, you can debate the limitations of the system, or whether some leading lights of the Test cricket have been unfairly left out. But what it does do is give us a top 10 free from bias or favour, decided by a complex algorithm in the ICC headquarters in Dubai.
If you want to find out more about how it is calculated, the ICC's rankings website has a FAQ page.
This list is, arguably, a better reflection of the top ten compared to the batsmen. That said, there are still a few notable omissions, not least the man in the picture above, Shane Warne, whose 905-point peak only ranks him 16th.
Do share your thoughts in the comments.
Begin Slideshow

»
Sir Richard Hadlee took 431 wickets in 86 Tests. His average was 22.29 and his economy rate 2.63. Of course, he did play in era where bowlers had it all, but he is undoubtedly one of the finest, if not the finest cricketers New Zealand has ever produced. He wasn't completely useless with the bat either. He only retired from cricket at the age of 39 - a remarkable achievement for any cricketer, nevermind a bowler.
The best executor of the yorker ever to have lived and the man made reverse swing as popular as it is today. Younis had the the best strike rate of any bowler with over 200 Test wickets. Unfortunately, as with many bowlers, his career was hampered by back injuries. He managed to play for over a decade, though, and all the lovers of fast bowling will always list Waqar as one of their favourites.
If Shaun Pollock didn't become a cricketer, the theory of DNA might have been disproved. Both his father and his uncle were fine cricketers and Pollock followed in their footsteps by being a sort of hybrid of the two. Although he didn't have an overwhelmingly illustrious career, his most successful year came in 1998. Pollock took 69 wickets in 14 Tests at an average of 20.44. He managed over 40 wickets in a calendar year a further five times after that. With such spikes in form, it's perhaps no surprise that the ranking system has put him on the list.
Malcolm Marshall, Mr. Twinkle Toes, was one of the finest fast bowlers to ever live. His bowling was fierce and could swing the ball both ways. He will forever be entrenched in cricket folklore for the time he broke his thumb while fielding. He strolled out to the crease and batted one-handed to allow his teammate Larry Gomes to bring up a ton. With his arm in plaster, he went on to bowl, taking seven for 53. He died tragically young, at the age of 41 from cancer.
Sir Ian 'Beefy' Botham was one of the best all-rounders of all time. He holds the honour of being the fastest to the double of 1000 runs and 100 wickets. He carried the England team for many years and his self-confidence ensured that even when his career plunged into controversy, as it did on many an occasion, he would always somehow find his way back.
Over 2m tall and the silent type, who rarely gave interviews, Ambrose stumbled his way to 405 Test scalps at an average of 20.99. He once took six for 24 as England were bundled out for 46 and a rather impressive seven for one against Australia. We do hope you enjoy the video footage of the above, even if you are Australian.
Curtley Ambrose retired and went to play bass guitar in fellow West Indian star Richie Richardson's band—and why not?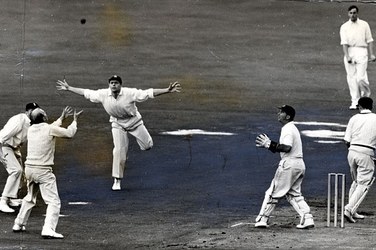 http://i.dailymail.co.uk/i/pix/2012/11/26/article-2238595-02D8A8E80000044D-670_634x376.jpg
The first spinner to enter the fray, Tony Lock has the record for most runs scored in first-class cricket without a century. Yet, he's here for his bowling. A somewhat peculiar action, which might under the spotlight of today's television cameras have come under scrutiny, he played for England from the 1950s to the 1960s. Lock took 174 wickets at an average of 25.58.
Many will say Glenn McGrath is finest bowler to ever live and many will agree. He is the fast bowler with the most scalps - 563 in 124 Tests. Best known for his probing line outside off stump, McGrath was a once in a lifetime quick and is still one of the most-loved players to ever grace the game, even if most England fans remember him with dread.
A man who had his action debated more than any other player, Muttiah Muralitharan finished a 133-match career with exactly 800 wickets. It's the most in Test cricket ever and it's unlikely that anyone will ever catch up to the man who so divides opinion in cricket. Some say he is the greatest to ever spin a ball, while his action, the result of a birth defect, drew huge scrutiny, particularly in Australia.
His bowling was cleared by the ICC, and his records are set to stand the test of time.
Imran Khan is one of Pakistan's finest ever players. A super all-rounder who inspired a generation of quicks. He dispelled the myth that bowling fast on dusty tracks in the blazing heat was possible and lucrative. Swing, yorkers and all the rest, Khan was the poster-boy for bowling with sex appeal.
After cricket, Khan went into Pakistan politics, and is still an influential public figure.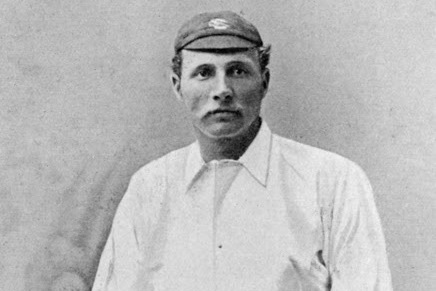 http://2.bp.blogspot.com/-E4iNvj_d_bw/UZSWA-oQnDI/AAAAAAAAYRE/GJTqjm_bakg/s640/George+Alfred+Lohmann.jpg
We're going back now, right back to the earliest days of Test cricket. George Lohmann played for England in the 1800s. When it comes to stats only, he's quite possibly the greatest ever. He took 112 wickets in 18 Tests. His average was 10.75 and his economy rate 1.88. Yes, we know, wickets were very different back then, but those stats remain outstanding. He was just a medium pacer, but managed to swing it both ways and had pinpoint accuracy.
Sydney Barnes is regarded by many as the best ever and the ICC all-time rankings agree. Barnes is credited as one of the first bowlers who managed to take the bounce of the new ball and combine it with swing. He only ever played against South Africa and Australia and claimed 189 wickets at an average of 16.43 in 27 Tests.
And given how some of the greatest modern bowlers have been unable to match him, he may stay top of this list for a long time yet.