Winners and Losers from Week 2 of Cincinnati Bengals' Training Camp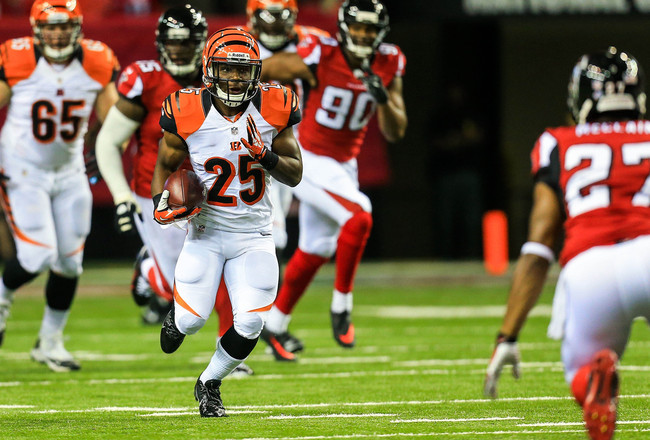 Daniel Shirey-USA TODAY Sports
The Cincinnati Bengals now find themselves through two weeks of training camp and one preseason game. Throughout the elapsed time of camp, we have begun to see certain players stand out from the rest—and others seemingly drop out of the picture.
As the coaching staff feverishly continues to compile a list of the best 53 players at training camp, we can continue to speculate over their impending results.
Being one of the deepest all-around teams in the NFL is a happy problem for the Bengals—they will undoubtedly end up cutting players who could serve as solid backups for other teams. However, that situation is bittersweet as final cuts will be difficult.
So, which players have made a run to solidify a roster spot, and which are currently on the outside looking in?
Let's take a look at the winners and losers through the second week of training camp.
Winner: George Iloka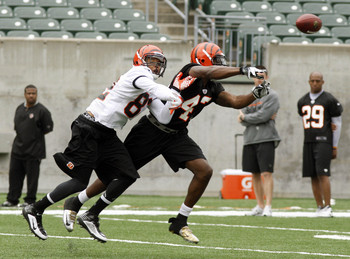 David Kohl-USA TODAY Sports
According to CincyJungle.com, George Iloka has continued to receive the bulk of first-team reps at the strong safety position.
Iloka has been productive throughout training camp so far and is making a valid push to start at safety opposite veteran Reggie Nelson.
There is still an ongoing competition between Iloka, Taylor Mays and rookie Shawn Williams for the starting job, but Iloka has to like his chances much better now than he did at the beginning of camp.
In fact, Marvin Lewis had some kind words about Iloka according to a tweet from Paul Dehner Jr.
If he continues to impress through the duration of the preseason, he could very well be the Bengals' Week 1 starter.
Loser: Cobi Hamilton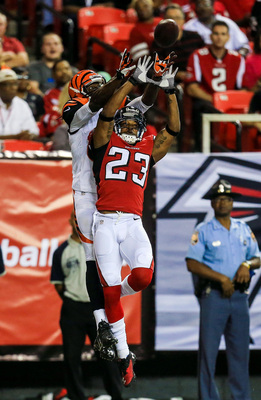 Daniel Shirey-USA TODAY Sports
After struggling a bit during the first preseason game of his young career, rookie Cobi Hamilton continued his inconsistent play this week during training camp. According to CincyJungle.com, he dropped a very easy pass on a deep ball from Andy Dalton and was also flagged for a false start.
Now, the season is still young—and so is Hamilton—but he really must get back to the way he impressed during the beginning of training camp and OTAs if he wants to continue his climb up the roster.
This is not an indication that he will not make the final roster. However, he will remain buried on the depth chart if he cannot continue to improve.
Winner: Vontaze Burfict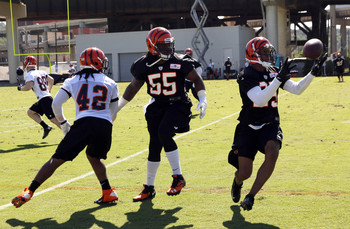 David Kohl-USA TODAY Sports
We saw time and time again on Hard Knocks that linebacker Vontaze Burfict is not afraid to get into the faces of his offensive teammates during training camp.
He is continuing that trend this week as it was reported by CincyJungle.com that Burfict got into a shoving match with center Kyle Cook which had to be diffused by teammates.
So, why is Burfict a "winner" by sparring with teammates?
The answer is simple: this team needs to get fired up one way or another. The Bengals have been accused of being too soft in the past, and Burfict is the right guy to toughen them up.
Not only is Burfict a staple at linebacker for this team, but these acts, albeit unusual, put him in the realm as one of the emerging team leaders.
Loser: Shaun Prater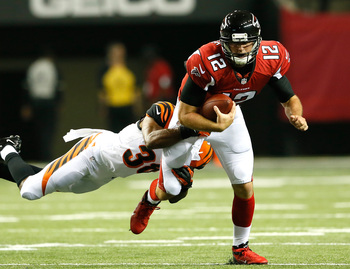 Kevin C. Cox/Getty Images
Second-year cornerback Shaun Prater may be allowing his immaturity to get the best of him according to footballnation.com.
During training camp, it has been reported that Prater has been involved in scuffles with multiple teammates including rookie wide receiver Roy Roundtree and veteran Andrew Hawkins.
These scuffles are not similar to the antics of Burfict, as these seem to have been out of sheer frustration.
He became so aggressive at one point that defensive coordinator Mike Zimmer had to pull him off the field in the middle of practice.
Cornerback is one of the deepest and most contested positional battles currently taking place at training camp. However, it's this kind of behavior that could end up causing Prater to miss out on a roster spot.
Winner: Tyler Eifert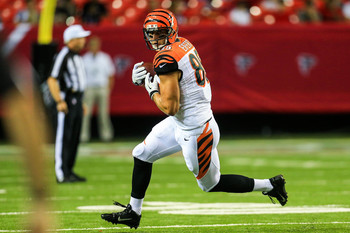 Daniel Shirey-USA TODAY Sports
Tyler Eifert has been completely as advertised so far for the Bengals. He has been developing a great chemistry with Dalton and is quickly gaining the trust of the third-year quarterback.
This is becoming very apparent at training camp. The Associated Press reported that Eifert is "getting the ball more than many others with a lot more experience."
This comes as no surprise.
Eifert still sits below veteran tight end Jermaine Gresham on the depth chart but continues to make a push for more playing time than was initially expected for his rookie season.
Loser: Dennis Roland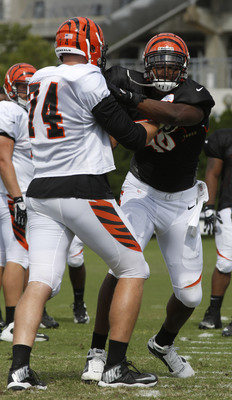 David Kohl-USA TODAY Sports
During episode one of Hard Knocks, many fans noticed backup offensive tackle Dennis Roland getting knocked on his behind more than once while participating in the Oklahoma Drill.
That turned out to be an indication of his on-field play as well.
Roland was beaten numerous times by Falcons pass-rushers during the Bengals' first preseason game in Atlanta. Due to his lack of consistency on the field, Pro Football Focus (subscription required) ranked Roland 82nd out of a possible 93 offensive tackles with a negative-1.8 grade.
With the additions of rookies Tanner Hawkinson and Reid Fragel, Roland becomes expendable this year. If he continues this sub-par play, that's exactly what he will become.
Winner: Josh Johnson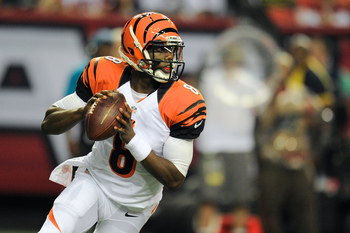 Dale Zanine-USA TODAY Sports
Veteran quarterback Josh Johnson should emerge as the favorite in the backup quarterback competition in Cincinnati after his stellar play in the team's first preseason game.
Johnson passed for 100 yards, including a beautifully placed 21-yard touchdown to Brandon Tate. He also ran for an additional 64 yards. Johnson led the Bengals to 17 second-quarter points and another field goal in the third quarter.
He not only showed that he can make plays with both his arm and his legs, but he showed a solid understanding of the playbook and the Bengals' offensive scheme.
His competition, John Skelton, also played well, but could not match the dynamics of Johnson.
Loser: Bengals Running Backs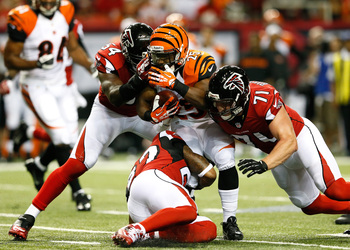 Kevin C. Cox/Getty Images
Aside from rookie Rex Burkhead who had a solid performance—albeit against a third-string defense—with nine carries for 52 yards, the Bengals running game struggled.
BenJarvus Green-Ellis, Giovani Bernard, Dan Herron and Cedric Peerman combined for 28 carries for a total of 98 yards. That would be a total of an unspectacular 3.5 yards-per-carry average.
Last season, the Bengals really had trouble getting the running game going, which was an early factor in some of their disappointing losses. This indicates that the team may be running into the same problem in 2013.
After Week 1 of the preseason, Pro Football Focus (subscription required) ranked each running back. Aside from Green-Ellis, each Bengals running back received a negative overall grade.
The team has to become more consistent on the ground if they are to effectively utilize their additional offensive weapons in the coming season.
Keep Reading

Cincinnati Bengals: Like this team?