Which NFL Players Are Benefiting Most from Scheme Changes?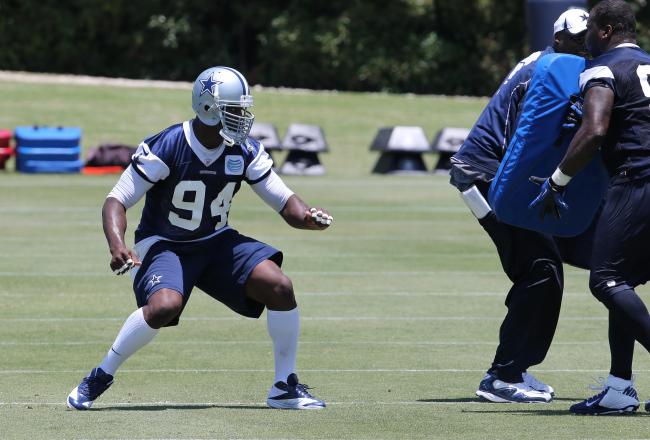 USA TODAY Sports
They say you can't teach an old dog new tricks, and sometimes that's true of veteran football players.
When teams go in a different direction at coordinator or head coach, the entire team's philosophy can change. With whole new offensive or defensive systems, key veterans often find themselves having to play in a whole new way—or even, a whole new position.
In 2012, the Indianapolis Colts switched to new head coach Chuck Pagano's favored 3-4, despite the presence of franchise defensive end Dwight Freeney. The Colts shoehorned Freeney in by letting him play "rush outside linebacker" up on the line with a hand down—aka., defensive end. The system hamstrung Freeney, and Freeney hamstrung the system.
Sometimes, though, not only do veteran players manage the transition to a new system, it helps them shine in all-new ways. For three star NFL players, one preseason game is all we needed to see to know they'll not only be just as good in the new system, they'll be better.
It was one of the most inexplicable moves of the offseason. The Dallas Cowboys needed to make a change on defense. Coordinator Rob Ryan's blitzing 3-4 defense, the latest of several variants on the 3-4 alignment the Cowboys have run in recent years, allowed an average of 25 points per game, per Pro Football Reference.
When owner and general manager Jerry Jones went in a different direction, though, he went in a very different direction: He hired Monte Kiffin, innovator and architect of the Tampa 2 defense.
The Tampa 2 is nearly the antithesis of the 3-4.
Instead of standout cover corners who can erase receivers, the Tampa 2 uses physical, jamming corners who disrupt routes and then stay at home in short zones. Instead of big space-eaters up front swallowing two running lanes apiece, intricate one-gap run fits involving all of the back seven stop the ground game.
Instead of blitzing big linebackers like DeMarcus Ware to get pass rush, fast linemen penetrate the offensive line and the linebackers play in coverage.
With Ware in the middle of a seven-year, $78 million contract, per Spotrac.com, will the Cowboys' investment be wasted?
As it turns out, no.
Ware, currently listed at 6'4", 258 pounds by NFL.com, is certainly big enough to play rush defensive end in the Tampa 2. The marquee Tampa 2 defensive ends, like Simeon Rice and Dwight Freeney, were both significantly bigger than that, but the important part of their game was speed. Having great size is just a bonus.
When Lovie Smith's Chicago Bears went to the Super Bowl in 2006, their rush end was 6'4", 255-pound Mark Anderson. Freeney's bookend partner with the Indianapolis Colts was 6'2", 235-pound Robert Mathis. Ware is fast enough, and more than big enough, to rush the passer from the blindside in the Tampa 2.
Ware was Pro Football Focus's ninth-best 3-4 outside linebacker (subscription required) out of 34 qualifiers in 2012. His massive plus-19.5 pass rush grade was third-best in the NFL.
Every other grade was negative.
Run-stopping (minus-1.6), coverage (minus-3.8), penalties (minus-5.9); everything else PFF grades got slathered with the dreaded red shading. In the Tampa 2, Ware won't have to worry about coverage, and run-stopping will be much easier.
Just look at the very first play of the first preseason game in 2013: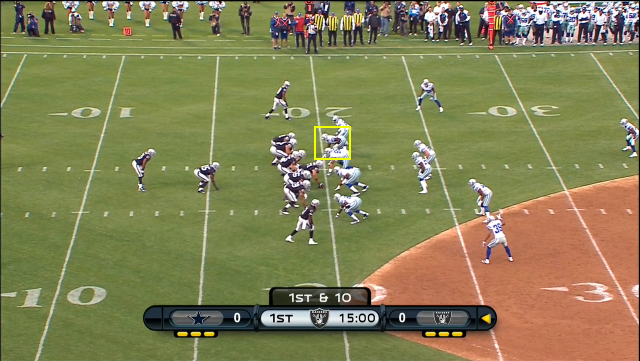 Ware is lined up one-on-one here against left tackle Jared Veldheer. At the snap, the Raiders line fires off, and Veldheer goes to double-team tackle Nick Hayden, meaning tight end Richard Gordon is responsible for taking Ware out of the play. Gordon can't do it: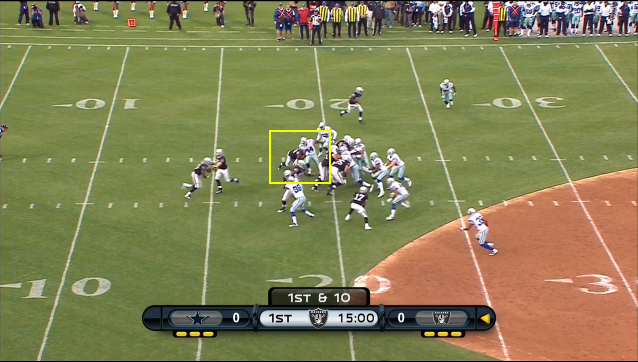 Ware is making a beeline for where the tailback is going to be, and Ware is past Gordon almost before Gordon can put a hand on him. Gordon tries to block Ware, but can't even slow him down. A naked attempt at holding doesn't work either; Ware meets the runner in the backfield: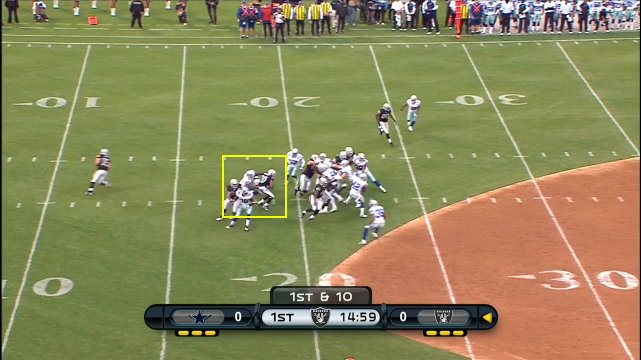 Ware's more than strong enough to handle the run game as a Tampa 2 defensive end. He proved last year he can still rush the passer standing up a few yards behind the line of scrimmage; there's no reason to believe he'll be worse when asked to line up closer to the quarterback and only worry about the quarterback.
In fact, shortening his path the quarterback could even be Ware's fountain of youth.
In 2012, Buffalo Bills tailback C.J. Spiller had the breakout season the Bills had been waiting for since they drafted him No. 9 overall.
After racking up 1,244 yards and six touchdowns on just 207 carries, Spiller emphatically announced his arrival as one of the NFL's best runners. Averaging a remarkable 6.0 yards per carry and 10.7 yards per reception, the only question Spiller hadn't answered is, "Why isn't he getting the ball more?"
Former head coach Chan Gailey subscribed to the old idea that a running back under a certain weight and height can't possibly be a full-time feature back, so Spiller was relegated to backup and change-of-pace duty for much of his first three seasons.
Much like Barry Sanders and Warrick Dunn would carry their teams between the 20-yard lines and then be patted on the head and sat on the bench, Spiller had to cede prime carries to starter Fred Jackson. Jackson struggled with them, averaging just 3.8 yards per carry and fighting injuries all year. In fact, it's only Jackson's season-ending knee injury that allowed Spiller to step out of the shadows.
Under new head coach Doug Marrone and offensive coordinator Nathaniel Hackett, things are going to be a little bit different. Per the Buffalo News, Hackett plans to feed Spiller carries "until he throws up."
Just like Ware, Spiller made it obvious how well the new system is going to work out for him on the first play of the game, taking a simple counter from the shadow of his own goal line for 17 yards. On the second play, he gave us an even better preview.
It's 1st-and-10 from the 20-yard line, how most drives start. Marrone's claim to fame was coordinating the multi-receiver sets Drew Brees used to bring New Orleans a Super Bowl championship, but the Bills are using a tight end and offset fullback to the left of Spiller: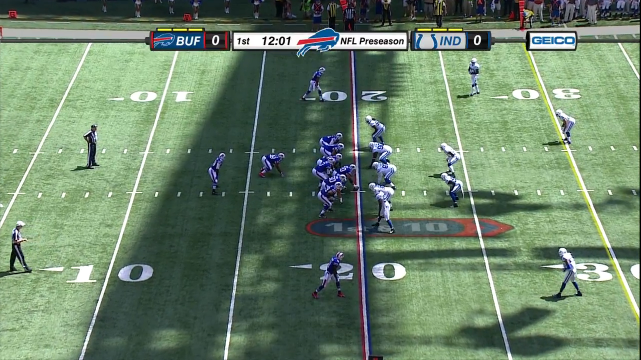 This is another counter, with the line blocking down to the left, but fullback Frank Summers leads Spiller to the right. Spiller takes his counter step, and Summers goes low to seal off the back side of the Colts defense: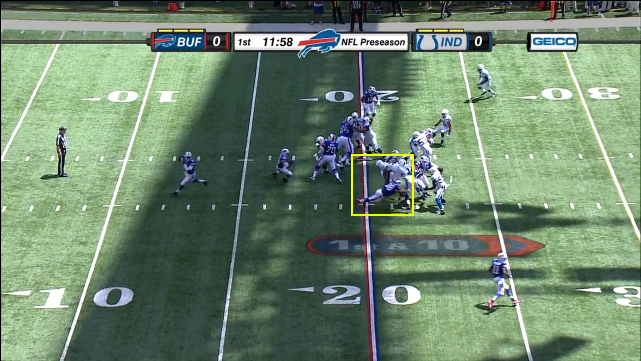 Spiller, with all the room in the world, hits the jets and takes it another 15 yards. After one more carry, Spiller's preseason work is done: three Bills plays, three Spiller carries for 36 yards.
If Hackett and Marrone keep putting lots of blockers in front of Spiller, stretching the defense horizontally and letting Spiller find the cracks that open up, the young star could take his game to yet another level.
Mike Vick
It's not a shock that Mike Vick will benefit from his system's change. After all, Vick was never a perfect fit for Andy Reid's pass-happy offense; Vick's issues with accuracy and consistency occasionally grounded the Birds.
Chip Kelly's run-first zone-read offense maximizes the scariness of Vick's terrifying running ability. In the first preseason game, though, it wasn't Vick's running that jumped off the screen.
With his first two pass attempts, Vick hit Jason Avant and DeSean Jackson for 22 and 47 yards, respectively. It was the third pass, though, that showed how lethal Vick can be in this system: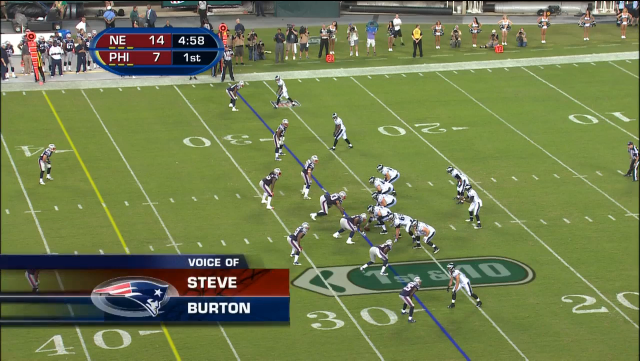 The Eagles are in a typical package for Kelly's offense: one tight end, one running back, three receivers. After the snap, Vick executes the "mesh," Kelly's handoff technique that allows the quarterback to quickly pull it back. The entire Patriots defense bites hard on this, including the weak-side cornerback and nickel linebacker (who are in tight man coverage):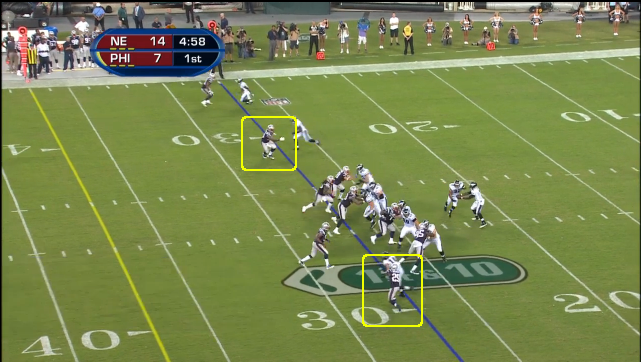 Vick pulls it back and rolls to his right, leaving the Patriots pass rush behind. Vick has two wide open receivers to choose from: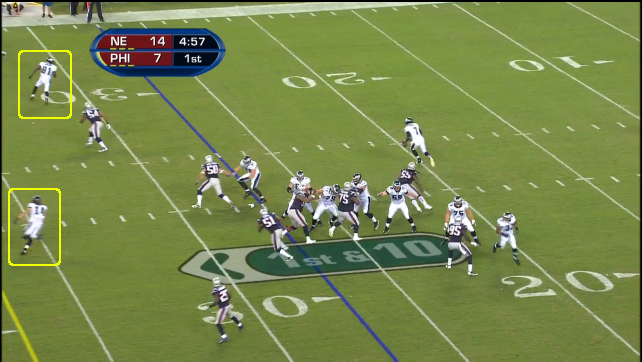 With plenty of time and space to read the play, set his upper body and throw, Vick hits the deeper receiver, Riley Cooper, in the hands: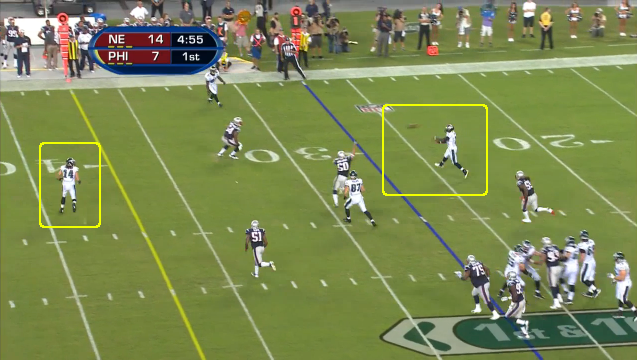 This is why Vick's fit in Kelly's system is so perfect. It's not just that Vick's threat to run will freeze a defender on almost every running play, but that the offense's overall threat to run (from either Vick or the tailback) makes play-action lethal.
Give Vick time, space and wide-open receivers, and he will shred defenses through the air.
This article is
What is the duplicate article?
Why is this article offensive?
Where is this article plagiarized from?
Why is this article poorly edited?