Robert Griffin III is coming off major offseason surgery on multiple knee ligaments he tore at the conclusion of the Washington Redskins' thrilling run to the most recent NFL postseason.
In spite of that, it looks as though the 2012 No. 2 overall pick will be ready to suit up and hit the gridiron for Week 1 of the regular season.
The preseason is a different story—one that should serve as a blueprint for teams who are in the enviable position of possessing an athletically dynamic franchise quarterback.
Griffin's situation and lack of playing time in the relatively meaningless preseason games are more due to the circumstances of his rehabilitation and recovery than any other precautions.
But perhaps it is a sign of things to come.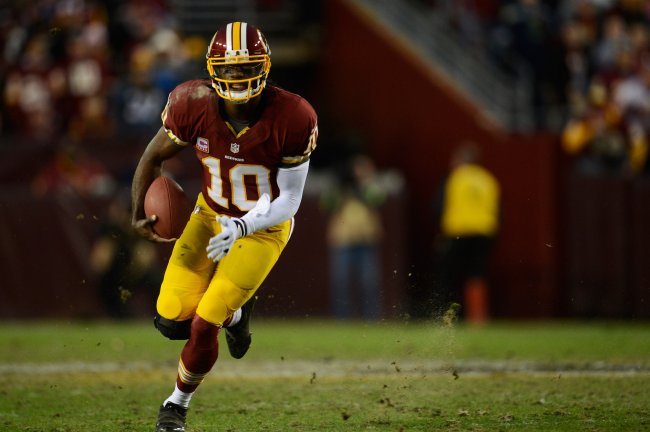 Patrick McDermott/Getty Images
After all, defensive coordinators are scrambling as it is to find ways to stop signal-callers such as Griffin, Colin Kaepernick, Russell Wilson and others from gashing their respective units with big runs and resultant devastation off of play-action fakes.
What better way to keep the added wrinkles confined to the practice field? Little is revealed in the way of complexities and intricacies in schematics in the preseason as it is.
Redskins head coach Mike Shanahan wisely ruled out Griffin for the entire preseason on Monday (h/t Mike Jones of The Washington Post), despite public protest from his hypercompetitive, talented quarterback:
Shanahan says "no possibility" of Griffin playing in the preseason.

— Mike Jones (@MikeJonesWaPo) August 12, 2013
There is no friction. There is an understanding between coach and player. That is all. Don't have to like everything

— Robert Griffin III (@RGIII) August 12, 2013
Particularly in this age of unprecedented big, fast and strong professional football players, many are fortunate just to get to the significant contests of the regular season relatively unscathed health-wise.
Keeping quarterbacks like Griffin on the sidelines until the real games start would be strategically beneficial in the sense that it wouldn't even provide teams with preliminary tape on players.
There is something to be said for getting competitive repetitions and translating what is actually done on the practice field to game situations. Thus, the wisdom imparted by ESPN's Herm Edwards, when he suggests Griffin should see about 10 to 12 plays in Game 3 of the preseason, may be a more realistic model for other teams to follow:
How much should mobile, starting NFL quarterbacks play in the preseason?
The only perceptive reason Griffin wouldn't be getting those reps—if not more—is due to his ailing knee.
In any event, the way the Redskins are delicately handling Griffin is shielding him from any unnecessary contact. Players like him would probably like to hit the field as soon as possible to test out a healed health setback, but players who are healthy should be preserved and put in a figurative incubator.
Keeping opposing teams in the dark while keeping the ever-invaluable, fleet-footed quarterbacks fresh seems like a reasonable strategy for any team with such a luxury at the game's most important position.
Other teams with quarterbacks of the future who bring the running element to their game should follow suit and be just as cautious—if not more so—with their uniquely gifted leaders.