WWE SummerSlam 2013: 5 Clashes That Will Deliver on the Hype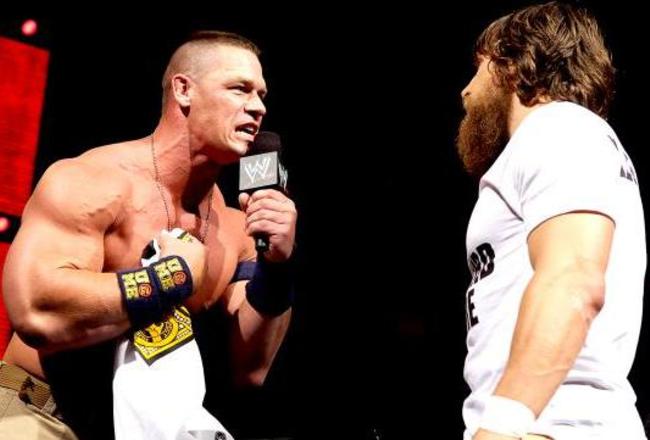 courtesy of wwe.com

As summer's hottest event, WWE SummerSlam always looks to be a can't-miss event chock full of excitement, brutality and drama.
This year, all of those bases will be covered, as the event is stacked with intriguing contests.
From the immensely hyped WWE title match between John Cena and Daniel Bryan to the Ring of Fire Match between Kane and newcomer Bray Wyatt, this pay-per-view looks to have the makings of a classic night in wrestling history.
Of course, some matches will be more exciting than others, and that is what we will examine here. So without further ado, let us examine some of the more high-profile contests that will be presented on August 18.
United States Title: Dean Ambrose (C) vs. Rob Van Dam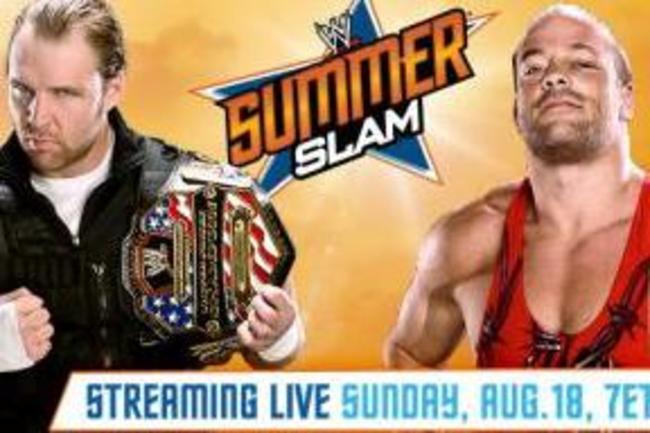 courtesy of wwe.com

Yes, this is a pre-show main event. And yes, Van Dam might be 42 years old. But any match involving the talent that Van Dam and Ambrose possess deserves to have some type of hype.
This is a last-minute addition to the card but a decent one nonetheless. Ambrose is one of the premier new talents in the company, while Van Dam is part of the old guard, a throwback to the time when wrestling was cutting edge. And while most of his offensive maneuvers are still considered innovative, his hybrid style of quickness, agility and high-flying moves now sets the standard for guys like Kofi Kingston and Justin Gabriel.
Ambrose seems to improvise his tactics as he goes and always looks as if he is giving his all in the ring. A match between these two might be exactly what SummerSlam needs to begin with a bang.
And for those who don't think that any title—let alone the United States title—can change hands on a pre-show, just look at SummerSlam 2012, where Antonio Cesaro beat Santino Marella for that very title in convincing fashion.
The Best vs. the Beast: CM Punk vs. Brock Lesnar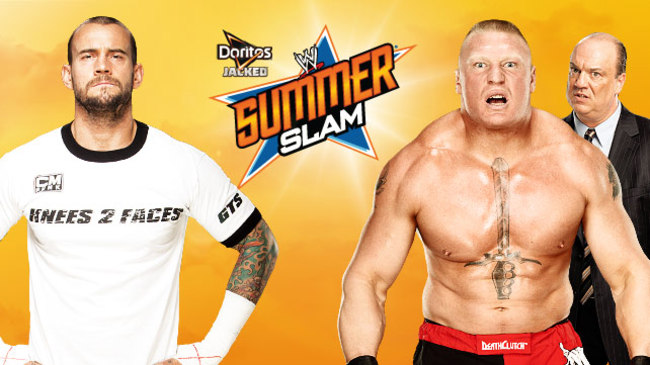 courtesy of wwe.com

This will likely be the match of the night and only gets pushed to the back burner because of the high-profile nature of Cena vs. Bryan.
More than foolish pride seems to be on the line in this one, and there does seem to be an underlying hatred between Punk and Lesnar.
At the center of this affair is Paul Heyman, the former best friend of Punk and current one to Brock Lesnar. Heyman can be seen as a huge intangible who may set the table for a Lesnar victory.
But Punk has a knack for escaping from high-profile matches with his pride and body intact, so it is also quite possible that he will triumph in this one. However, he has never faced a competitor like Lesnar, who has a blend of power and quickness that is uncanny for a competitor of his size.
Punk's advantage in this match is his ring savvy. Though Lesnar is quick and a ring veteran, he is also apt to make mistakes—even ones that Heyman cannot correct. That plays right into Punk's hands. If he can exploit just one simple mistake by the Beast Incarnate, he is likely to triumph.
But that is a big if.
Cody Rhodes vs. Damien Sandow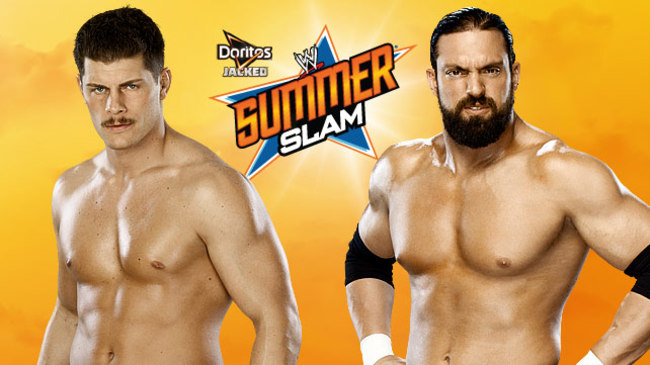 courtesy of wwe.com

These former best friends are now bitter enemies, and that is the theme of this encounter.
Add the fact that Sandow possesses the Money in the Bank briefcase for a shot at the World Heavyweight Championship—which Rhodes feels he should have won—and this match promises to be much more than a simple singles match with no real stipulations.
As Team Rhodes Scholars, this duo made some noise in the tag team division but were never able to win the title. An opportunistic Sandow prevented Rhodes from winning at Money in the Bank, stealing the victory for himself. Rhodes has made Sandow's life difficult from that time forward, attacking him at nearly every turn and even throwing the briefcase into the ocean.
With his growing popularity, Rhodes looks to be the favorite going into this singles match. But never count out a man who claims to be the "Intellectual Savior of the Unwashed Masses" like Sandow.
Those types of people can be crafty, and at the end of the day, sometimes a man who can think will come out on top of a superior competitor simply due to his intelligence.
Ring of Fire Match: Kane vs. Bray Wyatt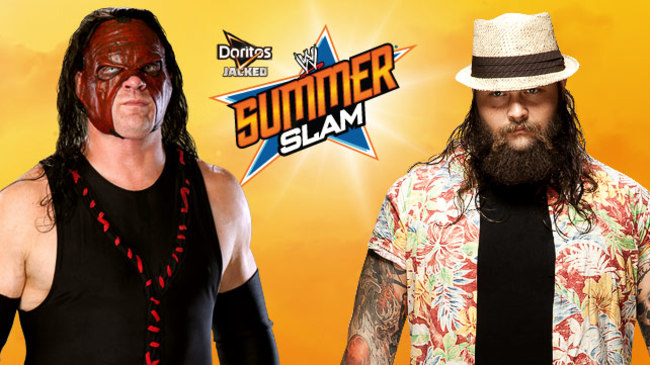 courtesy of wwe.com

The company seems to be behind the Wyatts and their gimmick, immediately placing them into a high-profile feud with one of the most established superstars on the WWE roster.
This match seems to play right into the "Big Red Monster's" wheelhouse, but one should never count out Bray Wyatt, who is crafty and calculating. And despite the fact that the setup of the contest is designed to keep people out of the ring, the Wyatts do not appear intimidated by much, so it could end up that they get involved.
It appears that Wyatt is looking to be a brutal force in the company, and a win over Kane could achieve it.
Whatever the outcome, the buzzards will likely be circling over the ring, ready to pick up any scraps that are left of these two competitors at the end of their heated affair.
WWE Title: John Cena (C) vs. Daniel Bryan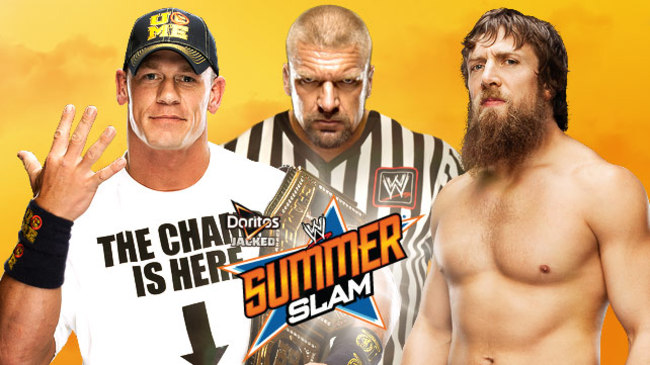 courtesy of wwe.com

This match is one of the most hyped in a while, but it is worth every bit of it.
Despite Bryan's claims that Cena is not a wrestler, the man does nearly break his back night in and night out to give the fans what they paid for.
Bryan does the same thing, so this one stands to be an instant classic. It could also lead to him winning his first WWE Championship, which he claims is all that he really wants.
Add in the fact that company COO Triple H is scheduled to be the special guest referee, and the recipe for excitement intensifies.
Randy Orton also awaits the winner as the holder of the Money in the Bank briefcase, and it stands to reason that the "Viper" will be ready to strike against the victor of this contest.
So to the winner: Do not rest on your laurels. If Orton has anything to do with it, you will not be able to enjoy the victory for long.
Keep Reading