Start, Keep, Cut: All Offensive Positions, Washington Redskins Edition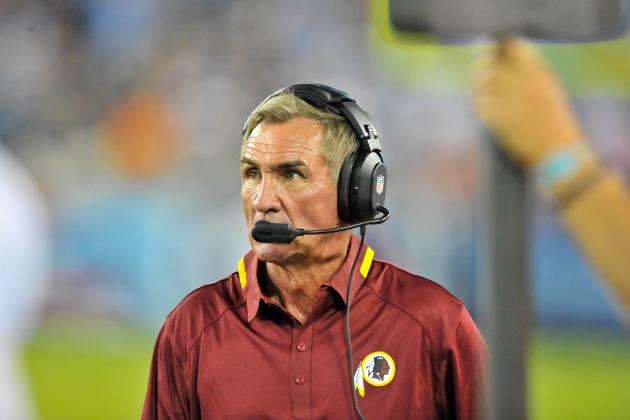 Jim Brown-USA TODAY Sports
Mike Shanahan has some difficult roster decisions to make.
Mike Shanahan and the Washington Redskins coaches will soon begin the arduous process of trimming the roster down to the final 53-man unit that will compete in 2013. With training camp and the first preseason game in the books, we have a slightly better idea of who is winning the position battles.
The following pages look at the offensive side of the ball and make some roster predictions based on these performances. It might seem early, but we're just so glad to have football back that we can't help ourselves.
Begin Slideshow

»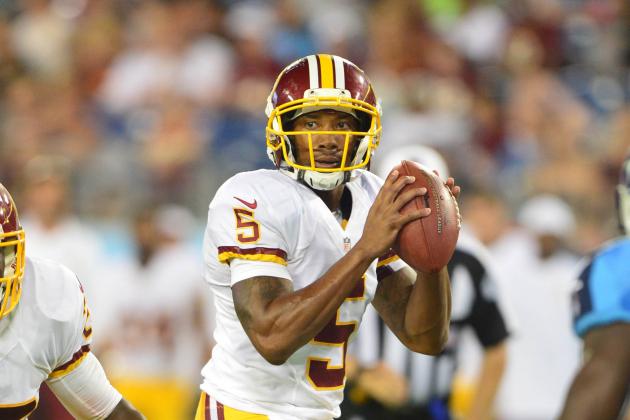 Don McPeak-USA TODAY Sports
Pat White has become a bit of a cult hero, but his days are numbered in Washington.
Start: Robert Griffin III
Keep: Kirk Cousins, Rex Grossman
Cut: Pat White
If Griffin is healthy by Week 1, he's the unquestioned starter. The 2012 Rookie of the Year has raised expectations since his arrival in the nation's capital, so don't expect this season to be any different. His recovery from a torn ACL has been impressive, but it's telling that the training camp play drawing the most applause is whichever one ends with a Griffin slide.
With this in mind, Cousins becomes even more valuable to the team. Last year, he showed he could be relied upon, leading Washington to two of its 10 wins in relief of Griffin. He has continued to progress through camp and looked composed in Week 1 of the preseason. Cousins' completions went to five different receivers, and he was comfortable running through his progressions, looking composed in the pocket.
However, there is seemingly a quarterback controversy developing. Not between Griffin and Cousins, but between Rex Grossman and Pat White.
White looked strong under pressure and led the team on a game-winning drive, including a two-point conversion to avoid overtime. He's mobile and could feasibly run the same offense as Griffin, whereas Grossman has been sketchy at best throughout his time in Washington. However, with two young quarterbacks on the roster, a backup veteran presence is likely to be preferred.
The preseason rise of White has been fun, but it's worth noting that his performance in training camp has by all accounts been poor. His accuracy, arm strength and decision-making have reportedly been questionable at best, so there's not enough evidence at this stage to keep him around over Grossman. He'll get a chance to change that in the remaining preseason games, but it's likely that the veteran wins this battle.
Geoff Burke-USA TODAY Sports
Aldrick Robinson looks to have taken the next step in his development.
Start: Pierre Garcon, Joshua Morgan, Santana Moss
Keep: Aldrick Robinson, Leonard Hankerson, Donte Stallworth
Cut: Devery Henderson, Chip Reeves, Dezmon Briscoe, Nick Williams
Cut (Practice Squad): Skye Dawson, Lance Lewis
Probably the most crowded position on the roster; the Redskins suddenly have a plethora of wide receivers and nowhere to put them. The starters are locked in—and rightly so—while both Leonard Hankerson and Aldrick Robinson have shown improvement since last season.
With four tight ends likely to make the roster, there will be a maximum of six receivers in the final 53. That leaves one place left for the remaining seven receivers currently with the team. Stallworth picked up a hamstring injury against the Titans which could keep him out of the Steelers game and hurt his chances. However, during that game, he got open with ease and looked far superior to the second- and third-team defenses he faced. If he recovers quickly, he deserves a shot against superior competition.
Devery Henderson has considerable NFL experience but hasn't yet jumped out in his limited time as a Redskin. The question then becomes one of age and potential. Do the coaches opt for the player on the downside of his career over one with untapped potential? Henderson will find himself struggling when asked to compete with younger, hungrier players.
Lance Lewis has impressed so far—both in camp and preseason—in his second year with the team, but the feeling persists that he will struggle against first-team defenses.
Unless he has a truly consistent preseason and shows reliable hands and route running, another year on the practice squad seems to be the best option for him. Skye Dawson is another candidate for the same treatment.
Dezmon Briscoe is a frustrating figure in Washington. He made the roster on the back of a strong preseason last year but was a complete non-factor in Tennessee, also dropping passes. If that continues, he'll be cut.
However, out of all the receivers doubtful to make the team, he possesses the ideal combination of youth and NFL experience that is so in demand. He's impressive in camp but seemingly unable to translate that to any meaningful game. Look for Briscoe to get some receptions over the rest of the preseason to give him a final chance to impress. After his poor 2012, he should be doing everything he can.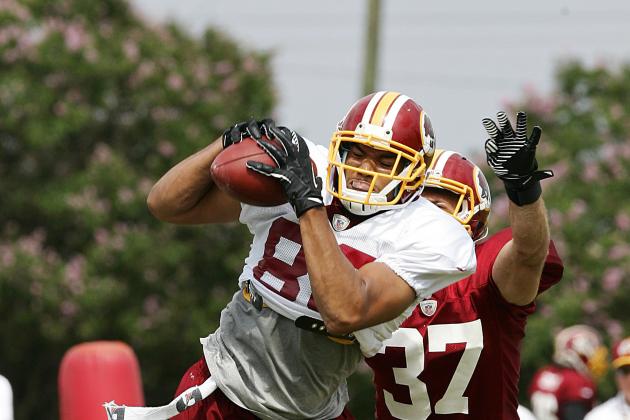 Geoff Burke-USA TODAY Sports
Washington will once again be expecting big things from Fred Davis.
Start: Fred Davis
Keep: Logan Paulsen, Niles Paul, Jordan Reed
Cut: Emmanuel Ogbuehi
With the selection of Jordan Reed in the third round of this year's draft, the Redskins are all but guaranteed to keep four tight ends on the roster for 2013.
Fred Davis is returning from injury and needs a stellar year to preserve his future with the team, while Niles Paul has to show improvement in his second season as a TE. Logan Paulsen is solid rather than spectacular and Reed is also recovering from injury, so the current crop of tight ends doesn't initially seem particularly dangerous.
However, Davis is a constant threat, and Paulsen is a great blocker and underrated as a receiver. And Reed showed at Florida that he could operate both as a TE and as a receiver from the slot, as well as run gadget plays as a quarterback. Niles Paul also saw time at fullback against Tennessee, so he offers further versatility.
There's enough variation within the roster to keep the offense unpredictable and successful, so Emmanuel Ogbuehi is likely to find himself on the outside looking in.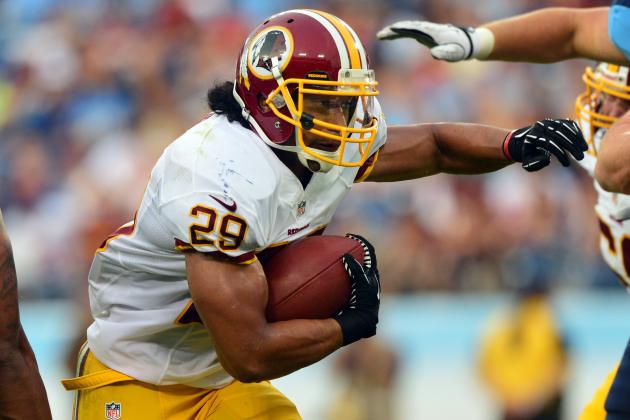 Don McPeak-USA TODAY Sports
Can Roy Helu, Jr. nail down his spot as third-down back?
Start: Alfred Morris
Keep: Roy Helu, Jr., Chris Thompson, Darrel Young
Cut: Keiland Williams, Eric Kettani, Evan Royster
Cut (Practice Squad): Jawan Jamison
Alfred Morris is the starter here, as much as Robert Griffin III is the starter. The rest is a little blurry.
Roy Helu, Jr. flashed moments of his 2011 self against Tennessee, but the same problems dogged him. He looked too eager to cut and run, not allowing the offensive line that extra half-second to create him a lane. Once he's gone, though, he's the standout runner among Washington's stable of backs.
Patience is something that Morris has—along with excellent vision—and it served him extremely well last year. He always seemed to make the right decision when hitting the hole, which neither Helu nor Evan Royster can do consistently.
Even so, they could both remain on the roster, and Helu in particular looks to be a lock for the third-down role.
Chris Thompson is still recovering from an ACL injury, so a lot depends on how he progresses. He's not really a candidate for the practice squad, as he'll be claimed off waivers, so that leaves Jawan Jamison as the unlucky one.
It's not a knock on Jamison at all—he's just a victim of the numbers.
Of the fullbacks, only one is likely to survive this year. Darrel Young has more experience and has shown to be a viable red-zone receiving option for Griffin, so he's automatically on the roster. Kettani was on the practice squad last year and signed a reserve contract in January, but the roster is now more crowded and positions with a higher profile (i.e. tight ends and receivers) could edge him out of the team entirely.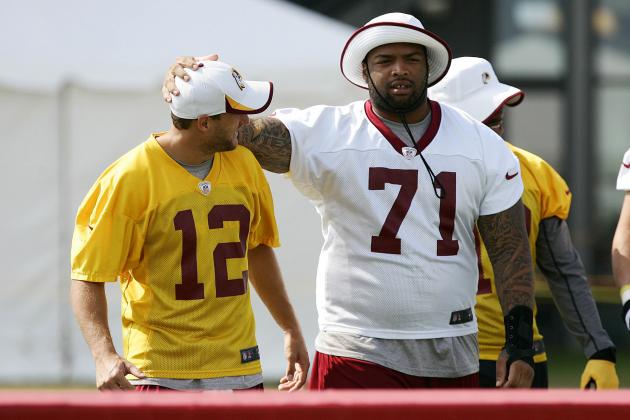 Geoff Burke-USA TODAY Sports
Trent Williams will look to build on last year's Pro Bowl season.
Start: Trent Williams, Tyler Polumbus
Keep: Tom Compton, Jeremy Trueblood
Cut: Tony Pashos
Cut (Practice Squad): Xavier Nixon
Aside from Trent Williams, the tackle position is not one of strength. Tyler Polumbus will retain the job on the right side by default and continue to struggle in pass protection. None of the other candidates have really stepped up and tried to force themselves into the picture.
The coaches are keen on Tom Compton, but he isn't quite ready to be a starter. In Tennessee, he struggled at left tackle, giving up pressure both inside and out, but he's also looking improved from last year. ESPN's John Keim noted that he had learned to counter the spin move, something which Keim observed "gave him fits last summer."
Tony Pashos has looked totally outmatched and cannot expect to remain with the team if he continues on this path. Xavier Nixon was erratic in Tennessee, just like he was at Florida; at times he seemed assured and in control, while other times he struggled to get leverage and looked out of position. He's got the talent, but the questions still remain. Give him a year on the practice squad and see what he can learn. There's a chance he won't clear waivers, but it's unlikely considering he fell out of the draft entirely.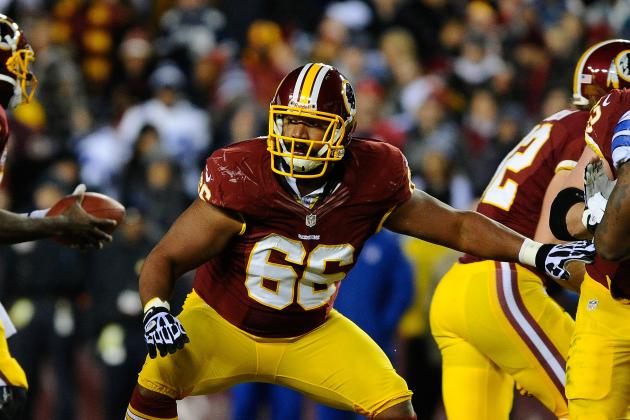 USA TODAY Sports
Chris Chester has improved in every season with the Redskins.
Start: Chris Chester, Kory Lichtensteiger
Keep: Josh LeRibeus, Adam Gettis,
Cut: Jacolby Ashworth, Maurice Hurt
Consistency among the offensive line was the key last year, and it outperformed most people's expectations. Chris Chester and Kory Lichtensteiger will again return as starters, with last year's draft picks Josh LeRibeus and Adam Gettis backing them up, although Gettis could switch places with Maurice Hurt for further versatility.
Gettis' limited playing time in 2012 means he could also end up on the practice squad, but it seems unlikely he'll clear waivers. The OL got lucky with injuries last year after a terrifying 2011, and it's dangerous to assume they'll stay lucky. Depth is depth, regardless of how unproven. It's not worth the risk of losing a player Shanahan obviously has plans for.
Former Houston tackle Jacolby Ashwoth is listed at guard on the Redskins' official depth chart but could find himself looking elsewhere after the preseason. It's going to take some extraordinary performances to unseat any of the players ahead of him.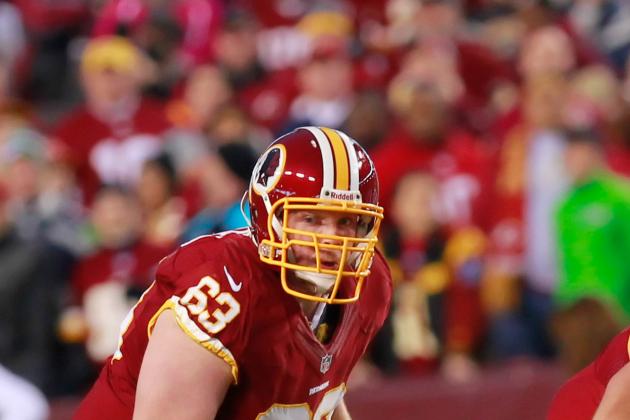 USA TODAY Sports
Will Montgomery returns as the starter in 2013.
Start: Will Montgomery
Keep: Kevin Matthews
Cut: Tevita Stevens
Will Montgomery is consistent and reliable at center, so the Redskins will start him again this year. Backing him up is likely to be former Titan Kevin Matthews, son of Hall of Famer Bruce Matthews and cousin of Green Bay's Clay Matthews.
Matthews is ideally suited to the zone-blocking scheme that the Redskins employ and has also played some guard. He has been reliable in training camp and should slot into the system well.
Josh LeRibeus could also play some center, so the depth at this position is good. However, this could easily see Matthews cut, too. Because of this, Tevita Stevens is the obvious one to suffer.