Brock Lesnar vs. CM Punk: 10 Bold Predictions for SummerSlam Match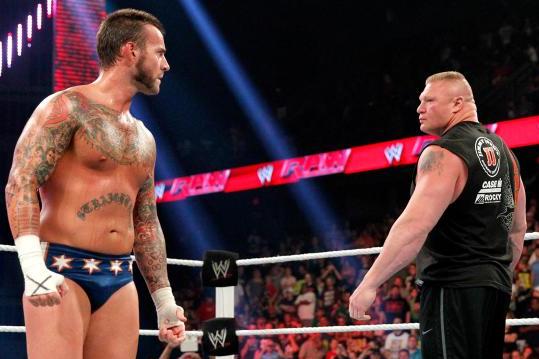 Photo courtesy of wwe.com
We are less than one week away from "The Best vs. The Beast" which takes place at SummerSlam. "The Best", CM Punk takes on "The Beast," Brock Lesnar.
Punk and Lesnar will battle in a bout like no other. The accolades and history between these warriors makes this battle well worth the price of admission and pay-per-view. However, anything can happen during their encounter.
This matchup should be, as Jim Ross would say, a "Slobber-Knocker." But what kind of surprises could we see during this match? Well, it's time to rustle up some predictions.
These 10 possible projections cover every angle of the Lesnar/Punk match, from involvement of other wrestlers and managers to possible outcomes. Not all will come to fruition, but maybe one of them could possibly happen come August 18.
Here are 10 bold predictions for Lesnar and Punk's SummerSlam bout.
Begin Slideshow

»
Paul Heyman betrayed Punk at Money In The Bank, where he cost Punk the WWE All-Stars Ladder Match. Since then, his once on-screen friendship with Punk has turned into pure, unadulterated hatred.
Heyman sent Lesnar at his former friend, which ignited the feud and culminated in making this match. He will accompany his client when SummerSlam arrives. He'll most likely attempt to help Lesnar win.
What if he makes a mistake? What if Heyman accidentally hits Lesnar and costs his client the match?
The repercussions would be alarming if that happened. Heyman won't turn on Lesnar on purpose only in the event to once again join forces with Punk. However, accidents do happen in sports entertainment.
As stated earlier, Heyman should appear by Lesnar's side in Lesnar's match against Punk. We all expect Heyman to interfere and help Lesnar win.
But what if he doesn't interfere? Suppose Heyman just let these two go.
Heyman rarely interfered in matches before Punk's comeback at the Payback pay-per-view. In fact, he let his clients pick up victories by themselves, even though others ambushed their enemies to help Brad Maddox and The Shield.
Considering Lesnar's history of destruction in the WWE, Heyman might be too smug to lift a finger. He should expect Lesnar to steamroll over Punk. Why should he do anything if that's the case? Heyman should just sit back, relax and let Lesnar do what Lesnar does best: destroy!
Though the WWE's announcer table shouldn't come to play, in reality it should.
We don't have a hardcore-type of match with the exception of the mysterious "Ring of Fire" match between Kane and Bray Wyatt. There needs to be one match that goes to the extreme. What better match is there other than Lesnar vs. Punk?
Both are no strangers to the table. Lesnar gave the F-5 to Punk on the table at the July 15 edition of Raw.
Punk needs to convince the WWE fans he can beat Lesnar, and the table has become the equalizer in most physical matches. Expect Punk to drop the elbow through Lesnar on the table, bringing on the pain to The Beast.
Our current Intercontinental champion, Curtis Axel, got involved in this feud at Money In The Bank.
During the All-Stars Ladder Match, he cost Daniel Bryan the match by giving him his one-armed swinging neckbreaker on Bryan on the mat. He failed as Punk didn't want Axel's help and received a Go To Sleep because of it.
Axel fought Punk on the August 5 edition of Raw. He'll want revenge as well for Heyman.
It'd be quite a twist if Axel helped Punk win, but it would also be too soon to purposely be of assistance. Despite his meteoric rise in the spotlight, Axel's floundered and appeared a little lost in the shuffle.
Axel's interference will be by accident, helping Punk win by inadvertently hitting Lesnar. It could result into a great SummerSlam moment.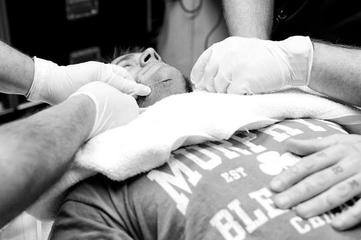 Photo courtesy of wwe.com
This may not be a bold prediction to some, but expect blood in this matchup.
Lesnar made John Cena bleed in last year's Extreme Rules pay-per-view. He also made Punk bleed by accident on the August episode of Raw. Punk received four stitches on his chin, courtesy of Lesnar.
Blood will be in this match, whether deliberate or not. Now, both Lesnar and Punk can tell a great story without adding blood in the picture. These two can have a bout without shedding blood.
However, there will be blood of a more legitimate kind. When you mix Lesnar's smash-mouth style with Punk's energy, either man or both will bleed at SummerSlam.
Let's see: two guys with training in Mixed Martial Arts step into the ring. Stop me if you've heard this one before.
Punk trains under the Gracie Academy, while Lesnar's MMA history has been documented well. Wouldn't the WWE want to book a knockout?
Both guys have that knockout power. Punk has those high kicks that can finish any opponent. Lesnar has legitimate knockout power and performs high-impact moves.
Knockouts are rare in the WWE, and thankfully Lesnar's TKO hasn't put Cena or Triple H out of commission for extended periods of time. This might be the first match where we might witness it. It won't be legitimate, but it could add a new layer to this feud that could even keep it going after SummerSlam.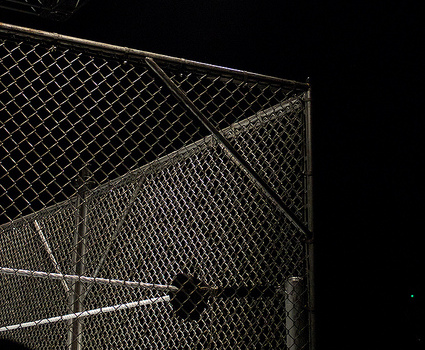 Photo Credit: Anton Jackson, Flickr.com
The WWE should just have a cage dangling from the ring when SummerSlam hits. Wouldn't it make sense to lower the cage during this match?
Think about it. Heyman wants Punk to suffer more than he's ever experienced. He already has his ideal client in Lesnar dead set on Punk. Adding the cage brings even more intrigue and a sparks danger to this volatile situation.
The cage could be lowered because of Heyman setting that trap. The evil genius could have this plan in place, just in case Punk decides to use the old "stick and move" strategy.
It's unlikely a cage will be lowered, but don't be surprised if the cage starts coming down.
Two guys with an MMA background will go at it this Sunday. Why not incorporate some of that training?
The WWE didn't turn away from Lesnar's background in MMA. He headlined UFC events and became the heavyweight champion.
Lesnar insulted Punk for training in MMA (video placed above). Why even mention that if it won't play out in some shape or form during their match?
The promo was personal and promoted this bout even more. If any MMA aficionados are wrestling fans, expect a little taste of MMA during this bout.
Brock Lesnar rarely quits in his matches. Only two men have made him tap to my recollection, Kurt Angle being one of them. That also happened at SummerSlam in 2003.
Lesnar hasn't lost to submission since his return. He might be due to tap out.
It would make a great story if CM Punk made Lesnar tap. Here's a guy who proclaims to be the best in the world taking on a pure force of destruction. Taming the Beast in Lesnar could bring Punk's profile more than pinning him.
It isn't too far out of the equation. In fact, a deleted scene in CM Punk's Best In The World documentary revealed plans for Punk to beat the Big Show at December to Dismember, by submission!
Punk's Anaconda Vice maneuver would prove difficult to lock on Lesnar, considering the size difference between the two. It would only enhance Punk's profile if he not only locked it in but also made Brock Lesnar submit.
If this bout ends in a no-contest, expect fans to lose their minds.
It would be grand theft by the WWE robbing us of an outcome. They've done it before at pay-per-views.
Let's go back to the 2005 edition of SummerSlam, which saw Edge beating Matt Hardy down to a point where Hardy couldn't continue. They also have done this twice with Shawn Michaels. Randy Orton first rendered him unconscious at 2006's Judgment Day. He also suffered a vicious beat down at 2008's The Bash thanks to Chris Jericho.
The WWE isn't shy of telling these stories, and it only stretches the feud longer for more pay-per-views. Brock Lesnar promised a beating like never before on Punk. He might give it to him.
A no-contest would not be a significant payoff for this high-profile match. This marquee match doesn't need to end in a draw. Lesnar and CM Punk deserve to have their match to be finished at SummerSlam. However, the WWE would be taking a bold step if they went with this direction.