Arsenal: Player-by-Player Guide to Their 2013-14 Premier League Squad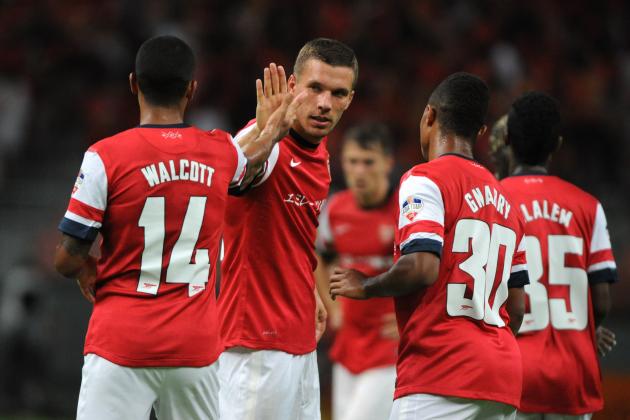 Masashi Hara/Getty Images

Arsenal have not yet acted to strengthen the already thin squad that scraped into fourth place with a dramatic run of victories at the end of last season.
As the 2013-14 Barclays Premier League season gets underway, Gunners fans might feel somewhat despondent about the prospect of another emotionally torturous season.
But, as we shall see, the squad is composed of many premier players who can swing with the biggest clubs in the country on their day. Arsenal's lack of depth makes my task in writing this slideshow easier, but there is substance to nearly every player in the team.
Without further ado, here are the brief profiles of every member of Arsenal's senior squad as the brand new season begins to unfold.
Begin Slideshow

»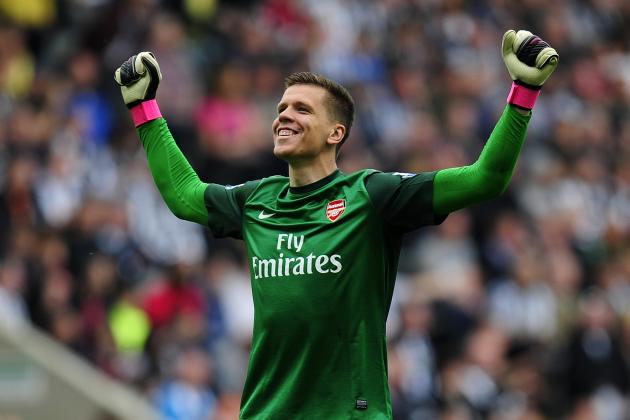 Stu Forster/Getty Images

The Pole is still not the finished article, but, despite a midseason hiccup last season, is still firmly established as Arsenal's No. 1.
Szczesny possesses all the physical traits that one would look for in a world-class goalkeeper: a rangy 6' 5" frame, good reflexes and the confidence that allows him to be the boss of his penalty area.
Now in his third full season as Arsenal's first-choice 'keeper, fans should look for him to begin to develop into a more mature presence.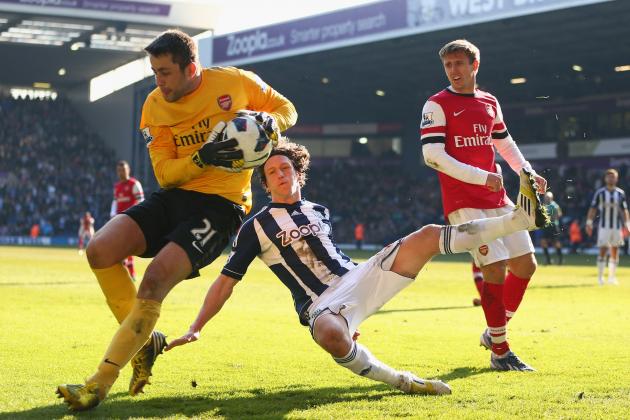 Michael Steele/Getty Images

Few would have expected Fabianski to return to the fore of Arsenal's goalkeeping conversation at the beginning of last season (or, indeed, during most of it), but his performances in Szczesny's place at the end of last season thrust him back into the spotlight.
The Pole appears to have shed the timidity that plagued him during earlier years, and immediately upon his reintroduction to the squad against Bayern Munich, he commanded the penalty box with aplomb.
Fabianski's contract will expire at the end of the season, but he will be motivated by his compatriot's recent suicidal play, and motivated to earn a rich deal elsewhere.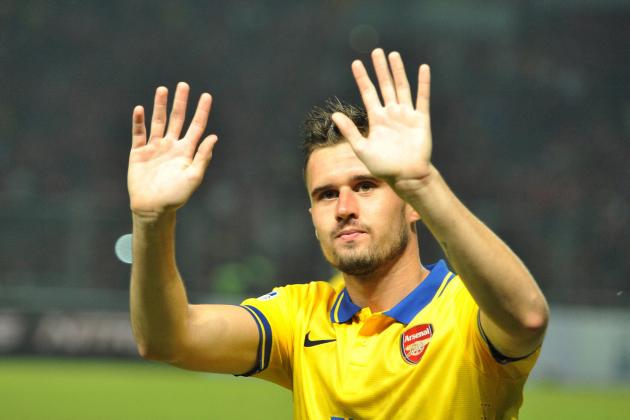 Robertus Pudyanto/Getty Images

Even if Bacary Sagna remains healthier than he did last season, Jenkinson will likely be afforded more opportunities to develop against live competition during this campaign.
The young Englishman is not without immaturity and flaws, but his talent is obvious. His engine never ceases to blast at maximum strength, and he is one of the best and most consistent crossers on the team.
As long as Sagna is fit and firing, Jenkinson will probably be left on the bench. But he should show definite signs of progression during his third season in the first team.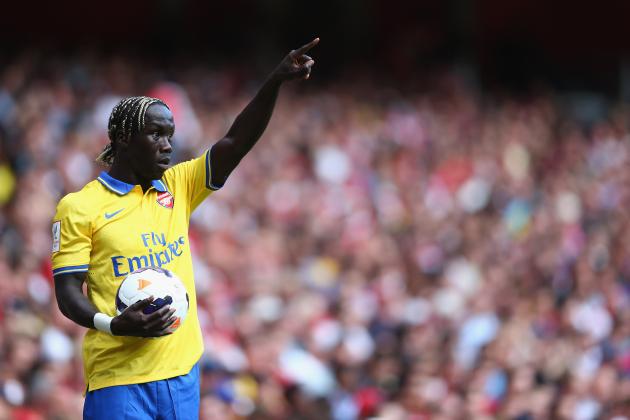 Paul Gilham/Getty Images

Though Sagna is just 30 years old and will finish the season at 31, it is fairly obvious that this will be his final season with Arsenal.
If Carl Jenkinson develops as one would expect him to, the time for a baton passing at right back might be nigh. Arsene Wenger has a longstanding policy of offering players over 30 one-year contracts, but Sagna could be an automatic starter at another club and would probably not relegate himself to being Jenkinson's backup.
But, despite two broken legs, the Frenchman has much to contribute to a team that desperately needs his defensive solidity and consistency. After all, how broken down could a chiseled adonis like this be?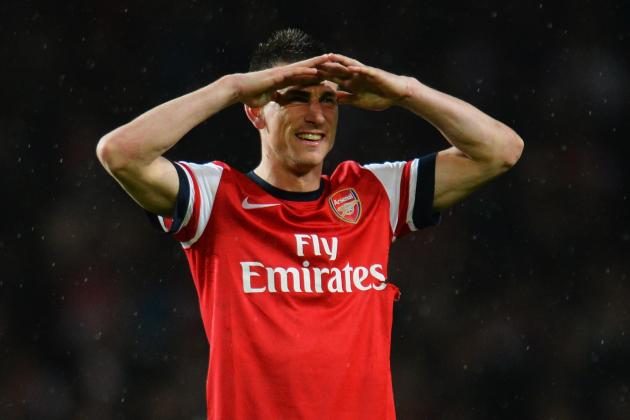 Shaun Botterill/Getty Images

With every game Koscielny plays, the myth that Arsene Wenger is incapable of signing quality defenders is exploded anew. (The canard concerns their skill, not their actual signing.)
After a somewhat rocky first season in English football, Koscielny has matured into one of the most dynamic, robust defenders in the Premier League.
Arsene Wenger dropped him during the beginning of last season, but he forced his way back into the team with a series of stellar performances that decisively relegated captain Thomas Vermaelen to the bench.
Unless Koscielny regresses this season, Wenger must choose him to start in every game he can.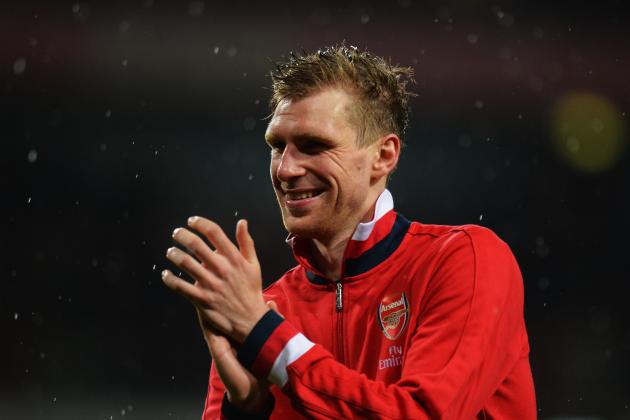 Shaun Botterill/Getty Images

Mertesacker is indispensable simply because there is nobody else like him on Arsenal's roster.
He is the opposite of the stereotypical Arsene Wenger-type player: of enormous physical stature, slow as molasses and not technically adept.
Yet Mertesacker reads the game better than perhaps anyone else on the team, and is willing to remain at the back to fend off threats that more forward-thinking players leave the defense exposed to. He also provides an aerial threat that few can compete with.
In the absence of Thomas Vermaelen and Mikel Arteta, Mertesacker will be entrusted with captaining Arsenal.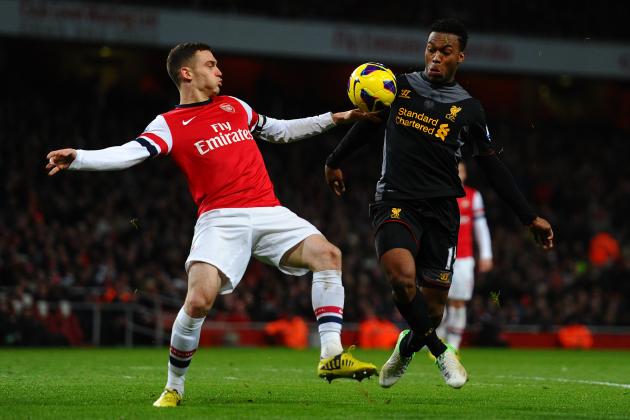 Laurence Griffiths/Getty Images

It is quite peculiar that Arsenal's captain is their third-best center back, but such is the situation with skipper Thomas Vermaelen.
It became clear at the end of last season that, while extraordinarily technically capable for a central defender, the Belgian is simply not disciplined enough to merit an automatic starting spot ahead of Laurent Koscielny or Per Mertesacker.
For now, Arsene Wenger does not have to confront a selection dilemma because Vermaelen is rehabilitating a troublesome lower back injury. For a player who has missed significant periods of time during the last few seasons—an absence last year allowed Koscielny to take his place—maintenance of fitness should be his primary concern.
Jan Kruger/Getty Images

Logically, Monreal should be better than he was during the second half of last season, when he provided excellent cover during times when Kieran Gibbs was injured.
He did not get to participate in the preseason because of international commitments with Spain, but Monreal should be up and kicking before too long.
Unlike Gibbs, who was brought through Arsenal's academy as a winger, Monreal is a defensive left back, whose first instinct is to track back, rather than get forward.
He faces stiff competition from a man generally thought to be the future patroller of Arsenal's left flank, but if he improves his play during his first full term in England, Gibbs might begin to feel some sweat on the back of his neck.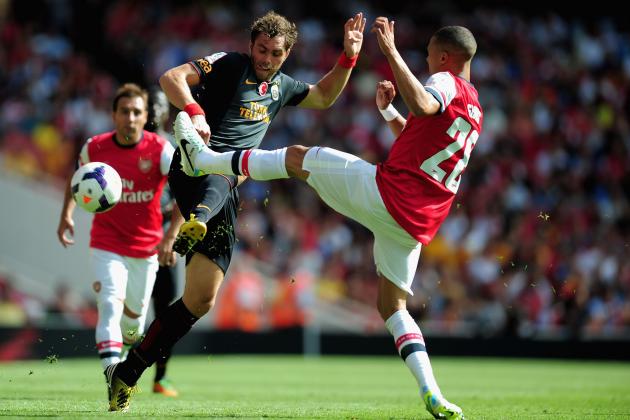 Jamie McDonald/Getty Images

Perhaps if Gibbs can remain fit for a full season, he will be able to full stake his claim as Arsenal's undisputed starting left back, and the protector of the flank for the long-term.
Injuries have plagued him throughout his career, and although nothing major befell him last season, there were multi-week stretches where he was nowhere to be found.
If Arsene Wenger is to consider him a viable option for the next several years, Gibbs will have to display his talent for a full term.
And he does have that in abundance. Gibbs' biggest task this season will be maintaining defensive discipline while choosing certain moments to exploit his natural attacking instincts and skills. An excellent player eventually learns how to sustain this balance.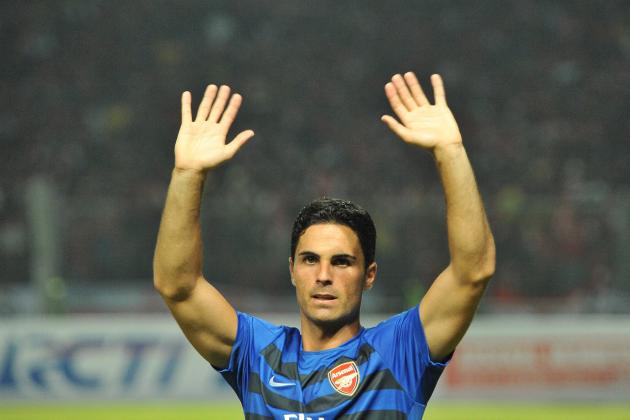 Robertus Pudyanto/Getty Images

Mikel Arteta is the beating heartbeat of Arsenal's midfield. He sits in front of the back line and prevents a rogue opponent from leaking through; he metronomically keeps play moving with scores of often superficially boring passes; he is one of the team's most prominent leaders.
When the Spaniard is injured, as he will be for the next six weeks, Arsenal lose arguably their most important player, even if his importance is often subtle.
Arsene Wenger will likely start Arteta in nearly every game in which he is fit to play. No one possesses his combination of skills, and the entire team suffers when he is not patrolling the middle of the pitch.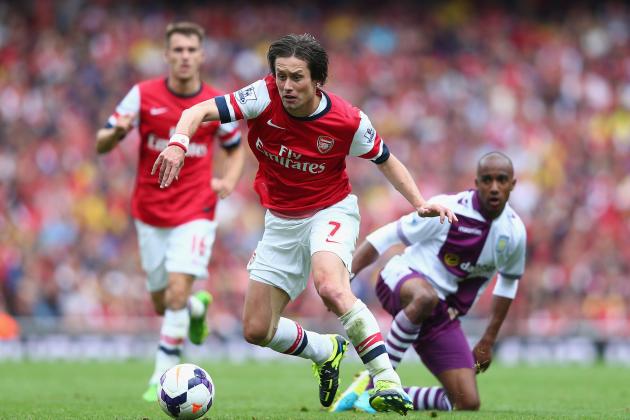 Clive Mason/Getty Images

On his day, Rosicky, who is on the precipice of his 33rd birthday, can still shred defenses with his unique brand of energy and vision.
The Czech would receive more playing time if he was not so often injured. When he returns from a frequent spell on the sideline, he must immediately contend with some of the most talented players in the world at his position.
But when Rosicky is healthy, fit and in form, Arsene Wenger finds it difficult to bench him. He improves Arsenal's defense from the front, relentlessly pressing and harrying opponents until they cough up the ball, and is not reluctant to have a pop at goal in and around the box.
The key, as always, is whether he can get on the pitch.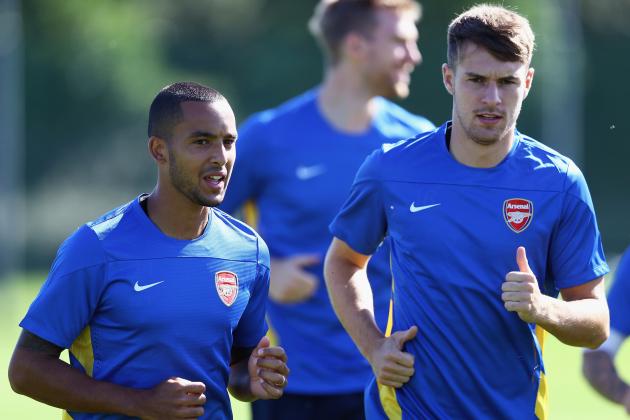 Matthew Lewis/Getty Images

Few Arsenal players have generated as much controversy and venomous, sulfuric vitriol as Aaron Ramsey.
It took the young Welshman (he is still just 22 years old, remember) over a year to fully recover from Ryan Shawcross' malicious tackle several seasons ago. At the end of last season, however, even his most ferocious detractors were forced to admit that he had become a vital cog in Arsenal's midfield.
Ramsey's game is based on relentless running and pressing in all areas of the pitch; few, if any, Arsenal players work harder or run farther every game than Ramsey does.
He works with Mikel Arteta to guard the defense, and can use the vision that caused Arsene Wenger to bring him to the club as an attacking midfielder to pick a devastating through ball.
It appears that Ramsey's worst days are long behind him now.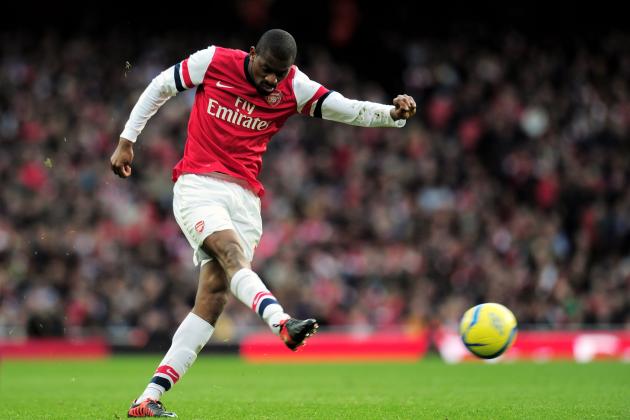 Shaun Botterill/Getty Images

What words can be said about Diaby that have not been utterly exhausted at this point?
When fully fit and provided the opportunity to use a few games to hone his skills, Diaby is one of the most versatile and dynamic midfielders in the Premier League.
But that is such an infrequent occurrence that he is a massive stain on Arsenal's generally clean wage bill.
Nevertheless, the Frenchman might yet play a part in this season. He is scheduled to recover from his torn ACL around January, but who knows how long he will be able to keep his body intact before the next tragedy befalls him.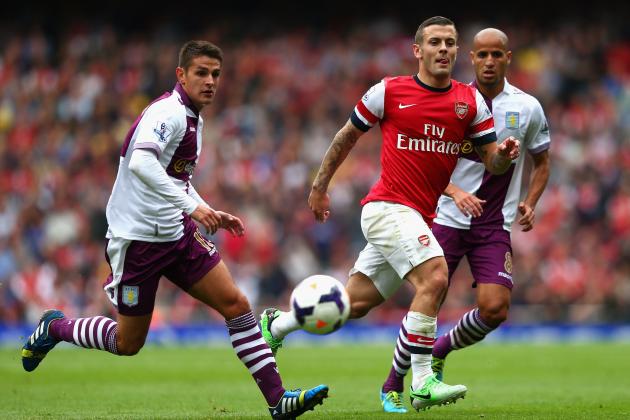 Clive Mason/Getty Images

The future.
Wilshere can do it all, and with swashbuckling style. Few players are less afraid of a physical confrontation when on the ball or after play is stopped. Fewer possess his dribbling ability and eye for a last-second pass out of danger.
After mostly being deployed in a defensive role during his breakthrough season, Wilshere was moved further forward last term, and the rewards were immediately reaped. Though he could stand to improve the creative side of his game a bit, it is clear why he wears the No. 10 on his back.
Arsene Wenger's biggest challenge will be managing how much he plays. Wilshere's still just 21 years old, and bears the brunt of powerful challenges during every game he plays. He will have to be rested at regular intervals to preserve his fitness and prevent injuries.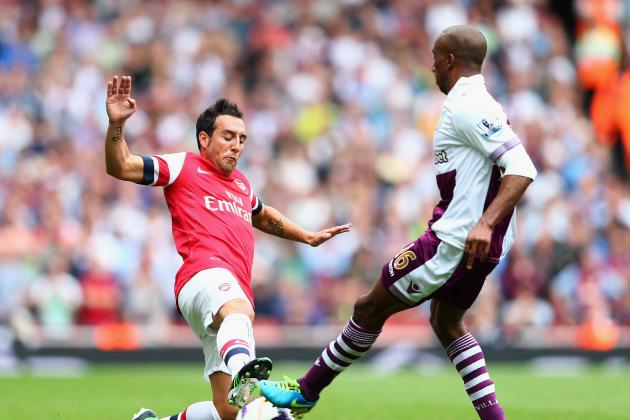 Clive Mason/Getty Images

As soon as Cazorla was purchased last season, it was obvious that Arsenal had made one of the most intelligent moves of the entire transfer window.
The pint-sized Spaniard torched almost every team he faced last season, whether on the left wing or in central attacking midfield, using tremendous close control, an eye for a killer pass and a unique two-footedness that allows him to take free-kicks with either boot.
It was no accident that he was the only Arsenal player to appear in every single Premier League game last season. Of those 38, he started 37.
Cazorla's versatility and special talent means that, when healthy, he will almost certainly be on the pitch.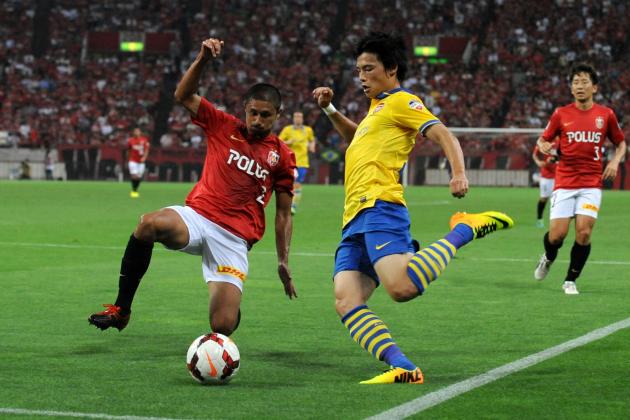 Masashi Hara/Getty Images

It does not appear that Ryo will be loaned out before the transfer window closes, so this season will serve as the 20-year-old Japanese winger's biggest, and possibly last, chance to make it at Arsenal.
He does seem to have the raw talent, if not the health. His pace is scintillating, and his technical ability is such that he routinely plays on the left wing so that he can cut inside and wreak havoc with his stronger right foot.
Ryo's problem will be amassing the minutes necessary to convince Arsene Wenger that he is worthy of more playing time. Gervinho's departure should help, as will Alex Oxlade-Chamberlain's apparent three-month injury. He must wring this chance for all it has, though.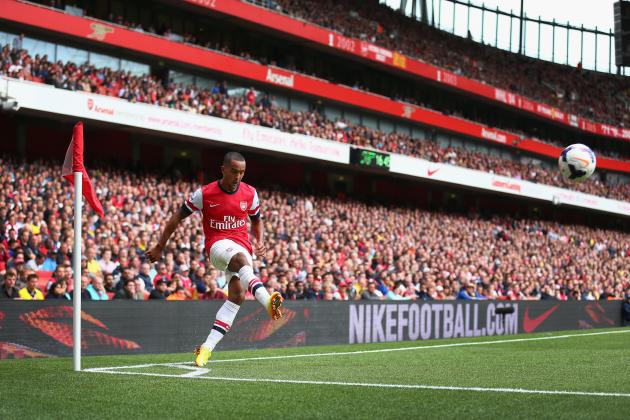 Clive Mason/Getty Images

Last season was one tremendous progression for Theo Walcott—both on the pitch and in his wallet. However, he is still a somewhat inconsistent player, and significant doubts remain about his capability of playing as a striker.
it is inarguable, though, that Walcott's finishing touch has become much more clinical during the last season or so. He might not have the physical presence to be a striker in England, but he is now quite a goal-poacher.
Ultimately, he is selected for the team because of his speed. That uncoachable turbo boost has destroyed many a left back's confidence, and enables Walcott to turn the tide of a game almost instantly.
But he is no longer a one-dimensional player.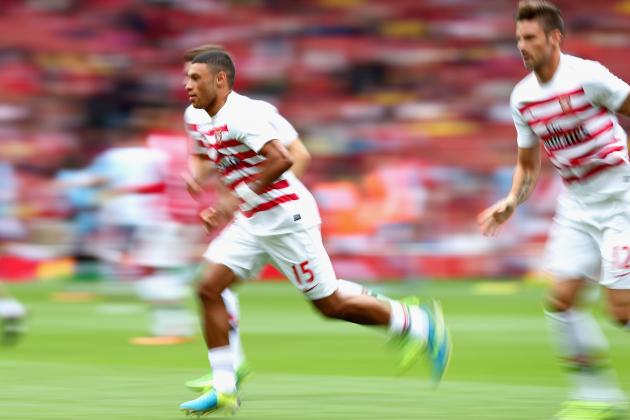 Clive Mason/Getty Images

When The Ox returns from his horribly timed three-month absence due to a knee injury, he must reestablish himself as a crucial member of the first-team.
This is Oxlade-Chamberlain's season to do so. He debuted two years ago and instantly burst onto the scene, but endured something of a sophomore slump last year.
With Gervinho off to Roma, one significant competitor has been removed and Oxlade-Chamberlain primarily needs to jockey with Lukas Podolski for the right to start at left-wing.
Or perhaps Arsene Wenger will choose to ease him into the midfield role for which he has always been earmarked. The Ox's potent combination of pace, close control and a remarkable ability to shoot from distance could be lethal in a central role.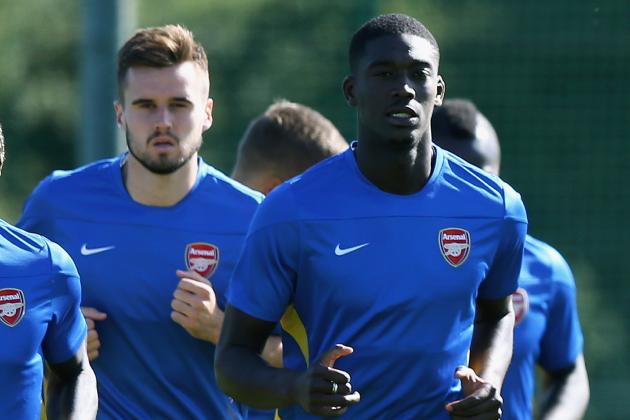 Matthew Lewis/Getty Images

Poor, poor Yaya Sanogo.
The French youngster has had to endure semi-sympathetic, dismissive laughter whenever his name has been mentioned this summer—primarily because it is only mentioned as a passing clarification when pundits mention that Arsenal have signed exactly zero new players since the transfer window opened.
But, while he will probably not be thrust into first-team action for some time yet, Sanogo does seem to be part of the team at the moment.
Though mostly due to necessity, he is traveling with the squad to Turkey for a Champions League qualifier after fully participating in preseason, and does not appear to be on the loan list.
Perhaps the lanky striker will make some sort of impact later in the season.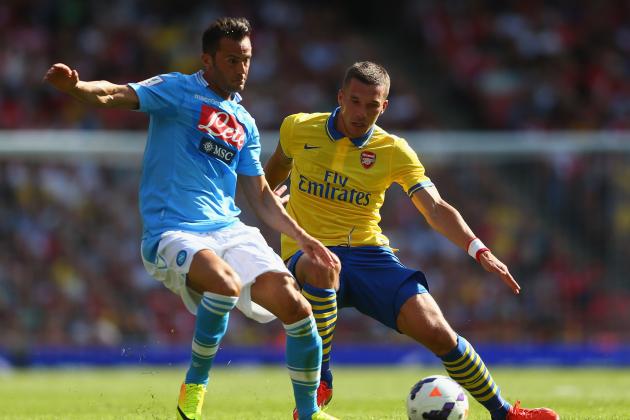 Paul Gilham/Getty Images

Every player brings something a bit different to the team, but Podolski's beneficial qualities are quite obvious: an absolutely ferocious shot and a willingness to push the ball forward, rather than sideways.
Because the German is essentially half striker and half winger, he combines the former's eye for goal and ability to whack the cover off the ball with the ability to create for others and deliver quality crosses into the box.
Arsenal are often criticized for dithering too much in possession and being reluctant to simply shoot the ball; no one could rightfully accuse Podolski of the same.
It has been frequently noted that he rarely completed a full match last season. Podolski has now had a full offseason and preseason to overcome any latent niggling problems that were afflicting him, so that should not be an issue this time around.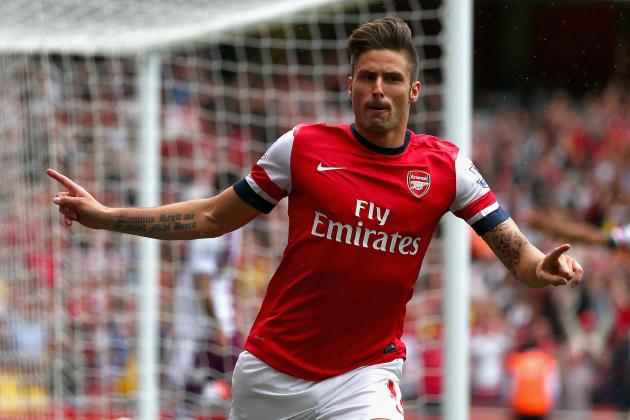 Clive Mason/Getty Images

For a plethora of reasons, Olivier Giroud is the only central striker Arsenal have. But he might just be rounding into his best form when the Gunners most need him.
He began his first season in England in tepid fashion last year after transferring from Ligue 1. But his unique combination of domineering physical stature and silky feet prevented him from becoming the bust that some feared he would turn into.
Giroud can do it all: He is strong enough to hold the ball up for a teammate with his back to goal, is eminently capable of heading in goals and is utterly unafraid to try something audacious with his feet.
The fact that he is Arsenal's only true striker is a result of indefensible negligence, but he is certainly one of the best players in his position in the Premier League.
If Giroud excels during his sophomore season, so will Arsenal.