Under the Knife: Latest MLB Injury Updates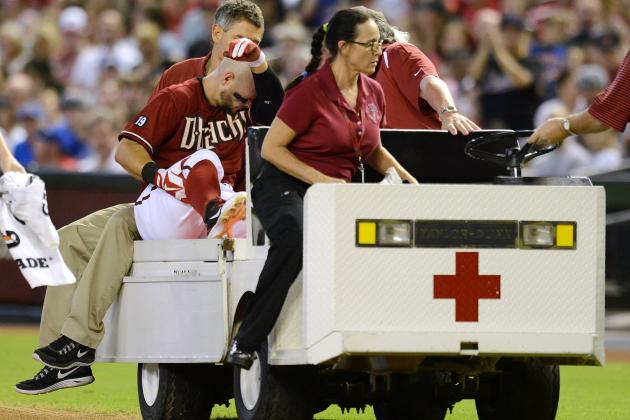 Norm Hall/Getty Images

I grew up a Cubs fan, so I've heard every discussion there is about the day games wearing them down. Those continue, even with night games now in the picture at Wrigley. It's the same with Texas, where heat is often the issue, bringing up discussions of how the team could thwart the pounding summer temperatures and the effects it has on the Ranger players.
Except for one thing. We don't have any evidence that it's the case.
There's anecdotal notes of course. Players are human and heat affects them. They've said so in stories since the 1920s, in the case of the Cubs, even as all other baseball teams suffered from the same need to play in daylight.
What we haven't seen is a single scientific study that's shown any sort of cause-and-effect relationship. I'm not talking about something simplistic, like hydration. I'm talking about a real study, the kind of thing MLB should be doing and that teams themselves should be doing but aren't.
Even with the statistical revolution of the last 20 years, with people like Bill James ensconced in every front office, baseball still eschews even the most basic of research, with the budgets of most teams for any sort of research very easy to note: zero. None have the budget that approaches even a fifth-round pick.
It's no wonder I have so many people to write about every week and have for the last 12 years. In a league where small advantages matter more than ever, there's still a big chance for a team to get that advantage at low cost, if it would just buck the trend against change.
For now, on to the injuries:
Begin Slideshow

»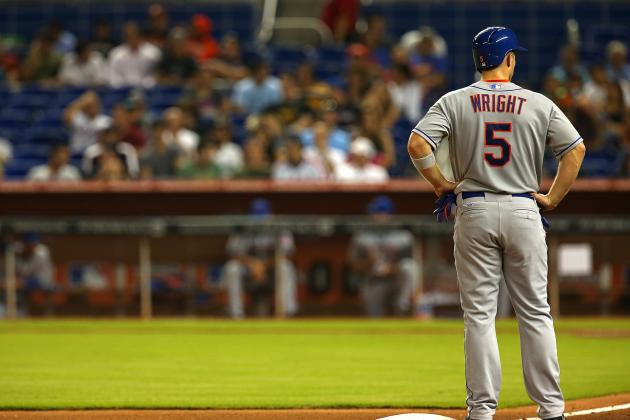 Mike Ehrmann/Getty Images

Context is everything when it comes to injuries. An injury in April is "minor," but the same one in September is "season-ending." One player of a certain build or style can play through something while another heads to the DL. And don't tell me that salary and stardom don't figure into decisions, either.
David Wright's hamstring injury is not significantly different than it was when he injured it. I don't mean that he hasn't healed, but he hasn't had setbacks. The Mets, however, sound as if they're more willing to just shut Wright down and let him heal up given the team's context.
They're running out of innings for Matt Harvey and there's no chance at even a second wild card. The team has made huge strides and shown that it could be a winning team while Wright is a Met. Giving him the extra time off makes sense at some level, though Wright will likely push to return. That's just what players do in most cases—they want to play.
Wright could return later this season. The Mets just seem more inclined to let the clock expire before letting that happen on a pure baseball basis. What we have to remember is that they're also dealing with a fickle fanbase and ticket sales following on the All-Star boost. Sometimes medical decisions aren't made in the training room.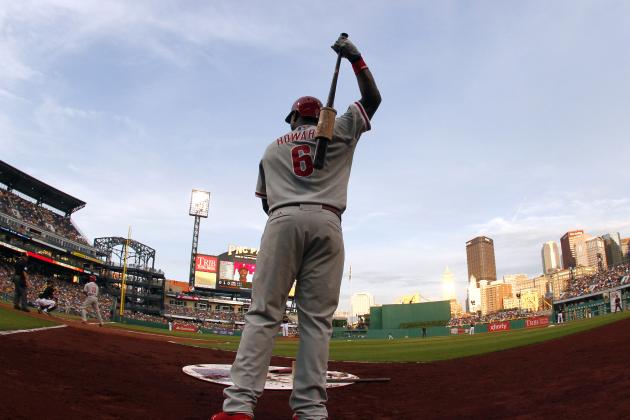 Justin K. Aller/Getty Images

Remember Ryan Howard? He's out following knee surgery and this season appears lost. The Phillies seem to almost be at a point where out of sight is out of mind to the fans, even if the payroll is the same.
While there's no need to rush him back, the Phillies seem to be moving toward a shutdown. It makes medical sense to not risk either the knee or his repaired Achilles if there's any deficits, but at this stage after relatively minor surgery, Howard should be much closer to a return. That suggests this sort of neo-shutdown might have been the plan all along.
The most interesting new information in this CSN article is that Howard's weight is down. Losing weight is a good thing for a bigger guy like Howard with a history of recent leg issues. While Howard looks to be done for 2013, he may end up being something of a sleeper in 2014, if the power potential is intact.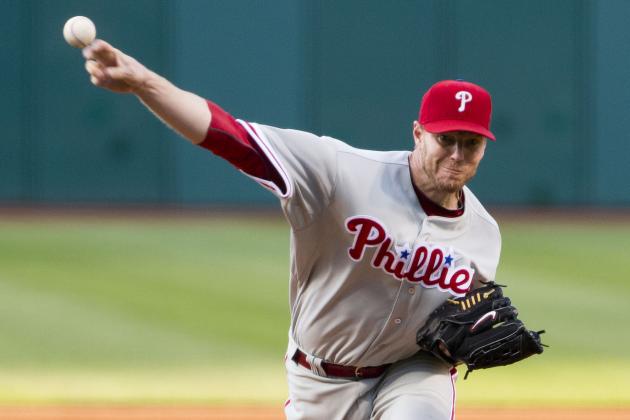 Jason Miller/Getty Images

I've talked before about how Roy Halladay is a sidearm pitcher. Just look at the picture here and you'll understand. The arm is almost in perfect acromial line with his shoulders, but the trunk tilt makes it look like a more traditional delivery.
Now, a new study shows us that this kind of trunk tilt is effective in gaining velocity and movement, but it also puts added pressure on the shoulder. This is a groundbreaking one for youth sports, as it gives a very easy action plan. For someone like Halladay, the question becomes, how did he stay healthy for so long?
I think a lot of pitchers who we think of as "injury-prone" are actually much less injury prone and are able to last through poor mechanics long enough to show some measure of production. In some cases, much longer and with great production, as with Halladay.
Halladay is coming back from his shoulder surgery as expected and will make a rehab start on Thursday. The only surprise here is that Halladay is targeted for 80 pitches, very high for a first start back. That's more of a sign that the rehab could be very short, pushing him up quickly as he shows reasonable stamina (enhanced by his efficiency) or even shutting him down altogether if neither likes the results.
Halladay isn't "ahead" of schedule as some are touting. The surgery was a cleanup, essentially, and this timeline is on track with what Dr. Neal ElAttrache told Halladay before the surgery. He's a very speculative play, but I do think we'll see Halladay back before September.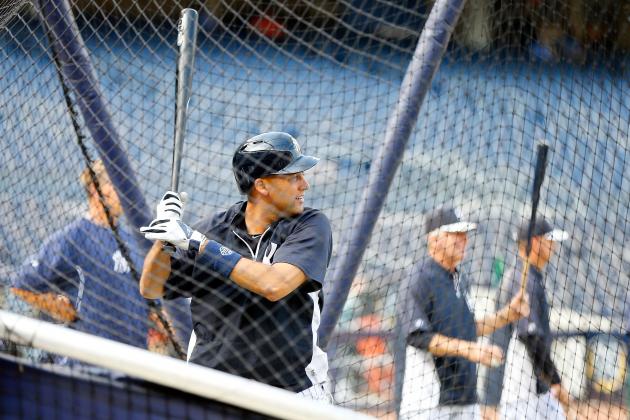 Jim McIsaac/Getty Images

As The Yankees Turn. In an age of reality shows, it's too bad that YES didn't have cameras rolling in the front office and backfields during this season. Much of the drama has been in the training room, so we wouldn't have seen all of it, but admit it—you'd have watched.
Derek Jeter is back at rehabbing his legs after the latest issue, a calf strain. There's no evidence that the Yanks have done anything advanced, such as laser gait analysis, to try and find the root cause. Treating symptoms will only get you so far.
Jeter should be physically able to return at or near the minimum, coming up this weekend, but given that Jeter has just begun taking live batting practice, that's not likely. The conservative pace might be in part to see how the team plays without him. Falling too far means Jeter's return would be pointless, aside from getting Jeter a few more hits on his record.
If Jeter isn't running in the next week, at any level, it's going to be a sign that the Yankees are at least considering shutting him down. If so, will Jeter come back energized next year, as he did once before, or have we seen the end of everyday Jeter?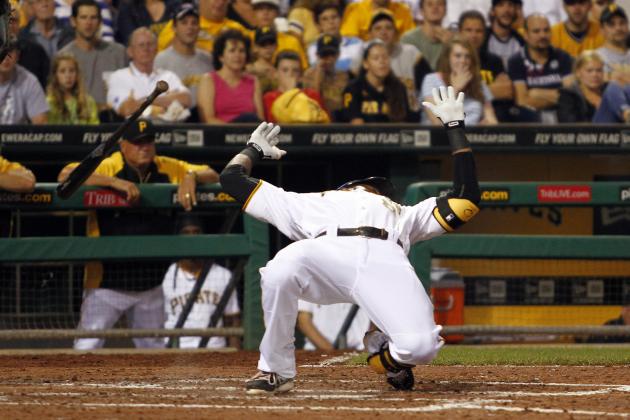 Justin K. Aller/Getty Images

I had a couple great graphs about how Starling Marte missing time could be the biggest test on whether the Pirates were a real contender or not so far. Instead, the backspace button was used as Marte came back to the lineup on Tuesday night.
Marte ends up missing just a couple days and one game from being hit on the hand. The talk of how serious this might have been could seem academic, but there was an injury here. If it's simply a bruise that needed to heal up slightly, that's fine, but we still need to see function over the next few days.
Treat this like you would a player coming back from any other hand injury. The worry is grip strength, best exhibited in the fine control to adjust to breaking pitches. Normally, we'll see increased swing-and-misses as these players adjust or, more often, aren't able to. The pitchers learn quickly what a player can and can't do.
With Andrew Lambo coming up, Clint Hurdle might be looking for ways to mix and match his outfielders, hoping not to wear any of them out for the long haul while putting the team in the best position to succeed. That might mean less games and opportunities for Marte over the next month, but he should be able to do more if he's not worn down.
Of course, remember that Clint Hurdle doesn't care about your fantasy team.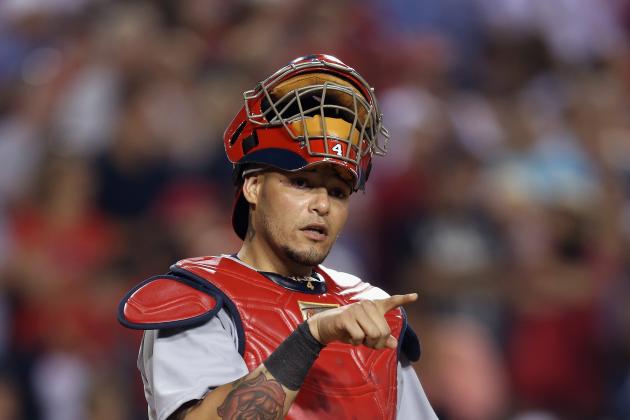 Jeff Gross/Getty Images

Yadier Molina is doing some catching drills, though not actually catching. The Cardinals are taking this as a big positive and planning on him returning, at the minimum, this weekend, but they're willing to let him take longer if his knees would benefit from some additional time.
The team is trying to balance several things, including the need for Molina to keep his bat ready without needing a rehab assignment and trying to stay close in both the divisional and wild-card races. With the Cards and Pirates playing now, it's hard to say how any movement would influence things, and I honestly don't think it will. There's no scenario where having Molina back is a bad thing.
They will be more careful with his knees, which likely means at least the plan to give him more off-days. I had a discussion with a team last year at the Winter Meetings in Nashville where a group of execs from one team, including the GM, talked about how to keep a catcher from wearing down. One of the things discussed was pulling the catcher early when possible, though it would necessitate having a third catcher or at least a reasonable emergency catcher. It would be tough, but the Cards are one team that could pull it off.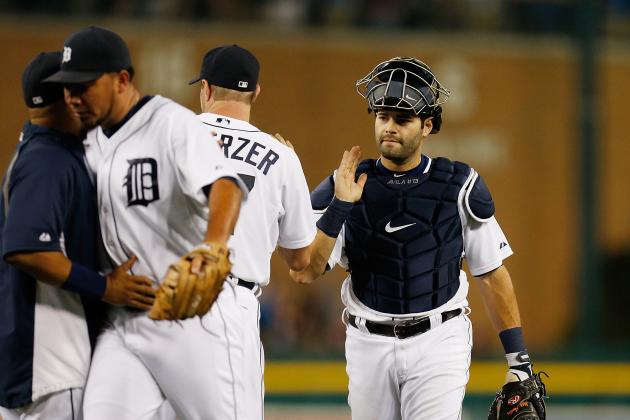 Gregory Shamus/Getty Images

Catching is hard. No one denies that. The question now is whether or not it's dangerous. Alex Avila is the latest example of a concussion at the position and with the late-onset symptoms, it's a reminder that it's not just the foul tips and collision traumas but the constant hits and physical strain that causes even more problems. With concussions, we also have to worry about longer-term concerns such as CTE.
Avila's symptoms were a bit delayed. That's possible, though in most cases, that turns out to be a player hiding the symptoms. The Tigers have been vigilant with Avila, so I'm more willing in this case to believe it took a while for the symptoms to become present.
Now with Avila pushed to the seven-day DL and the team giving itself some cushion in the AL Central, it's easier to be cautious. The MLB concussion protocols are clear and I have no doubt that, regardless, Kevin Rand and his staff would be doing the right thing. However, as I said, it's easier given the circumstances. Concussions are tough to time out, so Avila will be back when he's cleared, but not before.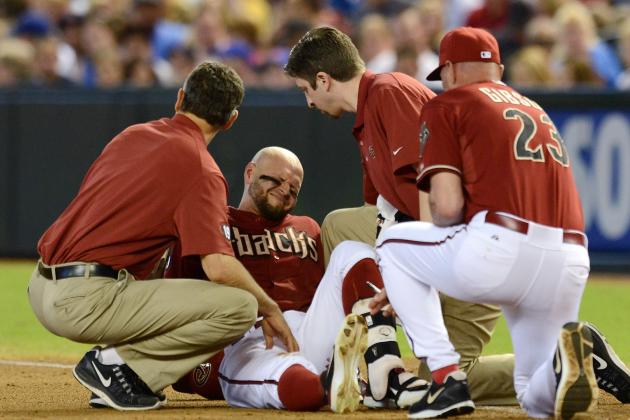 Norm Hall/Getty Images

Cody Ross' injury is one of the more rare ones I've seen. Watching the play, I still don't see exactly how it happened, but it did. Ross' hip dislocation ends his season and puts him in jeopardy of further complications. Surgery this week addressed a fracture as well, though the D-backs have not yet said where the fracture is.
If the fracture is in the pelvis—the "cup" of the joint—it's not good but easily fixable. If the fracture is on the head of the femur, that can be bad. How bad? Bo Jackson had that kind of injury and it puts the joint at risk. Even in the NFL this is rare, though there was a player, Dennis Pitta, who just had a similar situation.
The biggest problem is that there's so many soft tissue structures in the area that can be damaged when the hip comes out of its normal place. The labrum is almost always compromised and some combination of ligament, tendon and muscle will be stretched or torn depending on the direction and force of the joints movement.
Ross has to trust in the doctors at this stage, but there's a lot of worries going forward, especially for a player of his age and talent level. We can only hope that he gets a chance to get back on the field in the future, but it's too early to say anything aside from his 2013 season is over.
Tom Pennington/Getty Images

Often, we learn about injuries in strange ways. Information comes from all sorts of places. For Lance Berkman, the best sign for his return is that the team cut Manny Ramirez loose, as reported by USA Today and others.
Ramirez was always a dreadlocked insurance policy for the Rangers. He had, perhaps, the same skill set as Berkman has—he's a hitter. Ramirez hit .259 with three homers, so at least at Triple-A Round Rock he could hit at a near-acceptable level.
With Berkman starting a rehab assignment at Double-A Frisco, Ramirez wasn't needed and the Rangers aren't one to sugarcoat things. They got what they needed from Ramirez and now have cut him loose, giving him the chance to sign with any other team that might take a shot (or at least give their Triple-A club a boost!)
Berkman will be close to Arlington in Frisco, just a quick drive down the tollway, which keeps his medical care constant while letting rehab wiz Carlos Olivas watch him. The Rangers aren't likely to keep Berkman on rehab long if he shows his bat is ready and he can run some without exacerbating the hip or some cascade. He could be back at any point, though I'd expect them to give him at least three games to get his recovery routine locked down.