Oakland A's: Evaluating the Development of Oakland's Top 5 Prospects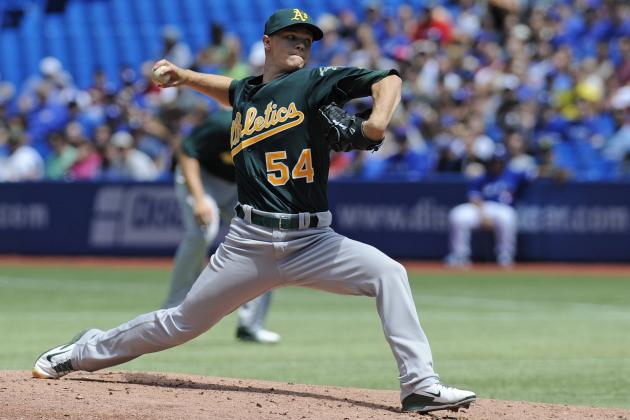 Brad White/Getty Images
Gray is already making an impact with the A's.
There is some debate as to who are the Oakland A's biggest prospects and what merits a place on such a list. And while there is nothing I will say to settle the debate, I do have some feelings about the five players who are most valued by the organization in August 2013.
That said, even as the big club continues to try to defend its American League West title, an eye can still be cast toward a talented crop of players who can not only potentially help this year, but more importantly, for years to come. Let's look at the five top prospects and how they are developing for the A's in 2013.
The list starts with player No. 5...
Begin Slideshow

»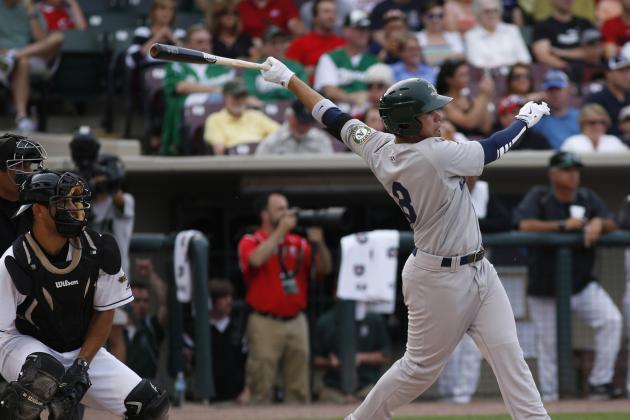 David Kohl-USA TODAY Sports
Nunez may ultimately swap positions, but his bat is intriguing.
2013 stats: 111 games, 19 HR, 82 RBI, 24 doubles, 117 K, .778 OPS
The No. 5 player on this list is third base prospect Renato Nunez. The 19-year-old out of the Dominican Republic was signed by Billy Beane in 2010 for the sum of $2.2 million. After impressing in the Arizona League in 2012, Nunez has shown promise with the Single-A Benoit Snappers.
Hitting .275 and showing power (43 extra-base hits), the 6'1", 185-pound prospect is showing signs of hitting for both power and average. Most encouraging is his excellent bat speed, which allows him to power his swing through the hitting zone. In spite of an unsightly 116 strikeouts in 111 games, Nunez does have a good batting eye, which is continuing to develop.
Ultimately, Nunez may not be long for third base defensively due to his lack of foot speed. The projection is that he will eventually move across the diamond to first base. Assuming his hitting continues to improve as it has in 2013, Nunez could ultimately be the A's first baseman by 2016.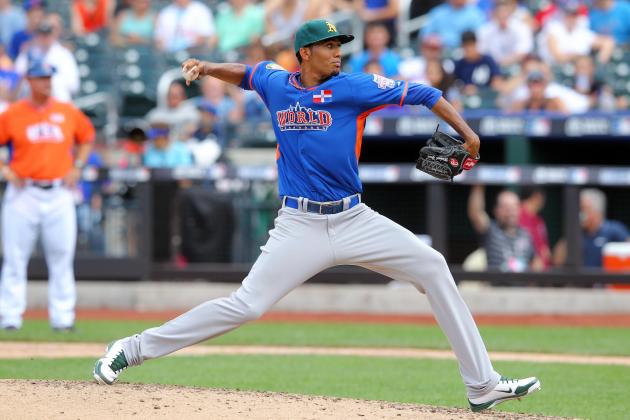 Brad Penner-USA TODAY Sports
Inoa is starting to show flashes of the promise that netted him big money at age 16.
2013 stats: 3-3, 3.84 ERA, 72.2 IP, 64 K's, 5 HR allowed, 1.39 WHIP
Coming in at No. 4 is the much-hyped Michael Inoa. Signed to a $4.25 million bonus at the age of 16 in 2008, it seems as if A's fans have been hearing about the 6'7" Dominican for a decade. The reality is, Inoa is officially listed as being just 21 (he turns 22 in late September).
After Tommy John surgery in 2010 slowed his development, 2013 has given the franchise glimpses of Inoa's talents. After pitching just 39.2 innings from 2008 to 2012, Inoa has thrown 72.2 innings in 2013 and has slowly translated his immense potential into production.
Even after his surgery, Inoa's fastball sits in the low 90s, and he also possesses a sharp curveball and changeup. In 15 starts with Single-A Beloit, Inoa's numbers are nice (15 starts, 2.14 ERA in 54.2 IP, 1.15 WHIP). It is that production that the A's hope carries forward.
Brad White/Getty Images
Gray will get his chance to start in a pennant race.
2013 stats: 20 starts, 10-7, 3.42 ERA, 118 K's in 118.1 IP, 1.32 WHIP (minors)
0-1, 1.80 ERA, 10 IP, 11 K's (Oakland)
The No. 3 player on this list is Oakland's No. 1 draft choice from 2011, Sonny Gray. The pitcher from Vanderbilt has risen through the A's farm system and is now getting the opportunity to start for the A's in a heated pennant race in 2013.
The key for Gray his ability to make adjustments at the major league level, because his raw stuff is very good. Gray can run his fastball up to 95 mph regularly with good movement. His breaking ball is a heavy mix of curve and slider and has the chance to be a swing-and-miss pitch as he develops it.
Gray has to improve his changeup to keep hitters off-balance, but his first start against Toronto last Sunday was promising even with a loss. Tommy Milone will likely remain in the minor leagues if Gray produces as the fifth starter. Either way, expect this to be an official arrival, not just a brief stint.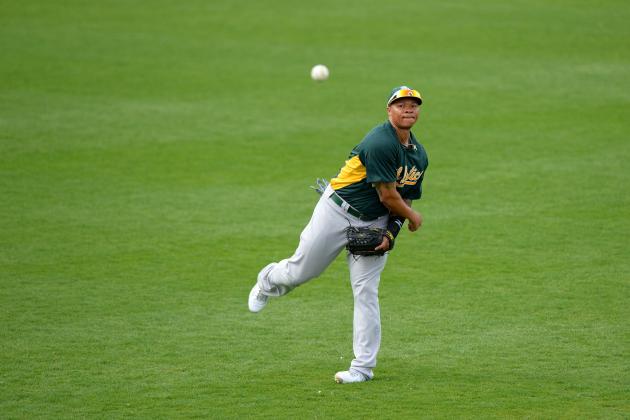 Jake Roth-USA TODAY Sports
Choice has cut down the K's but also the power in 2013.
2013 stats: 114 games, 14 HR, 78 RBI, 23 doubles, 109 K's, .841 OPS
The penultimate player on my list of A's prospects is outfielder Michael Choice. After impressing during the spring, Choice has shown improvement at the plate after earning the label as a feast-or-famine type slugger.
Yes, he has struck out 109 times in 114 games so far. But Choice has also walked 60 times, and his .840+ OPS is a product of an improved eye at the plate. It is a bit disconcerting that his power has taken a dip, but his overall game has improved.
I actually think Choice would have gotten his opportunity if not for the logjam at outfielder in Oakland. However, I personally have seen enough of Michael Taylor to say that the A's sent the wrong Michael up earlier this year. Choice needs to get a chance when the rosters expand September 1, even if just in spot duty.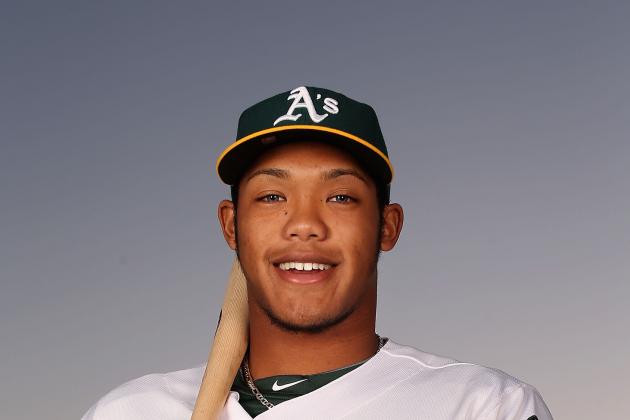 Christian Petersen/Getty Images
Remember this face...Russell will be in Oakland.
2013 stats: 90 games, 13 HR, 49 RBI, 29 doubles, 9 triples, 14 steals, 101 K's, .873 OPS
The No. 1 prospect for the Oakland A's for me is Addison Russell. At 19, he is one of the cornerstones of the A's future. If 2013 is any indication, the A's are in good hands.
The first instances of how good Russell could be were seen during spring training, when he impressed at the plate and made an impression with A's brass. At Single-A Stockton, he has improved his fitness and conditioning and shown aggression at the plate and on the bases.
Most encouraging, Russell looks like a guy who can stick at shortstop, displaying good hands, a well-above-average arm and solid range. It is not often a player fresh out of high school displays four tools, but Russell already has exhibited that kind of ability and still has plenty of room for growth.
That should get A's fans excited because in my eyes, this is the best position prospect Oakland has had since Eric Chavez.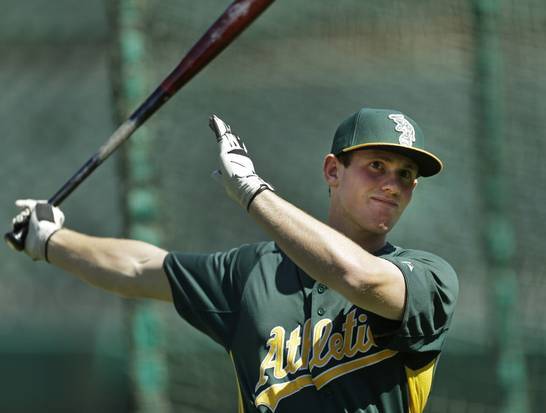 McKinney, the A's most recent No. 1 pick, is showing promise in rookie ball (courtesy: dallasnews.com).
So there you have it. Many will have the list in a different order, or even a player or two on the list, but either way, these are all integral parts for the A's in the next four to five years (and hopefully, much longer).
What is best about these players is that all five have shown legitimate improvement and development in 2013. Oakland has been largely miss when it comes to the development of position players (Bobby Crosby, Dan Johnson, Travis Buck, etc.).
For the A's to win the brass ring and/or to remain competitive in a manner that a similar team like Tampa Bay has, the team has to have its own high-end prospects pan out at a greater clip. Pitching will always be friendly as long as the A's are tenants of the Oakland Coliseum. But the hitting has to take precedence for Oakland to continue to win.
So far, so good.