The Favorite, Dark Horse and Longshot in Each NHL Division for 2013-14 Season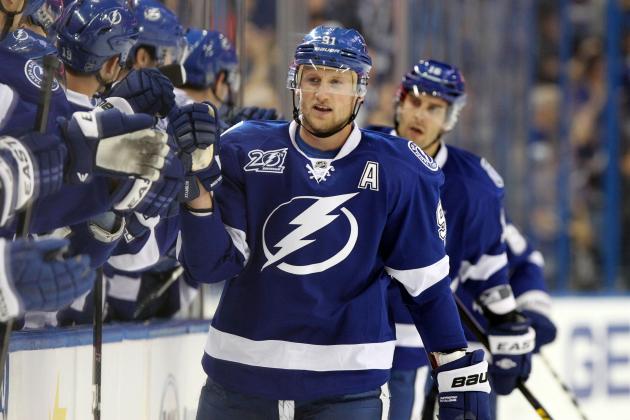 Kim Klement-USA TODAY Sports

Entering the 2013-14 season, all 30 NHL franchises face a rapidly changing landscape around the league.
The new four-division format is set to debut this fall. Every team will now encounter at least two new division rivals as they vie for one of their group's three guaranteed playoff spots.
The NHL hierarchy of franchises is also due for a massive mix-up. Supplemented by an incredibly strong draft class and blockbuster-laden offseason, many clubs could defy expectations over their lengthy 82-game campaigns.
As October 1's opening day inches closer, each team is tasked with sorting out their new division and predicting the fates of their new foes. Which squads will draw attention as preseason favorites? Which franchises could become unexpected contenders? Which clubs could struggle to climb out of the basement?
Our predictions for the most prominent favorites, dark horses and longshots in each new division fall on the coming slides.
Begin Slideshow

»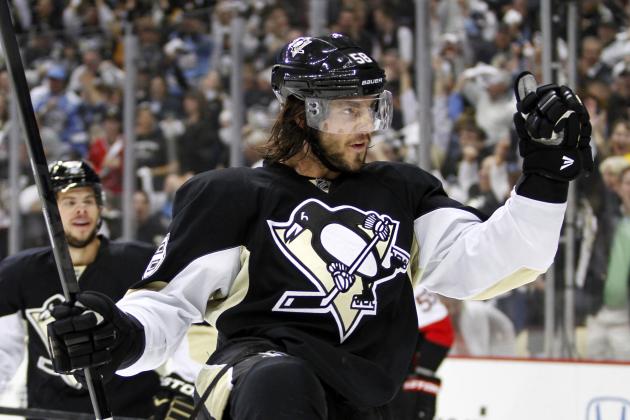 Justin K. Aller/Getty Images

Despite their shocking disaster in the 2013 Eastern Conference Finals, the Pittsburgh Penguins remain arguably the NHL's most talented team on paper.
Global superstars Sidney Crosby, Evgeni Malkin and James Neal will return on offense, while new addition Rob Scuderi and rising prospect Simon Despres join Kris Letang and Paul Martin on an underrated defensive unit.
Moreover, for all of Marc-Andre Fleury's playoff struggles, he's still posted a regular season GAA below 2.40 for three consecutive years.
There's no reason not to pencil in Pittsburgh as the favorite for the first-ever Metropolitan Division title.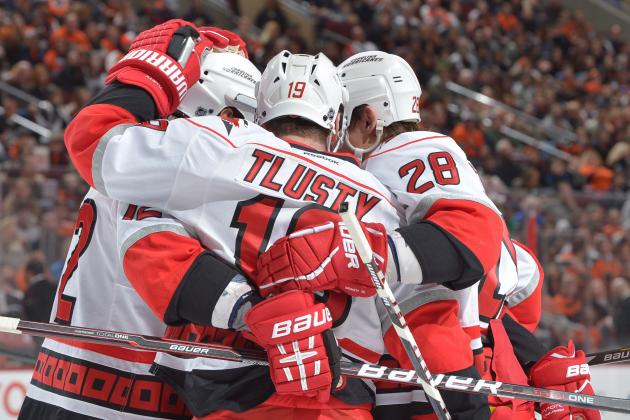 Drew Hallowell/Getty Images

The Carolina Hurricanes were the only team to finish with two of the league's top 25 point-scorers and a third player among the league's top 10 goal-scorers.
Before the injury bug took down Cam Ward, Joni Pitkanen and Jeff Skinner, the 'Canes sat third in the Eastern Conference at 15-9-1 one game past the season's midway point.
Not only will all of Carolina's stars return in healthy form this autumn, but former top-15 picks Elias Lindholm and Ryan Murphy, along with newcomers Andrej Sekera, Anton Khudobin, Mike Komisarek, Nathan Gerbe and Aaron Palushaj should help solve the team's depth issues.
The Hurricanes' offensive dynasty, spearheaded by the trio of Eric Staal, Alexander Semin and Jiri Tlusty, could easily push the 'Canes into playoff status in 2013-14.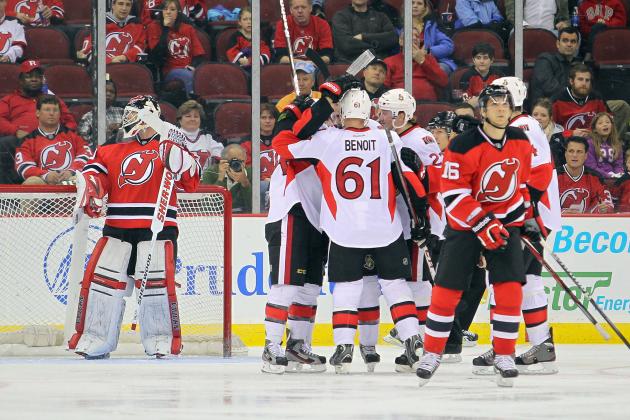 Ed Mulholland-USA TODAY Sports

In their last full season (and last playoff appearance) in 2011-12, the New Jersey Devils' top three goal-scorers were Ilya Kovalchuk, Zach Parise and David Clarkson.
All three have since left the team.
The Devils also sacrificed a top-10 pick to trade for up-and-coming goaltender Cory Schneider—but, with Martin Brodeur still holding the starting job for the final season of his career, Schneider shouldn't help them much in the short term.
Don't expect a 41-year-old Jaromir Jagr (who hasn't hit the 20-goal milestone since 2008) to help the Devils finish anywhere other than eighth in the Metropolitan Division.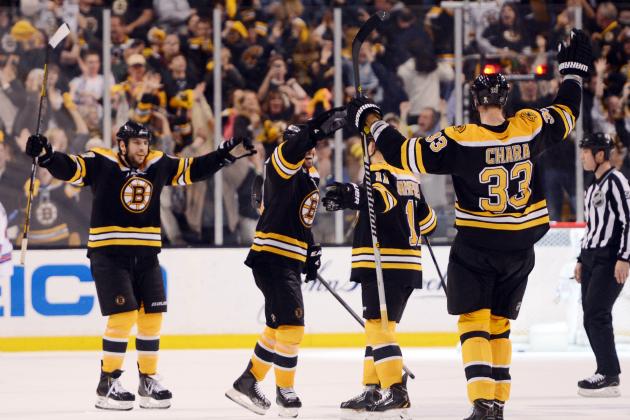 Michael Ivins-USA TODAY Sports

Falling just two wins short of their second Stanley Cup championship in four seasons, the Boston Bruins put forth another dominant campaign in 2013.
Their division opponents will be decidedly tougher this time around; the revamped Detroit Red Wings are moving over to the East and the young, flashy Ottawa Senators have another valuable year of experience (and Bobby Ryan, too).
So far, though, no other team in the new Atlantic Division has been able to replicate the Bruins' perennial late-season dominance of recent years.
The brutally aggressive style exercised by Boston cornerstones Patrice Bergeron, David Krejci, Milan Lucic, Zdeno Chara and Dennis Seidenberg—along with unheralded new acquisition Loui Eriksson, a three-time 70-point producer—is unparelled around the East.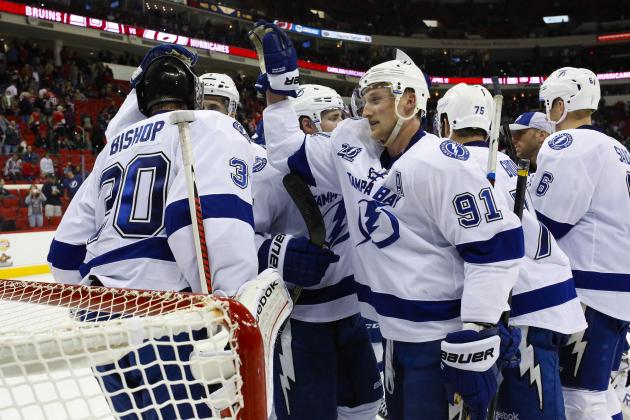 James Guillory-USA TODAY Sports

The Tampa Bay Lightning may have finally found the solution to their goaltending woes.
Ben Bishop excelled in the Bolts' net after his midseason arrival, posting a stellar .917 save percentage behind a porous defense that ranked 26th in the NHL. The 26-year-old, a 6'7", 214-pound hulk of a netminder, adeptly outshone incumbent starter Anders Lindback and enters September's training camp as the projected No. 1.
With the constant cascade of goals against hopefully halted at last, Tampa Bay's incredibly dynamic offense—one that flaunts the league's defending No. 1 and 2 scorers (Martin St. Louis and Steven Stamkos, repectively) and third overall selection Jonathan Drouin—should have the chance to shine.
Don't write off the explosive Lightning from a playoff appearance next spring.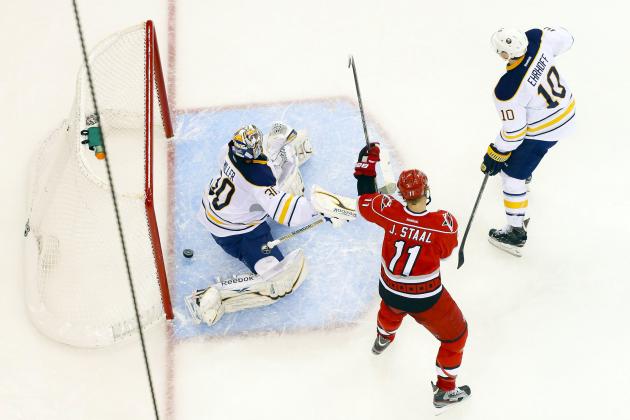 James Guillory-USA TODAY Sports

Early last season, the Buffalo Sabres' first-line trio of Thomas Vanek, Jason Pominville and Cody Hodgson was stealing headlines across the continent.
The trade deadline exchange that sent Pominville to Minnesota broke up one-third of that deadly trio.
Now, Hodgson, a restricted free agent, is playing serious hardball in his contract negotations.
"Hodgson could become a big problem," writes WGR 550's Paul Hamilton. "He's represented by one of the sleaziest agents in pro sports, Rich Winter. It wouldn't surprise me at all if the Sabres are pushed to a point where the have to trade the centerman because of Winter."
Without Pominville and Hodgson, what do the Sabres really have left?
Not much, in truth—a trade rumor-plagued Vanek, an oft-criticized declining goaltender in Ryan Miller, a terrible new top-four defenseman in Jamie McBain and a nobody like Bryan Flynn projected as a top-nine forward.

It's not looking good in western New York.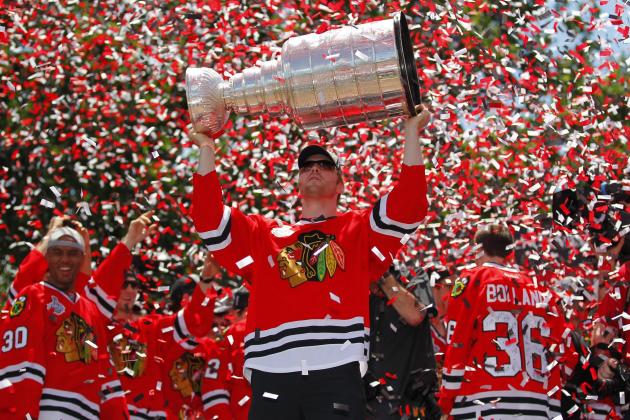 Dennis Wierzbicki-USA TODAY Spor

Naturally, the defending Stanley Cup champions will enter the following season as division champion favorites.
Offseason losses Michael Frolik, Dave Bolland and Ray Emery shouldn't make much of an impact—the most important transaction was re-signing Bryan Bickell, which the 'Hawks did with ease.
Promising youngsters Brandon Saad, Brandon Pirri and Jeremy Morin could actually make Chicago's offense, already loaded up top with Patrick Kane, Patrick Sharp, Jonathan Toews and Marian Hossa, even better than it was in 2013.
That's a dangerous recipe for the 29 other franchises looking to prevent a Blackhawks' repeat.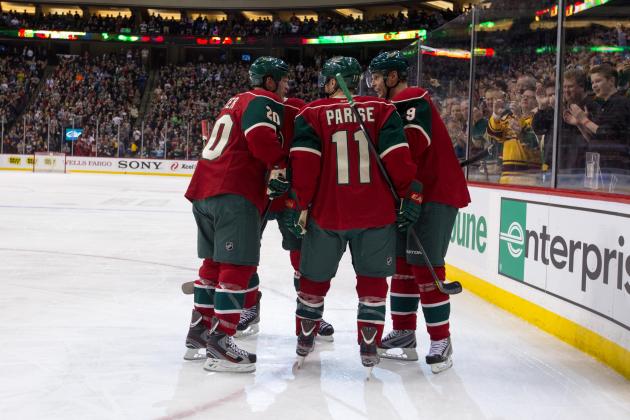 Brace Hemmelgarn-USA TODAY Sport

Many expected the 2012 offseason additions of Zach Parise and Ryan Suter to push the Minnesota Wild into the Western Conference's elite last season.
That certainly didn't happen, but the Wild still took a significant step forward by making their first postseason appearance since 2007-08.
Four of general manager Chuck Fletcher's last six significant acquisitions—Parise, Jason Pominville, Matt Cooke and Keith Ballard—all boast previous Conference or Stanley Cup Finals experience. Those superstars will help mentor three recent top-10 picks—Jonas Brodin, Mikael Granlund and Nino Niederreiter.
A complete training camp and 82-game regular season should work wonders for this meshing dynasty.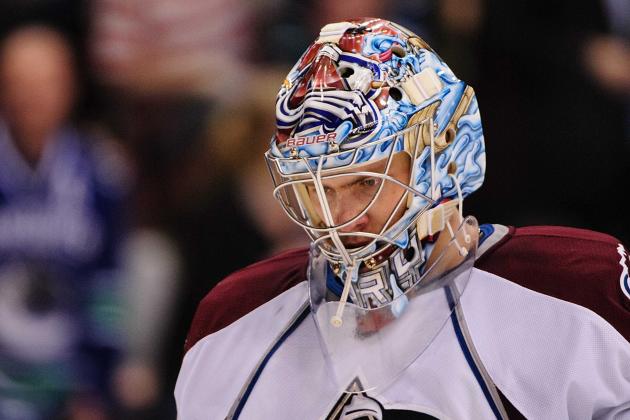 USA TODAY Sports

The Colorado Avalanche epitomized streakiness in 2013, ending the Blackhawks' record 24-game point streak one night and then losing four of their next five games.
Starting goaltender Semyon Varlamov was the focal point of the Avs' inconsistency. The 25-year-old goalie posted a dreadful 11-22-3 record as his save percentage dropped to .900 or worse in 20 of his 35 appearances.
Colorado has plenty of young talent up front, but the decline of former mentor Milan Hejduk has left them without a much-needed veteran presence. Their current captain is 20-year-old Gabriel Landeskog. From Paul Stastny's trade rumors to the lingering bitterness over Ryan O'Reilly's winter contract dispute, turmoil and frustration seem to often hold back the Avs' offense.
2013 bottom dwellers Dallas and Nashville each made tremendous improvement in free agency, leaving the Avs merely grasping at straws in the new Central Division.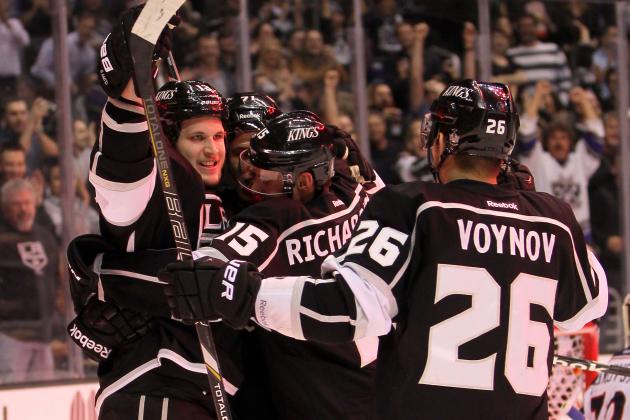 Victor Decolongon/Getty Images

Even through the disappointment of their abrupt Conference Finals exit, 2013 represented a major accomplishment for the Los Angeles Kings.
The most consistent dynasties in the NHL today earn respect by making deep playoff runs every spring, even as their roster changes from year to year.
The Kings proved their capability to do such this past campaign. It was a changing-of-the-guard season in L.A.—Mike Richards, Anze Kopitar and Drew Doughty each declined from their 2012-13 outputs, yet the emergences of Kyle Clifford and Slava Voynov (along with the continued ascendancy of goalie Jonathan Quick) almost allowed the Kings to win the Cup again anyway.
In an extremely tough Pacific Division, the Kings remain preseason favorites.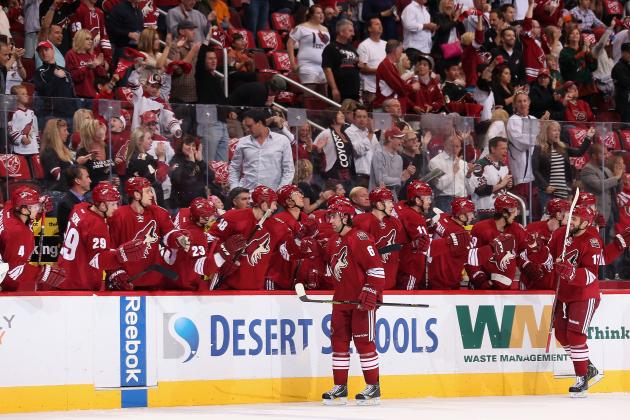 Christian Petersen/Getty Images

GM Don Maloney quietly led the Phoenix Coyotes to the most successful offseasons in the NHL.
Overcoming the financial uncertainty the 'Yotes franchise faces daily, Tippett re-signed vital centerpieces Mike Smith and Lauri Korpikoski and then lured Mike Ribeiro, one of the summer's best free agents, to the desert.
Ribeiro's presence on a first line already anchored by veterans Shane Doan and Radim Vrbata gives Phoenix one of the league's most underrated top trios entering the fall. Meanwhile, Keith Yandle and Oliver Ekman-Larsson form an equally unheralded top defensive pairing.
Still just one year removed from the Western Conference Finals, the Coyotes now boast a starting lineup that's arguably one of the top 10 on the continent. They could surprise the hockey universe in a major way in 2013-14.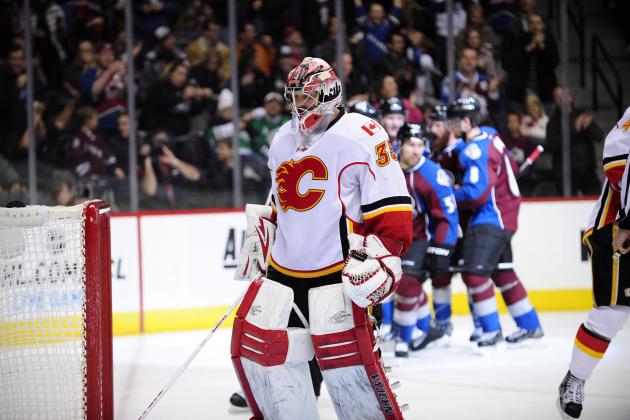 Ron Chenoy-USA TODAY Sports

The woeful Calgary Flames enter training camp with more questions than proven impact players.
Is Miikka Kiprusoff really set to retire, leaving untested Karri Ramo with the starting goaltender position?
Are T.J. Brodie and Shane O'Brien really cut out to be NHL defensemen, much less top-four defensemen?
Will the same two-way struggles that impacted Calgary's top scorers last season really return, leaving four of the team's top five point producers with ratings of minus-eight or worse yet again?
And are the Flames even going to have a building to play in come opening day?
Truthfully, there's only one thing about this Flames squad that's not up in the air—the fact that it's easily the worst in the NHL.