Everything You Need to Know About Johnny Manziel's Backups
Scott Halleran/Getty Images

With the status of Texas A&M's starting quarterback Johnny Manziel uncertain due to an alleged NCAA investigation, the attention turns to his backups at the position. The Aggies currently have three scholarship quarterbacks on their roster besides Manziel.
If Manziel is held out of games due to the alleged investigation or injury, then one of the three quarterbacks is going to have to step up and make plays for the Ags. It is a diverse group complete with a fourth-year junior, a true freshman and a redshirt freshman.
Texas A&M head coach Kevin Sumlin has had success with backups before. In 2011 at Houston, Sumlin lost his starter and backup in the same game.
Sumlin eventually decided that fourth-team quarterback and true freshman David Piland gave the Cougars the best chance to win. Piland played in eight games, completing 58 percent of his passes for 2,641 yards with 24 touchdowns and 14 interceptions.
If Manziel in unable to go, then Sumlin has proven that he can have an effective offense with a backup under center. This is a look at the three backups behind Manziel on the depth chart, and the likely emergency quarterback.
Begin Slideshow

»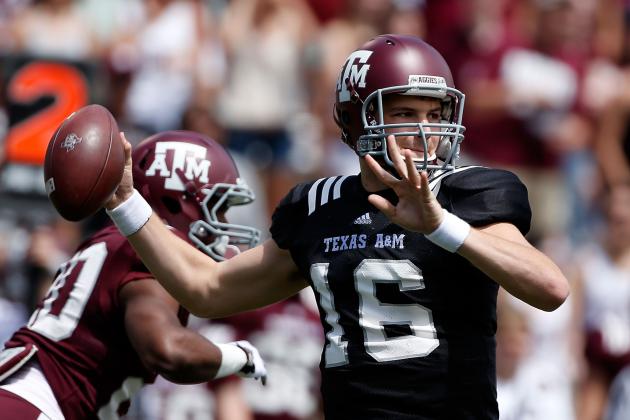 Scott Halleran/Getty Images

Matt Joeckel, twin brother of Jacksonville Jaguar and former Aggie Luke, is a 6'4", 234-pound redshirt junior quarterback. He is the only quarterback on the roster besides Manziel who has a pass attempt in college.
In 2012, Joeckel completed five of 11 passes for 42 yards. He was the third-team quarterback behind Manziel and Jameill Showers.
Showers transferred to UTEP so he would have a chance to start. Joeckel competed for the backup spot during the spring practices.
Joeckel is a prototype pocket passer and the only scholarship quarterback on the roster who is not a threat to run.
If Joeckel were to take over for Manziel, the offense would have to be tweaked in order to take a lot of the zone-read and option plays out of it.
The Aggies have four running backs in Ben Malena, Trey Williams, Brandon Williams and Tra Carson who are good enough to start for most teams in the country. Because of this depth at running back, the Ags could employ more of an option style of offense if Manziel was unable to play.
This may cause the Aggie coaches to choose one of the more mobile quarterbacks on the roster over Joeckel.
Matt Davis is a 6'2", 206-pound redshirt freshman from Klein, TX. Davis was ranked as one of the top dual-threat quarterback in the nation coming out of high school, and redshirted during the 2012 season.
He has never taken a snap in a live game in college. Davis' ability to scramble around and make plays off schedule adds a dimension to the game that Matt Joeckel does not possess.
Davis fits in well to the option and zone-read packages that the Aggies run. He needs to become a more polished passer if he wants to see the field in 2013.
The Aggies could win games with Davis under center by handing the ball off and using a lot of the option concepts that they currently use with Johnny Manziel. The issue is that against the top defenses like Alabama and LSU, Davis will need to be able to pass the ball in order to win the games.
He has not shown that he is capable of performing at that level in the passing game yet.
Kenny Hill is a 6'1", 215-pound true freshman quarterback from Southlake, TX. He helped lead Carroll High School to the 2011 5A state championship when he was a junior.
As a senior in high school, Hill passed for 3,369 yards and 27 touchdowns, and rushed for 1,421 yards with 33 touchdowns. He was one of the top ranked dual-threat quarterbacks in the nation when he signed with the Aggies.
Hill enrolled at A&M during the second session of summer classes, and participated in summer workouts. He is being given a chance by the coaches to win the backup spot behind Manziel.
Hill has a big arm and is very mobile. He spent his high school career in a spread offense that is similar to what the Aggies run. Carroll uses some of the same zone-read concepts that A&M used in 2013.
The negative for Hill is that he does not have a year in the A&M system like Joeckel and Davis do. If he does not win the backup spot in 2013, then Aggie fans should expect Hill to redshirt.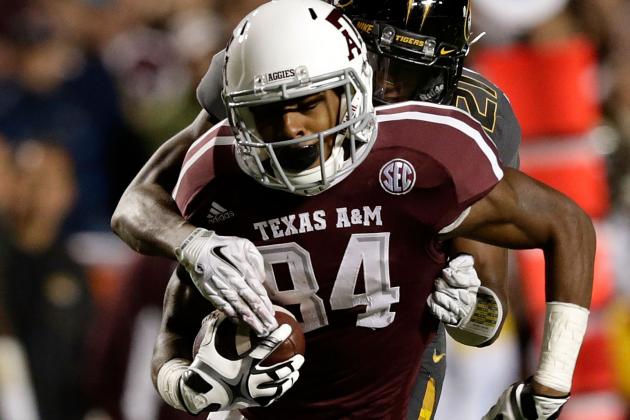 Scott Halleran/Getty Images

If Manziel is declared ineligible and the other three quarterbacks on the roster are injured, do not be surprised if you see junior receiver Malcome Kennedy line up under center. Kennedy played quarterback at Cayuga (TX) High School and helped lead them to the 2009 Texas 1A State Championship.
As a senior in high school, Kennedy rushed for 2,356 yards with 24 touchdowns, and passed for 1,516 yards and 22 touchdowns. If Kennedy ends up under center for the Aggies, then the offense will become completely run-centric.
Kennedy is expected to start at slot receiver where he caught 26 passes for 285 yards and two touchdowns in 2012.
If the nightmare scenario occurs and all of the quarterbacks get injured, do not be surprised to see Kennedy change numbers and become the Aggies' quarterback.