Boston Bruins 2013-14 Roster: The 5 Players with the Most Swag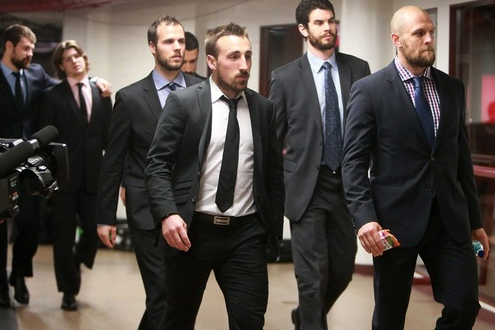 Photo courtesy of Tumblr
In the past few years, athletes have embraced their role as icons even when they're not on the ice, field or court. They are dressing more flamboyant, doing more photo shoots with magazines and keeping up a persona of a world-class athlete who could model for GQ if their career suddenly ended.
This has been most noticeable in the NBA, with superstars like Russell Westbrook, Kevin Durant, Dwyane Wade and LeBron James showcasing their fashion choices upon entering the arena and for postgame pressers.
But the culture of hockey is different. NHLers are less selfish and don't crave the limelight as much.
Don't believe me? The one person that defied that stereotype, Sean Avery, is no longer in the league.
Meanwhile, in other sports, we've had Dennis Rodman, Terrell Owens, Chad Johnson and Deion Sanders be more concerned with flash bulbs than getting along with teammates and coaches. Only Rodman and Sanders had what it took once the clock started to win multiple championships.
But just because hockey players don't seem as selfish doesn't mean there aren't those with confidence or players that are loaded with swag.
Here are the top five Bruins with the most swag heading into next season:
Begin Slideshow

»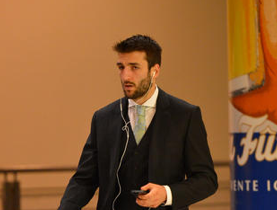 Getty Images
This may be one of the few lists featuring the Bruins in which do-everything Patrice Bergeron isn't ranked No. 1.
As you can see, Bergeron can rock a three-piece suit with the best of them. Casually walking into the locker room listening to music only adds to the relaxed demeanor he sports before the game.
But of course, once the puck drops, it's all business for No. 37.
Bergeron is known for what happens on the ice, not off of it. But if he keeps dressing like that, I'd be willing to nominate him for People's "100 Most Beautiful People" list.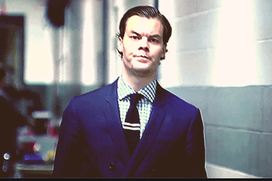 Hockey Night in Canada/CBC
The franchise goalie looks dapper as hell in the navy suit with the striped knit tie, and his perfect flow makes the girls go crazy.
For Bruins fans, the only thing more attractive than Tuukka's locks was his 1.88 goals-against average in the 2013 Stanley Cup playoffs.
Rask inked an eight-year extension in July and will be able to afford the entire Tom Ford or Prada collection to wear to arenas next season.
If his teammates ever give him a hard time about his Bradley Cooper-esque hair, he can remind them of what happens when he gets angry.
I doubt anyone on the roster will say anything.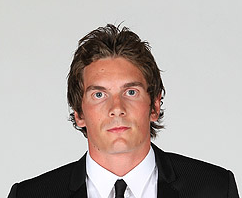 One of the newest Bruins is No. 3 on the list of Bruins with the most swag.
Loui Eriksson, the 27-year-old gifted puck-handler and shootout master, knows he has serious swagger.
The former Dallas Star will always warm up sans helmet, letting his hair wave behind him while he is shooting and skating before the Zamboni makes one last trip around the rink.
He may seem like a pretty boy, but Eriksson doesn't get pushed around on the ice. He'll be a nice addition to Boston this season, and Bruins fans shouldn't be concerned about the Swede fitting into the organization's reputation of tough-nosed players.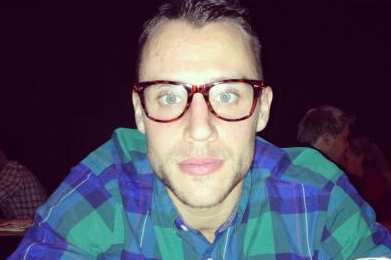 Tumblr
Gregory Campbell is one of only a few who can pull of this bold look.
The glasses, bracelets and plaid shirt are not what you would expect from a guy that played with a broken leg, and that's why it works so well.
The Bruins missed Campbell greatly after he missed the rest of the 2013 postseason with the injury, which adds to his aura.
To be honest, it doesn't matter how Campbell dresses off the ice or how smooth he is with the ladies. The dude played with a broken leg. As far as I'm concerned, he played that shift with more swag than any other player in this year's playoffs.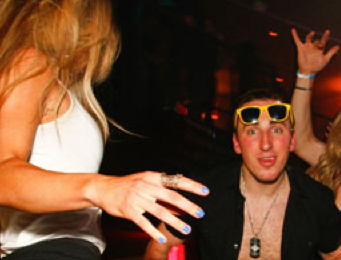 As if any other player had the chance to be No 1.
Marchand, the pesky winger who has made his mark in the league in his first three seasons, is known for his, um, let's say jovial behavior outside TD Garden.
First, there was his misspelled tattoo that he got after winning the Stanley Cup in 2011.
Then, he was seen partying with former Bruin Tyler Seguin after winning the Cup and later admitted that he was too drunk to be interviewed for the Bruins' championship DVD.
Marchand clearly loves the perks of being a professional hockey player. He digs the ladies and the party scene, but always works hard on the ice. His lifestyle hasn't been too much of a distraction for Boston so far, but as Seguin found out, it can come back to haunt you. As long as he behaves himself during the season, he should be fine.
The 25-year-old Nova Scotia native dresses sharp when he's not at a club, which helped him be the No. 1 choice for this list.