Philadelphia Eagles: Start, Keep or Cut: All Offensive Positions Edition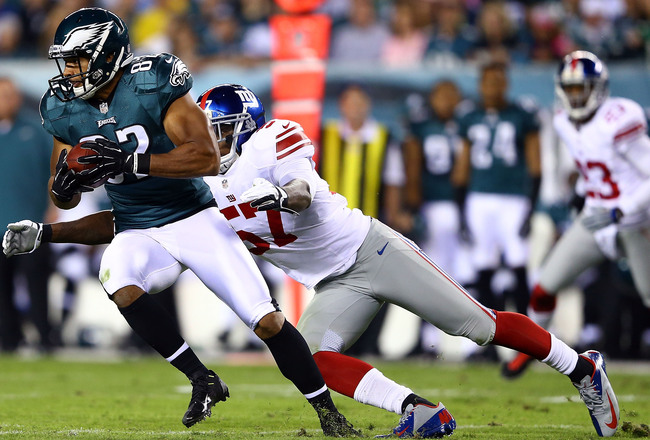 Al Bello/Getty Images
The first game of the Eagles preseason is in the books and the impact players on the roster are starting to distance themselves from the pack. From here, observers can start to tell who will likely be kept, cut and even who the starters will likely be.
Ahead is a prediction of what the Eagles roster is likely to look like on offense for the 2013 season. Players have stepped up in camp as well as disappointed, and preseason games are beginning to be the icing on the cake.
Expect these players to start, be kept or be cut.
Follow Yueh Ho on Twitter @YuehHo
1. Quarterback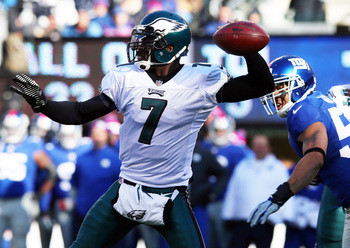 Elsa/Getty Images
While the Eagles don't seem to have a franchise player at quarterback, they still have a good amount of talented QBs. Michael Vick and Nick Foles are both competing for the starting job and both probably deserve a roster spot at least as a backup. But as Vick has been overall more impressive in camp and Foles was not able to significantly outperform him in the preseason so far, Vick should be the starter.
Matt Barkley is a young talent who should be retained for long-term development.
Dennis Dixon, despite showing flashes of playmaking ability, will probably still be cut at the end of training camp. While he is more familiar with Kelly's scheme and has impressive mobility, keeping four quarterbacks would not be wise. Especially when the defense looks like it needs all the help it can get depth-wise.
G.J. Kinne is a no-brainer to be cut. He's by far the worst quarterback at camp and was likely only brought in for emergency purposes.
Michael Vick: Start
Nick Foles: Keep
Matt Barkley: Keep
Dennis Dixon: Cut
G.J. Kinne: Cut
2. Running Back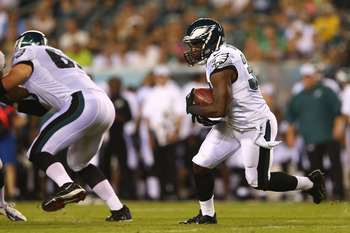 Elsa/Getty Images
It's clear that LeSean McCoy will be starting at running back. But Bryce Brown seems to have taken a huge step forward in 2013, as he flashed the same speed but also seemed to improve as a ball-carrier against the Patriots. Chris Polk has also played fairly well so far, showing a good ability to bruise his way through defenders for additional yardage.
Felix Jones and Matthew Tucker have not really made much of an impact in training camp or the preseason so far. Jones has shown little of his old explosive self and may only be worth keeping due to his experience on special teams, but Tucker is a sure cut to save roster space.
LeSean McCoy: Start
Bryce Brown: Keep
Chris Polk: Keep
Felix Jones: Cut
Matthew Tucker: Cut
3. Tight End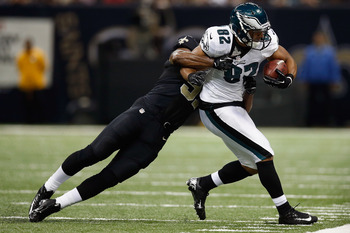 Chris Graythen/Getty Images
Brent Celek has been a dropping machine in training camp, and this continued in the preseason game against New England where he recorded yet another drop. But Celek has seemingly been able to get open much of the time.
He is still the most experienced tight end on the roster, a good blocker and should still be the starter, at least going into Week 1.
Zach Ertz has shown a great deal of promise in training camp. That, combined with his high draft selection, should guarantee him a roster spot as the backup. Kelly has stressed versatility this offseason. A player like James Casey cannot be simply discarded. Expect him to also make the team.
Clay Harbor, unfortunately, may be out of luck. The Eagles have been trying him out at linebacker and now at wide receiver. They clearly like him as a player. He is a good blocker, is a fairly good route runner and has capable hands. But he is simply not the athletic threat that both Ertz and Celek are.
He likely lacks the speed to play wide receiver, so don't expect Harbor to return.
The rest of the tight ends should all be cut, there just isn't enough space on the roster.
Brent Celek: Start
Zach Ertz: Keep
James Casey: Keep
Clay Harbor: Cut
Derek Carrier: Cut
Emil Igwenagu: Cut
Will Shaw: Cut
4. Wide Receiver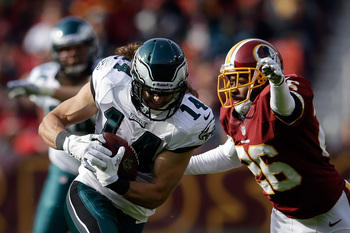 Rob Carr/Getty Images
DeSean Jackson is an obvious choice to start at wide receiver. He has consistently burned defenders in both practice and in the preseason and seems poised to get back to his Pro Bowl form.
Jason Avant, despite concerns about his speed, should be kept around as well. Hands like his don't come around everyday and he has cemented himself as the slot receiver on this team, even with a new coach.
The rest of the receiving corps gets a little trickier to figure out. Riley Cooper, despite the controversy he created, should still be retained because he is simply the most well-rounded receiver on the team after Jackson. Cutting him after the injury to Jeremy Maclin would be a mistake.
Unfortunately, despite the incredible athletic and physical potential that Ifeanyi Momah possesses, Momah should be cut. He hasn't lived up to the hype and his supposed speed has not shown up on the field.
Damaris Johnson's speed has shown up, however, and he has shown an impressive ability to get behind a defense and create yards after the catch. Russell Shepard has shown himself to have elusive playmaking ability. Both should be retained.
Everyone else should be cut.
DeSean Jackson: Start
Riley Cooper: Start
Jason Avant: Keep
Russell Shepard: Keep
Damaris Johnson: Keep
Ifeanyi Momah: Cut
Jeff Maehl: Cut
Nick Miller: Cut
Will Murphy: Cut
Greg Salas: Cut
5. O-Line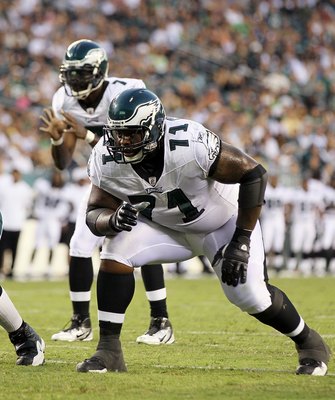 Jim McIsaac/Getty Images
The starting five offensive linemen are pretty much determined at this point. Jason Peters, Evan Mathis, Jason Kelce, Todd Herremans and Lane Johnson are locks to both make the roster and start. Especially with promising performances by players like Kelce and Johnson. The Eagles O-line looks like an area of strength right now.
But it wasn't all positive against the Patriots. Todd Herremans was beaten badly on a play and Allen Barbre, the player who substituted for Peters, let a player fly right by him to force a fumble on Foles.
We saw what happened last season with lackluster replacements. The Eagles should retain as many of the second team offensive linemen as possible. Matt Tenant, Danny Watkins, Matt Tobin, Julian Vandervelde and Matt Kopa should all be kept if possible for depth purposes.
Jason Peters: Start
Evan Mathis: Start
Jason Kelce: Start
Todd Herremans: Start
Lane Johnson; Start
Matt Tenant: Keep
Danny Watkins: Keep
Matt Tobin: Keep
Julian Vandervelde: Keep
Matt Kopa: Keep
Michael Bamiro: Cut
Allen Barbre: Cut
Dennis Kelly: Cut
Nic Purcell: Cut
Dallas Reynolds: Cut
Ed Wang: Cut
Follow Yueh Ho on Twitter @YuehHo
Keep Reading

Philadelphia Eagles: Like this team?