20 Things Guaranteed to Happen During the 2013-14 Premier League Season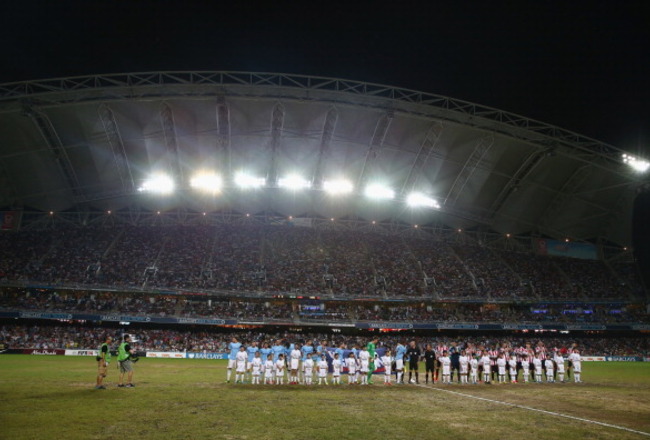 (Getty Images)

Great news, everyone! Top-flight English football is less than one week away!
As we prepare to board the Premier League roller coaster for the 22nd time, B/R has taken a look at the events we should expect up and down the land during the 2013-14 season.
Compiled with our tongue firmly in our cheek, here are 20 things that are guaranteed to happen this season...
Jose Mourinho Will Stop Being "The Happy One"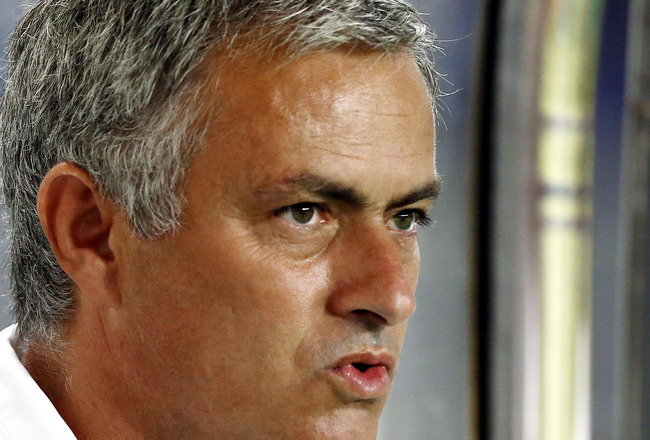 Stanley Chou/Getty Images
Since his "second coming," Jose Mourinho has been a smiling, docile shadow of his former self, dishing out compliments to rivals he used to harpoon with his snark.
This is typified nowhere more than his recent declaration of Arsene Wenger as a "nice guy," via Dominic Fifield of The Guardian. Not so long ago, the Frenchman was a "voyeur" who was far too interested in Mou's team.
However, "The Happy One" facade can only last so long.

It might be when his side concedes a surprise goal to Hull City on opening day, it might be at a heated visit to White Hart Lane at the end of September, but—in the manner of David Banner erupting into the Incredible Hulk—Mourinho is destined to return to his sharp-tongued, eye-gouging self early in this campaign.
Luis Suarez Will Not Get Champions League Football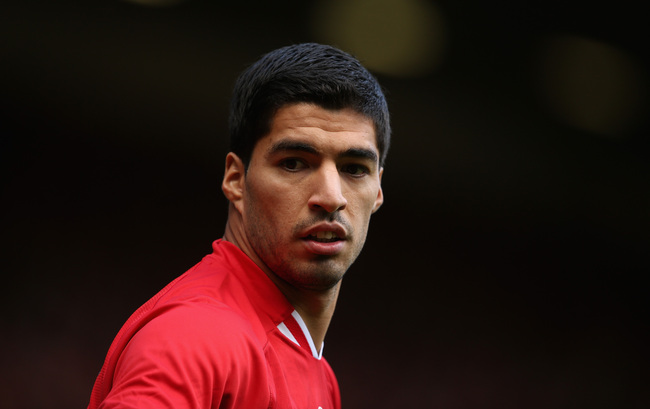 Clive Brunskill/Getty Images
In one of the messiest transfer sagas in years, Luis Suarez recently declared that he simply must play Champions League football. This being a game that rewards talented players in spite of horrendous personalities, poor conduct and a lack of professionalism, it looks as if the Uruguayan might get the chance to pursue his top-four dream.
At some point, however, the gods of football karma must intervene.
If he is forced to play at Liverpool next season—being careful not to brush the ball with the tail between his legs—he will not earn Champions League football.
If he manages to pull off a move to Arsenal, they will be eliminated from the playoff round of the competition by Fenerbahce before Suarez's ban is completed, and they will not finish in the top four in 2013-14.
Apologies to Liverpool and Arsenal fans, but this couldn't happen to a better person.
David Moyes Will Get Off to a Bad Start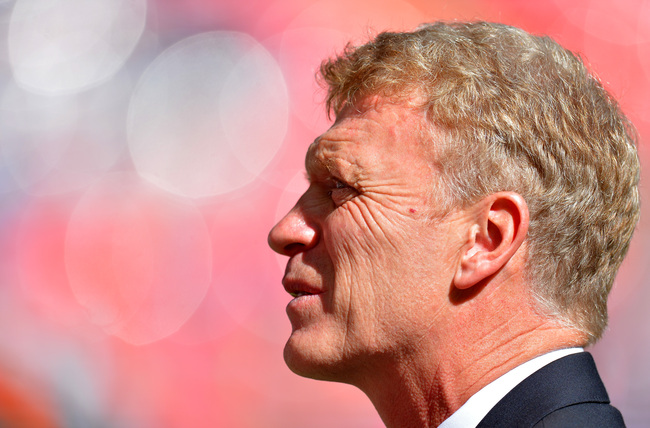 Mike Hewitt/Getty Images
After a Community Shield victory on Sunday, David Moyes already has a trophy under his belt (and everyone has made this hilarious joke at Arsene Wenger's expense).
However, the Scotsman is carrying the weight of Sir Alex Ferguson's legacy into the 2013-14 season, and the pressure of coaching a team full of players who have won major trophies, despite never having won one himself as a manager.
The Red Devils' start to the season will do his confidence no favours, with a tricky trip to Swansea followed by a visit from Mourinho's Chelsea and then a visit to fabled rivals Liverpool.
Moyes will take a while to settle in, but hopefully the board will exercise the same level of patience they had when a misfiring Fergie first started at the club.
There Will Be a Goal-Line Technology Controversy
Bryn Lennon/Getty Images
For the first time, the goal lines in all 20 Premier League stadia will be equipped with Hawk-Eye, the complex ball trajectory system that has been successfully utilised in tennis and cricket for years.
The system is supposed to eliminate goal-line controversies, but in the modern-day soap opera that the Premier League has become, it seems destined to create problems too.
Perhaps a misaligned Hawk-Eye camera will declare a ball has crossed the line when it is nowhere near. Conversely, a ball might roll several feet over the line only for a malfunctioning sensor to feign ignorance of its presence.
Either way, teething problems will ensure that the controversy rages on.
Wayne Rooney Will Not Play for Manchester United by the End of January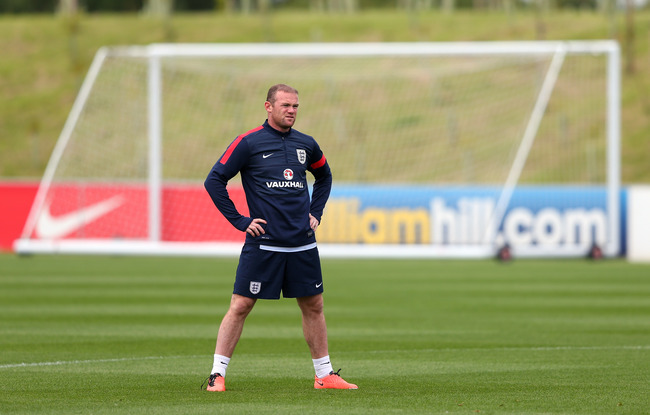 Alex Livesey/Getty Images
He has kissed the badge more times than B/R cares to remember, but Wayne Rooney's days at Manchester United are clearly numbered.
The 27-year-old striker does not seem keen to play for David Moyes again—perhaps because he was once sued by him—and seems to have feigned injury to avoid being part of proceedings in the preseason.
Rooney is apparently confident of forcing a move to Chelsea in the coming days, according to Richard Jolly of ESPNFC.com, but if the Blues' bids keep getting turned down, he may have to wait until the winter transfer window to be rescued. At that point, he may have more options for potential suitors, too.
As things stand, Rooney has more chance of winning a Pulitzer than pulling on a Manchester Utd shirt in the second half of the season, and the odds seem slim in the first half, too.
Andres Villas-Boas Will Split His Trousers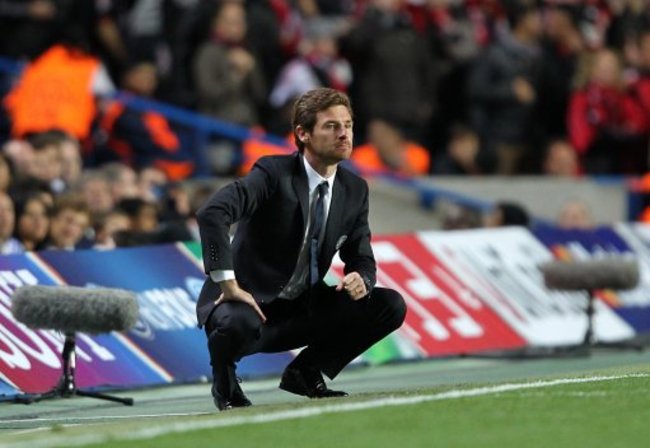 Of all the unsolved Premier League mysteries, one truly deserves the attention of Scooby Doo and the gang: Why does Andres Villas-Boas insist on crouching down on the touchline all the time?
Does he feel he has a better view of the field at groin level? Does he get constant vertigo from being 6'0"?
At some point, AVB will pay the price for his rapid touchline squatting in terms of a wardrobe malfunction. We'll give it until game 10 before one of his form-fitting suits splits at the seams to reveal his Dora the Explorer underwear.
Arsene Wenger Will Complain About a Fixture Pile-Up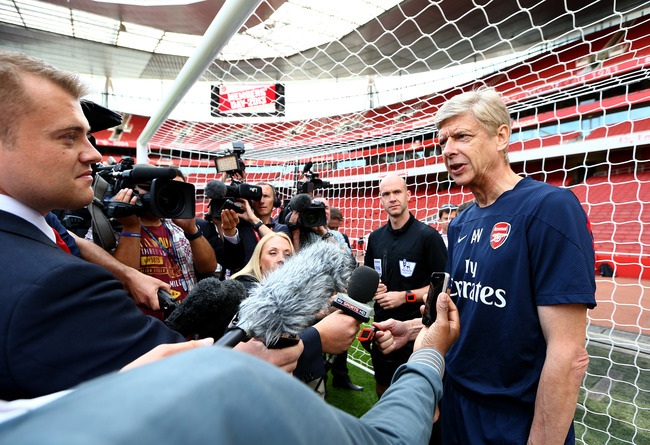 Jan Kruger/Getty Images
As part of Arsene Wenger's default "This is everybody's fault but mine" excuse delivery system, Arsenal's struggle to maintain a realistic title bid will be blamed on an abundance of fixtures. The same abundance of fixtures faced by many other teams.
Of everything on this list, Wenger's fixture complaint should come with a solid-gold guarantee thanks to his previous form. Here's the Frenchman moaning about it in 2009. Then in 2010. And in 2011. Here's the 2012 one. And, you guessed it, finally comes the 2013 edition (subscription required).
His fixture bugbear is so consistent you could set your watch to it.
Paolo Di Canio Will Ruin More Suits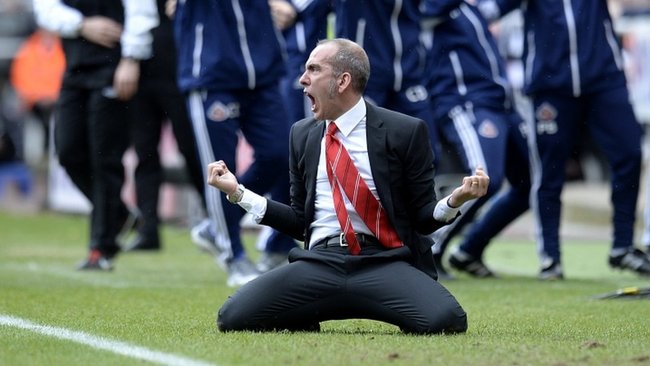 (bbc.co.uk)

When Sunderland defeated Newcastle at St James' Park to help ensure their Premier League safety last season, manager Paolo Di Canio couldn't help but celebrate with a Mourinho-style knee slide in his expensive tailored suit.
With plenty of smart transfers and the release of Titus Bramble, the Black Cats should be a much better team this year (frankly, they couldn't get any less entertaining), and the Italian should help put his tailor's kids through college by ruining plenty more bespoke formal wear.
Roy Hodgson Will Keep Blaming England's Form on the Premier League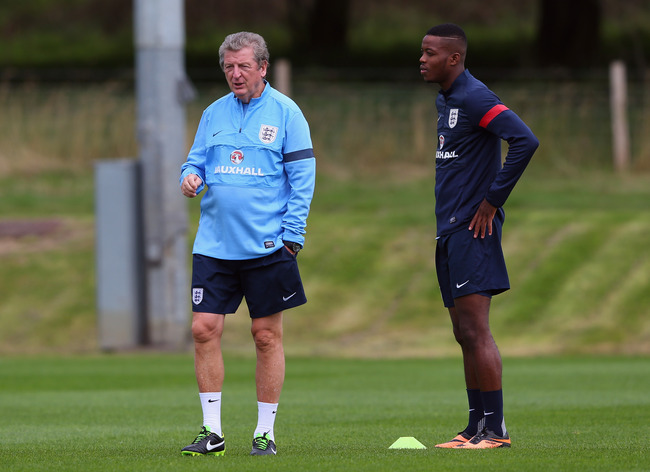 Alex Livesey/Getty Images
With each England squad announcement appearing more underwhelming than the last, Roy Hodgson's Three Lions will end up scraping through their final four World Cup qualifiers, perhaps needing a playoff match to reach Brazil.
In Hodgson's eyes, the reason for this continuing mediocrity won't be a poor youth setup or the laissez-faire attitude that most English players take toward representing their country, it will be the amount of foreign talent in the top flight and the refusal of his request to refrain from staging "high-profile" matches before England qualifiers (presumably because he feels there are more injuries and players try harder in high-profile games).
Lambert's Lambs Will Flock Toward Success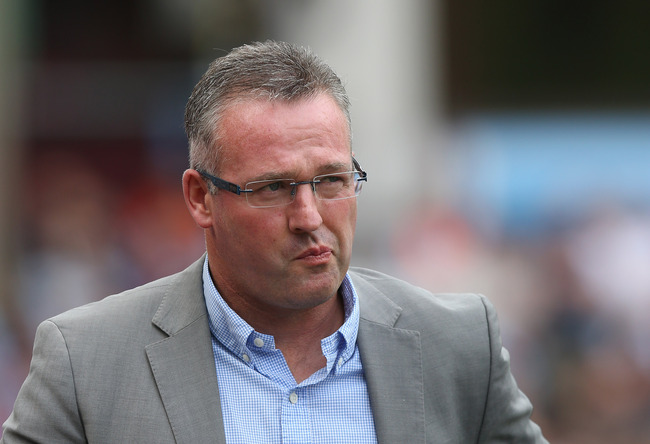 David Rogers/Getty Images
Throughout most of last season, you would have bet your house on Aston Villa going down.

Paul Lambert's assorted lower league diamonds in the rough and inexperienced academy products weren't much fun to watch last season, but as he moves his bold project into "phase two," they will start to flourish.
Villa won't venture near the European spots, but they will avoid the relegation dogfight—particularly if they can keep hold of Christian Benteke, who scored twice in a friendly against Malaga on Saturday.
Manchester United Will Struggle for Goals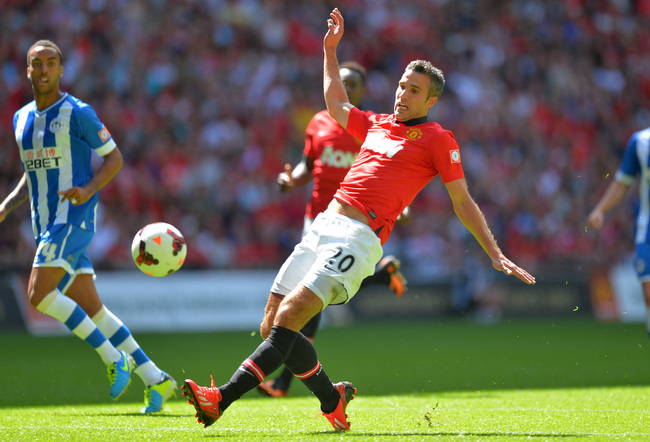 Mike Hewitt/Getty Images
Manchester Utd may have benefitted from the league's top scorer last season, but David Moyes has already admitted that he cannot become overreliant on Robin van Persie due to fear of him burning out, via the Daily Star.
If the Dutchman succumbs to an injury—a common occurrence in his career—the goals will probably need to come from Chicharito (who is currently injured), Wayne Rooney (who is currently unfit/unhappy/unreliable) or Danny Welbeck (who scored twice in 39 appearances last season).
Don't get us wrong, Man Utd will score enough to keep themselves in title contention, but Reds fans better hope the speculation swirling around a Cristiano Ronaldo return are true…
Alan Pardew Will Be Sacked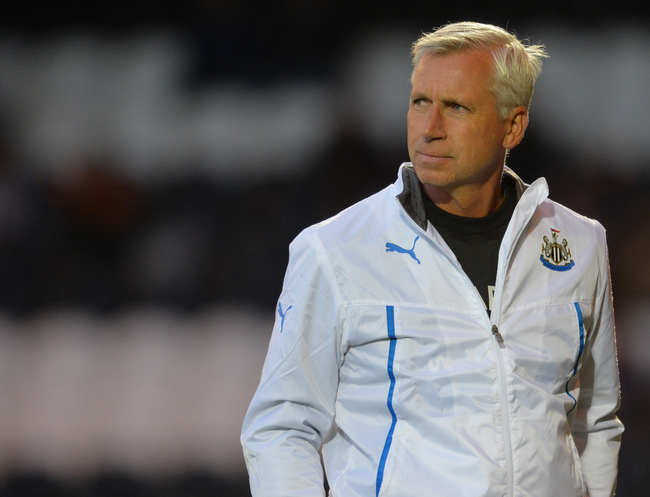 Mark Runnacles/Getty Images
When he was awarded an unprecedented eight-year contract early last season, Alan Pardew must have been literally and metaphorically kicking his heels together with unbridled glee.
The £1.5 million-a-year deal, however, will soon prove to be an albatross around his neck.
After spending nearly £19 million on a legion of French speakers in the last winter break, Pards brought his team perilously close to relegation in 2012-13.
This recent form is unbefitting of a club the size of Newcastle, and if it continues—and there is little to suggest it won't—then Mike Ashley will be paying out his lucrative contract before Christmas.
Joe Kinnear Will Become Newcastle Manager (Again)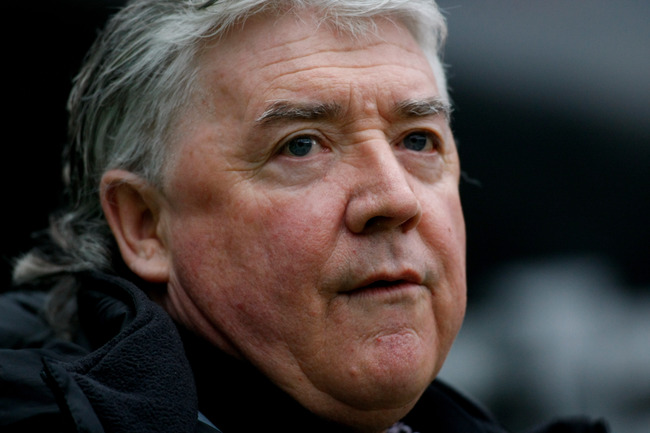 Stu Forster/Getty Images
With the departure of Pardew, a number of high-profile managers without jobs will be thrown into contention.
Inevitably, the likes of Roberto Mancini and Roberto Di Matteo will be overlooked for the club's current embarrassment director, Joe Kinnear.
Thanks to his positive relationship with owner Mike Ashley, the man who failed to pronounce the names of several key players and who has an extremely loose relationship with the truth will be given another shot at the helm of the Toon.
It won't be what fans want, and it won't be what the team needs, but that hasn't prevented Ashley from acting unilaterally before.
New Cardiff Signing Gary Medel Will Get a Red Card… or Two
While Gary Medel was playing in Rio Ferdinand's testimonial match on Friday, Cardiff City were busy negotiating a club-record fee for the Chilean midfielder.
Nicknamed the Pitbull of Seville, Medel is renowned for his aggressive behaviour on the field. Craig Bellamy is going to seem like a choirboy in comparison to the 26-year-old.
During his career, the Chilean hardman has earned at least one red card per season. Playing in a physical league with a fiery dragon on his chest probably isn't going to calm him down.
Ian Holloway Will Be Utterly Hilarious in Post-Match Interviews
The return of Crystal Palace—the Premier League's most relegated club—is great news for the neutral because it also spells the return of Ian Holloway.
As you can see in the clip above, Ollie is always brilliant value when a camera is pointed at him. Palace might just be more fun off the pitch than on it in this campaign.
Hull Will Constantly Protest Against the "Tigers" Rebranding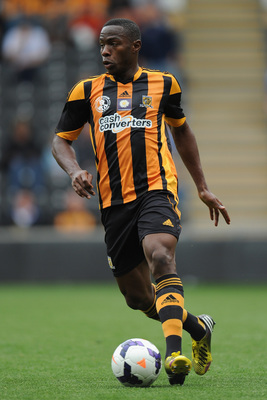 Shaun Botterill/Getty Images
Hull City chairman Assem Allam has controversially decided to re-brand Hull City as the Hull City Tigers. According to Louise Taylor of The Guardian, the decision was based on his belief that the word "City" is a common and "lousy identity," associated with Leicester, Bristol, Manchester and many other clubs.
Evidently unaware of the Leicester Tigers rugby team, Allam's decision to differentiate his club by making it sound as if it plays in MLS has been met with widespread scorn, and this will only continue as the season rolls on.
The Allam family has done plenty for the city and club for which fans are grateful, but this cynical marketing move will not go through without a fight.
Fulham Will Rip Down Their Michael Jackson Statue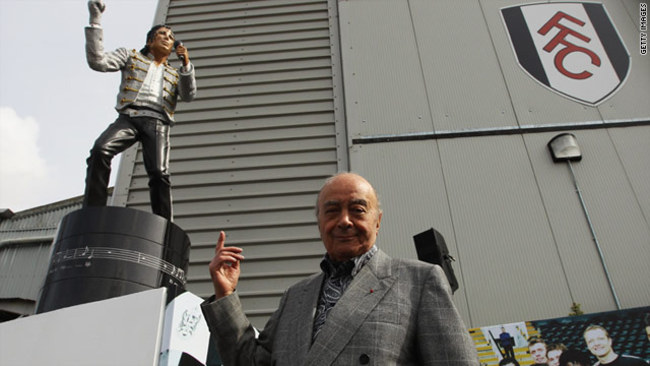 (cnn.com)

Now that former Harrods boss Mohamed Al-Fayed has finally parted with Fulham FC, he leaves new owner Shahid Khan in charge of a stable midtable team, a 133-year-old legacy and a completely incongruous statue of Michael Jackson at Craven Cottage.
Despite being warned by Al-Fayed that he would have his moustache ripped off if he removed the tribute to the King of Pop, Kahn told the AP that he would "reflect on it and listen to the fans, then decide."
Which basically means it's going to be torn down as quickly as possible.
Brendan Rodgers Will Make You Cringe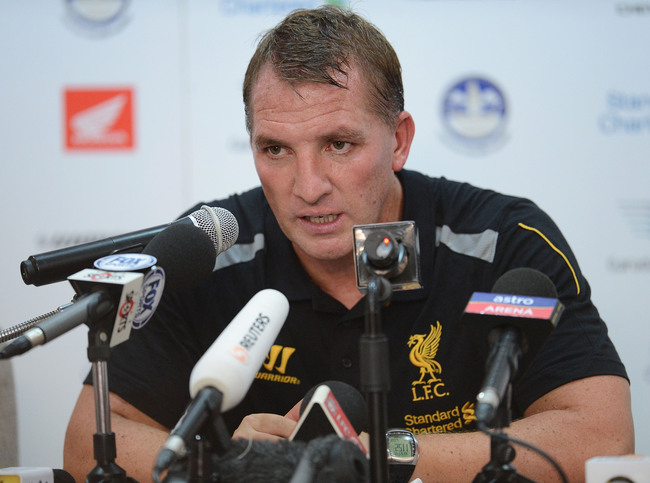 Thananuwat Srirasant/Getty Images
The Premier League's very own David Brent has a list of cringeworthy quotes that would make the Wernham–Hogg manager bury his face into his palm.
The Liverpool boss—who showed us his self portrait and baffling envelopes routine on Being Liverpool last season—recently dropped this gem on the official Liverpool website:
We see this season as a great opportunity to hopefully move forward again. I'm forever an optimist - we will always fight. It's what Liverpool Football Club is about. We never accept second best.

The challenge is to get into the Champions League positions, but not just be in it, but try to fight and go as high as we possibly can. That has to be the main target, to arrive in the top four.
So, you never accept second best, but fourth best is fine, Brendan?
Expect a lot more of this in 2013-14.
Norwich Will Claim Some Top Four Scalps at Carrow Road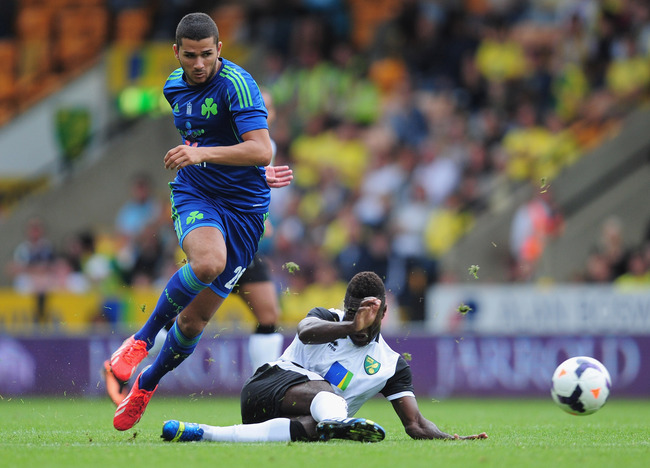 Jamie McDonald/Getty Images
Last season, Norwich pulled off surprise home victories over Arsenal and Manchester United, not to mention a shock 3-2 victory over reigning champions Manchester City at Eastlands.
With new striker Ricky van Wolfswinkel wearing No. 9, expect a few more Delia-pleasing giant slayings at Carrow Road in 2013-14.
Cardiff and Swansea Fans Will Fight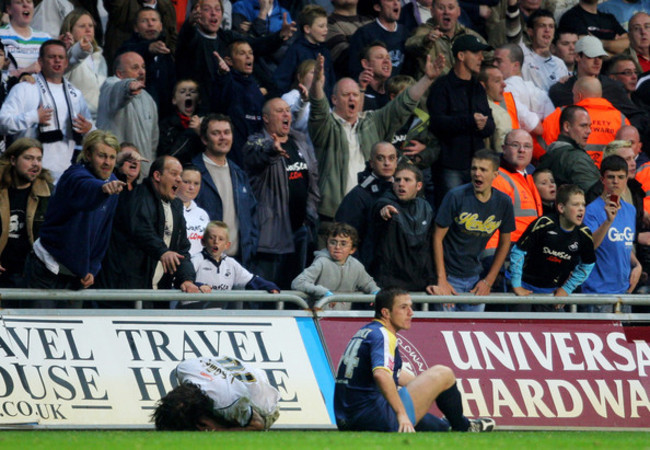 (zimbio.com)

The very first top-flight edition of the South Wales derby is set to take place on Sunday, November 3.
Historically, bouts between Cardiff and Swansea have been blighted by crowd trouble, fighting, pitch invasions and seats being ripped from the stands that are all par for the course.
In April 2009, the fixture made headlines when referee Mike Dean was struck by a coin, while the damage caused at the November 2009 meeting at the Liberty Stadium caused damage that reportedly ran into the thousands.
B/R is by no means condoning crowd trouble or suggesting you should look forward to it, but expect the Welsh version of Millwall vs. West Ham to get a little rowdy.


Follow Ryan Bailey on Twitter.
Keep Reading