Re-Ranking the Best Power Forwards in the NBA, Post-Free Agency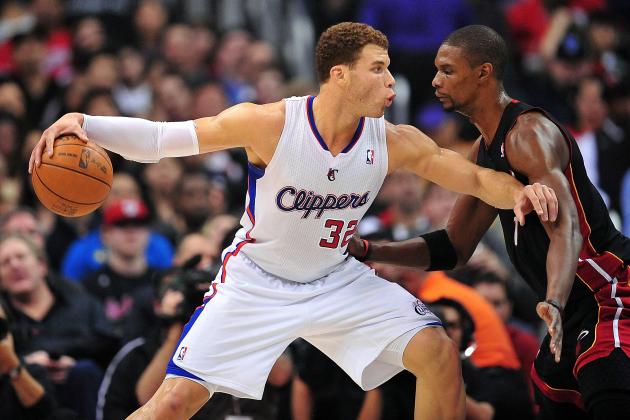 Gary A. Vasquez-USA TODAY Sports

The power forward position doesn't have any true MVP candidates, but it's a remarkably deep set of players. In fact, point guard and power forward are easily the two most stacked positions in the NBA right now.
This set of players is so loaded that one-way players really aren't going to make the cut. If you don't play at least some defense, it's going to be awfully difficult to make the top 10. The same goes for the defensive specialists who don't contribute much to the point-scoring efforts.
Power forward also offers an intriguing mix of youth and veteran leadership. We have the young up-and-comers—Blake Griffin, for example—as well as the cagey veterans like Dirk Nowitzki who aren't ready to give up their spots in the rankings quite yet.
Is your favorite team represented?
Note: The following players were not considered for this article.
Tim Duncan (C) has been a power forward/center along with Tiago Splitter for a long time, but he's playing closer to the rim than ever before. Despite legitimately being called the greatest power forward of all time, Duncan has become a true center in the twilight of his career.
Pau Gasol (C) falls into the same boat as Duncan. He played power forward out of necessity when Dwight Howard was on the squad, and he's shifting back to the 5 now that D12 is gone. That's also the spot he's spent more time throughout the prime of his career.
Al Horford (C) has never been a primary power forward, instead lining up at the 5 throughout his career with the Atlanta Hawks. He's also been far more effective at center than power forward by every available metric.
Greg Monroe (C) might have to play some power forward due to roster composition, but he's too slow to truly become a 4.
LeBron James (SF) and Carmelo Anthony (SF) both played a lot of power forward, but that was due to a proclivity for small ball. Each of them remain true small forwards.
Begin Slideshow

»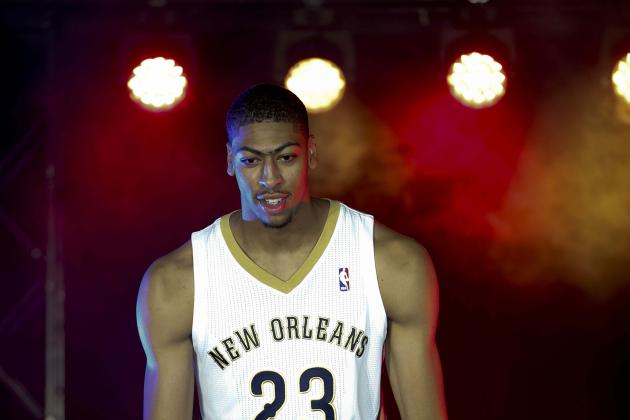 Derick E. Hingle-USA TODAY Sport

Anthony Davis, New Orleans Pelicans
Just give Anthony Davis another year, and he'll be a lock for the top 10.
The Unibrow was fantastic (offensively and in terms of help defense) during his injury-plagued rookie year. More comfort against the big bodies of the NBA will do him wonders, as will avoiding too much missed time.
Kenneth Faried, Denver Nuggets
Kenneth Faried is a rebounding monster, but he's become more than just a glorified role player with the Denver Nuggets. He's a budding offensive player with good defensive instincts, and he runs the court as well as anyone.
Plus, he's still only 23 years old.
David Lee, Golden State Warriors
Defense counts.
As good as Lee has been offensively—and he's undoubtedly one of the best offensive power forwards in the game—I just can't overlook how porous he was on the less glamorous end. Defense is half the battle, and Lee can't be truly elite until he recognizes that.
Paul Millsap, Atlanta Hawks
The undersized big man is a fantastic energy player, and he constantly manages to embarrass bigger players with his ridiculous reserves of energy.
Millsap will never blow anyone away with a set of highlight plays in quick succession, but he's a consistently excellent producer of points, rebounds and defense.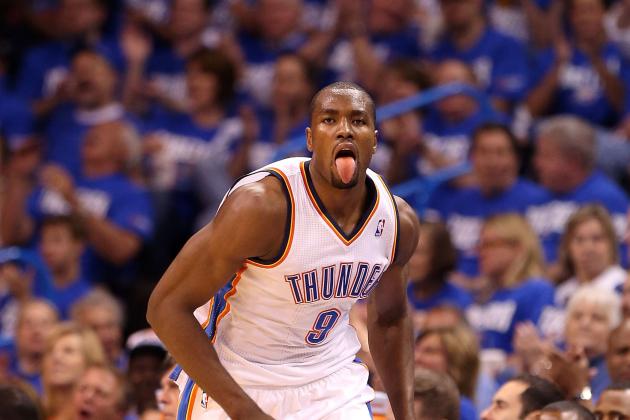 Christian Petersen/Getty Images

Team: Oklahoma City Thunder
Age: 23

Per-Game Stats: 13.2 points, 7.7 rebounds, 0.5 assists, 0.4 steals, 3.0 blocks, 19.4 PER
In my book, Serge Ibaka was a little overrated throughout the opening stanza of his career. He capitalized on the most glamorous of defensive plays and convinced the world that he was a standout defender just because he swatted away more shots than anyone else.
However, Ibaka often played with reckless abandon, and his rejections came at the expense of defensive positioning. He was a shot-blocker, but he wasn't a true rim-protector.
According to Synergy Sports (subscription required), Ibaka allowed 0.88 points per possession during the 2011-12 season. That's good for...282nd place. So I suppose it's not really good at all. Ibaka was terrible closing out on spot-up shooters and really struggled with solid post players, largely because he was too busy seeking more blocks.
In 2012-13, his overall defense stayed at just about the same level (he moved up to No. 256), but that's because he had even more trouble with spot-up shooters. He improved in man-to-man situations, particularly when they came in isolations or the post.
It's a positive trend, but Ibaka still needs more work on that end.
Even if he doesn't continue to improve, though, the Congolese big man still thrives as a unique shot-blocking power forward who thrives running the pick-and-pop.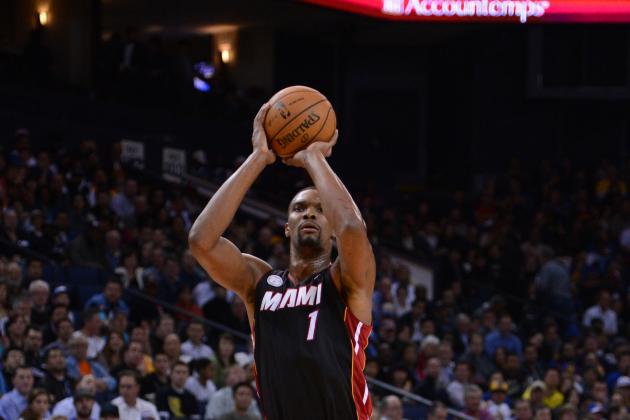 Kyle Terada-USA TODAY Sports

Team: Miami Heat
Age: 29
Per-Game Stats: 16.6 points, 6.8 rebounds, 1.7 assists, 0.9 steals, 1.4 blocks, 20.0 PER
Just imagine what Chris Bosh could do now if he were to find himself functioning as a No. 1 option again. For all of his shortcomings on the glass, Bosh is still an incredible offensive player whose numbers are only tempered by the presences of LeBron James and Dwyane Wade.
The 29-year-old averaged only 16.6 points per game, which was easily the lowest average since his rookie season. However, he did so with remarkable efficiency. Not only did Bosh start making more three-pointers than ever before, but he shot better inside the arc as well.
Bosh's 53.5 percent shooting from the field gave him his third season making more shots than he missed. It also easily surpassed the 2009-10 campaign when he shot 51.8 percent.
The power forward isn't declining. His role is just changing to help out the Miami Heat, and it's obviously working based on the results of the last two seasons.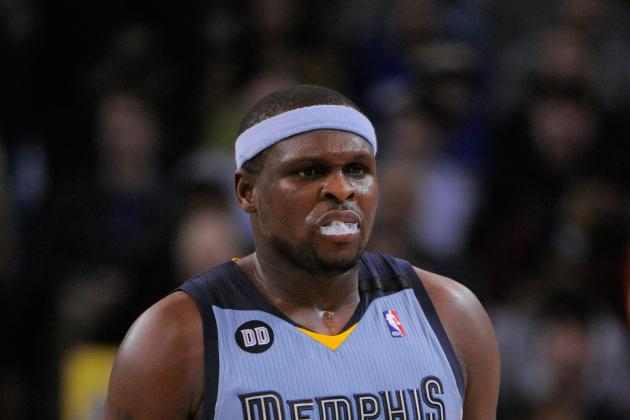 Kyle Terada-USA TODAY Sports

Team: Memphis Grizzlies
Age: 32
Per-Game Stats: 15.4 points, 11.2 rebounds, 1.4 assists, 0.8 steals, 0.4 blocks, 17.9 PER
The national perception of Zach Randolph seems to be lagging behind his actual value, and that's thanks to the recency effect.
We human beings have an easier time remembering what happened last, and Z-Bo's awful outing against the San Antonio Spurs is burned into our minds. During those four games, Randolph averaged only 11 points and 12 rebounds per contest, shooting just 30.2 percent from the field.
But don't let that shake your overall perception of the dominant big man.
He's still a force to be reckoned with on the boards, using his strength and knack for positioning to compete for the league lead in rebounds. In fact, only Reggie Evans, Omer Asik, J.J. Hickson and Nikola Vucevic had higher total rebounding percentages during the 2012-13 season.
Randolph's game is limited to right around the basket, and that limits his long-term upside, but there's no doubt he's ready to submit another season that leaves him as a strong candidate for the All-Star squad.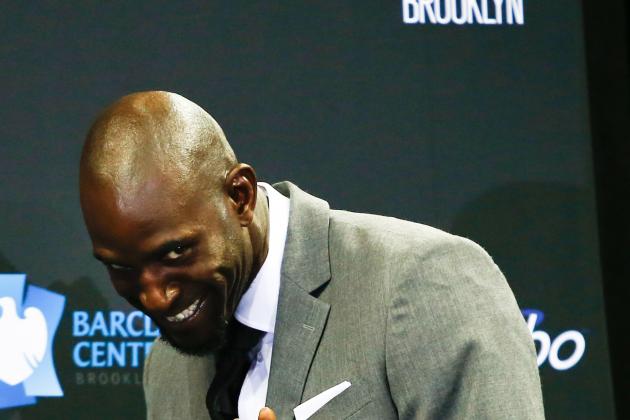 USA TODAY Sports

Team: Brooklyn Nets
Age: 37
Per-Game Stats: 14.8 points, 7.8 rebounds, 2.3 assists, 1.1 steals, 0.9 blocks, 19.2 PER
Kevin Garnett doesn't let Father Time affect him. He laughs in the face of old age.
Well, that's a slight exaggeration. The wear and tear on his tires has caused KG to decline, but he's changed his role so that he can remain a highly effective player.
Garnett no longer spends as much time around the basket, preferring to let the younger, more resilient players do the banging around in the paint. Instead, he's shifted out into mid-range land, and he's improved his shot more and more each year.
According to Hoopdata.com, only LaMarcus Aldridge and Chris Bosh made more jumpers per game from 16 to 23 feet, and KG's field-goal percentage from that range (47 percent) just blows Aldridge out of the water.
The other key for the new member of the Brooklyn Nets has been maintaining his defensive excellence.
As Synergy Sports (subscription required) shows, even with his declining speed preventing him from effectively closing out on spot-up shooters, Garnett allowed only 0.76 points per possession. That's a mark beaten by only 28 players throughout the NBA, regardless of position.
Against post-up players, KG remained über-elite, allowing just 0.64 points per possession. For the sake of comparison, Marc Gasol and Tyson Chandler allowed 0.66 and 0.64, respectively.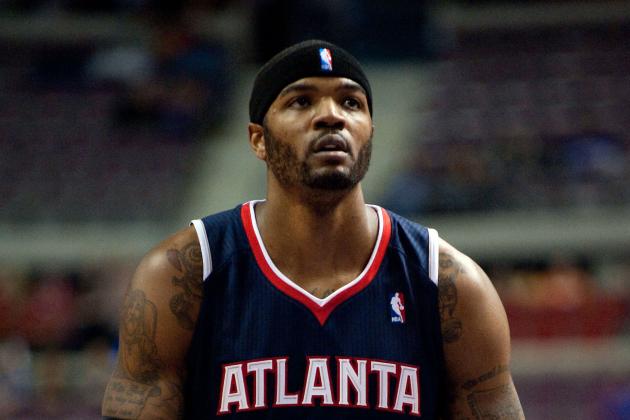 Tim Fuller-USA TODAY Sports

Team: Detroit Pistons
Age: 27
Per-Game Stats: 17.5 points, 8.4 rebounds, 4.2 assists, 1.2 steals, 1.8 blocks, 17.7 PER
If Josh Smith ever figured out the mental part of the game, he'd have the potential to vault all the way up to No. 1 in the positional rankings. But instead he consistently insists on firing away jumpers from the outside, even after far too many of them draw nothing but iron.
Only 43 qualified players (40 games played, 20-plus minutes per game) took at least 3.5 shots per game from 16 to 23 feet during the 2012-13 season. Of them, Monta Ellis, Jrue Holiday, DeMarcus Cousins and Smoove were the only guys to shoot below 35 percent.
Here's a tip: Stop shooting.
However, it's obviously not all negative for Smith, or else he wouldn't be ranked No. 6 among all power forwards. He brings so many positives to the table that they easily overshadow his unfortunate trigger-happy tendencies.
Smith is one of the league's premier stat-stuffers, loading up box scores with contributions in every single category imaginable. He's a versatile offensive player and a true game-changer on defense thanks to his perimeter defense, interior stopping skills and fantastic shot-blocking habits.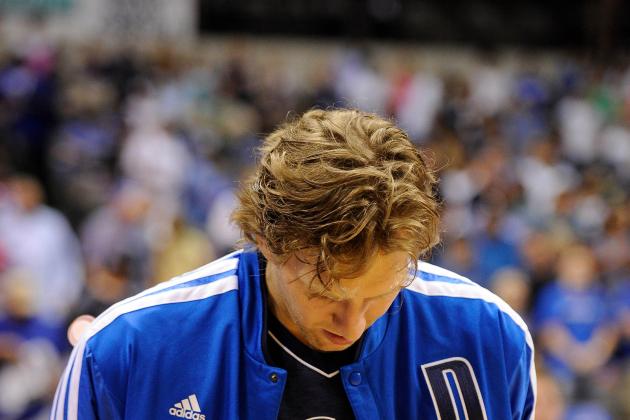 USA TODAY Sports

Team: Dallas Mavericks
Age: 35
Per-Game Stats: 17.3 points, 6.8 rebounds, 2.5 assists, 0.7 steals, 0.7 blocks, 19.8 PER
How much longer do we get to see vintage Dirk Nowitzki before old age saps the remaining stardom out of his veins?
The German 7-footer dispelled most concerns after returning from the first surgery of his career to almost lead the Dallas Mavericks into the postseason. The team was 28-25 with Dirk in the lineup and only 13-16 without him.
He also took a little while to get going, a clear byproduct of starting the season in media res. But over the last 10 games of the regular season, Dirk averaged 18.5 points, 6.5 rebounds and 2.7 assists per contest.
Gone are the days when the power forward can single-handedly carry his team through the postseason, but his All-Star days aren't behind him quite yet. Dirk is still one of the premier talents in the league, and he claims one of the most unstoppable shots in basketball history: that one-legged flamingo fadeaway.
Expect another dominant season from the big man, even if age is causing his defensive and rebounding skills to fade away.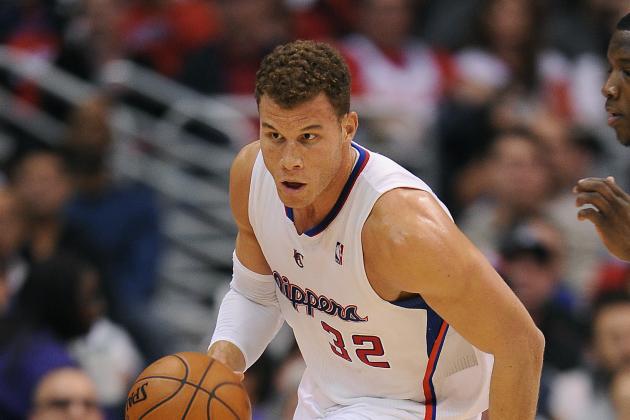 Jayne Kamin-Oncea-USA TODAY Sports

Team: Los Angeles Clippers
Age: 24
Per-Game Stats: 18.0 points, 8.3 rebounds, 3.7 assists, 1.2 steals, 0.6 blocks, 22.4 PER
Blake Griffin was underrated at the start of his career. Then he was overrated because of the hype associated with his dunking ability. But now he's been called overrated so many times by people who refuse to see the improvements that he's underrated once more.
Confused?
Yeah, me too.
What isn't confusing is the undeniable fact that Griffin has gotten better since entering the league. He hasn't improved at the quick pace we both hoped for and expected, but he's developed a wider variety of post moves, improved his shooting ever so slightly and started to become much more of an impactful defender.
According to Synergy, Griffin allowed 0.83 points per possession during his latest NBA season. That ranks him at No. 107 in the NBA, and it's a mark he can improve upon as he gets better in the post.
What many don't recognize is that Griffin has become a fantastic defender in isolation settings and when he's guarding the roll man in a pick-and-roll set. You can literally count the number of players who allowed fewer points per possession on PnR roll men than Griffin with two hands.
Griffin hasn't lived up to our unrealistic expectations, but don't let that dissuade you from recognizing him as a high-quality player.
Maybe next season he can actually show up in the playoffs, though.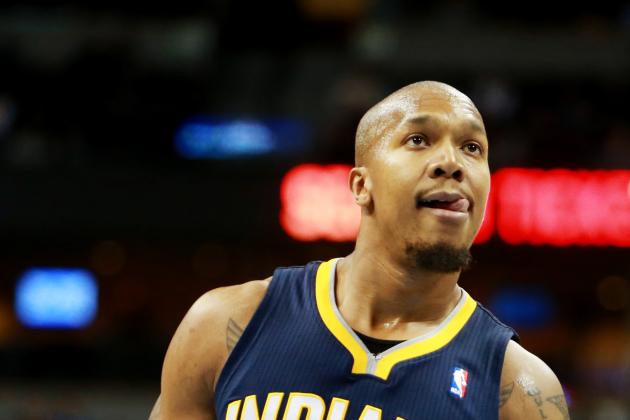 USA TODAY Sports

Team: Indiana Pacers
Age: 32
Per-Game Stats: 17.1 points, 7.7 rebounds, 2.9 assists, 1.0 steals, 0.9 blocks, 20.1 PER
David West's value is most easily summarized just by looking at how the Indiana Pacers played with and without him in the lineup. Courtesy of Basketball-Reference, the table shows the team's points per 100 possessions in each situation:
| | Points Scored | Points Allowed |
| --- | --- | --- |
| West On | 107.9 | 99.6 |
| West Off | 99.6 | 100.4 |
And because one chart is never enough, let's take a look at the same stats in the postseason:
| | Points Scored | Points Allowed |
| --- | --- | --- |
| West On | 106.4 | 102.7 |
| West Off | 97.8 | 107.2 |
The regular season wasn't a fluke, and neither was the postseason. West has one of the biggest two-way impacts in the NBA. He's still the heart and soul of the Pacers thanks to his gutty play and willingness to sacrifice his body on any given possession.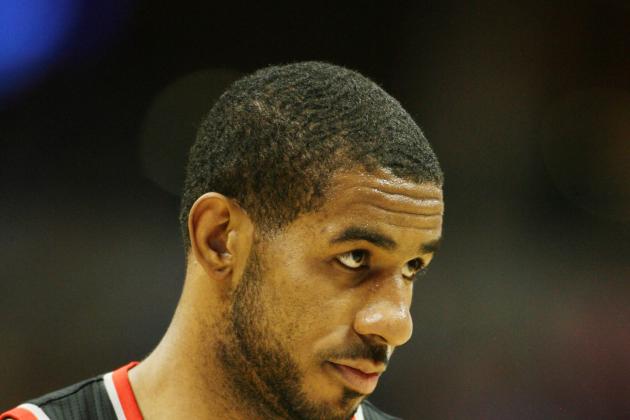 USA TODAY Sports

Team: Portland Trail Blazers
Age: 28
Per-Game Stats: 21.1 points, 9.1 rebounds, 2.6 assists, 0.8 steals, 1.2 blocks, 20.4 PER
LaMarcus Aldridge could challenge for the No. 1 spot in the power forward rankings, but only if he cuts back on his long two-pointers and starts taking smarter shots. The more he plays right around the basket, the better.
Let's turn to Hoopdata.com one more time.
No player took more shots from 16 to 23 feet than Aldridge during the 2012-13 season. In fact, it wasn't even close. Aldridge's 534 attempts blew DeMar DeRozan's second-place 475 out of the water.
However, the big man also shot only 41 percent from that area of the court, a percentage that really isn't going to cut it if he wants to justify letting fly with such frequency. He should be stepping in to 10 to 15 feet, where he shot 49.2 percent.
That said, Aldridge is another one of those big men who truly excels on both ends of the court. He's a great scorer, a solid rebounder, a surprisingly effective passer and a defender capable of carrying the frontcourt in the absence of another standout.
I can't wait to see how effective Aldridge is now that Robin Lopez is there to take away some of the defensive pressure.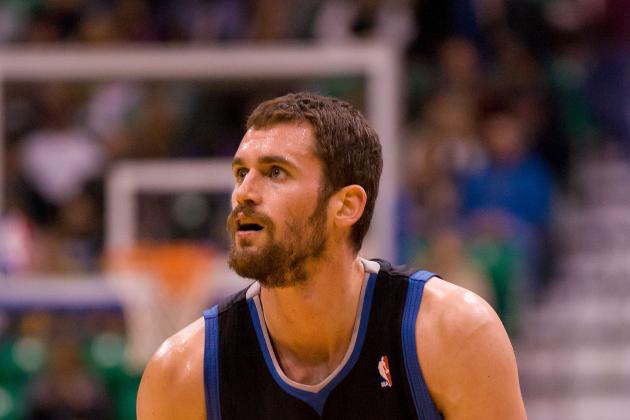 Russ Isabella-USA TODAY Sports

Team: Minnesota Timberwolves
Age: 24
2012-13 Per-Game Stats: 18.3 points, 14.0 rebounds, 2.3 assists, 0.7 steals, 0.5 blocks, 17.9 PER
The only thing holding Kevin Love back is injury.
When he's healthy, he's one of the most uniquely talented players in the NBA, capable of drilling three-pointers while competing for the league lead in rebounds per game. In fact, now that Dwight Howard and Omer Asik will be competing with each other for boards in Houston, Love should be the prohibitive favorite for the rebounding crown.
There are only two true knocks on Love.
First is that he hasn't been able to carry a team to the playoffs. But which power forward competing with him has in recent years? West and Blake were the only two in the top five to make the postseason in 2012-13, and it's hard to use the word "carry" in either situation.
Love doesn't have any excuses this year. Not with the level of talent that surrounds him in Minnesota.
Secondly, he has to start playing better defense. Love is by no means a liability, but he must prove that the porosity of his play last season was an effect of the injuries he suffered.