Everything You Need to Know About Nebraska's Heisman Candidate, Taylor Martinez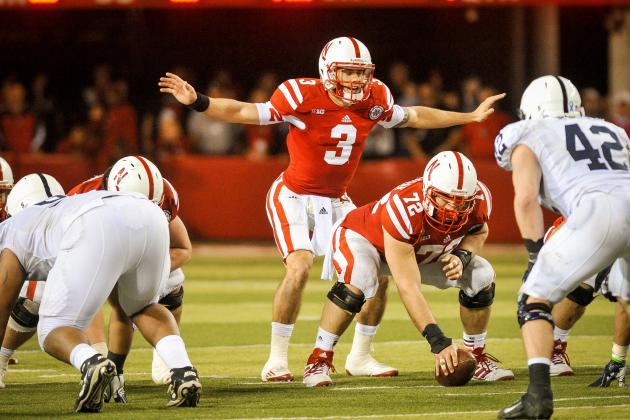 Eric Francis/Getty Images

Who He Is
Height: 6'1"
Weight: 210 pounds
Position: Quarterback
Year: Senior
Awards/Watch Lists for 2013: First team all-Big Ten (coaches, 2012); Team MVP (2012); AT&T National Player of the Week and B1G Player of the Week (vs. Ohio State, 2011); Davey O'Brien National Quarterback Award watch list (2013); Walter Camp Player of the Year watch list (2013); HeismanPundit.com Heisman watch list (2013).
Begin Slideshow

»
Eric Francis/Getty Images

When Martinez is on, he is one of the most dangerous and dynamic offensive weapons in college football. Just ask Wisconsin. As a junior, Martinez holds Nebraska school records for career total offense, career passing yards, career completions, and career touchdown passes.
(In fairness, he also holds the school record for starts as a quarterback).
Nebraska also has the benefit of a softer schedule in 2013. NU trades Ohio State and Wisconsin for Illinois and Purdue and doesn't have a road game until Oct. 12. If Nebraska can get by UCLA in September, NU should be rated at or near the top 10 all year. That will help keep Martinez in the Heisman conversation.
Finally, Nebraska may also have a solid pipeline to protect Martinez. ESPN's Adam Rittenberg said Nebraska head coach Bo Pelini has talked about how this year's offensive line "could be the best he's had in Lincoln." If that's the case, that will help Martinez statistically both rushing and passing and will help Nebraska win games it might otherwise lose.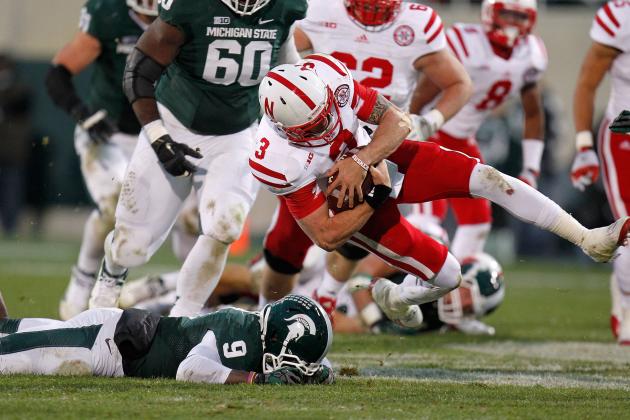 Gregory Shamus/Getty Images

Martinez tends to drop the football. A lot. As in, leading the country in fumbles a lot. As in leading the country for the last three seasons in fumbles a lot. As in 45 fumbles in three years a lot.
That's a lot.
Sure, Nebraska doesn't lose every one of Martinez's fumbles. But even when Nebraska gets the ball back, a fumble still kills the momentum of a play and puts NU in a worse down-and-distance situation.
If Martinez can even get to a "normal" quarterback's level of fumbles, the sky could be the limit for him. But that would involve seeing a skill set he has yet to display.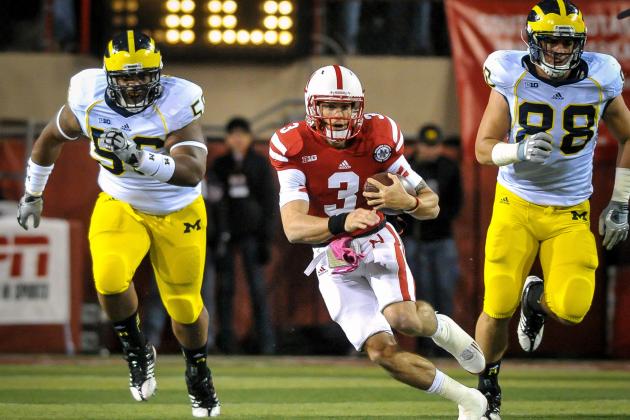 Eric Francis/Getty Images

The obvious answer is Nebraska's trip to Ann Arbor on Nov. 9 to face the Wolverines, and for good reason. That contest should likely determine the winner of the Legends Division, will be nationally televised, and will provide a great stage for Martinez to show his skills.
But two of the more underrated games for Nebraska will be the early-season contest at home against UCLA and a late-season trip to State College to face Penn State. The UCLA game will be Nebraska's first exposure on a national stage, and will be Nebraska's only real test until NU faces Michigan in November. A poor showing against the Bruins could put Martinez so far down the list in terms of national perception that his Heisman candidacy might not recover.
The Penn State game on Nov. 23 brings almost the opposite challenge for Martinez. If he is still a Heisman candidate on Nov. 23, then he will need a strong performance against Penn State—against a well-coached team and in the most intimidating atmosphere in the B1G (sorry, Michigan fans)—to stay in the Heisman hunt.
The final game that would be crucial for a Martinez Heisman candidacy would be the B1G title game, almost assuredly against Ohio State. If Nebraska is not in the B1G title game, then Martinez will not win the Heisman, so for the purposes of this exercise we have to assume Nebraska gets there. Nebraska would not necessarily have to win the title game, but NU would have to get there—and Martinez would have to perform well—for him to have a shot at the trophy.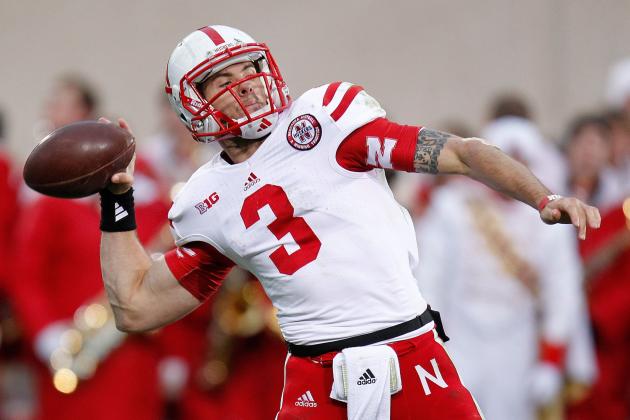 Gregory Shamus/Getty Images

Martinez is the most polarizing player in Nebraska's current history, even more so than Eric Crouch, Nebraska's last Heisman winner. His hot-and-cold performances coupled with his aloof demeanor (particularly earlier in his career) has turned off a number of Nebraska fans.
But Martinez is an undeniably tough kid, having playing through injury and fan disapproval throughout his career. By his own admission, the ankle injury he suffered as a freshman against Missouri did not fully heal until later into his junior campaign. But Martinez still answered the bell every week.
More importantly than his toughness, though, is his willingness to work and get better. For the last two years, Martinez has returned to California in the summer and worked with quarterback guru Steve Calhoun. Last year, that work paid dividends, increasing Martinez's completion percentage from 56.2 percent to 62 percent.
He didn't have to put that extra summer work in. With his wheels, Martinez could have just cruised with his athletic ability and gotten by. But he put the extra work in to make himself better and give his team a better chance to win.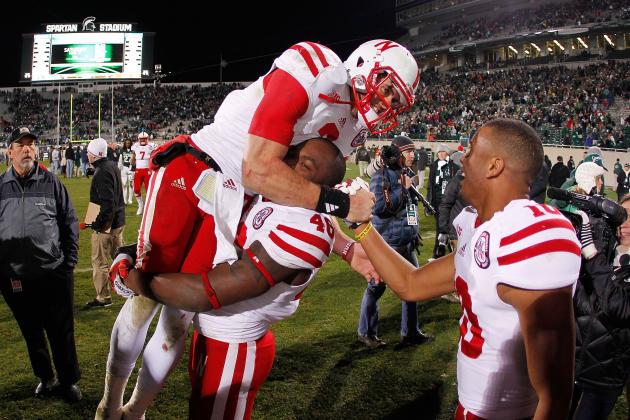 Gregory Shamus/Getty Images

Coaches: Nebraska head coach Bo Pelini talked with Jim Rome about Martinez's growth as a player, saying, "When Taylor first came here, he's so talented, I think at times, he felt like he always had to make a scoring play on every play. He's slowly learned that you've got to let the offense work for you. Those plays will come, but you have to be patient."
Media Personalities: Pat Forde of Yahoo! Sports labeled Martinez one of the most intriguing quarterbacks of 2013, saying, "Martinez improved his accuracy appreciably last year and threw a career-high 23 touchdowns – equaling the total from his first two years combined."
Other Players: After the 2012 season, the team voted Martinez MVP.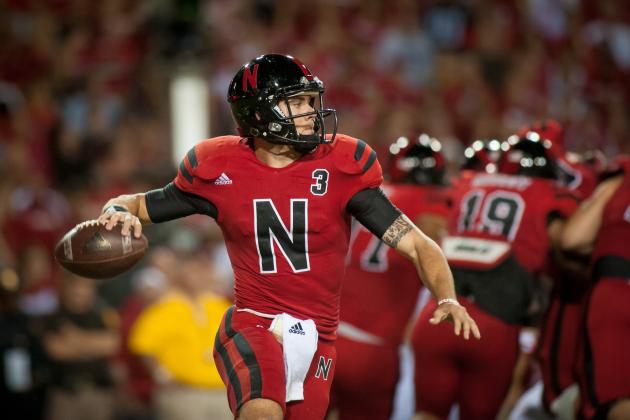 Eric Francis/Getty Images

Let's start with Martinez's stats for the last three seasons, to put things in perspective:
Passing
| | | | | | | | | |
| --- | --- | --- | --- | --- | --- | --- | --- | --- |
| Year | G/S | Att | Cmp | Int | Pct | Yds | TD | |
| 2010 | 13/12 | 196 | 116 | 7 | .592 | 1,631 | 10 | |
| 2011 | 13/13 | 288 | 162 | 8 | .562 | 2,089 | 13 | |
| 2012 | 14/14 | 368 | 228 | 12 | .620 | 2,871 | 23 | |
| Totals | 40/39 | 850 | 506 | 27 | .595 | 6,591 | 46 | |
Rushing
| | | | | |
| --- | --- | --- | --- | --- |
| Year | G/S | Att | Net | TD |
| 2010 | 13/12 | 162 | 965 | 12 |
| 2011 | 13/13 | 188 | 874 | 9 |
| 2012 | 14/14 | 195 | 1,019 | 10 |
| Totals | 40/39 | 545 | 2,858 | 31 |
When considering Martinez's 2013 campaign, there are a number of factors trending towards him having a better season than the year previous. First and most importantly, Martinez is a senior with the kind of experience that should improve his decision-making and numbers across the board.
Second, Martinez has worked for a second offseason with quarterback coach Steve Calhoun. If Martinez's passing numbers improve even half as much as they did from 2011 to 2012, his total offensive stats should see a similar rise.
Third, Nebraska's schedule is dramatically softer this season. Ohio State and Wisconsin drop off the conference slate and are replaced by Illinois and Purdue. There are no degree of difficulty marks for statistics. So even if Martinez had the same performance as he did last year, it will be against softer competition, so his numbers should look better.
So, taking all that into account, here's how I project Martinez's stats for 2013:
Passing
| | | | | | | | |
| --- | --- | --- | --- | --- | --- | --- | --- |
| Year | G/S | Att | Cmp | Int | Pct | Yds | TD |
| 2013 | 13/13 | 375 | 248 | 8 | .661 | 3100 | 26 |
Rushing
| | | | | |
| --- | --- | --- | --- | --- |
| Year | G/S | Att | Net | TD |
| 2013 | 13/13 | 190 | 995 | 12 |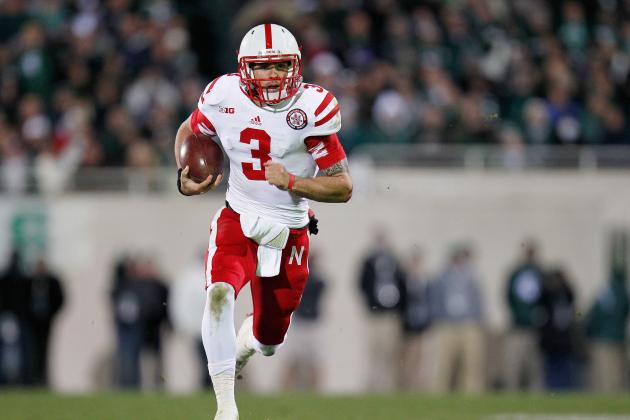 Gregory Shamus/Getty Images

I'm in a bit of a quandary on this, because one smart and particularly handsome analyst has already predicted that Nebraska will not win the Legends Division and that failing to make the B1G title game would preclude Martinez from winning a Heisman Trophy.
But if Nebraska finishes at 10-2 and avoids the ugly blowout losses it suffered last season, Nebraska should be in line for an at-large BCS invitation. And that might be good enough to keep Martinez on the fringes of the Heisman conversation.
Unfortunately for Martinez, though, Nebraska's diversity of weapons means that his ability to produce could be diluted this year. Between that and Nebraska not playing in December, I don't see him having the kind of eye-popping statistics needed to make the trip to New York.
If Nebraska makes it to the B1G title game, then Martinez could very well get an invitation to New York. But if the season goes as I see it, look for Martinez to be in the Heisman conversation all season, but to miss out as a finalist.
If you'd like to contact Patrick, send an email to patrickrunge@gmail.com.