Pros and Cons of the Top Prospects in the 2014 NHL Draft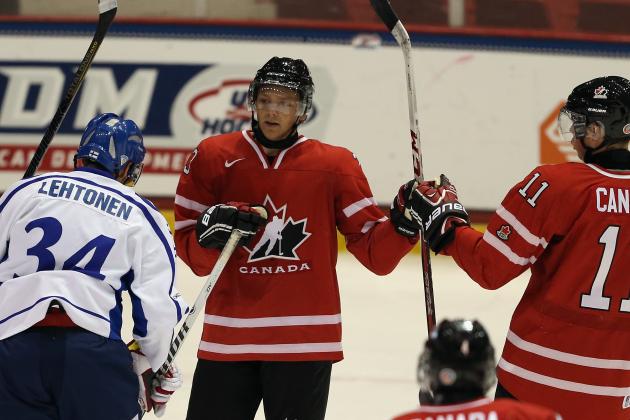 Bruce Bennett/Getty Images

There is no such thing as a perfect prospect in hockey. Even Sidney Crosby had some black marks on his scouting sheet prior to being selected first overall by the Pittsburgh Penguins in 2005. He wasn't particularly outstanding in the faceoff circle and he perhaps looked to pass a bit too often.
Those hiccups didn't take away from a player that clearly had boatloads of potential.
While there's no Crosby-esque player heading into the 2014 NHL draft, that doesn't mean that there aren't several outstanding young players available. Sam Reinhart, William Nylander and Aaron Ekblad are all poised to be difference-makers at some juncture.
Like Crosby, though, each and every one of these prospects has an area that they'll need to work on before having a chance at becoming a top-flight NHL player.
Begin Slideshow

»
Pros
A surgeon in the offensive zone, Sam Reinhart possibly possesses the top hockey IQ out of all the 2014 draft-eligible prospects. He's a remarkably intelligent player that has that unteachable knack that so many greats have had—he knows where the puck is going before anyone, and he's able to capitalize because of that anticipation.
Known as a skill player, Reinhart has an edge to his game as well. He is rarely beaten in puck battles along the boards and isn't afraid to step up when larger players try to push him around.
Cons
Sticking up for yourself against competition in the WHL and the larger players in the NHL are two very different things. Reinhart is listed as 6'1", 177 pounds and will need to bulk up before hitting the ice against professionals.
There are also some concerns about his skating, but those issues tend to fix themselves pretty quickly at the NHL level. Practices are too frequent and training regimens are too personalized these days for foot quickness to remain a problem.
Projected Selection
You'll be hard-pressed to find a mock draft that doesn't have Reinhart going with the No. 1 selection.
Pros
When it comes to making magic in the offensive zone, this draft doesn't have a player with more fireworks up his sleeve than William Nylander. Different things will jump out at you on different shifts. Sometimes he's wowing the crowd and scouts with his stickhandling, which is top-notch. On another night, he'll be impressing with his incredible agility and lateral movement.
Nylander's shot is outstanding, and he's able to launch it while skating in his considerable top gear. Within 45 feet of the net, there may not be a more dangerous player than Nylander in this draft.
Cons
Nylander is considered a lightweight center that won't ever have an big physical element to his game. He's just not built that way, and you can't teach size. He's listed at 5'10", 170 pounds, which makes him a dangerously undersized player.
There's no question that he's dynamite in the offensive zone, though, and if Max Domi can shake concerns over his size, so can Nylander.
Projected Selection
It would take a pretty catastrophic collapse for Nylander to end up outside of the top five.
Pros
Nick Ritchie is considered an outstanding two-way winger that plays a responsible 200-foot game. He's a ferocious forechecker and seems to improve that aspect of his game every month or two. Ritchie is tough to outwork along the boards, and you don't see him cough up the puck after a battle very often.
Cons
There are some outstanding offensive talents in the 2014 draft. The likes of Sam Reinhart, William Nylander and Leon Draisaitl will receive most of the headlines because of their top-end skills as shooters and passers.
For Ritchie to end up a top-tier player like the aforementioned guys, he's going to have to continue working on his game as an offensive threat. Right now, he's more suited to bang bodies than he is to score goals.
Projected Selection
Outstanding two-way players have had some success at the draft in recent years. If Bo Horvat was a top-10 selection, Ritchie could be as well.
Pros
It didn't take long for Leon Draisaitl to get his bearings playing the North American style of hockey. He's a native of Germany but didn't look out of place at all during his first season overseas. He impressed on a nightly basis with his solid north-south skating and ability to just get things done in the offensive zone.
While he's not going to bowl anyone over, Draisaitl (6'1", 198 lbs) doesn't shy away from using his body to open up more space for himself. His passing is of an elite level, and the shot isn't far behind.
Cons
He projects cleanly as an NHL player and could be ready for the pros by the time he's drafted. Still, if Draisaitl could add another gear and a few pounds, he'd be even more deadly.
Projected Selection
Draisaitl could make a charge at the No. 1 overall selection but shouldn't fall outside of the top five come draft day.
Pros
If anyone is going to knock Aaron Ekblad from his perch of No. 1 defender available, it's Roland McKeown. Nothing sticks out to you immediately when you watch him play, but that isn't a bad thing for a 17-year-old defenseman.
You won't see McKeown panic in the defensive zone, regardless of pressure, and he's displayed the ability to be a central part of the transition game as well. His passing is above average, and McKeown's shot can catch goaltenders by surprise.
Cons
For McKeown to jump up the International Scouting Services rankings throughout the season, he'll need to start to show more of a physical edge. Listed at 6'1", 185 pounds, the size is there for him to lean on his opposition a bit more. If this guy starts to hit, there's no telling how high he could climb by the draft.
Projected Selection
He's a top-10 selection for sure, unless a team is really looking for help on the blue line and is willing to pass over some outstanding offensive talent to get it.
Pros
Another excellent player at both ends of the ice, Michael Dal Colle will go as far as his physical style of play takes him. When he's at his best, he's using his frame to protect the puck while powering to the net. Dal Colle thrives when the game takes a physical turn and there's mucking going on in front of the net and along the boards.
Cons
For Dal Colle to play his game at the NHL level, he'll need to add some muscle. He is listed at 6'2" and comes in around 170 pounds. There's a lot of work to be done when it comes to strength, but with another few years of work, he could be an above-average power forward as a professional.
Projected Selection
Dal Colle could sneak into the top five, but it's likely that he ends up as a top-10 selection after being considered a second-tier forward in this draft.
Pros
Almost unanimously considered the top defenseman available in this draft, there really isn't anything that Ekblad doesn't do well at this stage of his young career. Always poised with the puck and rarely making mistakes, Ekblad is an anchor in the defensive zone.
He's been accused of being a slow skater, but that's only because he's 6'3" and weighs over 200 pounds while playing alongside players who are built more like boys than men.
Cons
There's really nothing not to like about Ekblad's game. Like Seth Jones last year, there aren't many critics, and it's very easy to gush about him. There's little doubt about his ability to be an impact NHLer sooner rather than later.
Projected Selection
He's a lock to go in the top five, barring some kind of tragic falloff in his game.
Pros
Hard work and dedication to detail are the hallmarks of Blake Clarke's game. He's solid in the defensive zone and is able to do damage in the offensive zone due to his good vision and solid shooting ability. He's not a speed demon by any means, but he's quick enough to make defenders pay if they play him wrong.
Cons
Following what seems to be a common thread in top players that are eligible to be drafted in 2014, Clarke needs to add a bit of toughness to see his game carry over to the NHL level. He's yet to truly impose his will on smaller opponents. If he starts to show even signs of doing that over the next year, he could jump in a big way.
Projected Selection
Clarke isn't a top-10 lock, but he has the skill set to settle in there as the season progresses. Scouts are looking for certain elements to emerge in his game now, and if he begins to show some snarl, then he'll climb instead of slip.
Pros
For all the players in this draft class that need to add some bite to their games, Jake Virtanen isn't one of them. A word that seems to come up a lot in his scouting reports is "fearless." He crashes the net without consideration for his own body or those around him and is extremely dangerous below the hash marks.
Virtanen is immediately noticeable because of his aggressive style of play, but his shot shouldn't be overlooked. The puck launches off of his stick with relative ease and he possesses an elite-level release.
Cons
No one seems to dislike any element of Virtanen's game. His shot is ridiculous, and he's a known commodity along the boards and in the corners. He's 6'0" and weighs 180 pounds, so some more strength will be necessary moving forward, but there's little question about his abilities on the ice.
Projected Selection
Virtanen shouldn't slip outside of the top 10 on draft day. He might not have the skill set needed to jump up into the top five, but he isn't likely to slide too much, either.
Pros
Jakub Vrana is already very well-traveled, transporting to Sweden from his native Czech Republic as a 16-year-old to continue to develop his game. Moving away from your home nation at that age shows great maturity, and while he wasn't willing to go all the way to Canada to play, he's been outstanding in Sweden.
Vrana's skating is elite-level. His acceleration is breathtaking, and his agility out on the ice bewilders defenders and scouts alike. If you're looking for a possible riser this year, Vrana is your guy.
Cons
Right now the biggest strike against Vrana is that he isn't in North America and hasn't been seen by many scouts yet. As they get a load of his game, he could be a quick riser.
Projected Selection
He appears to be a top-10 player right now, but Vrana's outstanding skating ability and wicked shot could propel him farther up the board on draft day.