The name of the game in the second week of NFL preseason action is staying healthy. With a rash of injuries having already crippled some NFL teams, the coaches, players and other members of each organization are hoping to emerge from the preseason with a good representation of their top talent being healthy.
Many stars were held to limited activity in the preseason openers and fans should expect more of the same in the second tilt.
Even with some of the major stars being protected, there are a few matchups that will offer fans a glimpse into the upcoming regular season and beyond.
Here's a look at the full schedule for the second week of exhibition games with dates, times, TV coverage and predictions. There is more in-depth analysis for the highlighted games below the schedule.
NFL Preseason Week 2 Schedule and Predictions

| | | | | |
| --- | --- | --- | --- | --- |
| THU, AUG 15 | TIME (ET) | TV | LOCATION | Predicted Winner |
| Detroit at Cleveland | 7:30 p.m. | | FirstEnergy Stadium | Browns |
| Carolina at Philadelphia | 7:30 p.m. | | Lincoln Financial Field | Eagles |
| Atlanta at Baltimore | 7:30 p.m. | | M&T Bank Stadium | Falcons |
| San Diego at Chicago | 8 p.m. | | Soldier Field | Bears |
| FRI, AUG 16 | TIME (ET) | TV | LOCATION | |
| Minnesota at Buffalo | 7 p.m. | | Ralph Wilson Stadium | Bills |
| San Francisco at Kansas City | 8 p.m. | | Arrowhead Stadium | 49ers |
| Tampa Bay at New England | 8 p.m. | FOX | Gillette Stadium | Patriots |
| Oakland at New Orleans | 8 p.m. | | Mercedes-Benz Superdome | Saints |
| SAT, AUG 17 | TIME (ET) | TV | LOCATION | |
| Dallas at Arizona | 4:30 p.m. | | U of Phoenix Stadium | Cardinals |
| Tennessee at Cincinnati | 7 p.m. | | Paul Brown Stadium | Bengals |
| Jacksonville at NY Jets | 7:30 p.m. | NFL | MetLife Stadium | Jets |
| Green Bay at St. Louis | 8 p.m. | | Edward Jones Dome | Packers |
| Miami at Houston | 8 p.m. | | Reliant Stadium | Texans |
| Denver at Seattle | 10 p.m. | | CenturyLink Field | Seahawks |
| SUN, AUG 18 | TIME (ET) | TV | LOCATION | |
| Indianapolis at NY Giants | 7 p.m. | | MetLife Stadium | Giants |
| MON, AUG 19 | TIME (ET) | TV | LOCATION | |
| Pittsburgh at Washington | 8 p.m. | | FedEx Field | Steelers |
ESPN.com and NFL.com
Carolina Panthers at Philadelphia Eagles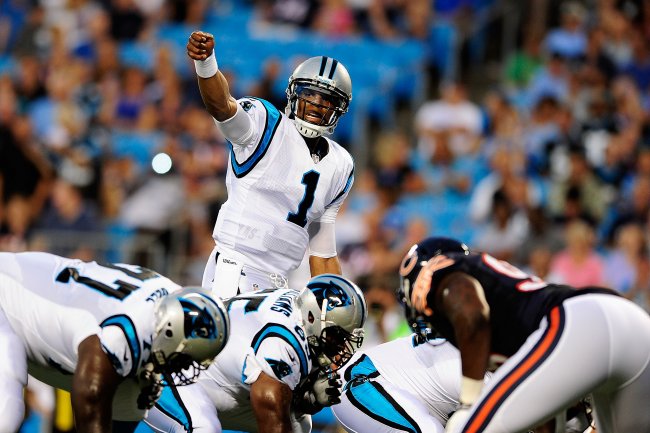 Grant Halverson/Getty Images
If this were a regular-season matchup, the Cam Newton vs. Michael Vick angle would be the most appealing storyline. Considering Newton isn't likely to see a ton of action, though, we can't expect to see that potential duel in all its glory.
Secondly, Vick hasn't won the starting quarterback job from Nick Foles as of yet. Per Ryan Lownes of Draft Breakdown and Bleacher Report, Foles got the majority of first-team snaps during Sunday's practice and looked good:
Nick Foles, who got most of the 1st team reps today, doesn't look like a rookie anymore. Was crisp for the most part, but unspectacular.

— Ryan Lownes (@ryanlownes) August 12, 2013
The Eagles' high-profile hire of head coach Chip Kelly, their equally attention-grabbing quarterback competition and the infamous Riley Cooper situation has made the team the most polarizing group of the NFL preseason.
Kelly is slowly implementing elements of the offense he ran to near perfection at Oregon. The offense is already exhibiting some of the pace the Ducks were known for. Meanwhile, the Panthers' coaching staff is attempting to prepare its secondary for the experience, per Joe Person of the Charlotte Observer:
#Panthers DBs have been doing extra running this week to prepare for Chip Kelly's fast-paced offense. #Eagles ran 86 plays last week vs. NE.

— Joe Person (@josephperson) August 12, 2013
Vick and Foles aren't making Kelly's decision at quarterback any easier. Naming the starting quarterback and establishing a consistent rotation at other positions is key for a team headed for so much transition.
The Eagles have already been bitten by the injury bug early on. Wide receivers Jeremy Maclin (per Marc Sessler of NFL.com) and Arrelious Benn (per Chris Wesseling of NFL.com) have been lost for the season with torn ACLs. Offensive lineman Dennis Kelly joins them on the shelf, though he may not be lost for the season.
Per Zach Berman of the Philadelphia Inquirer, Kelly underwent back surgery that will end his preseason. This could be a huge blow considering the team was already a bit banged up at left tackle. Luckily, Adam Caplan of PhiladelphiaEagles.com tweets that rookie Lane Johnson is expected back at practice after the birth of his child:
Lane Johnson did go home for the birth of his first child, don't know if he will be available for practice. #EaglesCamp13

— Eagles Insider (@EaglesInsider) August 11, 2013
#Eagles OT Lane Johnson is back in town. Will practice tomorrow with the team.

— Adam Caplan (@caplannfl) August 12, 2013
The Eagles Insider tweets about likely less-serious injuries on the team to safety Kenny Phillips, left tackles Jason Peters and Ed Wang and others here:
Not practicing today for the #Eagles: Phillips (quad strain), Peters, Brown, Dorenbos, Hunt (knee), Kelly and Wang

— Eagles Insider (@EaglesInsider) August 12, 2013
As for the Panthers, they haven't had as many serious injuries early on, but they haven't gone through the process completely unscathed. The team lost rookie undrafted fullback Mike Zordich for the season to an ACL tear, per Person and Jonathan Jones.
Person and Jones also report injuries to cornerback James Dockery, left tackle Bruce Campbell, receivers Armanti Edwards and Joe Adams and guard Edmund Kugbila. Of the group, aside from Zordich, Dockery's injury seems the most serious as his broken thumb will require surgery.
The Panthers are coming off a 24-17 win over the Chicago Bears in the preseason opener. Jon Beason, Domenik Hixon, Jonathan Stewart and others missed that game. It is unclear whether any of them will be available against the Eagles.
With so much on the line for Philly, expect to see their players more sharp, focused and plugged in. The pace should also be a factor and should lead to a 1-1 start for the Eagles in preseason.
San Diego Chargers at Chicago Bears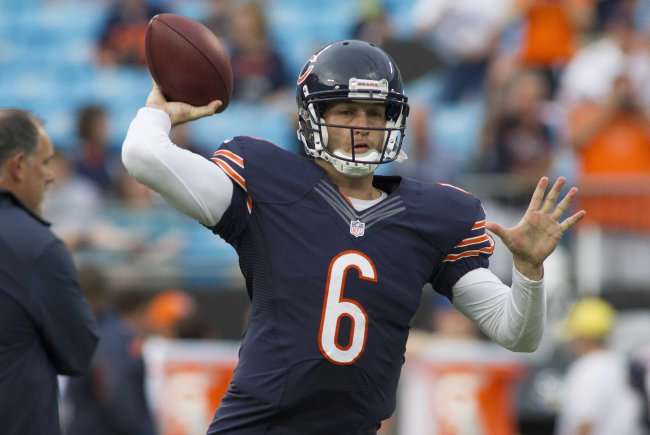 Jeremy Brevard-USA TODAY Sports
Philip Rivers and Jay Cutler have a little bit of history, but chances are, the old rivalry won't heat up again this week. Both men seem to have moved on from their more fiery, confrontational ways.
Both teams are coming off a loss in their preseason openers. The Chargers were thrashed 31-10 by the Seattle Seahawks and the Bears were knocked off by the Panthers.
Despite the lopsided outcome, the Chargers' first-team offense and defense looked solid. The offense put together a 13-play, seven-and-a-half-minute opening drive. The team had to settle for a field goal, but it was still a decent start.
The defensive starters forced the Seahawks to punt in their only two series.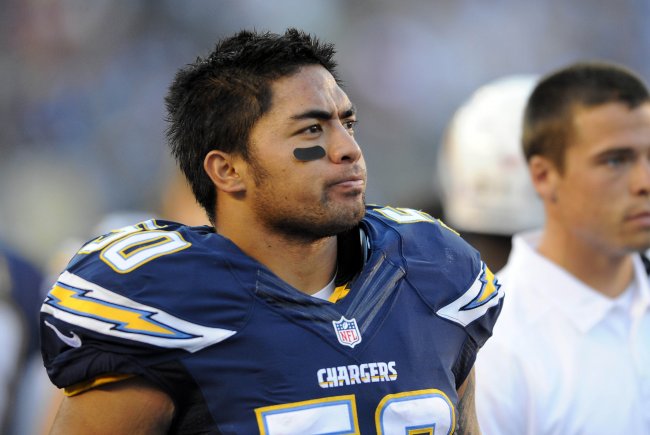 Christopher Hanewinckel-USA TODA
That defense will be without rookie linebacker Manti Te'o against the Bears, per Wesseling. Te'o has an injured foot and was in a walking boot earlier in the week.
While one rookie linebacker won't be able to display his skills on Thursday, the Bears' future at middle and outside linebacker are hoping to build strong performances in the opener. Jonathan Bostic of Florida had a 51-yard pick-six against Newton and the Panthers and displayed a good nose for the ball throughout the game.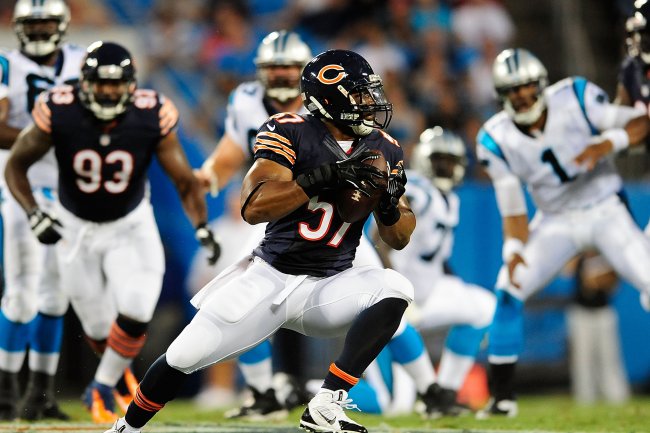 Grant Halverson/Getty Images
Which team will win the most regular-season games?
Veteran D.J. Williams was brought in on a one-year deal this offseason to replace Brian Urlacher at middle linebacker, but he's getting some serious competition from the rookie. Bostic was taken in the second round with the 50th overall pick and he seems primed to make an immediate impact.
If he can continue to build momentum, he may be taking the reins in the middle sooner rather than later. He's one to watch against the Chargers.
Khaseem Greene was also impressive against the Panthers. The fourth-round pick made his share of nice plays, but the best was a tackle for a loss on Panthers veteran running back DeAngelo Williams. When asked about the play, Greene told Larry Mayer of ChicagoBears.com:
As long as I'm out there I'm going to try to do everything within the scheme and the defense to go out there and make plays. If the opportunity presents itself like that, I'm expecting and holding myself to the standard of going and making it.
Cutler did throw an interception, but after the pick, he went 6-of-7 passing for 56 yards. Most importantly, he got the ball out of his hands quickly, which was a problem over the last two seasons.
The Bears have a few injury issues. Prior to the opener they lost nickel back Kelvin Hayden for the season. The team is also dealing with concussion injuries to Earl Bennett and Henry Melton. It is hard to gauge when either will be able to return to the lineup.
Head coach Marc Trestman described Bennett's issue as lingering, per the Chicago Tribune's Brad Biggs:
#Bears coach Marc Trestman said concussion with WR Earl Bennett is "lingering." Called him day-to-day, said he spent weekend at home.

— Brad Biggs (@BradBiggs) August 11, 2013
Melton suffered his injury against the Panthers in the opener, per the Bears' official Twitter account, and Biggs confirmed neither was at Monday's practice:
DT Henry Melton has been diagnosed with a concussion and will not return to this evening's game. #Bears #CHIvsCAR

— Chicago Bears (@ChicagoBears) August 10, 2013
DT Henry Melton and WR earl Bennett not out here

— Brad Biggs (@BradBiggs) August 12, 2013
Melton has become one of the game's best defensive tackles. The Bears franchise tagged him this year, and there is no doubt they need him healthy. While the Bears have some depth at receiver, few players on the team have proven to be as reliable as Bennett in the slot.
Fans will be waiting patiently to hear the status of both players moving into the regular season. The Bears should get a nice jolt from their home crowd in this one. Chicago's second-stringers figure to outplay the Chargers and that will lead to a win for the Bears.
That said, don't be surprised to see Rivers and the Chargers' offense shine again early.
Indianapolis Colts vs. New York Giants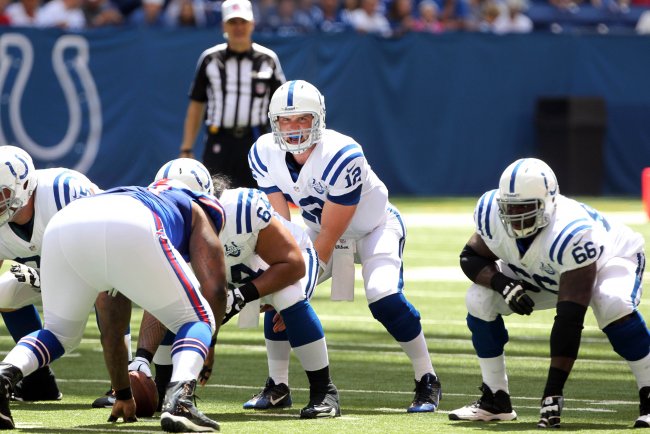 Brian Spurlock-USA TODAY Sports
Andrew Luck and Eli Manning will attempt to continue their first-team offenses' solid play. Both the Giants and Colts scored 10 points in the first quarter of their preseason openers, but only the Giants were able to hold on for the win.
New York defeated the Pittsburgh Steelers 18-13 as Manning threw the only touchdown pass of the day.
Luck was 4-of-6 for 51 yards in his limited playing time, but the offense seemed to click on all cylinders early. The second-string defense and special teams faltered, though, allowing 41 points over the final three quarters, including a 107-yard kickoff return from the Buffalo Bills' Marquise Goodwin.
Buffalo won 44-10 in Indianpolis.
This is the lone Sunday night game on the Week 2 schedule, and with Manning and Luck expected to see some action, it is worth checking out.
Oft-injured ex-Giant and now current Colts running back Ahmad Bradshaw was activated off the physically unable to perform list, per Sessler:
Quietly one of the better offseason pickups. RT @RapSheet: Colts RB Ahmad Bradshaw moved to the active roster, per the NFL transaction wire.

— Marc Sessler (@MarcSesslerNFL) August 12, 2013
It is unclear whether Bradshaw will get an opportunity to face his old team, but if he's healthy, he could really help the Colts this season. Having a solid game against the Giants would be a great time to prove his potency.
While Bradshaw's return is good news, the Colts did get some bad information about linebacker Justin Hickman. Per the Associated Press, Hickman is likely to miss the entire season because of an injured foot:
#Colts LB Justin Hickman likely to miss season with foot injury http://t.co/AlasEvztLS (@apmarot) #NFL

— AP NFL (@AP_NFL) August 12, 2013
The Giants got their own bit of potentially bad news on Monday when safety Antrel Rolle was carted off the field during practice, per the New York Post:
Antrel Rolle carted off field at #Giants practice with foot injury http://t.co/rMWj64CzbN

— New York Post Sports (@nypostsports) August 12, 2013
Rolle is a steady presence in the Giants' secondary, and they need his playmaking and leadership. It obviously won't be a major factor in the second week of the preseason, but looking ahead, playing without Rolle would be a major blow.
As for the game at hand, the Colts have more motivation.
Coming off an embarrassing performance against a young Bills team, Indy's second-stringers should play better than they did in the opener. Redemption should supply the necessary drive to pull out a pretty meaningless win on the road.
Follow me and witness my passion for sports and video games.