If you find a way to snag Jimmy Graham off the board early in your fantasy football draft, there's a strong chance your team is bound for the league championship.
Graham has put up numbers over the last two seasons like he's a wide receiver and not a tight end. That's one of the many things that make him a smart selection—not only is he the top tight end, he'll likely get you as many points throughout the year as some of the best wide receivers.
Last season, Graham caught 85 passes for 982 yards and nine touchdowns. That was actually a down year for him considering how well he played in 2011.
Two years ago, the tight end was one reception shy of 100, catching 99 passes for 1,310 yards (seventh in the NFL) and 11 touchdowns (tied for fourth).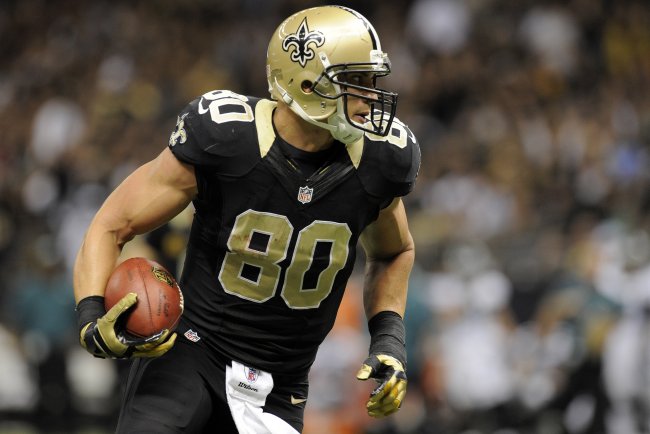 John David Mercer-USA TODAY Sports
You will not find a better tight end than Graham. He'll have one of the top quarterbacks in the game, Drew Brees, throwing to him the entire year. That QB-TE tandem is arguably the best in the National Football League—or at least in the top two or three if you disagree with the original statement.
Graham is as reliable as they come. As long as he stays healthy throughout the duration of the season, he's going to catch at least 80 passes for around 1,000 yards to go along with eight-plus touchdowns.
You likely aren't going find that sort of production from a tight end anywhere on the board this year.
But if you fail to draft Graham before someone else does, your fantasy football season isn't ruined just yet. There are plenty other tight ends who can help you get to the championship game in your league.
Below is a list of the top 10 tight ends this year, in my opinion, as well as analysis of two in particular.
Top Tight Ends (2012 Statistics)

| | | | | | |
| --- | --- | --- | --- | --- | --- |
| RANK | PLAYER | TEAM | REC | YDS | TD |
| 1 | Jimmy Graham | NO | 85 | 982 | 9 |
| 2 | Jason Witten | DAL | 110 | 1,039 | 8 |
| 3 | Tony Gonzalez | ATL | 93 | 930 | 8 |
| 4 | Vernon Davis | SF | 41 | 548 | 5 |
| 5 | Owen Daniels | HOU | 62 | 716 | 6 |
| 6 | Kyle Rudolph | MIN | 53 | 493 | 9 |
| 7 | Antonio Gates | SD | 49 | 538 | 7 |
| 8 | Greg Olsen | CAR | 69 | 843 | 5 |
| 9 | Jared Cook | TEN | 44 | 523 | 4 |
| 10 | Jermichael Finley | GB | 61 | 667 | 2 |
Statistics courtesy of ESPN
Jared Cook, St. Louis Rams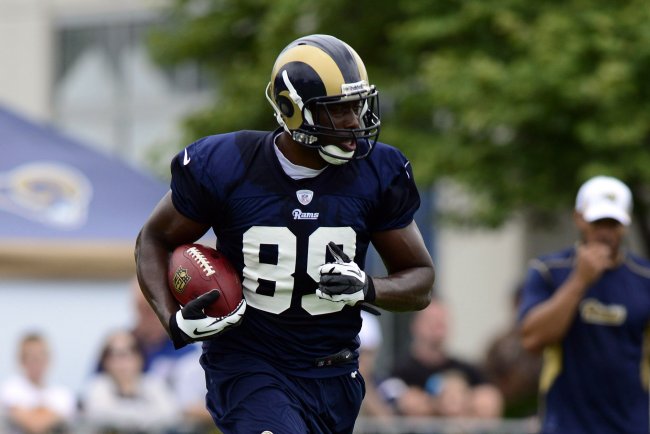 Jeff Curry-USA TODAY Sports
Jared Cook is bound to have a strong season, and he's one of the tight ends you can afford to pick up in the later rounds of your draft. He could be a sleeper who ends up winning you the league championship.
He has a couple of seasons under his belt and is definitely one of the more reliable options in the league.
How many yards will Cook finish 2013 with?
In 13 games with the Titans last season, Cook caught 44 passes for 523 yards and four touchdowns. He caught 49 passes in 16 games for 759 yards and three touchdowns a year prior. Now with the Rams, he should automatically be one of the top targets for Sam Bradford in the upcoming season.
Head coach Jeff Fisher told Kevin Patra of NFL.com that Cook's "going to play all over the place. We've got him in the backfield, so we've got some good things for him."
In the backfield? I'm not sure how that's going to work out, but there's no question he could be in for a career year with his new organization.
Cook is a low-risk, high-reward player who could complement some bigger receiving options nicely on your roster.
If you're focusing on other areas in the early rounds of the draft—such as running back or wide receiver—it's fine to put tight end on the back burner. Chances are that a guy like Cook will still be around late.
Jason Witten, Dallas Cowboys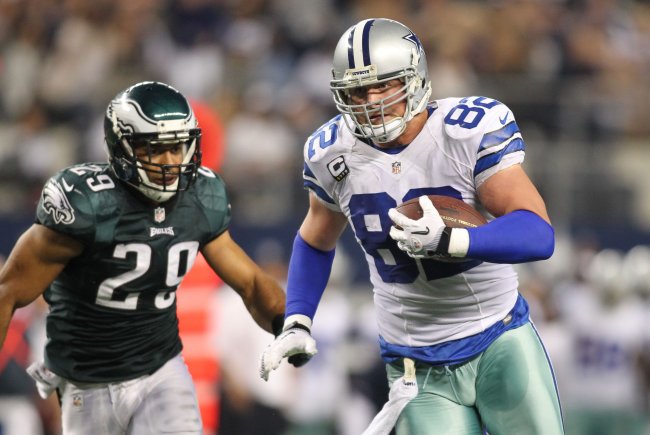 USA TODAY Sports
Jason Witten has been one of the most consistent tight ends in the NFL over the last few seasons. He doesn't always score a ton of touchdowns, which could make you reluctant when making a selection, but he's definitely going to have a ton of yards by the time the season comes to an end.
How many touchdowns will Witten have in 2013?
Last season, Witten caught 110 passes for 1,039 yards and three touchdowns. It was the first time he ever caught triple-digit passes in a season and the fourth time he surpassed the 1,000-yard mark.
In the two seasons in the last six where he didn't hit 1,000 yards, he had at least 940—so, close, but not all the way there.
But like I just mentioned, Witten doesn't always find the end zone as often as some fantasy owners would like him to. He's never scored more than nine times in a season and he's only scored eight times during the last two seasons combined.
There's always the chance he scores 10 or more in 2013, though.
Tony Romo loves throwing the ball Witten's way, which is one of the main reasons you should select him in your draft. He was targeted 150 times in 2012. That's a ton of opportunities to make big plays.
He might not score too often, but there's no doubt he can help you secure a league championship.
All statistics in this article were obtained via ESPN unless otherwise noted.