Fantasy Football 2013: Buy, Sell Stock Report After Preseason Week 1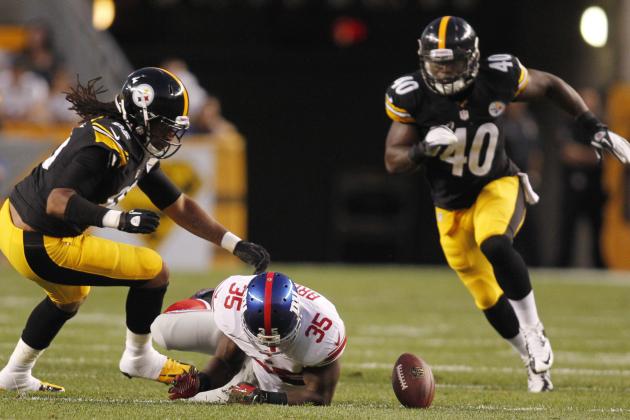 Charles LeClaire-USA TODAY Sport

The NFL preseason is in full gear. It's where fantasy football hype and panic are born, where they coexist in a soup of glorious gridiron ecstasy. The road to fantasy glory is paved with the bones of the overhyped, the playoffs missed by the over-thinkers.
Of course, it's just the preseason—results should be taken with a grain of salt. This was Week 1 of the preseason, which is less meaningful than the next two when it comes to fantasy prognostication. Still, there was some valuable information to be gleaned from this year's inaugural contests.
Here are five players who helped themselves and five who didn't during the first slate of games.
Begin Slideshow

»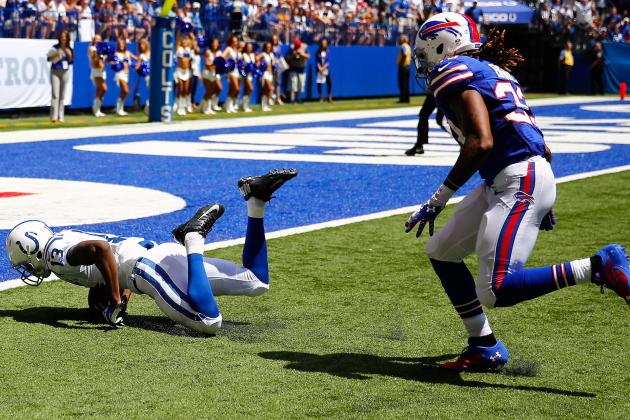 Michael Hickey/Getty Images

They say Darrius Heyward-Bey is the No. 2 receiver in Indianapolis. They also said Pluto was a planet, Einstein flunked math and we would have hoverboards by the year 2015.
He might be second on the depth chart, but T.Y. Hilton has something to say about that. He did more than talk against the Bills, showing off his incredible upside by totaling 61 yards on three catches.
The best catch of the day was his diving touchdown grab as pictured above. If Sunday was any indication, Hilton is going to see a ton of playing time regardless of what the depth chart says.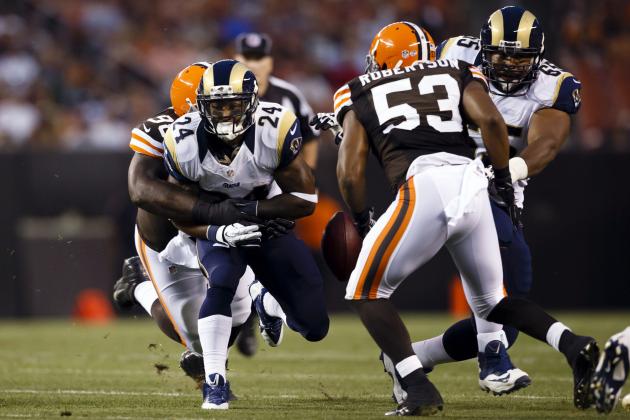 Rick Osentoski-USA TODAY Sports

The Rams have a three-way battle on their hands at running back, but one of them might have stumbled out of the gate.
Actually, Isaiah Pead has been stumbling since he came into the league. He couldn't gain traction as a rookie, letting fellow late-round rookie Daryl Richardson overtake him on the depth chart.
Richardson has the lead on the starting job this year thanks to a strong camp and mediocre play out of Pead. The latter fumbled away his first touch against the Browns after Richardson got off to a nice start.
Coupled with a one-game suspension, Pead's rough start has his fantasy stock plummeting.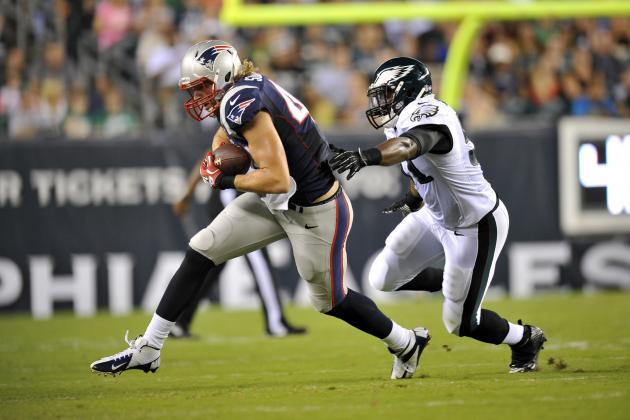 Joe Camporeale-USA TODAY Sports

His stock was already on the rise after a fantastic start to training camp, but it's becoming difficult to ignore Zach Sudfeld out in New England these days.
His preseason debut was solid, at times looking a little like a certain injured Patriots tight end. Rob Gronkowski will be back at some point, but whether that's in Week 1 or Week 7 is the big question. Sudfeld made just one catch, but it was a memorable 22-yard snag.
If Gronk is placed on the PUP to start the season, it stands to reason Sudfeld will be a big beneficiary at this point. He has ingratiated himself with Tom Brady and this offense. Unless he does a 180-degree turn and starts to tank, he seems to be a lock to make the roster and possibly some noise in the regular season.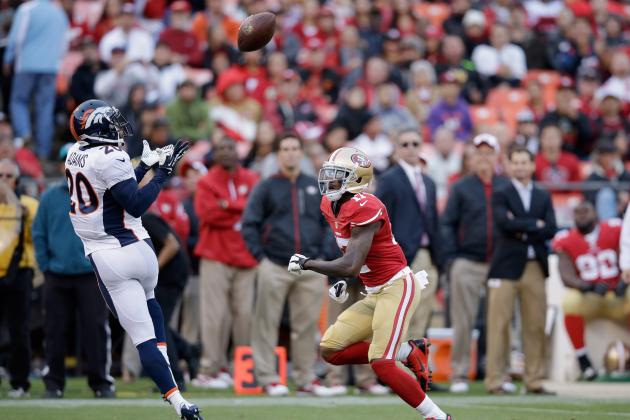 Ezra Shaw/Getty Images

You would think a first-round receiver with over a year of professional experience would gain some traction in the NFL, but thus far, A.J. Jenkins has been a bit of a disaster for Trent Baalke and the 49ers.
The second-year receiver out of Illinois was so bad as a rookie that he garnered exactly one target, a pass he dropped. Of course the 49ers didn't need him too much last season with the emergence of Michael Crabtree and contribution from Randy Moss.
Things have changed.
Crabtree is ostensibly out for the season, leaving a starting spot wide open across from newcomer Anquan Boldin, who replaced Moss.
Jenkins' one-catch, one-fumble day against the Broncos was a microcosm of his career thus far.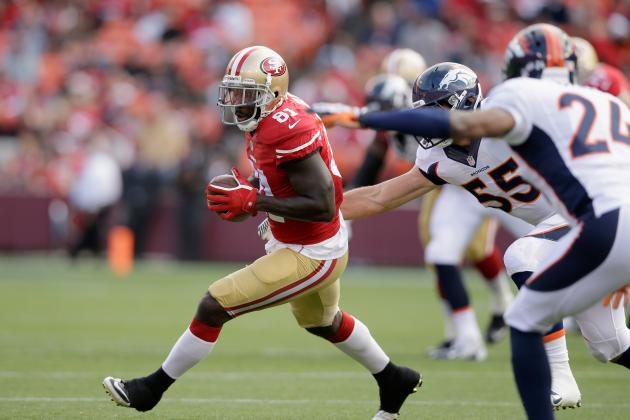 Ezra Shaw/Getty Images

At least general manager Trent Baalke can hang his hat on making an excellent move to grab Anquan Boldin for cheap this offseason. Were it not for that gambit, the 49ers would be in serious trouble at receiver.
Boldin looked quite comfortable in that offense during San Francisco's first preseason game. Colin Kaepernick trusted him enough to throw him the ball in tight spaces, and he delivered with two catches for 14 yards.
It looks like Boldin could be a great option in the fantasy realm, particularly in PPR formats if Kaepernick is going to get him the ball often.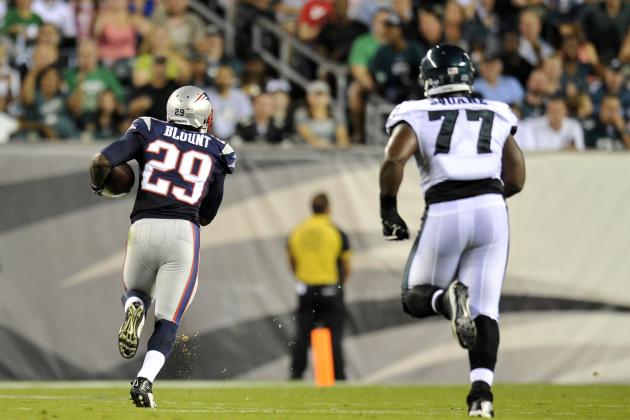 Joe Camporeale-USA TODAY Sports

Why would you sell on a guy who had 101 rushing yards and two touchdowns on just 11 carries? Because his name is LeGarrette Blount, and he's third on the depth chart.
The Eagles weren't exactly playing well on defense against the Patriots. They unveiled their patented "no contact" defense on a few plays, including the one where Blount changed direction with the agility of a steam engine and rumbled downfield for a 51-yard touchdown untouched.
Don't buy into any hype Blount might have created. At best, he is a late-round handcuff in the deepest of leagues. But it's likely he won't make too much noise outside the occasional goal-line insertion.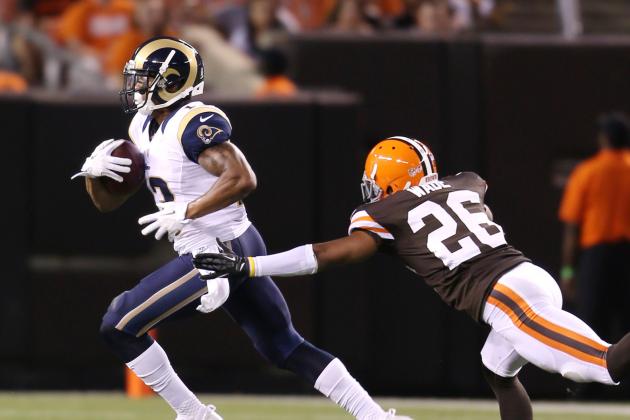 Ron Schwane-USA TODAY Sports

All anyone talked about with regard to the receivers in St. Louis this offseason was Tavon Austin. Folks slept on Chris Givens, but it looks like he will have the last laugh if the first week of the preseason is any indication.
Givens showed off his speed with a smooth 59-yard catch on a strike from Sam Bradford, but he wasn't done there. He capped the drive off with a touchdown catch in the back of the end zone.
It looks like Givens might be Bradford's favorite target if small sample sizes are any indication. He looks the part and is currently an undervalued fantasy commodity.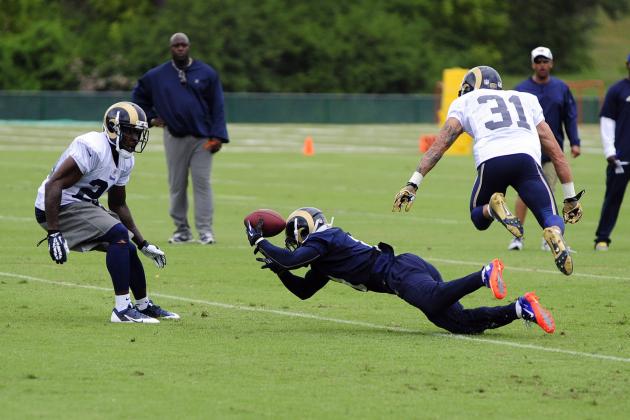 Jeff Curry-USA TODAY Sports

There are a few St. Louis Rams on this list, and for good reason.
For all the work Jeff Fisher has done to that roster, we really don't know what we're going to get from a fantasy standpoint. The Rams moved up in the draft to take Tavon Austin eighth overall, but he has been largely invisible so far.
That was plainly evident in his first preseason game. He was targeted just once, dropping the pass. It was an inauspicious start for a rookie who will be battling for targets with Givens, Brian Quick, Austin Pettis and Stedman Bailey.
Let someone else draft him too highly.
Joe Camporeale-USA TODAY Sports

DeSean Jackson has been a fantasy disappointment the past couple of seasons. That won't be the case this season if he can stay healthy.
Jackson is now unquestionably the top receiver in Philadelphia after Jeremy Maclin's season-ending injury. He is still one of the most explosive receivers in the league—his career average is 17.5 yards per catch—and he is playing in a high-octane offense that might run 85 plays a game.
His biggest issue in fantasy scoring is his lack of touchdowns. If his 47-yard touchdown catch against the Patriots was any indication, he might be back to his old big-play days.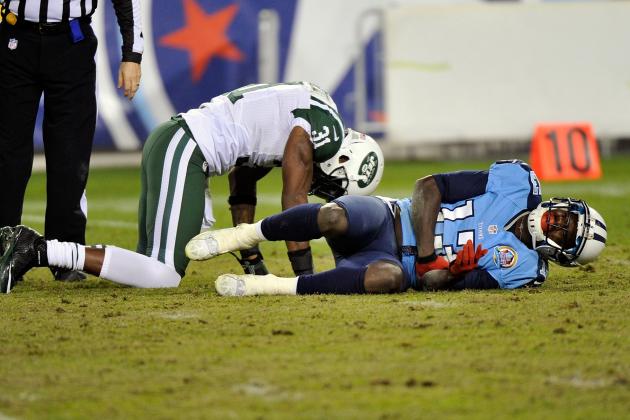 Frederick Breedon/Getty Images

There is a lot of promise in Kendall Wright, but we might have to cool it with fantasy expectations from him in his second season.
Wright hasn't grabbed anyone's attention. Kenny Britt and Nate Washington—remember him?—appear to have the Nos. 1 and 2 jobs on lockdown right now, and Wright isn't doing himself any favors with mediocre play.
The sophomore receiver was targeted once against the Jets, a pass he dropped. It's not necessarily his fault he didn't get looks, but it was a bad start to the preseason for a guy who some are expecting to break out.