Jose Dariel Abreu Will Become One of Most Sought After Free Agents This Winter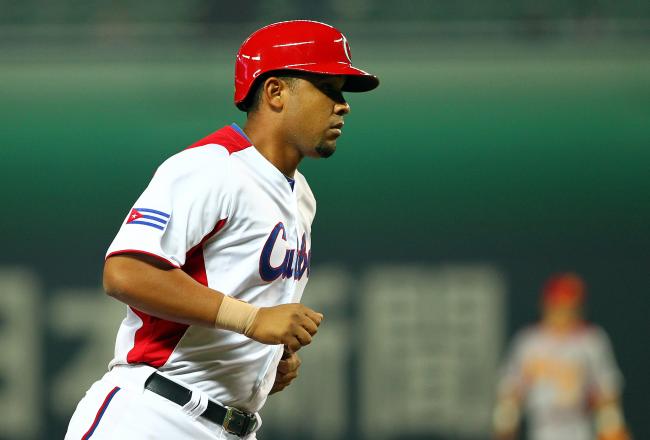 Koji Watanabe/Getty Images
Are you ready for another bidding war?
Ben Badler of Baseball America reports that slugger Jose Dariel Abreu has defected from Cuba and will be attempting to sign with a Major League Baseball team. Abreu is a massive player—6'3'' and 250 pounds—who plays first base and could also be a designated hitter, should he sign with a team in the American League.
Badler writes that it could be a while until he's able to sign:
The process could still take several months. Abreu will have to establish residency in another country, have Major League Baseball declare him a free agent and the U.S. government's Office of Foreign Assets Control (OFCA) clear him to sign, but interest in Abreu should be fierce and should have a major impact on this offseason's free agent market.
Abreu has drawn comparisons to Oakland Athletics star Yoenis Cespedes, but he could potentially have more power than the outfielder. Badler notes that he has "tremendous raw power to all fields." He hit 13 home runs and had a .837 slugging percentage in 42 games during his season in Cuba, per the report.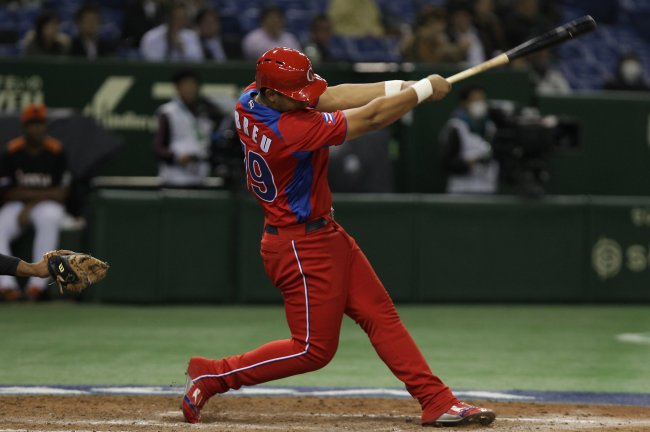 Chung Sung-Jun/Getty Images
While playing for Cuba in the 2013 World Baseball Classic, Abreu was a monster at the plate. In six games, he hit .360/.385/.760 with three home runs, six runs and nine RBI. He finished the international tournament with the second-most total bases of any player, according to the official website for the World Baseball Classic.
This year's class of free agents isn't very strong in terms of offensive weapons. Robinson Cano is arguably the top guy up for grabs, and players such as Jacoby Ellsbury and Curtis Granderson will likely sign lucrative deals as well. Abreu could get just as much money as the latter two stars.
But how much money is it going to take to land the slugger? Chris Hatfield of SoxProspects.com thinks Abreu will likely sign a deal worth more than Cespedes and Los Angeles Dodgers phenomenon Yasiel Puig. Cespedes signed a four-year, $36 million deal while Puig inked a contract for seven years and $42 million.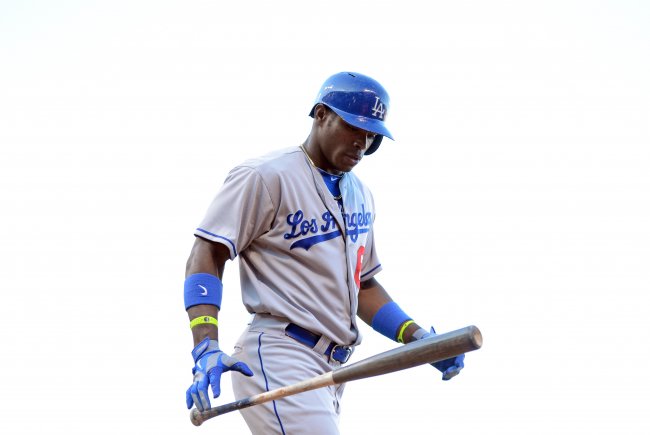 Kyle Terada-USA TODAY Sports
Abreu will likely get a large deal because of the lack of talent expected to be on the market this winter at first base as well. There aren't many big names who will be seeking new contracts in the offseason and many are well into their 30's. Abreu is only 26 years old and will easily top the list.
How will Abreu do in MLB?
It's unclear as to which teams may be interested in the Cuban defector, but clubs seeking a power-hitting first baseman or designated hitter should at least make a call to his agent—once he has an agent, that is. Of the teams with a need at first and the means to land him, the Boston Red Sox stand out.
The Red Sox recently lost out on Miguel Alfredo Gonzalez, one of the top Cuban pitchers, according to Jeff Passan of Yahoo! Sports. It wouldn't be surprising to see Boston chase Abreu too considering Mike Napoli will be a free agent after 2013 and the team is almost always looking to boost its offense with right-handed hitters.
But many other teams will likely be in the mix to sign Abreu as well.
While we don't know which team Abreu will be playing for next season, or when he'll even be able to sign a major league contract, we do know that he's bound to be a star with whichever franchise he lands with. He's arguably the top Cuban player, and based on what we've seen from Cespedes and Puig, that goes a long way.
This article is
What is the duplicate article?
Why is this article offensive?
Where is this article plagiarized from?
Why is this article poorly edited?