On Aug. 9, Ronnie Singh, the digital marketing director for the NBA 2K series, dropped this cryptic hashtag in a tweet to hype the upcoming NBA 2K14 video game.
Pay attention... #3R335 #NBA2K14

— Ronnie 2K 2K14 (@Ronnie2K) August 9, 2013
The responses from the rabid NBA 2K community have been filled with excitement, anticipation and speculation on what the #3R335 teaser actually means.
Earlier in the buildup to the game, Singh lit a fire under the community with the #SixSix13 hashtag.
I love NBA 2K. #SixSix13

— Ronnie 2K 2K14 (@Ronnie2K) May 29, 2013
Ultimately that teaser led to the announcement that LeBron James would be the cover athlete for the newest version of the popular series. Almost no one was able to guess what the #SixSix13 hashtag meant prior to that announcement.
This time, the community may have more of an inkling, but only a select few in the 2K team and those invited to the NBA 2K team-up event know for sure.
The 7th #NBA2K14 Community Team-Up member is QJBeat. Look forward to having the guys in soon to play the game early.

— Ronnie 2K 2K14 (@Ronnie2K) July 30, 2013
Singh and Social Media Manager Chris Manning have only added intrigue to the situation with the tweet and Instagram images below.
Prepping for some exciting stuff next week with @Ronnie2K #3R335 #NBA2K14 pic.twitter.com/VmzCFSpw5S

— Chris Manning 2K14 (@LD2k) August 10, 2013
Why would Singh be in front of a green screen? What does that have to do with the new mode?
At this point, the day the mystery will be revealed isn't even known.
Like most other hardcore fans of the series, I'll be waiting patiently for the masters of social media marketing to give us the goods.
Most Popular Guesses
Crew Mode
Perhaps the most-requested aspect from the NBA 2K community is the return of Crew. In NBA 2K11, this mode was wildly popular as it allowed up to 10 players to play online together. In a five-on-five game, players could assemble their created players and battle five other users with created players.
The interaction possibilities were wild. If you're still a little cloudy, it was almost the basketball equivalent of some of the team-based online games in first-person shooters like Call of Duty. For gamers who love online play, this was huge.
Here's an example of a Crew game from popular YouTube personality, NBA 2K fanatic and member of the NBA 2K14 Community Team Up program, IPodKingCarter:
The mode was scrapped after NBA 2K11 because of poor functionality and server issues. To 2K's credit, it recognized this issue and shelved it for repair until it could present it properly.
Singh tweeted this last year prior to the release of NBA 2K13:
My thoughts- I played Crew mode a lot in #NBA2K11, really love that mode. But it was broken & if dev doesn't think it's ready, then it's not

— Ronnie 2K 2K14 (@Ronnie2K) September 18, 2012
Dev completely rebuilt online 2K12 & you can see progress. Hoping to take another step this yr. We can't put out a broken crew mode again

— Ronnie 2K 2K14 (@Ronnie2K) September 18, 2012
All the dev guys love that mode and know you do too. I am sure it'll return eventually, but dev determined it was simply not ready this year

— Ronnie 2K 2K14 (@Ronnie2K) September 18, 2012
Many are speculating that the hashtag is referring to the return of Crew Mode. Some gamers have channeled their inner Benjamin Franklin Gates (Nicolas Cage's character in National Treasure for the less nerdy) in an attempt to decode the #3R335 hashtag.
One user named The Dream from Hoop-Nation.com gave this take on the hashtag and how it will eventually be revealed as the return of Crew:
3: 3rd letter of the English alphabet is C

R: simply R

3: reflecting 3 is E

3: rotating 3 is W

5: S
There are other translations similar to the Dream's that say the "5" is meant to represent five-on-five play. While this seems logical in this world of puzzles, it isn't the only sensible translation the community has offered.
Phil Jackson in the Path to Greatness Mode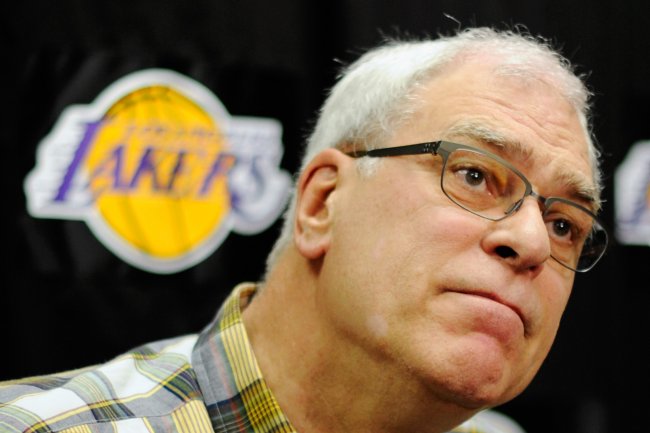 Kevork Djansezian/Getty Images
The Path to Greatness mode was previously announced in conjunction with revealing James as the cover athlete, but could James be joined by another legendary presence in the game?
A few members of the NBA 2K community think so. Check out this image tweeted by Max Rizer. He has a fairly sound theory that could link the hashtag to the Zen Master.
@SubTheGamer I think I may have figured out the meaning of #3R335 pic.twitter.com/Vt1vghIvRi

— Max Rizer (@rizeabove12) August 12, 2013
This is the tweet Rizer and others are referring to when Jackson mentions Steve Kerr, one of his former players, who is also one of the announcers in the NBA 2K series.
Ah shucks, just having some fun with Kerr. He know it. It's amusing to see grown men in their college t-shirts.

— Phil Jackson (@PhilJackson11) August 12, 2013
Here's a video of Kerr at work in the studio for NBA 2K14.
Who has the right answer? Maybe it's Crew or maybe it's the Zen Master. If I can be greedy for a moment, I'd love for it to be both.
Stay tuned for the official word once it has been announced.
Follow me and witness my passion for sports and video games.