7 Things That Need to Happen for England to Win World Cup 2014
Mike Hewitt/Getty Images

As things stand, England are not going to win the World Cup in 2014.
While that statement may sound particularly pessimistic, there are just too many long-standing issues to address around the current state of the English national game.
For starters, there are far too many peripheral foreigners filling up Premier League squads. While many overseas players add to the excitement and quality of the Premier League, numerous fringe players suppress copious amounts of domestic talent, prematurely sending untried, unpolished prospects onto football's scrapheap.
The national team lacks any real identity or structure for players to slot into and carry forward, while technical and tactical thinking seems leagues below other nations. Too often the approach seems merely to contain a top team instead of taking them on.
Therefore, all things considered, how exactly can England win the World Cup in this current predicament?
Several areas need a mass overhaul, starting at the bottom, but that's not going to improve the Three Lions' odds in Brazil next year.
Here's a look at a few ideas—some more serious than others—about how England, in their current set-up, can end that 48-year wait for the Jules Rimet.
Begin Slideshow

»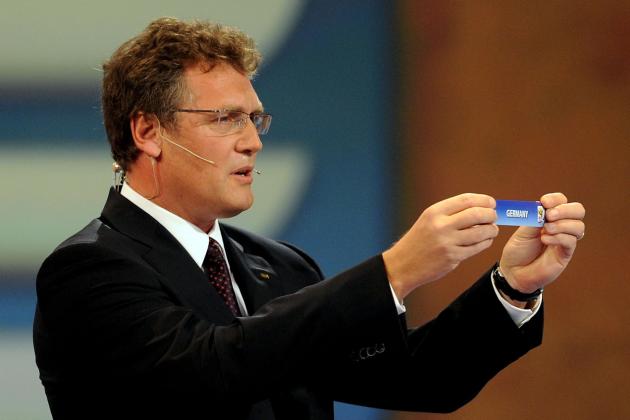 Shaun Botterill/Getty Images

Without meaning to state the obvious, England's prospects will greatly improve the further they are from facing the likes of Spain, Brazil, Germany, Argentina and one or two others. If they are scheduled to meet any of that quartet in the first knock-out round, it's almost certainly goodnight.
England need to be drawn into a group alongside relative minnows and profit on some favourable results around them if they want to go deep in this tournament.
Facing a few injury-ravaged teams or lineups deprived of suspended star players would also play into the Three Lions' hands.
For those interested, the draw for next summer's football extravaganza takes place on Tuesday, December 6, 2013.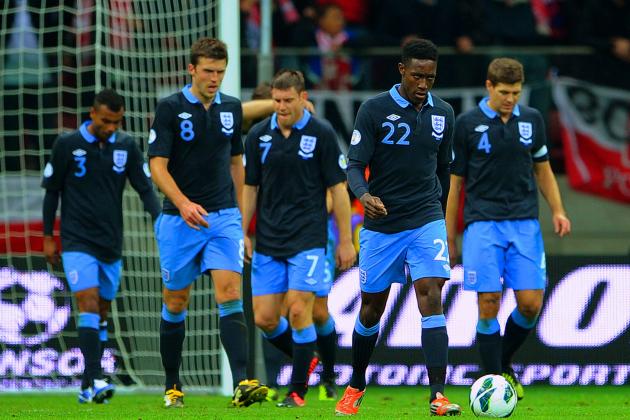 Michael Regan/Getty Images

At every major tournament, England as a nation is always overcome by mass hysteria. World Cup fever grips the country and supporters start blindly championing the Three Lions' credentials.
Then, as is so often the case, England fail to meet those illogically inflated expectations and all that hope and expectancy quickly turns to bitter hate. The national team are vilified on a premature arrival home and the cycle continues.
The prospect of this colossal failure seems to cripple most of the England squad, and any way they can prevent this will clearly benefit them in Brazil. In fact, even if the national team can experience the negativity a little earlier, instead of being built up to fail, they may just find World Cup 2014 a far easier ordeal.
Therefore, the worse England do beforehand, the better. Scraping through qualification, losing several friendlies against weaker nations and possibly even having a controversial clash with authorities could all help lower expectancy and create a certain inner sanctum for the players.
If Roy Hodgson could then translate that into a bit of siege mentality, rouse his dressing room with an us-against-the-world approach and assure them things can't get any worse, perhaps players wouldn't be so numbed by the constant fear of failure.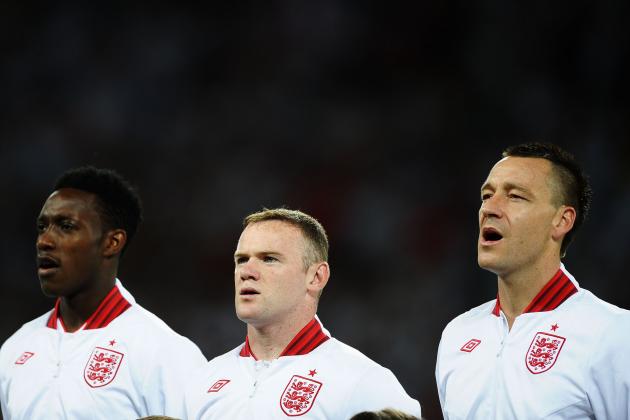 Laurence Griffiths/Getty Images

As mentioned, a more long-term issue is the lack of identity with this current England team. Without an obvious approach filtering down from their top domestic sides, Roy Hodgson's squad don't have a set approach to play with on the international stage.
Their current methods against top-tier teams is to simply nullify the opposition's fluency as much as possible, forming two banks of four in front of their penalty area and seemingly hoping for the best.
A classic example of this was the dreary way England set about nullifying Italy at Euro 2012. Players often seemed unsure of their job in possession, knowing their priority was to stay organised off the ball and suppress their opponent.
While this is an especially depressing approach, it may be all England can go with at this late stage. And if this is to be the Three Lions' short-term identity, it needs to be drilled into the squad and have its potential maximised, which wasn't the case at Euro 2012.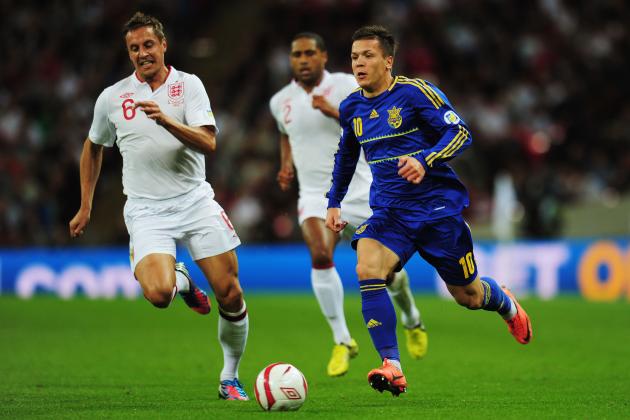 Shaun Botterill/Getty Images

So what is that potential? While it's particularly uninspiring for fans, strangling the spectacle can still be an effective way of grabbing a result.
The first major criteria to meet starts at the back, where England need to be as resilient and as organised as ever, maintaining a solid framework through every phase.
The back four must be cohesive, midfielders must track their runners and the opposition must be closely marshalled for the duration of the game.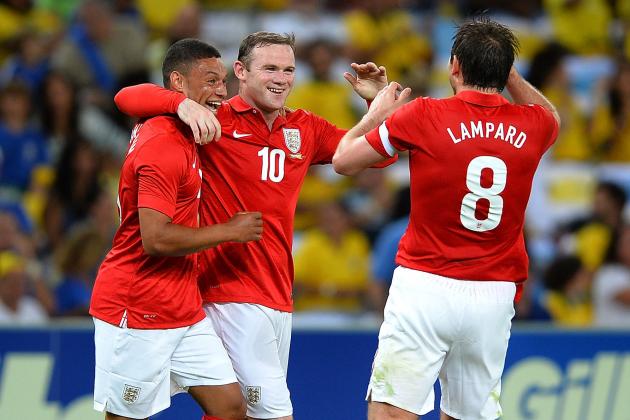 Laurence Griffiths/Getty Images

If the defensive third is well marshalled, then England have half a chance of registering a clean sheet.
However, that only gets you so far, which isn't going to be deep in a tournament considering England's awful record at penalties.
To score in this disruptive system, this approach relies almost entirely on individual brilliance from the side's attackers, as was the case when England faced Brazil earlier this year.
Therefore, if the likes of Wayne Rooney, Alex Oxlade-Chamberlain and one or two others can peak before the tournament and start belting in long-range rockets, England will have a better chance of causing a few upsets.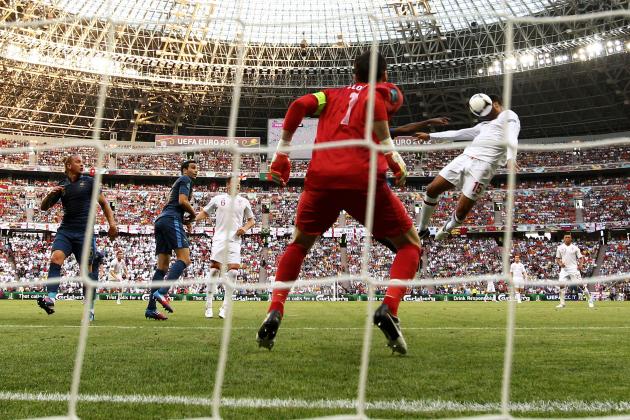 Ian Walton/Getty Images

If key individuals aren't in rhythm then England are in trouble. They don't possess the players to regularly break down top-tier sides in a defensive structure, leaving set-pieces or counter-attacks as the only remaining avenues to success.
Therefore, both scenarios need to be meticulously prepped for. It would make sense to arrive at the tournament with a catalogue of well-rehearsed set-pieces, with precisely choreographed feints, runs and subtle blocks at corners.
The changeover of possession must also be well prepared for, with midfielders instantly sure of their attacking players' routes on sudden retention of the ball.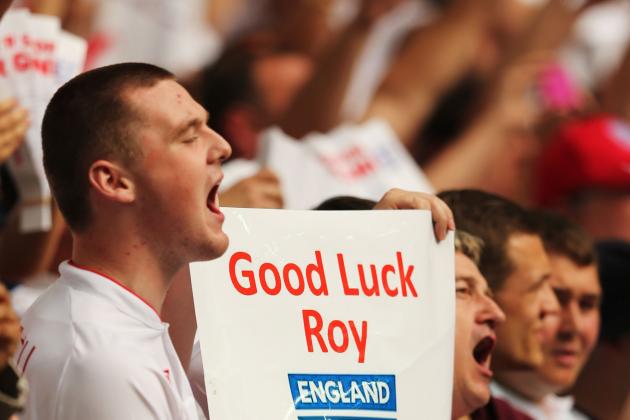 Ian Walton/Getty Images

Of course, keeping the likes of Jack Wilshere, Joe Hart, Wayne Rooney and anyone else who displays world-class form over the next 12 months will help England.
However, as was detailed in the opening slide, it would be an almighty shock if Roy Hodgson's side were to prosper in Brazil. Not only are several areas of the game in dire need of attention, but the whole tournament will be played in a climate that will test all non-South Americans.
In England's current set-up, void of many world-class players, committing and perfecting the current basic approach seems the best short-term solution.
Performing any radical overthrow of style and approach may help future generations, but it won't help this current crop of players.
Hopefully the seeds for success are already being laid for substantial improvements over the next decade. Until then, England need a lot of things to go their way before they can consider themselves in the running to hoist the 2014 World Cup.