Stock Up, Stock Down for the St. Louis Cardinals Top 10 Prospects for Week 19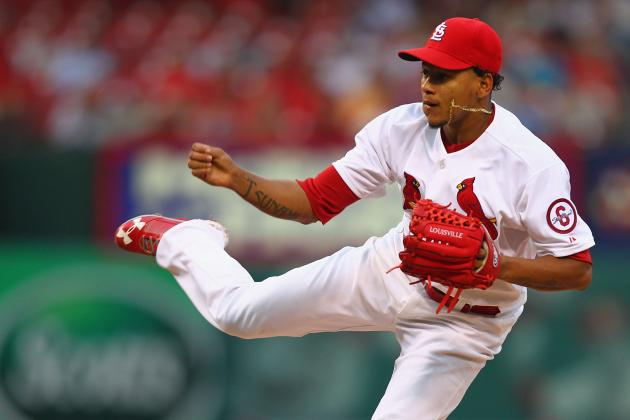 Dilip Vishwanat/Getty Images

The St. Louis Cardinals still boast one of the most powerful farm systems in all of baseball. While they've tapped into it regularly throughout the 2013 season, there is still a lot to be excited about in the future.
Prior to the season, all of the discussion was about the Cardinals' insane organizational pitching depth. In 2013, we've had the opportunity to watch a lot of that depth at the major league level for the first time.
It's important to remember, however, that the Cardinals have stored away a lot more than just pitching prospects. There are multiple players within the system that rank consistently in the league's top prospects and one day soon will be putting on a show at the major league level.
This article is going to revisit the top 10 prospects from before the season and determine where they stand at the start of Week 19. Some are moving along quite nicely, while others are falling flat or continue to battle recurring injuries.
Begin Slideshow

»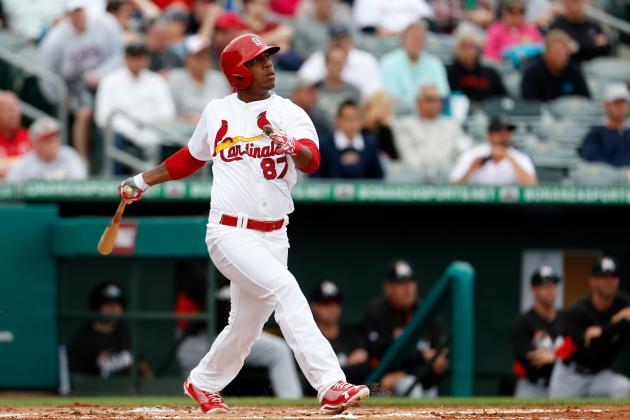 Chris Trotman/Getty Images

Stats: No stats available
Affiliate: Triple-A Memphis Redbirds (on rehab assignment with Gulf Coast League Palm Beach Cardinals)
Stock Even
Oscar Taveras is without a doubt the most exciting offensive prospect the St. Louis Cardinals organization has seen in years. However, recurrent health issues following an ankle injury earlier in the season have slowed his ascension through the system.
A fast recovery could earn him a September call-up, but without some improvement soon that chance could be in jeopardy.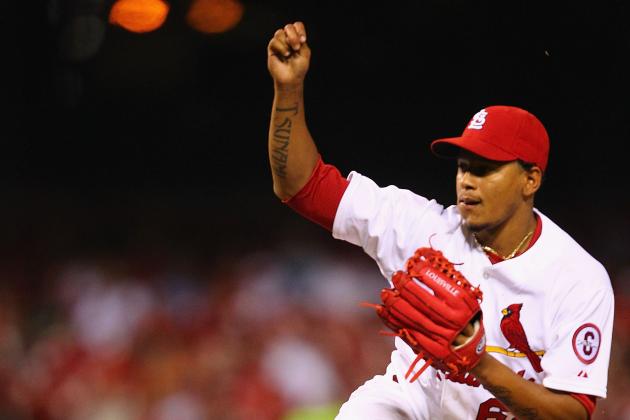 Dilip Vishwanat/Getty Images

Stats: (1 start with St. Louis) 0-1, 4.2 IP, 7 H, 4 ER, 3 BB, 2 K, 1 HR, 97 pitches
Affiliate: Triple-A Memphis Redbirds
Stock Down
Carlos Martinez would be any other team's top prospect, but with Taveras waiting in the wings, he hangs in at No. 2. Martinez has the potential to be a top of the rotation starting pitcher in the future.
His first start at St. Louis, however, showed that Martinez may still need further refining. He lacked efficiency and struggled a bit with his control. Despite his struggles, his time is soon.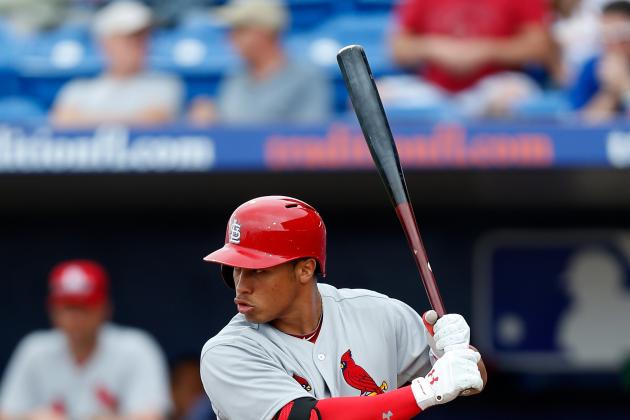 Chris Trotman/Getty Images

Stats: 9-for-24, 1 2B, 2 HR, 7 RBI, 2 K
Affiliate: Triple-A Memphis Redbirds
Stock Up
Kolten Wong has excited Cardinals fans now for two years. If he keeps playing like he has recently for the Redbirds, he could see an early promotion to St. Louis.
While the team typically isn't keen on rushing prospects to the major league level, Wong has shown he is ready both offensively and defensively. A promotion for Wong, on the other hand, likely wouldn't be good news for another regular teammate. Either David Freese or Matt Carpenter would face—at minimum—a changing role.
An impact player like Wong being shuffled in the mix for a struggling team could be worth the shift.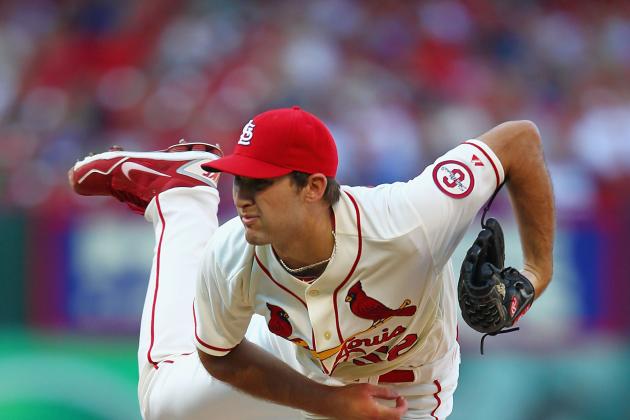 Dilip Vishwanat/Getty Images

Stats: (MLB) 5 IP, 2 ER, 5 H, 4 K, 3 BB, 1 HR
(MiLB) 5 IP, 3 ER, 6 H, 6 K, 1 BB, 1 HR
Affiliate: Triple-A Memphis Redbirds
Stock Up
Michael Wacha has risen through the Cardinals farm system faster than anyone in recent memory. He shut down batters at every level faced, but has shown that he is, in fact, human in 2013. Despite occasional struggles, he continues to put his impressive pitch repertoire on display regularly.
His most recent Triple-A start wasn't his best, but his start at St. Louis this past weekend was quite solid. Much like with the other young arms, greater pitch efficiency is one of his major needs. If he can go deeper into games, Wacha will be dangerous.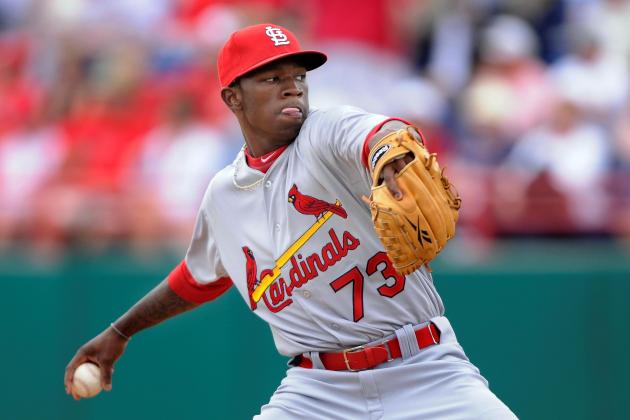 Brad Barr-USA TODAY Sports

Stats: No stats available for this period
Affiliate: Class A Advanced Palm Beach Cardinals
Stock Down
Jenkins still has a lot of promise, but injury continues to slow his progression through the minor league system. Jenkins had surgery last week to repair a muscle in his right shoulder—effectively ending his season.
Jenkins was drafted out of high school in 2010, but has yet to throw a complete season in professional baseball. Hopes are high for him, but first he has to get back on the field.
Photo courtesy http://prospectnation.com
Stats: 6-for-24, 2 2B, 1 HR, 4 RBI, 2 BB, 5 K
Affiliate: Class A Short-Season State College Spikes
Stock Even
Carson Kelly is the organization's top third base prospect right now. He was drafted in the second round of the 2012 MLB draft. He began his professional baseball career playing rookie ball in Johnson City last year.
He began 2013 playing Single-A baseball with the Peoria Chiefs. After struggles at that level, he was sent down to the Low-A State College Spikes. He's making progress, but it's important to remember that he only turned 19 recently. He's still quite young and has plenty of time to continue his development.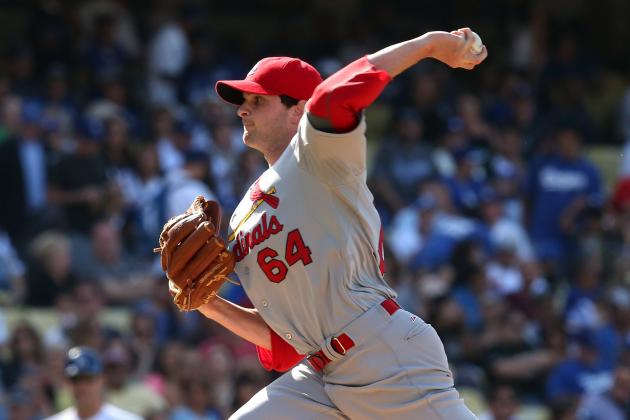 Stephen Dunn/Getty Images

Stats: No stats available for this period.
Affiliate: St. Louis Cardinals DL
Stock Even
John Gast was called up to the big league club for the first time in 2013 and quickly became a useful tool.
He filled a spot in the rotation vacated by left-handed pitcher Jaime Garcia, but his 2-0 record came to a screeching halt when he was placed on the disabled list following a shoulder strain.
The strain, however, turned out to be a larger problem when in July he had a season-ending operation that will put part of 2014 in jeopardy for the young left-hander.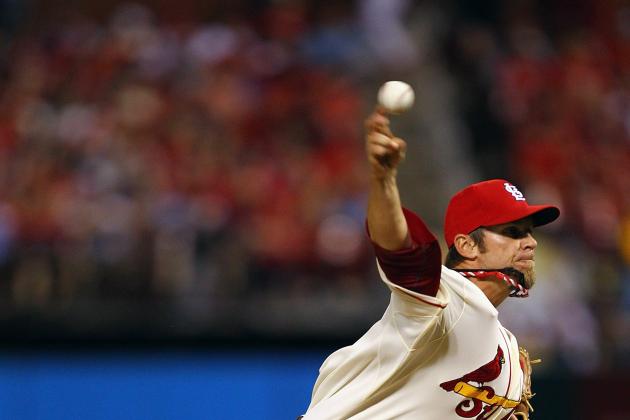 Dilip Vishwanat/Getty Images

Stats: 2.2 IP, 5 H, 2 ER, 2 K, 2 BB
Affiliate: St. Louis Cardinals
Stock Down
Pitcher Michael Blazek has struggled at the major league level—especially of late. Over the past week, opposing batters are hitting .385 against him with a .529 on-base percentage. While those aren't the numbers they would like to see from him at this level, there may not be a better option at this time.
At the same time, don't be quick to count Blazek out. He has been lights-out in the minor leagues this year with a 1.41 ERA, 9 saves, 6 ER and 49 strikeouts over 38.1 innings pitched. The talent is there, it's the transition that has been the problem. Be patient with him.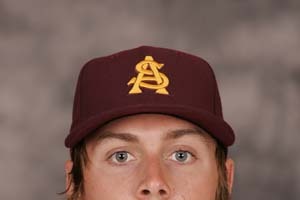 Photo courtesy http://www.kettleers.org
Stats: 6 IP, 2 ER, 6 H, 7 K, 1 BB
Affiliate: Double-A Springfield Cardinals
Stock Up
Seth Blair was drafted 46th overall in the first round of the 2010 MLB Draft by the Cardinals. In his three season, he has slowly climbed up through the ranks.
While he is not pitching up to his ability, his most recent start showed signs he is coming around.
Another start in late-July also showed promise and increased confidence and control on the mound. There's a possibility he could begin 2014 at Memphis, but in all likelihood he will spend some time back in Springfield until he gets his game where it needs to be.
He has a lot of promise and he's making gradual progress.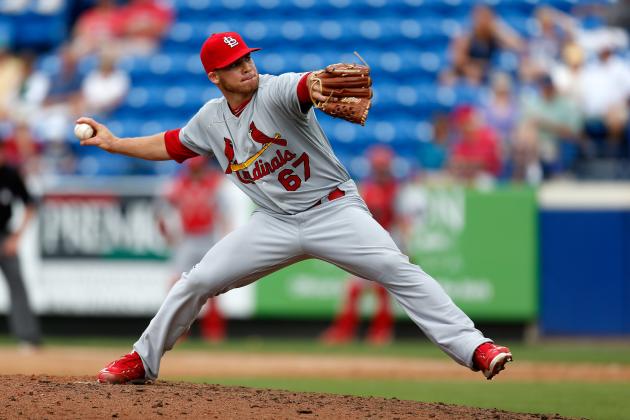 Chris Trotman/Getty Images

Stats: 2 IP, 3 H, 2 ER, 1 K, 3 BB
Affiliate: Triple-A Memphis
Stock Down
Eric Fornataro has been in the Cardinals system since he was drafted in 2008, and continues to struggle to breakthrough to the next level.
Now 25 years old, Fornataro's development is not where it needs to be.
Over his last 10 relief appearances, Fornataro has an 11.91 ERA, has surrendered 15 earned run, 3 home runs and 6 base on balls over 11 innings. His performance to date is not up to par with the value of having him on the team's 40-man roster where he is currently taking up a valuable slot.