Breaking Down the Candidates for Baltimore Orioles POY Honors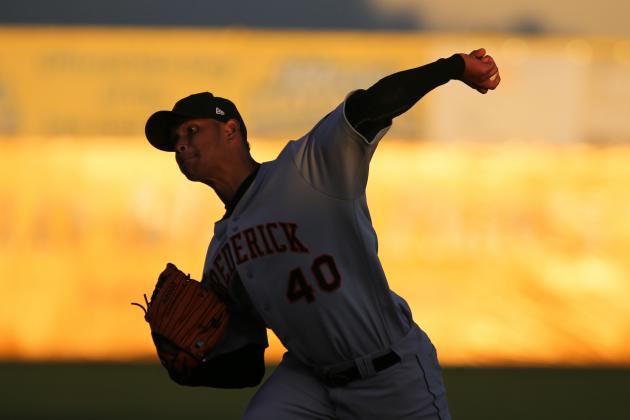 USA TODAY Sports

The Baltimore Orioles minor league season is drawing to a close, so now seems as good a time as any to look back and reflect on some of the top performances from the players on the affiliates from their two Dominican Summer League squads all the way up to Triple-A Norfolk.
While it hasn't been quite the year many expected—and by that I mean that top prospect Dylan Bundy hasn't thrown a pitch, and No. 2 prospect Kevin Gausman has underwhelmed after a torrid start—it's been one full of surprises for the organization.
Players such as Zach Davies and Michael Ohlman have come from practically nowhere to put themselves on the map going forward, while Henry Urrutia and Christian Walker have justified their statuses as top prospects.
Without further ado, let's take a look at the top candidates for the Orioles' Minor League Player of the Year, starting with a surprising face.
Begin Slideshow

»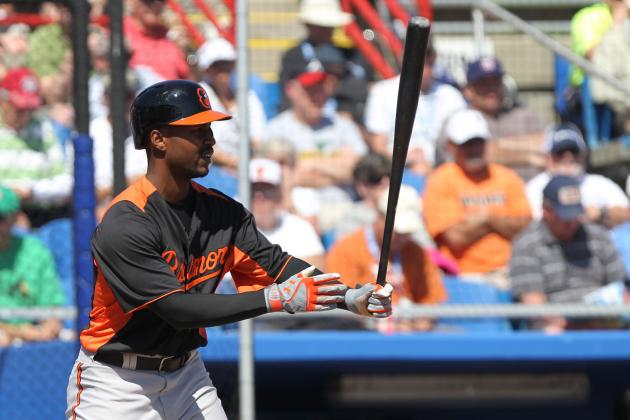 Kim Klement-USA TODAY Sports

L.J. Hoes likely won't win Orioles' Minor League Player of the Year honors simply because he's not a member of the organization anymore.
If he were, though, he'd stand as good a chance as anyone.
Playing the entire year at age 23, several years younger than the average age of a Triple-A player, Hoes dominated the competition for the second consecutive year, showing the plate discipline of a seasoned veteran.
Not only did he draw more walks and had strikeouts, but he also hit an impressive .304 against top-level pitchers, many of whom have big league experience. At the time of his departure to Houston, Hoes' average ranked sixth in the International League and his on-base percentage (.406) third. Both players who ranked ahead of him were 25 years or older.
Hoes has held his own since being brought up to the majors, posting a .309/.329/.456 in his 18 games with the Houston Astros. He's shown a full bag of tools too, legging out two triples and going 4-for-5 on stolen base attempts.
2013 stats
.304/.406/.403, 62 R, 25 2B, 1 3B, 3 HR, 40 RBI, 58/56 BB/K, 7 SB
Best performance
4-for-5, 1 run, 3 runs batted in (6/28/13)
Worst performance
0-for-4, 3 strikeouts, 1 man left on base (7/26/13)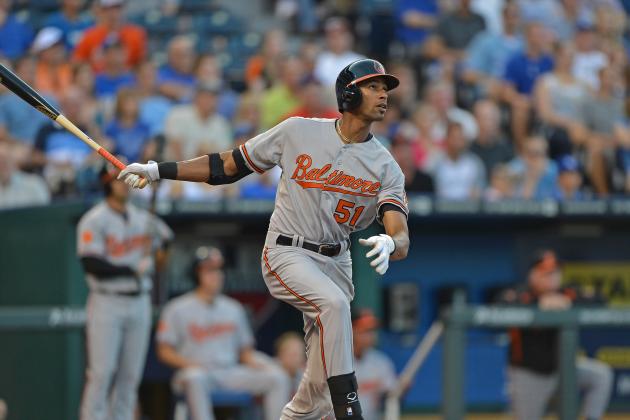 USA TODAY Sports

Henry Urrutia loses some points for spending the last month in the big leagues, but there's no doubt that he was the best hitter in the organization during the first-half of the season.
When the 26-year-old finally graduated to the majors, he was hitting a combined .365 between Double-A Bowie and Triple-A Norfolk and riding an 11-game hitting streak that saw him go 19-for-46 (.413) over his final handful of minor league contests.
Urrutia wasn't just an "average guy," though.
He racked up 20 doubles, a triple and seven homers in just 67 games and had 43 RBI.
After testing the big league waters and hitting a respectable .269 over the course of 21 games, Urrutia has returned to Norfolk, where he homered in his second game back.
He'll no doubt return when rosters expand in September, and he figures to have a solid chance to make the active roster heading into 2014.
2013 stats
.357/.419/.526, 46 R, 97 H, 20 2B, 1 3B, 8 HR, 44 RBI, 29/44 BB/K, 1 SB
Best performance
4-for-4, 2 runs, 2 home runs, 5 runs batted in (6/4/13)
Worst performance
0-for-5, 1 walk, 1 strikeout, 5 men left on base (4/27/13)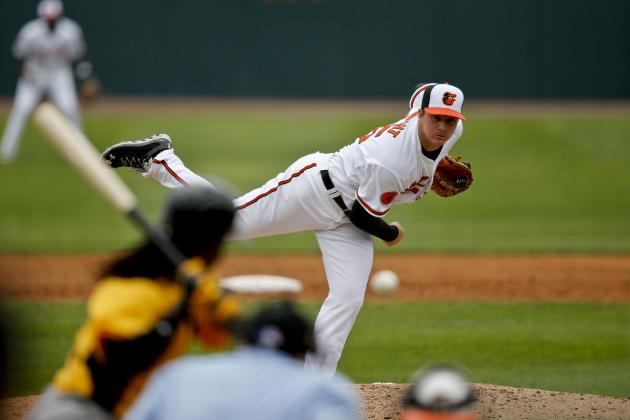 Derick Hingle-USA TODAY Sports
Mike Wright likely won't find his way onto the roster this season but could fight for a role in 2014.
The Orioles' third-round pick two years ago, Mike Wright is finishing the 2013 season with a flourish.
Over his last eight starts, the 23-year-old is 5-0 with a 1.88 ERA and a 53/7 K/BB. He's completed at least seven innings in half of those starts. In his past ten starts, he's allowed more than three earned runs just once, lowering his ERA to 3.19 in the process.
With his last two victories, he has reached double-digit wins for the second consecutive season, and he's already set career-highs in games started (24), innings (135.1) and strikeouts (129).
His 11 wins rank him first in the Eastern League, while he's fourth in ERA. He's also sixth in innings pitched and strikeouts, and he falls just outside the top ten with a 1.290 WHIP.
He has spent all of this season—and a good chunk of 2012—with the Bowie Baysox, and through 36 starts at Double-A, he's 16-5 with a 3.73 ERA and 174/53 K/BB.
Wright entered the season as MLB.com's No. 9 prospect in the Baltimore system, and with the recent departures of Josh Hader, Nick Delmonico and Hoes, as well as the graduations of Gausman and Urrutia, Wright stands a solid chance of cracking the top five this fall.
2013 stats
11-2, 3.19 ERA, 24 GS, 135.1 IP, 139 H, 48 ER, 8 HR, 129 K, 36 BB, .261 AVG
Best performance
7 innings, 5 hits, 0 runs, 9 strikeouts, 1 walk, 102 pitches (69 strikes), 5 ground-outs, win (8/18/13)
Worst performance
3.2 innings, 6 hits, 6 runs, 3 strikeouts, 3 walks, 81 pitches (45 strikes), no-decision (4/9/13)
Kim Klement-USA TODAY Sports

Caleb Joseph has always been known for his bat, but this season, his fourth with the Baysox, has been his finest.
Through 113 games, the former Lipscomb backstop has posted a .297/.342/.488 line. He's already set career-highs in numerous offensive categories, and he ranks near the top of the Eastern League in several as well. Here's a breakdown of his season, along with league rankings:
| | | | |
| --- | --- | --- | --- |
| | Stat | EL Rank | |
| Average | .297 | 6th | career-high |
| Slugging % | .488 | 6th | career-high |
| Runs | 65 | 13th | career-high |
| Hits | 138 | 2nd | career-high |
| Doubles | 28 | t-4th | career-high |
| Home Runs | 19 | t-4th | career-high |
| RBI | 89 | 2nd | career-high |
Clearly, Joseph should be in the running for the Eastern League MVP award, as well as team honors.
He's been a wrecking ball against lefties, hitting .422/.453/.637 with 35 RBI in 135 at-bats.
And like Wright, he's been closing hard and fast, hitting .361 with five doubles and ten RBI in August.
The O's have been adamant that they want to see what Joseph has to offer against big league competition, but first he has to learn to handle Triple-A, where he hit a paltry .206 last season. He should get another shot with the Tides before the end of the season.
2013 stats
.297/.342/.488, 65 R, 138 H, 28 2B, 2 3B, 19 HR, 89 RBI, 34/87 BB/K, 4 SB
Best performance
3-for-6, 2 runs, 1 double, 2 home runs, 4 runs batted in, 2 strikeouts (4/18/13)
Worst performance
0-for-5, 6 men left on base (5/19/13)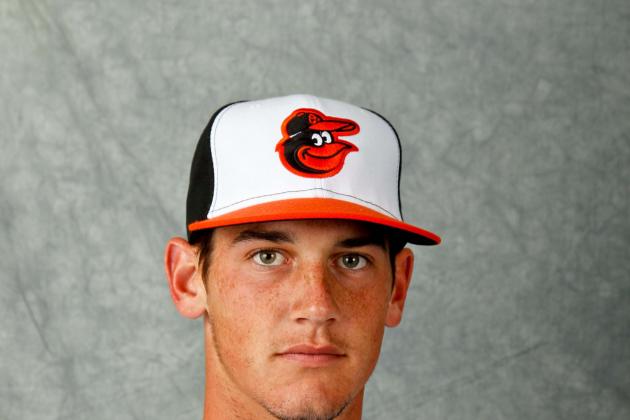 Derick E. Hingle-USA TODAY Sports

Excuse me for getting excited about the play of a 22-year-old tearing apart High-A pitching.
After all, the last catcher to hit at this clip in the Carolina League was named Matt Wieters, and we all know what he's gone on to do.
Michael Ohlman has turned what looked like a gigantic bust of a career into a career-year that has catapulted him back into Baltimore's long-term plans. In 88 games with the Keys, the former 11th-round selection is hitting .313/.414/.530, proving he has the hitting ability that the O's saw back in 2009 when they showered him with a $995,000 signing bonus.
Since the All-Star break, Ohlman has been especially hot, posting a .332/.422/.558 line with 17 doubles, eight homers and 34 RBI in 54 games. In August, he's been one of the hottest hitters in all of baseball, hitting .371 with eight doubles, ten walks and 12 runs scored.
As surprising as his resurgence appears, in reality he's been hitting at this level since the middle of 2012. Since his promotion to Delmarva, he's hitting .310 with 41 doubles, 14 homers and 76 RBI in 139 contests.
An even more encouraging sign is that Ohlman has made 44 starts behind the plate this season, just one-and-a-half years removed from suffering a severe shoulder injury in a car crash.
His bat has also responded to his transition back to catching, as he's posted a .329/.426/.540 line with 12 doubles, two triples and six homers in those 44 contests.
2013 stats
.313/.414/.530, 57 R, 100 H, 25 2B, 4 3B, 12 HR, 48 RBI, 51/83 BB/K, 5 SB
Best performance
4-for-4, 2 runs, 1 double, 1 home run, 2 runs batted in, 1 walk (7/1/13)
Worst performance
0-for-4, 2 strikeouts, 5 men left on base (6/25/13)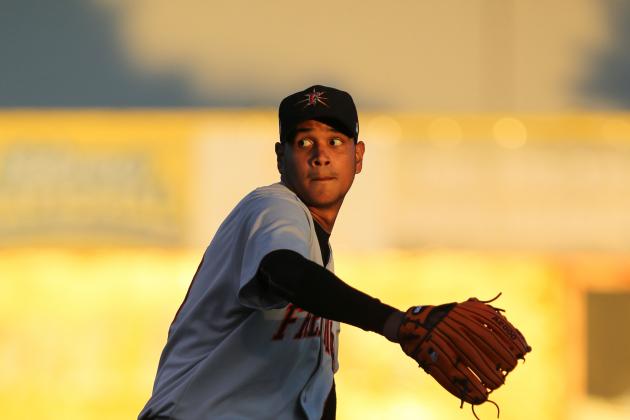 USA TODAY Sports

No pitcher in the organization took a leap forward like Eduardo Rodriguez.
He began the season three days after turning 20 in High-A and reached Double-A after just 14 starts, making him one of the youngest players in the Eastern League. And while he's seen his fair share of struggles (5.52 ERA), he has still shown flashes of dominance.
Rodriguez pitched brilliantly for Frederick, holding batters to a .245 average over 14 starts. That number jumped to .260 upon his promotion to Bowie, but for the most part he's held his own. If you remove a three-game stretch in which he surrendered 16 earned runs in 12.2 innings, he's held down a 3.27 ERA.
He's especially shown growth over his last two outings, tossing a combined 11 innings of one-run ball while racking up 15 strikeouts and issuing just two walks.
For the season, Rodriguez is 8-7 with a 3.78 ERA in 23 starts.
He should enter the 2014 season as arguably the top (healthy) pitching prospect in the Baltimore system.
2013 stats
8-7, 3.78 ERA, 23 GS, 131 IP, 124 H, 55 ER, 9 HR, 114 K, 48 BB, .250 AVG
Best performance
7 innings, 3 hits, 1 run, 6 strikeouts, 0 walks, 85 pitches (63 strikes), 8 ground-outs, win (5/1/13)
Worst performance
4 innings, 6 hits, 7 runs (5 earned), 4 strikeouts, 5 walks, 91 pitches (52 strikes), loss (4/26/13)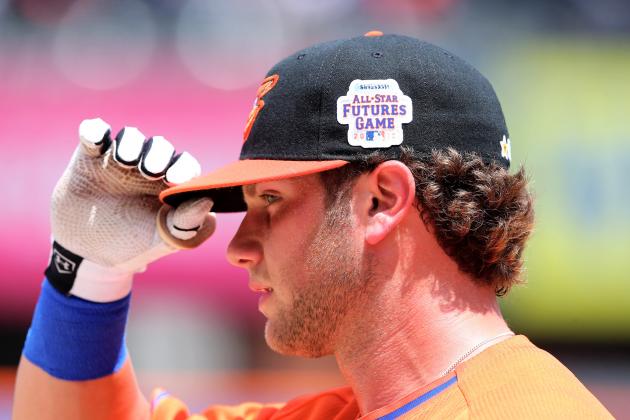 Elsa/Getty Images

The O's expected Christian Walker to respond well to playing professionally.
After all, he was a two-time NCAA champion at South Carolina and the team's fourth-round draft pick last summer.
Still, the fact that Walker jumped from Low-A to Double-A in less than 100 games says a lot about what they expect from him going forward.
Walker was one of the top hitters in the South Atlantic League during his 31-game stint with the Shorebirds, posting a .353/.420/.474 line. He responded well to a promotion to High-A Frederick, hitting .288 with eight homers and 35 RBI in 55 contests. Finally, he was rewarded with a boost to Double-A Bowie, where he scuffled a bit, hitting .242 with just one RBI in 17 games before heading to the disabled list.
On the bright side, he was coming off of a 3-for-4 performance with three doubles the game before he was placed on the DL.
Along the way, Walker earned an invite to the Futures Game, a contest that showcases the top talent at each position at every level of the minor leagues.
With the departure of Delmonico, Walker is now the top corner infield prospect in the Baltimore system.
2013 stats
.300/.362/.453, 51 R, 118 H, 27 2B, 11 HR, 56 RBI, 34/67 BB/K, 2 SB
Best performance
3-for-4, 3 runs scored, 2 doubles, 1 home run, 1 run batted in (7/5/13)
Worst performance
0-for-4, 3 strikeouts, 5 men left on base (6/8/13)
The term "pleasant surprise" was made for guys like Zach Davies.
A former 26th-round pick who the O's swayed from Arizona State with a $575,000 signing bonus, Davies burst onto the scene in 2013 with a breakout season.
That's not to say he didn't have a solid campaign last year, posting a 3.86 ERA in 25 appearances, including 17 starts for Low-A Delmarva. This season, though, Davies has taken a huge step forward.
He's boosted his K/9 rate from 7.2 to 8.1 while lowering his BB/9 rate from 3.6 to 2.5. As a result, he's pitched deeper into games, giving him a chance to show off his arsenal, which includes a low-90s fastball and two quality breaking balls. Through 24 starts, he's posted a 3.40 ERA and racked up 124 strikeouts in 137.2 innings.
Mind you, Davies is doing all this as a 20-year-old in High-A, a league usually reserved for 22- and 23-year-olds.
More than most, Davies stands to benefit from the departure and graduation of several pitchers in the organization. He could find his way into several top-ten O's prospect lists come 2014.
2013 stats
7-7, 3.40 ERA, 24 GS, 137.2 IP, 129 H, 52 R, 9 HR, 124 K, 38 BB, .249 AVG
Best performance
6 innings, 2 hits, 0 runs, 8 strikeouts, 2 walks, 4 ground-outs, win (8/4/13)
Worst performance
4 innings, 9 hits, 6 runs, 3 strikeouts, 2 walks, loss (7/23/13)